#WCW: Evelyn Iona Cosmetics Founder Brandi Leifso
December 27, 2017
I met Brandi Leifso for the first time at an event for Musely — a destination for healthy living inspiration and a marketplace for natural and organic brands. After getting a mini makeover using Brandi's cosmetics line called Evelyn Iona Cosmetics, I felt compelled to learn more about Brandi, her brand and the concealer that made me look wide awake and radiant at 9am (pre-coffee). Ahead, you can read my Q&A with Brandi about Evelyn Iona Cosmetics and how the brand's conscious mission came to be a reality.
Can you tell us the story behind Evelyn Iona?
Evelyn Iona was founded four years ago. When I started Evelyn Iona, I was living in a women's shelter and I learned first hand the impact conscious choices of strangers can have. Evelyn Iona was my protest for social change that became the light at the end of a dark tunnel for me. I really believe that together we can create a new standard of living where kindness is our priority without compromising quality.
How does your story tie into the brand's philosophy?
Oh, my story ties into every single choice in every single interaction our brand has. To me, our brand is very personal, from naming our lip glosses after badass women in my life, to the content that we post and partnerships that we form. We approach ever challenge with empathy. Our Evelyn Iona brand is a part of my very personal story that is still just getting started.
What moment in your career are you most proud of thus far?
I'm really proud of the team that makes up Evio. So maybe not a given moment, but that is what I am most proud of. They're my rocks #rideordie.
What's your favorite product? Is there one you can't live without?
Yasss! The product I am most proud of is our Green Tea Primer. It was our first Canadian made product (we make all of our other products in the USA) and this team is everything; so kind, so willing to work and grow with us through challenges, changes and also celebrate our victories with us. We have sold more than 200,000 Green Tea Primers! The product I can't live without is our Evelyn Iona concealer in the color Fresh.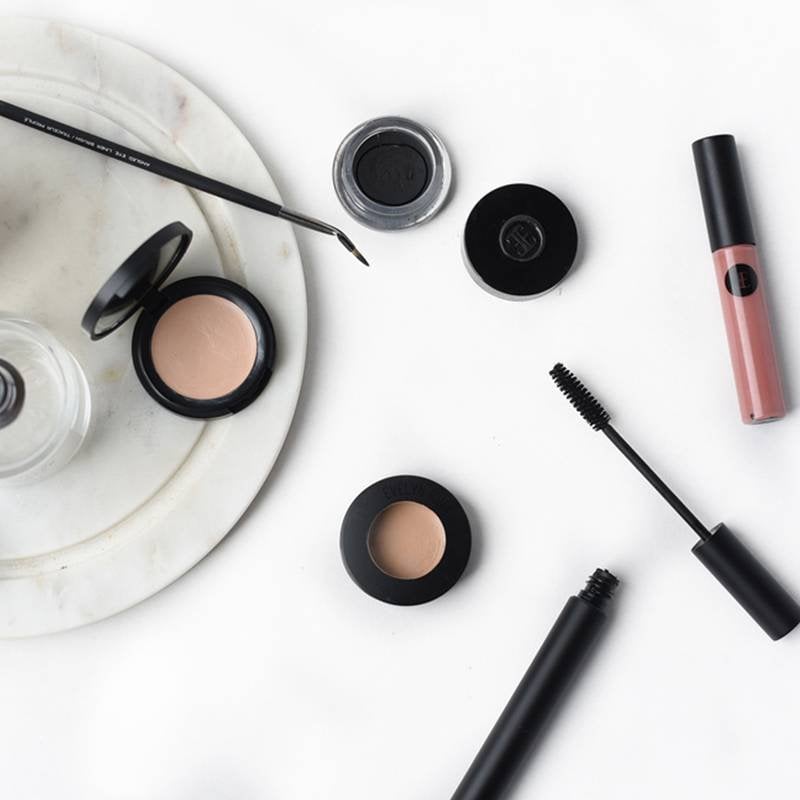 Aside from your wallet and phone, what do you keep in your purse at all times?
Lotion, Rebel Refinery skull lip gloss, passport (you never know when you might want to jump on an impromptu flight) and Pur gum. No makeup, though (haha) — I'm not one to touch up throughout the day. I've also been meaning to get a portable charger for my purse. I am infamous for always having my phone running on fumes.
What does beauty mean to you?
To me, it's being conscious and kind to yourself and others. To me, beauty is an essence. It's a way of being.
What advice would you give to your younger self, if you could?
You're stronger than you think... keep going.
What's next for Evelyn Iona?
We're super excited for 2018! On March 8th, 2018 (International Women's Day!) we're launching Evio Community with a big celebration in Toronto. (Everyone is invited to come! Tickets will be on sale mid February.) Evio Community is a place for women, or people who identify to be, to create a conscious future and connect over curated content relative to beauty, cannabis, feminism, work and wellness and share their thoughts, opinions and ideas.
We are really excited to be developing a limited edition cannabis skin care line in partnership with Canadian cannabis licensed producer, Doja. We believe that cannabis will be a big game changer to the ingredients offered in beauty with benefits including anti-inflammatory, anti-aging and anti-bacterial).
Read more:
Instagram-Famous Venus ET Fleur Founder Seema Bansal
Carol's Daughter Founder Lisa Price
Beauty and Lifestyle Influencer Caila Quinn
Read more