Your Ultimate Guide to Contouring: The Best Tips for Contouring Your Skin 2017
June 21, 2017
We know contouring can seem scary - applying Halloween-like lines of dark and light colors and then the thought of walking around in the daytime. But learning how to contour the right way may actually create the lifting, slimming, anti-aging results that a cabinet-full of creams can't deliver.
"Contouring makes your face look warmer, thinner, and younger instantly," says makeup pro Mario Dedivonovic, who regularly practices what he preaches on Kim Kardashian. "The key is not overdoing it—you can always add more color, but it's much harder to take it off. And blend like crazy!"
Here's everything you need to sculpt and define without ever hitting the gym (or plastic surgeon's office).
DO
Learn the basics. There are two key terms for contouring: Shading, which makes an area of skin recede from view, and highlighting, which brings a feature forward. Your shading color will be darker and highlighting color will be lighter. Where you put the shading and highlights depends on your unique features and face shape.
Start with cream-based products (like foundation). These are easier to blend than powders, says Micken Garcia, a Chevy Chase, MD-based makeup artist, so the effect is more natural. Once you're confident in your blending abilities, you can use bronzer to finish the look.
Try a tinted moisturizer for a more natural, forgiving look. Squirt a quarter-sized amount of tinted moisturizer in a shade that's three to four times darker than your skin tone on the back of your hand. Try Lancôme Beinfait Teinté BB Cream. "I like to use tinted moisturizer for contouring because it's sheer and light," says makeup artist Jenna Anton. Dip a foundation brush into the tinted moisturizer, swirl it around on the back your hand, and then paint a stripe right under your cheekbone, starting at the bottom of your cheekbone and moving up towards your ear. Repeat on the other side and blend. "This will make your face look slimmer," says Anton. If you need more coverage, try a foundation stick like Maybelline New York Master Contour V-Shape Duo Stick, which comes with a built-in highlighter.
Shade your forehead. This helps balance your face. Dip your brush into the tinted moisturizer or foundation again. Starting above the end of one eyebrow, make a half circle that extends up to your hairline and then comes back down and stops just above the end of your other eyebrow. Blend upwards a bit with your brush, but don't fully blend—that part comes later.
Focus on your jawline. To make your jawline look more defined (and "photoshop" out a double chin), dip your brush in the tinted moisturizer or foundation again and paint a stripe along your jawline—starting at the left corner of your jaw and finishing at the right corner. Then apply the moisturizer to your neck, painting down from the line you made along your jaw until you reach to the base of your neck.
Slim your nose. Use the last drops of tinted moisturizer or foundation on the back of your hand to make a skinny U shape around your nose. Starting near the inner corner of your eye, make a line that runs down one side of the bridge of your nose, swoops around the tip of your nose, and comes up the other side of the bridge, ending near the inner corner of your other eye. These lines should be thinner than the ones you made on other areas of your face.
Go lighter. Pick up a lighter color of tinted moisturizer or foundation that matches your skin tone. Using a clean foundation brush, fill in all naked spots of skin (areas that haven't already been covered with the darker tinted moisturizer or foundation). Blend the lighter shade into the darker shade so the darker hue is no longer obvious.
Add a highlight. For added glow, swipe a shimmer stick like Maybelline New York FaceStudio Master Strobing Stick Illuminating Highlighter over your brow bones, across the tip of your nose, and along your cheekbones and the bow of your lips.
Set the makeup with powder. Dust your face with translucent powder, "except for the cheeks which should remain nice and dewy," says Anton. Try Dermablend Setting Powder.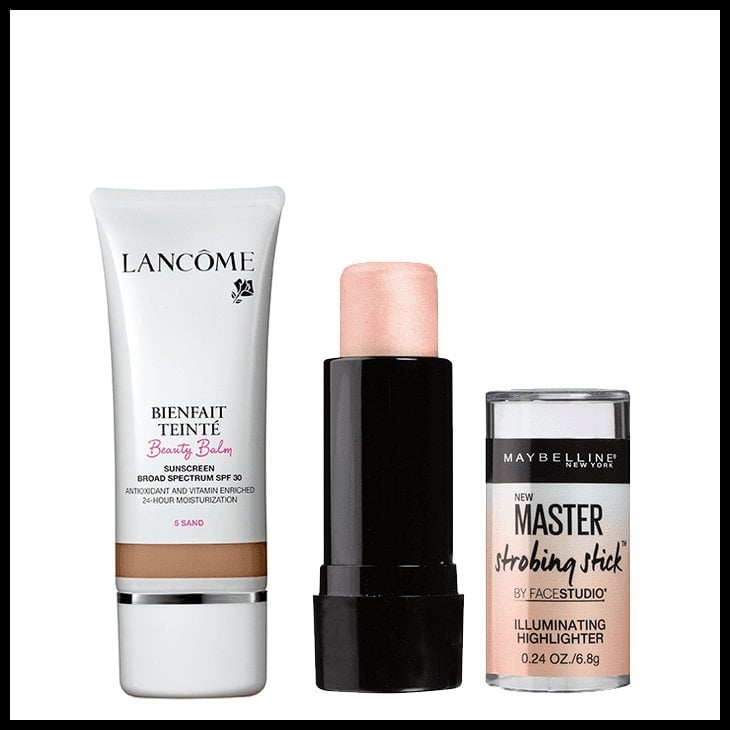 DON'T
Use products with shine. Foundations with shimmer won't look natural on the skin (the whole point is that you want to look like you rolled out of bed looking like this).
Over highlight the apples of your cheeks. A common novice mistake, it's also the most glaring since that's the area that naturally pops every time you smile.
Forget the finishing touch: After you've blended and blended until you just can't blend anymore, Dedivanovic recommends finishing with a bronzer with a hint of shimmer. "Sweep it onto the corners of the forehead and into the hairline (not across the forehead), the hollows of the cheeks and the center of the neck," he says. "You want to create a triangle of light on the face so it looks dewy and radiant."
Use the wrong tools. A big fluffy brush will turn your face into a big ol' muddled mess. You need more precision to hit the right spots and blend properly.
Put creamy products over dry ones, like adding concealer after you've powdered. You don't want your makeup to sit on your skin like icing on a cake.
Contouring Star of the Year 2017: Urban Decay Naked Skin Shape Shifter
For everything you need to make your contoured red-carpet review, you actually only need to get one product. Seriously. Urban Decay's new Naked Skin Shape Shifter is a sexy two-sided palette that packs four powders and five creams, separated by a sleek mirror. And to make application that much more goof-proof, it includes a double-ended brush. Brilliant! It's like having a makeup artist's contour kit at your fingertips (and so slim and sleek, it can easily be thrown into any makeup bag or purse).
HOW TO CONTOUR YOUR:
Cheeks: Use a foundation that's a shade or two darker under your cheekbones. "Find the hollows of your cheeks by sucking them in a little. Then use light circular motions starting at the tip of your ear and coming in (working on a slight curve) until about the center of your eye," says Garcia. Add a foundation that's a shade or two lighter than your actual shade above the cheekbone.
Nose: Apply the contouring shade along the sides of your nose and under the tip, and the highlighter on the bridge. Your fingers are the best tool here, since they'll give you precision and warmth to let the color glide on smoothly.
Mouth: A touch of highlighter right above the lips defines the cupid's bow and makes lips look fuller.
Eyes: Apply highlighter to your lids. Then swipe contouring color in the crease and along your lower lashline. Apply white eyeliner to your lower inner lash line to open up the eye and make it appear brighter.
Chin: A dab of highlighting color will make it appear more round and also help your face to appear longer (so avoid it if you have a naturally longer face to begin with). Swipe the same highlighter along the jawline for a more sculpted look.
HOW TO CUSTOM-CONTOUR FOR YOUR UNIQUE FACE
Make the most of what your mama gave you with these easy tricks to playing up the prettiest parts of your face.
Diamond
Contour lightly in the area under your cheekbones, starting at your ears and blending inward to the middle of your cheek. This will give you a natural sculpt without looking too aggressive.
Heart
Contour in the shape of a "3" along the top of the forehead, below the cheekbones and on the tip of the chin. A large powder brush and natural bronzer are ideal for this technique.
Oval Face Shape
Apply your contouring powder along the sides of your forehead, and below the cheekbones. Blending around your natural hairline is key when contouring the sides of your forehead.
Round Face Shape
Contour along the temples, sides of the forehead, below your cheekbones and along the jawline. Make sure blend your makeup well so that there are no visible lines and the shadowing looks soft and natural.
Square Face Shape
Contour along the forehead, jawbone and below the cheekbones to really enhance your chiseled features.
MAKE YOUR EYES POP
With—you guessed it—contouring!
What you need:
*A nude or neutral eyeshadow palette likeUrban Decay Naked Basics Eyeshadow Palette.
*Some smooth, easy to apply eyeliners like NYX Cosmetics Slide On Pencils.
*Eye shadow primer like Lancôme Aquatique to prevent creasing and allow the shadow to look more natural on your skin
Monolid eyes
Go for a gradient effect with your eyeshadows to add dimension. Apply darker colors close to the lash line, a soft neutral in the center and a shinier or more shimmery tone near the brow.
Upturned eyes
Apply dark shadow or liner along the outer lower corner of the eye, thereby making the outer corner appear lower and balance out the eye shape. Continue on the lid with a medium-toned shadow, and then highlight your brow bone. You can also bring the shadow along the lower lash line to enlarge the shape. If you prefer to accentuate your upturned eye shape, add winged eyeliner.
Down-turned eyes
Apply a black or brown liner close to the upper lash line, and blend a neutral shadow across the lid, but only on the outer two-thirds of the eye. This creates a lifting effect.
Hooded eyes
Opt for medium to dark matte colors and dust them lightly on the lid to avoid overwhelming the eye. Highlight the inner corner of your eyes and your brow bone. Make sure your brows are well-groomed to give you as much lid space as possible. Line the waterline to enhance your eye shape.
Round eyes
Apply medium to dark shades over the center of the eyes and use light shades to highlight the corners. In doing so, you narrow the overall shape of the eye. Eyeliner in the waterline can also narrow the shape a bit.
Almond eyes
Try a classic contouring technique that involves washing the lid with a medium, matte brown or gray shade (not too dark) and working a darker shade into the outer crease to accentuate your almond shape and make it stand out. Blend the look well so your color transition looks natural.
Small eyes
Stick with light to medium shades and avoid weighing down your lash line with too much liner or mascara. You can use a soft lighter shadow along the lower lash line to expand the eye area and give a smoky look depending on color choice. Try softer versions of greys or bronzes, which won't overwhelm your eyes and make them appear smaller. There are so many beautiful lighter versions of the smoky eye, and they can look just as sexy as the darker ones.
Large eyes
Medium to dark shades were made for larger eyes, though, light shades will make them look even larger. After applying your base, choose a shimmery shadow across the entire lid. Follow by contouring with a darker shade in the crease. Finish by lining your waterline.
NEED A LITTLE BIT MORE GUIDANCE? CHECK OUT OUR ARSENAL OF VIDEOS FROM THESE INCREDIBLE EXPERTS:
https://www.youtube.com/watch?v=tYLdKb4U9Vg
https://welove.makeup/loreal-paris/contouring-tutorial-for-every-face-shape-or-loreal
https://welove.makeup/urban-decay-cosmetics/photo-ready-contour-for-medium-to-dark-skin-tones-or-jordan-liberty-or-urban-decay
Read more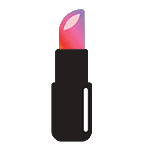 Back to top