YSL All Hours Foundation Review (and a Sampling Deal You're Going to Love!)
July 20, 2018
As beauty editors, many different products hit our desks on a daily basis. In other words, sometimes it takes a lot for a single product to stand out — especially powders and foundations (simply because we're extremely loyal to the formula that sits on our faces all day). But when the YSL All Hours Foundation found its way onto our desks, the astonishing "all hours" notion piqued our beauty brains, and we knew we had to try it out.
Instead of having to guess your best foundation color, YSL has a special deal where you can order two shades in cute mini bottles for $10 (including shipping!). And you get a 15% off promo code for your full-size bottle. It makes buying foundation online so much easier — and we love the minis for summer travel. If you've never ordered foundation online before, this is the way to do it.
Without further ado, here's what we think of the formula.
Marisa, Assistant Beauty Editor
When I was handed a mini version of YSL All Hours Foundation, I couldn't help but admire its cuteness, but the fact that it was a full-coverage foundation scared me. I love complexion products that feel like I have nothing on my face — mostly tinted moisturizers, CC creams and even some foundations. But I'll basically wear in the name of testing, so I gave this one a shot. Using a damp blending sponge, I blended the foundation onto my skin (a drop on my cheeks, forehead, chin and nose). Even though the formula is full coverage, I was able to sheer it out and get the natural finish I love — and it felt like I was wearing nothing at all.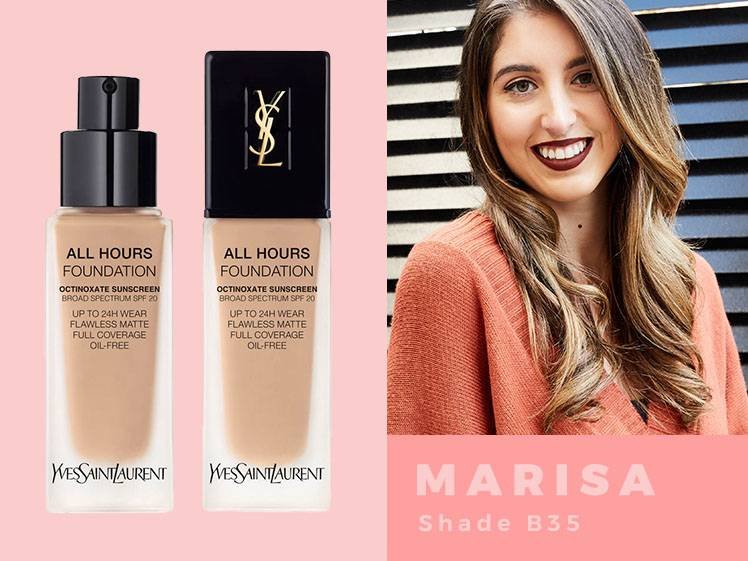 Alanna, Assistant Beauty Editor
I'll put it plainly: It takes a LOT for me to switch up my face makeup routine. My skin has been fickle for years — some days it's extremely dry, others, it's shinier than my favorite lip gloss (bleh). Needless to say, these factors make me really cautious because I like to stick with face makeup that works for me — if it ain't broke, don't fix it, right? Well, the YSL All Hours just proved that theory wrong. I went in as skeptic but came out as totally obsessed. This foundation covers what needs to be covered, all while staying matte but not overly dry. I also found this foundation to feel nothing like a foundation, which I love — there's no cakey aftermath, no cracking and no pilling. Not only is this going to become my new go-to foundation, it also helped me realize that sometimes change isn't such a bad thing.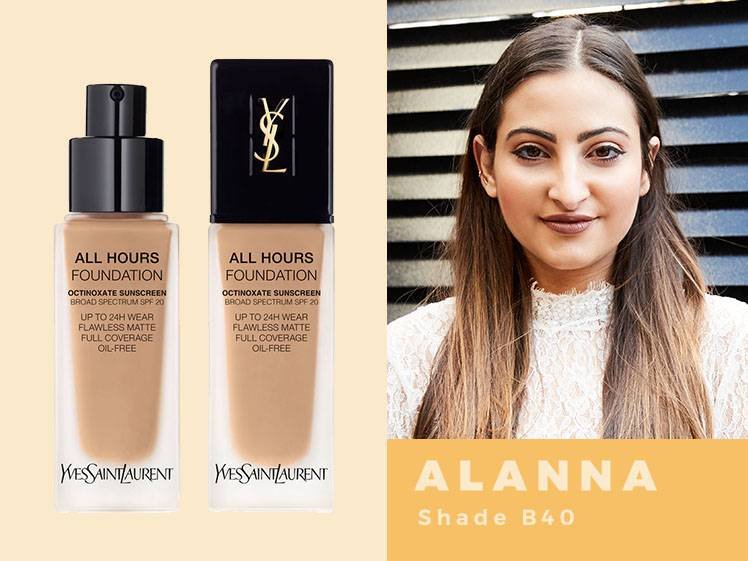 Tembe, Assistant Beauty Editor
I'm picky when it comes to foundation — especially because I tend to rock a bare face no matter the day or event. When I do opt for coverage, it's typically very light, so it takes a lot for me to step out of my comfort zone and try a full coverage foundation. Recently, the All Hours foundation floated across my desk and needless to say, I was pleasantly surprised. Although full coverage, it isn't cakey and the shade BD70 complimented my golden undertones perfectly. While I won't be reaching for this one every day (or any other foundation for that matter), I'll definitely keep it in my back pocket for special occasions.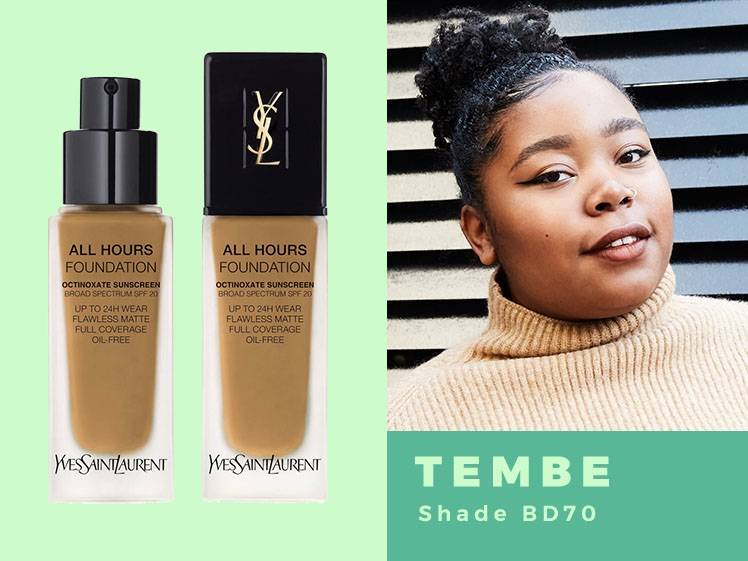 Photo: Chaunte Vaughn
Read more