The Best Red Lipsticks That Are Cheaper Than a Latte
November 13, 2019
Red lipstick is a makeup kit essential. With roots dating back to ancient Egypt — Cleopatra herself was known to flaunt a red lip — the crimson shade is as relevant today as it was back then. And while other lipstick colors have captured our fleeting interest — nude, purple, pink — red will always have our hearts.
But let's be honest: Red lipstick has many faces. Blue undertones, brown undertones, classic red, coral, mulberry and cherry — the color options are endless. And finishes? Between the glosses, mattes, satins, creams and stains, our heads are literally spinning with a merry-go-round of gorgeous red lippies. Then, there's the issue of price. Red lipsticks are available at every price point under the sun, so how are you supposed to know which one is best? Read on for our favorite affordable red lipsticks and get tips for properly applying them.
Lip Care 101
The key to successfully pulling off affordable red lipstick is all in the prep and technique. Here, four easy steps to rockin' a red lip color from the drugstore.
STEP 1: Exfoliate
Dry, dehydrated lips are a no bueno for a red lip. Dryness can lead to flaking, bleeding and uneven color. Keep your lips healthy and flake-free by using a lip exfoliant or scrub daily to slough away dead skin and ensure the surface is smooth and supple. Try the NYX Professional Makeup #ThisIsEverything Lip Scrub or a homemade scrub of brown sugar and coconut oil. Warning: Make sure you exfoliate gently. Don't overdo it or you could cause some serious irritation that will put your lips in a worse condition than they were at the start. Using your finger or the stick, make small gentle circular motions over your lips (moving from one side to the other) for about half a minute, then rinse off with a warm washcloth and water. Do this once a day and you'll be in good shape.
STEP 2: Moisturize
After you've exfoliated, immediately pump your lips with moisture to keep them soft. Keep a lip balm in your purse, desk and car so you can reapply throughout your day (in between application sessions of your red lippie). Try a potent formula like Kiehl's Lip Balm #1 or Maybelline New York Baby Lips Moisturizing Lip Balm. If you're prone to dryness and/or get dehydrated quickly, go for the big guns and slather on some coconut oil or almond oil on the lips after scrubbing them. Similar to the technique you used for exfoliating, use a soft, massaging motion (in a circular pattern) to stimulate circulation in the lips and allow for better absorption of the oil. Do this for a minute and then remove excess oil by dabbing the lips with a tissue.
STEP 3: Prime and Line
Just like your face and eyes, lips require adequate prep to ensure the color doesn't bleed or fade. Start with a solid primer that will allow your color to last longer and truly pop. You can use a lip-priming formula like NYX Professional Makeup Lip Primer or, in a pinch, a concealer will work fine, too. Put a few dots along your top and bottom lip, then blend them in with your finger, going overtop of your lips and along your outer lip line.
Lip liner is always a non-negotiable with red lips, as it serves as an invisible fence for your color. It helps keep your red shade on your lips and not on the rest of your mouth area. So line the lips well with a shade that complements your lip color, then smudge the color across your lips as well — this helps prime them even more. After applying your lipstick, retrace the edge of your lips once more to cover your tracks.
STEP 4: Pick the Right Red
While we fully encourage you to wear whatever red shade makes you feel the fiercest, there are certain shades that are proven to flatter specific skin tones. Educate yourself by, first, identifying your right skin tone and, second, figuring out the right red to flatter your tone. Use this guide to find out which lipstick shades work best for you.
A quick-and-dirty guide to picking the right affordable red lipstick is as follows:
Fair skin tones:Complement your cooler-toned skin with a red that has a blue or purple undertone. A cherry or classic red is a good way to go.
Medium/olive skin tones:This skin tone is ideal because you can wear a wide range of shades. We say go bold by opting for an oxblood shade or reddish-coral.
Warm/deeper skin tones:Work with the warm, red tones of your face by opting for an equally deep red shade. A brick-red or deep crimson will pop against your dark skin tone.
Our Favorite Red Lipsticks Available at the Drugstore:
L'Oréal Rouge Signature Matte Liquid Lipstick in I Don't
This orangey-toned red lipstick seriously looks stunning on any skin tone. Plus, it's lightweight, stays on for hours and won't give you that cakey-rubbery finish like other liquid lipsticks. This shade will complement you no matter where you fall on the undertone spectrum as well.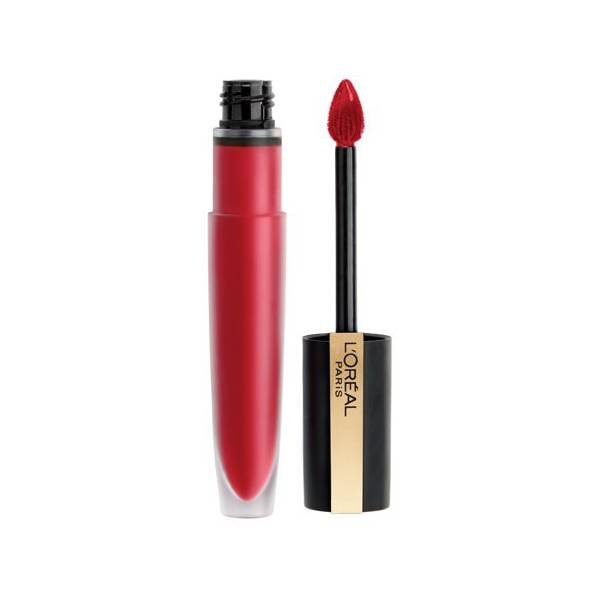 NYX Professional Makeup The Reds Pro Lip Cream Palette
Having trouble choosing just one red? NYX has a palette for that. This lip cream palette features six color-coordinated shades ranging from a blue-red to a deep crimson. You can wear them on their own or mix and match for a truly customizable shade.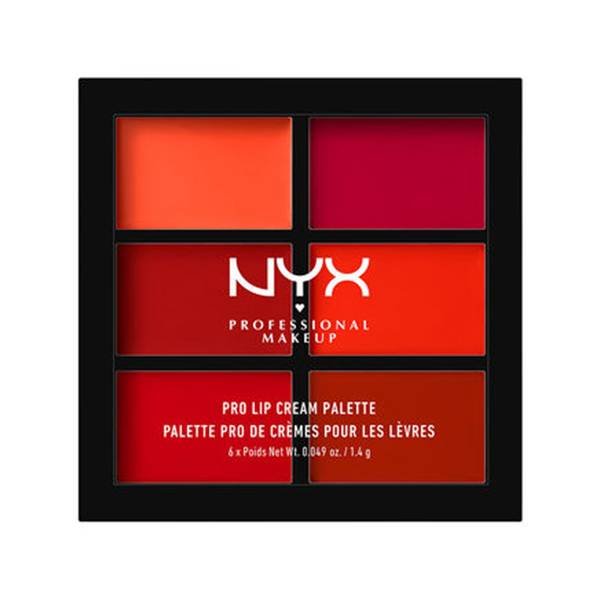 Maybelline New York Superstay Matte Ink Lip Color in Pioneer
The staying power of this lipstick is impressive. We've done virtually everything with it on — from brushing our teeth to going to the gym — and it doesn't budge. This blue-red (and slightly fuchsia) shade is beautiful when applied and looks on great on a variety of skin tones.
NYX Professional Makeup Matte Lipstick in Eden
This blue-red lipstick is a godsend for anyone whose red lipstick always shows up as a weird shade of pink. This bright lipstick is bold, smooth and looks good all day.
Maybelline New York Superstay Ink Crayon in Hustle in Heels
If you prefer a more lightweight red that can be tapped onto the lips as a stain or drawn on for opaque eight-hour color, Hustle in Heels is a must-try. It has subtle pink undertones that make it a great match for any makeup preferences, whether you want to go out bare-faced or with a full beat.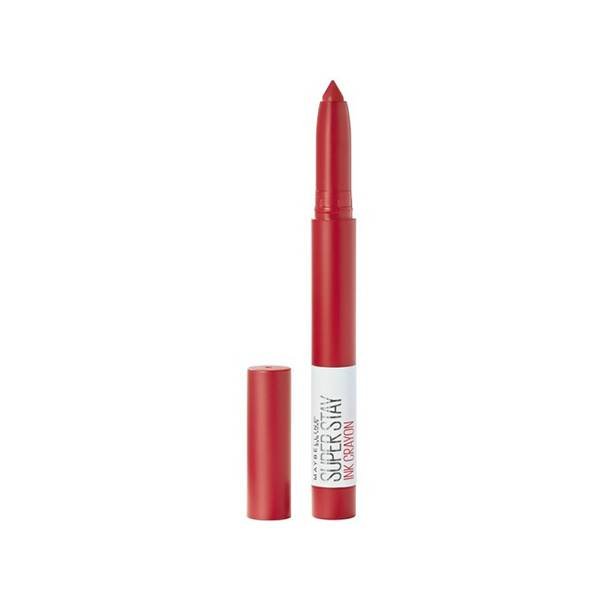 Read more