This Urban Decay Eyeliner Holds a Special Place in All of Our Editors' Routines
October 12, 2022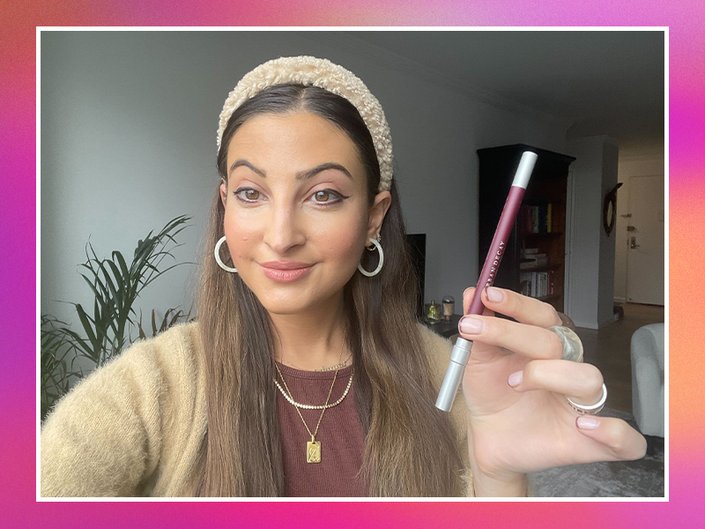 It can be tricky to find a truly great eyeliner formula — one that doesn't smudge throughout the day, but still gives you a little wiggle room to smoke it out when you first apply it. We give bonus points for eyeliners that come in a variety of fun colors, as well as ones that glide on easily, instead of skipping or dragging across our lids. The Urban Decay 24/7 Glide-On Waterproof Eye Pencil is one that checks all of our editors' eyeliner boxes, and then some — in fact, one of our editors says it's the best eyeliner she's ever tried!
Available in 38 shades with five different finishes, from matte to mesmerizing glitters, these liners offer up to 16 hours of smudge-proof, waterproof wear that glides on with total ease. You can blend them within a few seconds of application for a smoky look that lasts, or sharpen the tip for an ultra-precise cat-eye. No matter what look you're going for, if you're an eyeliner devotee, this is a pencil you need in your collection. Keep reading to find out our editors' favorite shades.
Victoria, Beauty Content Director
I've never been particularly skilled at applying eyeliner to my upper lash line, but this Urban Decay liner is one of the only products that makes me feel more confident at the task. It glides across my skin with ease — no skipping, no tugging — and has the most beautiful color payoff. And once it dries, the rich pigment does not budge. I'm obsessed with Viper, a deep purple with a shimmery finish that I find makes my blue eyes pop!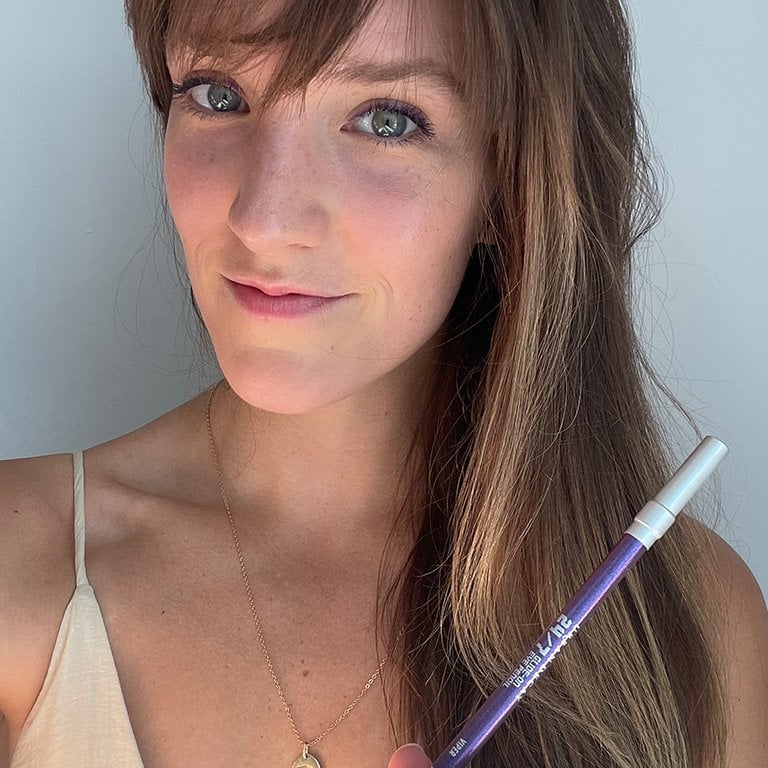 Alanna, Assistant Managing Editor
True story: I have a love affair with this eyeliner. Long story short, I always like to add a little color to my lower lash line on the daily to help define my eye makeup look — and Alkaline is pretty much the only pencil I'll rely on. When I first started incorporating lower lash liner into my routine, I wanted to opt for a shade that wasn't brown or black, but rather a shade that's dark enough to be subtle but colorful enough to not look goth. Alkaline fits the bill. I swipe the burgundy hue onto my lower lash line just about every day, and it never disappoints.It lasts all day long (until I take it off at night!) and is creamy enough to smudge out if I want to make my look more dramatic. But somehow, it's also subtle enough to just add minimal color if I'm feeling that. I wear this all year, and it's the best eyeliner I've tried, hands down!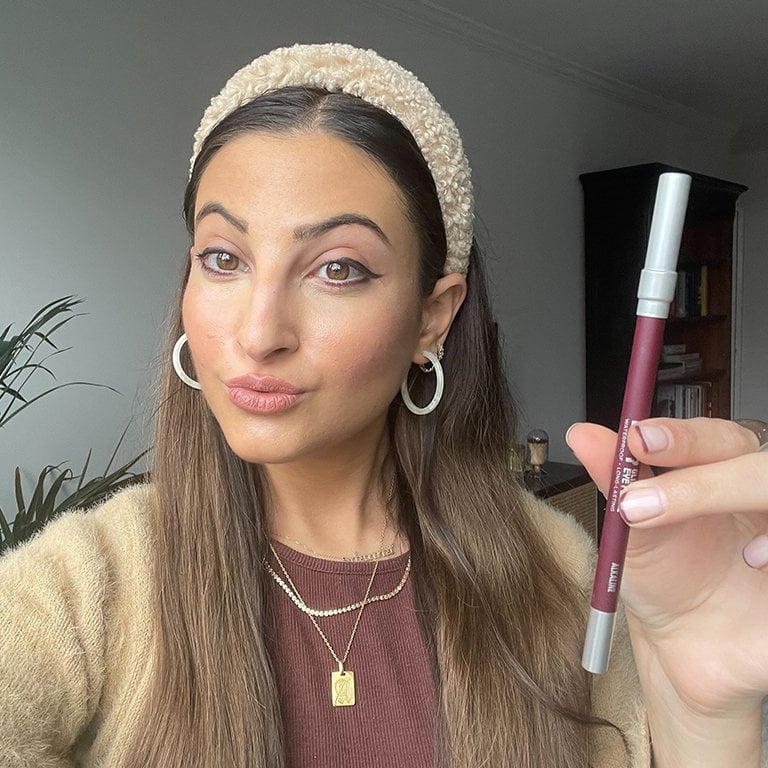 Ariel, Editor
I'm not normally a colorful eyeliner person, but when I recently had the chance to sit down with Steve Kassajikian, the global makeup artist for Urban Decay, I had a change of heart. He convinced me to start adding small pops of color to my neutral eye looks, starting with this warm smoky eye paired with Electric Empire, a sparkling teal shade of the Urban Decay 24/7 Glide-On Waterproof Eye Pencil. I instantly fell in love — plus, the liner lasted all day without smudging or fading. I already use the darker shades of this UD pencil religiously (specifically Corrupt, a deep reddish-brown, and Bourbon, a brownish-copper), but now I'm eager to collect more of the colorful shades.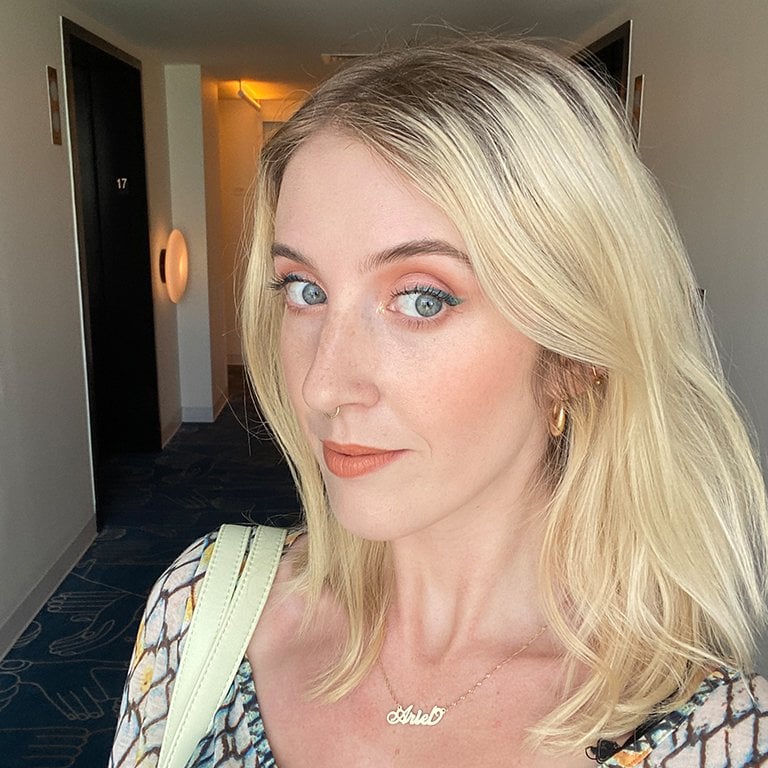 Trishna, Assistant Editor
I love playing with colors when it comes to my eye makeup, whether it be adding an inner corner shadow or lining my eyelid with a vivid shade. I usually opt for cool-toned colors, like blue and purple — definitely not the hot, glittering pink of Woodstock. As soon as I tried this out, though, I was obsessed. The formula is amazing, with a ton of pigment in just a single layer of the creamy pencil that glides right on. Plus, this pink is universally flattering for any eye color; I love that it made my dark brown eyes seem a little more golden. This is definitely going to be a staple in my makeup routine.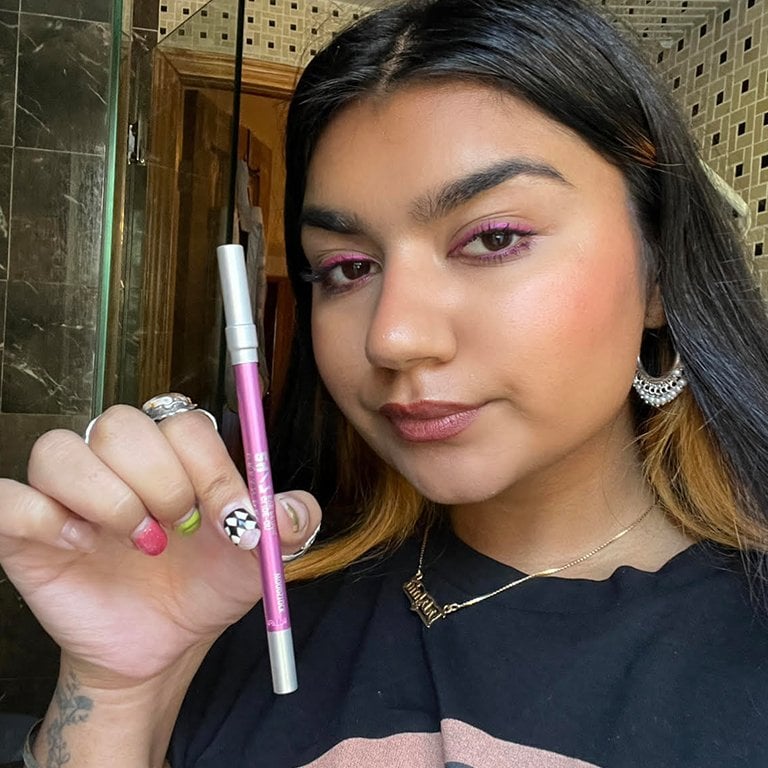 Kat, Social Media Editor
I'm such a huge fan of eyeliner, but typically I stick to the basic black or brown. In an effort to get out of my comfort zone, I decided to try Loaded, a dark green shimmer. I have to say that this shade might have converted me into a colorful eyeliner girl. While it's not the most dramatic color, I feel like the green really complemented my brown eyes and made them pop. What I also love about this particular shade is the fact that it has just the right amount of shimmer that gives my liner a little something special. Because the shimmer is so fine, it makes this so easy for everyday wear. If you haven't tried the 24/7 Glide-On Waterproof Eye Pencils, they apply so easily, and as the name suggests, they glide on like butter! They're definitely a must-try.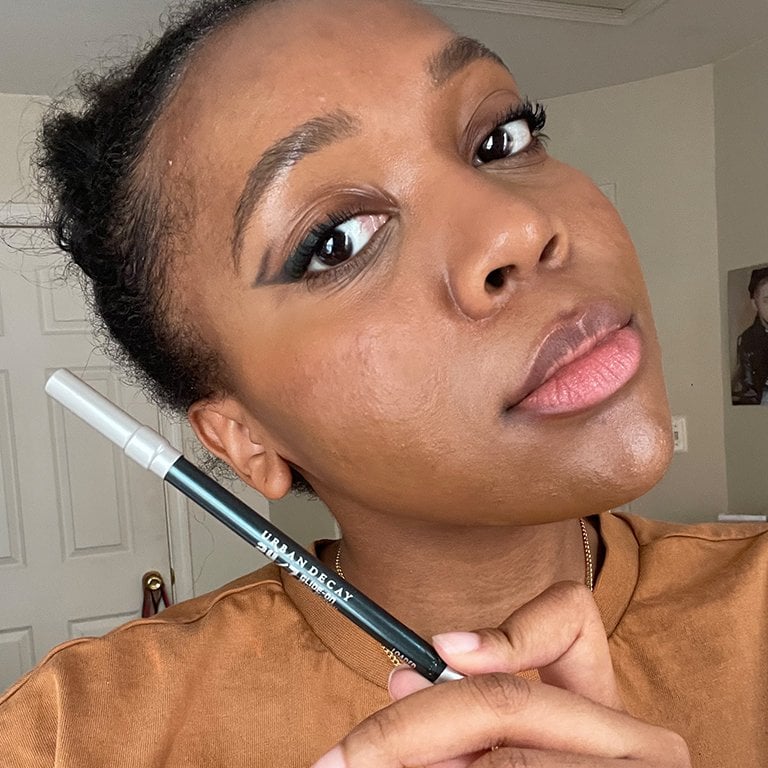 Photo: Alanna Martine Kilkeary, Design: Juliana Campisi
Read more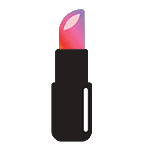 Back to top