Our Editors Created 4 Different Eye Looks Using the Urban Decay Ultraviolet Palette
September 23, 2020
Whether you gravitate towards

bright eyeshadow palettes

because you love a

colorful statement eye

or because they're simply pretty to look at, the new Urban Decay Ultraviolet Palette deserves a spot in your makeup collection. The 12-pan palette consists of both neutral and bright, purple shades, and is unexpectedly versatile. Don't believe us? The

Makeup.com

editors created their own eye looks using the palette and are sharing their thoughts on the formula, wearability and more, below.
Sarah, Senior Editor
When I first went into this experiment, my plan was to stick to the left side of the palette — the safe, neutral side. But after applying Hacked, a soft terracotta shade, all over my lid, I couldn't help but veer over to the right, bold side of the palette. I dipped my brush into Purple Dust, a shimmery blue violet hue, and applied the color in my crease for definition. Next, I layered Cyber Punk, a warm-toned purple, and Euphoric, a cool-toned, holographic purple, over the outer half of my lid. To brighten things up, I went in with Optimized, a lavender shade, on the inner half of my lid and Trippin', a peachy highlight shade, on the inner corner and brow bone. For a finishing touch, I applied a swipe of Purple Dust along my lower lash line. Overall, this palette is way more versatile than I expected. While the look I created was fun and bold, it wasn't over the top. I could have taken it up a notch, but I also could have taken it into more of a neutral territory as well — the options are endless.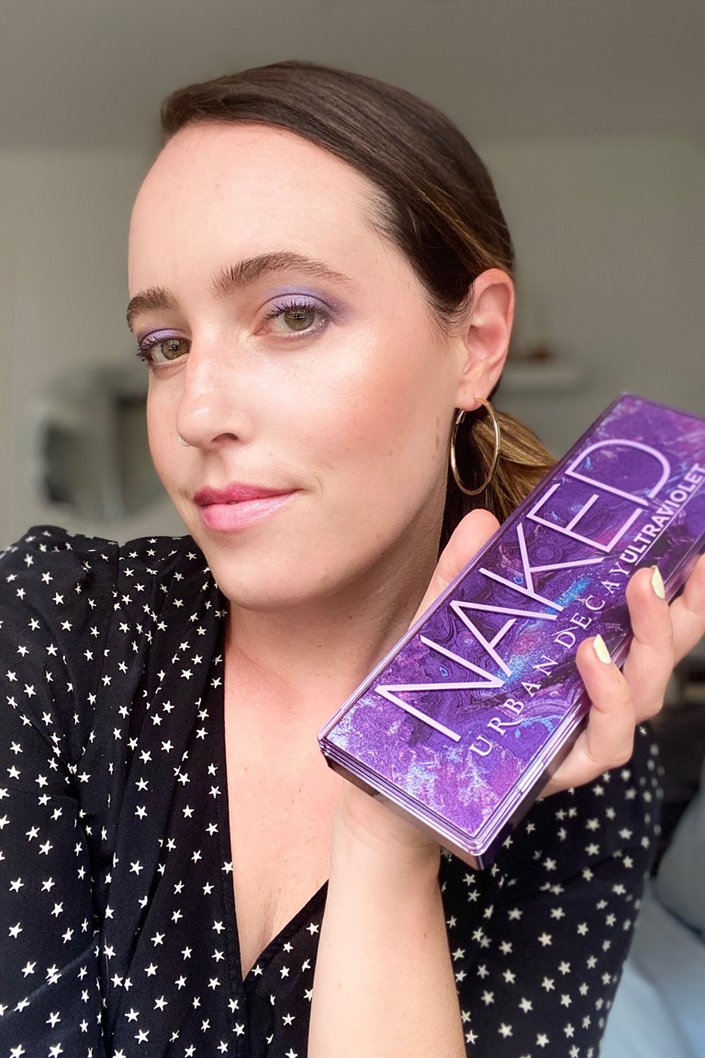 Genesis, Assistant Editor
To be completely honest, upon first glance, I didn't think I would like this palette as much as I did. Don't get me wrong, the colors are gorgeous, but it's one of those palettes I saw myself buying and then never using because purple shades are not typically my aesthetic. However, because the shade Warning, a shimmery magenta shade, is so captivating, I felt compelled to try it out.
First, I applied the shade Warning all over my eyelid using a fluffy shadow brush. These shadows are super buildable so I layered the color until I reached the perfect intensity. Then, I used my finger to apply the shade V.R, a glittery soft pink, on the center of my eyelid to add some sparkle and dimension. To finish, I used an eyeliner brush to create a wing with a mix of the rich purple shades Cyber Punk and Euphoric. I also applied those two colors along my lower lash line. The result, a shimmery purple-pink eye, was way more wearable than I expected.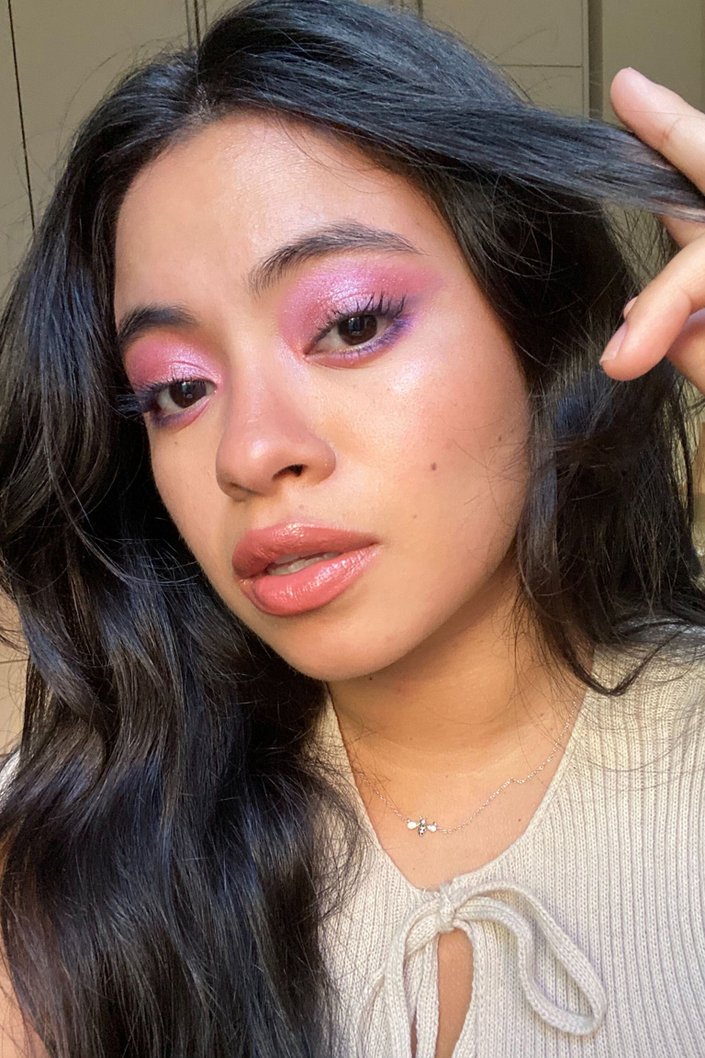 Jillian, Senior Social Media Editor
I'm not the biggest eyeshadow user, but all I could think about when I got this palette was that I wanted to play. The vibrant and moody purples were enough to inspire me to create a look that was out of my everyday comfort zone: a colorful smoky eye. First, I applied tape to my outer eye area so I could create a sharp wing. Next, I primed my eye with a concealer before applying Hacked, a light orange shade, all over my lid, stopping just above the crease. For my medium smoky shade, I applied Cyber Punk using the small-tipped side of the provided brush. This is a major pro tip: For a dramatic look, wet the brush before applying any of the shimmer shades and thank me later. To create my wing, I applied Purple Dust on the outer corner of my eyes and dusted it over the tape to create a clean line before removing it. Finally, I added a swipe of Lucid on my brow bone and in my inner corner to add some contrast and dimension to the whole look. It takes a lot for me to go bold with my eyeshadow, but the fact that this palette was able to do that speaks a lot to the color story and quality. I'm keeping this on hand, for sure.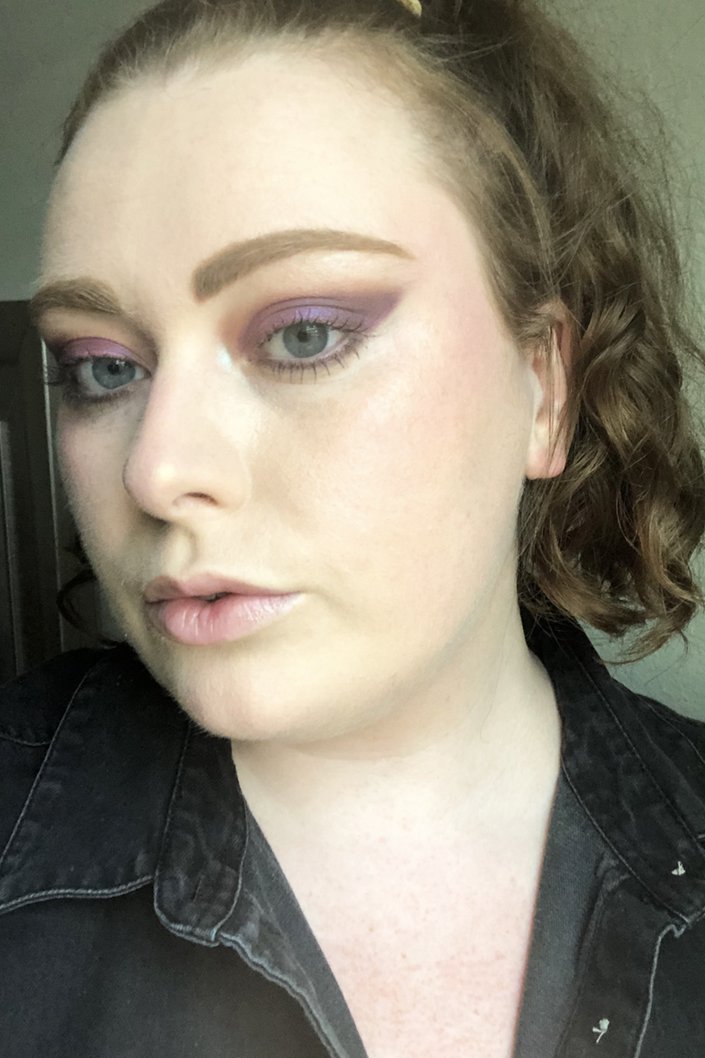 Alanna, Associate Editor
I'm typically not much of an eyeshadow gal — I often keep my eye makeup to a minimum with just a swipe of black winged liner. When I do wear shadow, I gravitate towards warm shades that complement my olive skin. Luckily this palette contains plenty of options to work with.
I started by applying Hacked, the perfect pinky-taupe all over my lid. Next, I picked up Optimized, a light lilac, and applied it in my crease, blending it outwards. I then added V.R in the center of my lid for a glittery pop. To complete the look, I lined my lower lash line with Optimized and added a swipe of Lucid, a light aqua shade, in each inner corner. This palette certainly pushed me out of my comfort zone but I think I might just use it again and again!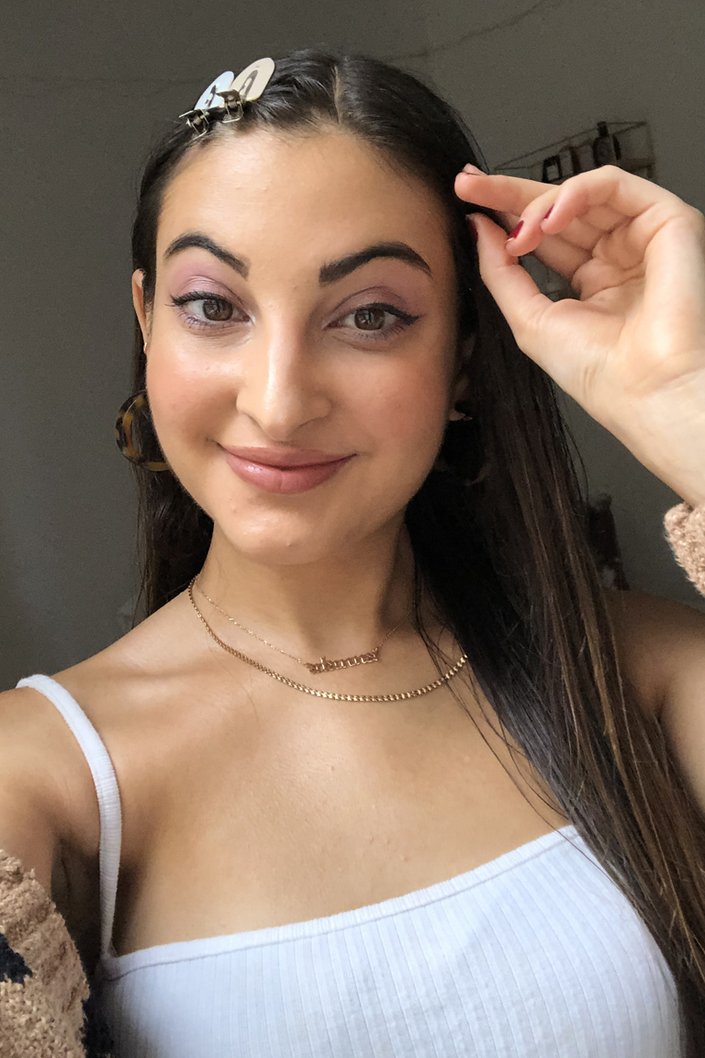 Photos (from top): Sarah Ferguson, Genesis Rivas, Jillian Selzer, Alanna Martine Kilkeary, Design: Hannah Packer
Read more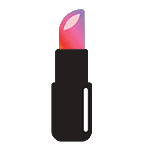 Back to top