How to Apply Tinted Moisturizer for a Dewy, Radiant Glow
May 01, 2023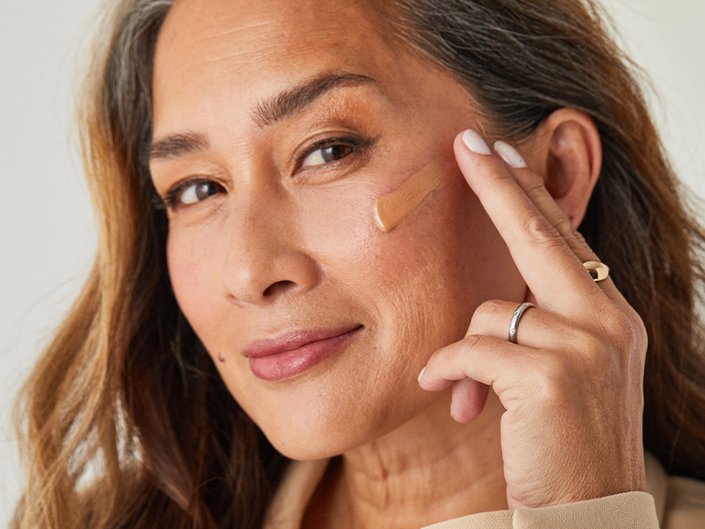 We love using BB creams, CC creams and foundations to even out our complexion and provide a base for other makeup products like blush or bronzer. But sometimes, we don't have the time or energy to do a full glam makeup routine before heading out the door. Or maybe we want to give our skin a break from full-coverage complexion products. On days when we want our makeup routine to be quick, low-key and super natural-looking, a tinted moisturizer is our go-to. Tinted moisturizer formulas provide sheer, light coverage that's perfect for the ever popular no-makeup makeup look.
"Tinted moisturizers are great for a more casual finish — kind of like wearing your favorite pair of jeans," says Tim Quinn, Giorgio Armani celebrity makeup artist. "They're easier to work with because they're more sheer, they have a lightweight texture, they usually have an SPF benefit and they're more portable because they usually come in a tube."
To learn more about tinted moisturizer, including the best tips for a flawless tinted moisturizer application and some of our favorite ones to shop, read on for expert advice from Quinn and celebrity makeup artist
Lisa Aharon
.
What Is Tinted Moisturizer?
"Tinted Moisturizer is a lightly pigmented hydrating skin tint that will minimize skin imperfections without covering them," explains Aharon. Think of tinted moisturizer as a more low-key, lightweight alternative to foundation or other complexion makeup products. As indicated by the name, it combines makeup with skincare benefits, including moisturizing properties.
"The finish normally ranges from natural to dewy depending on the formula and will often have SPF as well," says Aharon.
What Is Tinted Moisturizer Used For?
As mentioned above, tinted moisturizer is a great option for the days when you want your makeup routine to be lower maintenance or just want to even out your complexion. It's also a good choice if you don't love the look of a full-coverage foundation. "It's great as an everyday complexion product, especially if you choose one with built-in sun protection," says Aharon. You can use it as a substitute for foundation and pair it with other makeup products, or you can wear it on its own for a no-makeup makeup effect.
What Is the Difference Between Tinted Moisturizer and CC Cream?
The primary difference between a tinted moisturizer and a CC cream or BB cream is the level of coverage. Tinted moisturizers provide the least amount of coverage, making them more ideal for a subtle, natural look than CC cream or BB cream. Tinted moisturizers tend to have light to medium buildable coverage, while CC creams usually have medium or even full coverage.
Additionally, though both tinted moisturizer and CC cream offer skincare benefits, the main purpose of CC cream is to color correct. CC creams are intended to even out redness, correct an uneven skin tone and help cover dry spots. Ultimately, tinted moisturizer is very much a moisturizer first and foremost, and CC cream more closely resembles skincare-infused foundation.
What Is the Difference Between Tinted Moisturizer and Foundation?
Similar to CC cream and BB cream, the main difference between tinted moisturizer and foundation again comes down to coverage level. If tinted moisturizer is what you wear on your low maintenance, no makeup days, foundation is for when you want to get glam. While
foundation
comes in a wide range of coverage levels and finishes, it is your best option for a matte or full-coverage look. Plus, though many foundations boast a variety of skincare benefits, they likely won't deliver the same level of hydration of a tinted moisturizer.
What to Look for in a Tinted Moisturizer
What to look for in a tinted moisturizer depends on your skincare needs and aesthetic preferences, but there are some features that every good tinted moisturizer should have. Above all, you want a tinted moisturizer to have the hydrating benefits promised by the name. Ingredients like hyaluronic acid and glycerin, for example, are great for locking in moisture. Typically, you'll also want a tinted moisturizer to have a lighter coverage level and an ultra-natural finish. Finally, many tinted moisturizers have built-in sun protection, which is always an added benefit on top of your normal SPF. We recommend finding one in a shade that best matches your skin tone to get the no-makeup-makeup effect that makes tinted moisturizer such a staple.
How to Apply Tinted Moisturizer
Cater to Your Skin Type
Because tinted moisturizers tend to have a sheer formula, choose one based on your skin type. For example, if you're prone to breakouts, seek out an oil-free formula. Then, look for the tint or shade that best matches your skin tone. Some formulas have universal tints.
Ditch the Makeup Sponge
Tinted moisturizers are like hydrating lotions, and you wouldn't apply a moisturizer with your makeup sponge, right? Skip the damp makeup sponge and apply the formula evenly onto your skin using your fingertips or a brush. "Since tinted moisturizer is already quite sheer, I prefer to use fingers or a brush for application (a wet blender is amazing for a barely there approach but can potentially diffuse the product too much)," recommends Aharon. "Fingers will give the most natural effect, whereas using a brush to pat on the product could provide a little more coverage."
Quinn, meanwhile, prefers the finger application method to both a sponge and a brush. "Take a small amount [of tinted moisturizer] and blend from the center of the face out, much like you would apply a daytime moisturizer," says Quinn. If you need more coverage in certain areas, add a light touch of concealer and blend (with your fingers) to give your skin a smooth appearance.
Skip the Powder
Although you may be tempted to set the look with a finishing powder, we highly recommend resisting the urge. The point of tinted moisturizer is to look like you're not made up, so embrace the radiant, dewy finish. "Powder is definitely a no-no," says Quinn. "It's all about the glowing skin." If you can't skip out on the setting step, we recommend spritzing a setting spray like the Urban Decay All Nighter Setting Spray. It helps keep your makeup in place while still maintaining a luminous, glowing finish.
Our Favorite Tinted Moisturizers and Skin Tints
Look to this luxe beauty option for a buildable light-to-medium coverage. The water-cream textured formula of the YSL Beauty Nu Bare Look Tint is infused with glycerin and hyaluronic acid for 24-hour hydration that leaves skin looking and feeling fresh. It's available in 20 shades ranging from light with neutral undertones to deep with neutral undertones. Be prepared to get compliments on your lit-from-within glow, thanks to the radiant finish of this tint.
Though technically a foundation-CC-cream hybrid, the IT Cosmetics CC+ Nude Glow Lightweight Foundation + Glow Serum SPF 40 has a fluid skin tint texture with medium coverage. Formulated with hyaluronic acid, green tea extract and niacinamide, it also offers the major skincare benefits of a serum and moisturizer. Use it to boost the hydration of your skin, as well as even out the tone and texture of your skin over time. Plus, with an SPF of 40, it will help protect your skin from damage from the sun's rays.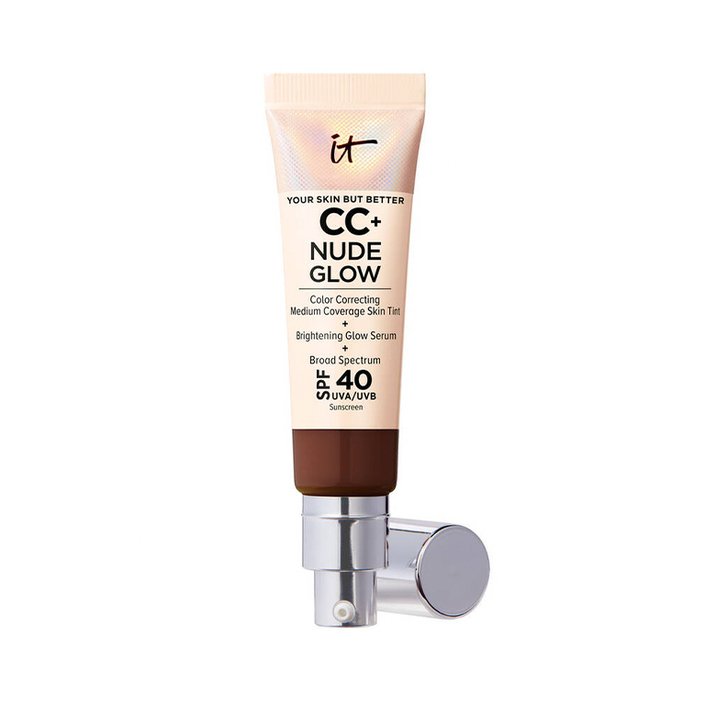 A water-based tinted moisturizer, the Maybelline New York Fit Me! Tinted Moisturizer has a refreshing, lightweight feel on your skin and delivers hydration for up to 12 hours. It has a natural coverage level intended to blur your pores and enhance your beautiful natural skin rather than cover it up completely. Choose between 14 shades to find the one that best matches with your skin tone.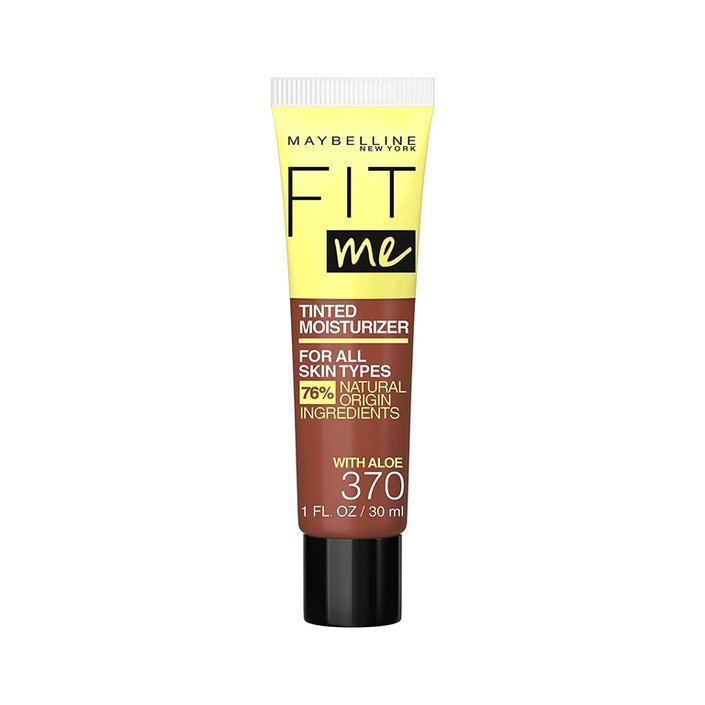 We can't get enough of this bestselling tinted moisturizer from Saie Beauty. Not only does it protect your skin from the sun's harmful rays with SPF 35, but it also gives the skin a rush of hydration all while being suitable for acne-prone skin. Hyaluronic acid in the formula hydrates your skin while pansy flower fights free radicals and infuses your skin with antioxidants. You'll love how the silky texture of this tint seamlessly blends into your skin.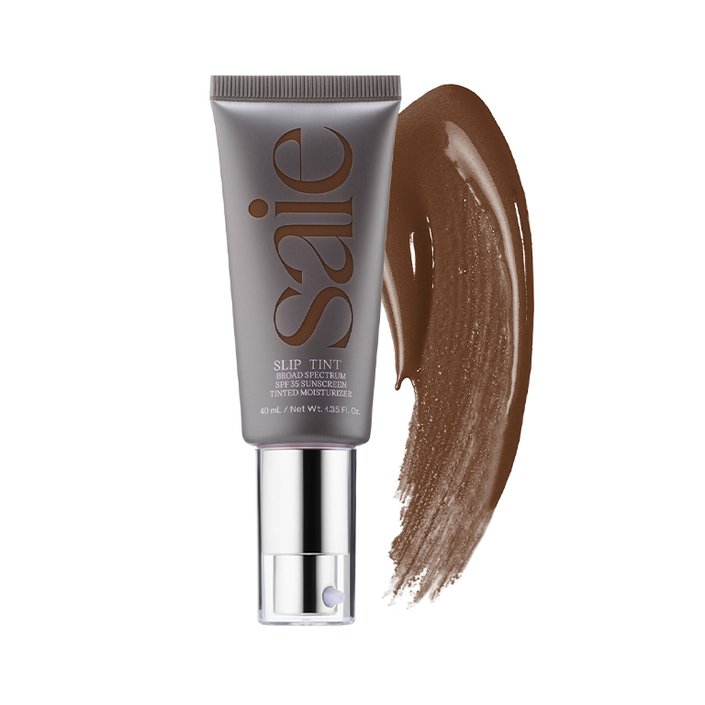 The Iris&Romeo Best Skin Days SPF 30 is one of Aharon's favorite tinted moisturizers because "it's loaded with skincare benefits, melts into the skin effortlessly and has buildable coverage." Some of the skincare benefits it claims to provide include improving your skin's hydration, elasticity and radiance. If you want bouncier, firmer-looking skin, this is the tinted moisturizer option for you.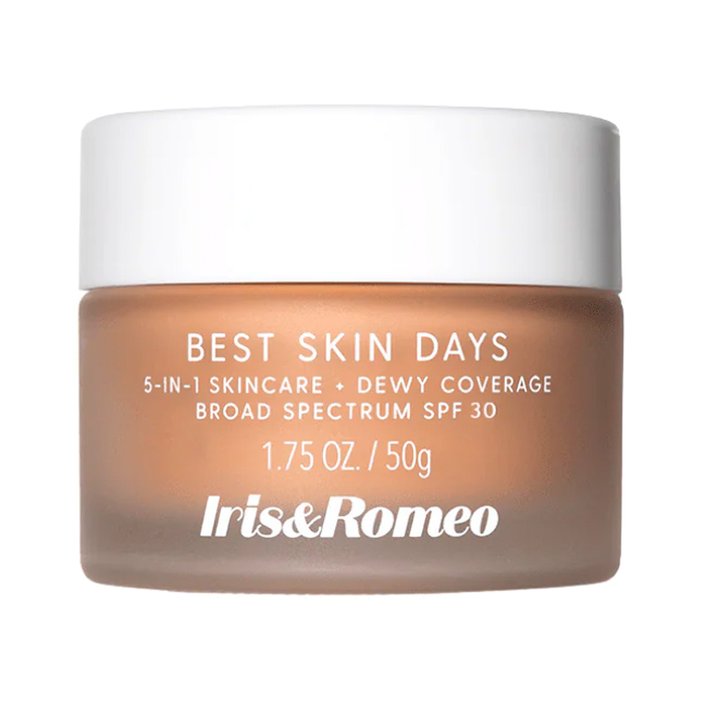 This is our pick for a tinted moisturizer that's perfect for summer. Another of Aharon's favorites, the Supergoop! CC Screen 100% Mineral CC Cream SPF 50 offers the broad-spectrum sun protection of a sunscreen with the color-correcting effects of a CC cream. "The 100% mineral formula is great for sensitive skin and leaves you flawless and glowing," she says. "SPF 50 gives you everyday protection or beach-ready skin."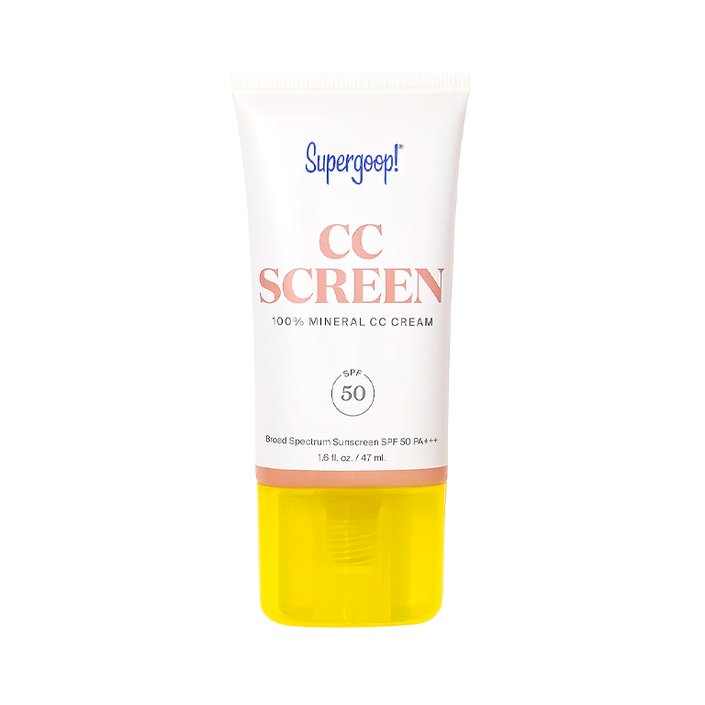 Read more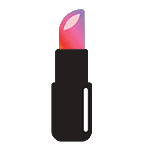 Back to top