I Wore IT Cosmetics Oil-Free Matte CC Cream for 12 Hours — Here's My Review
August 07, 2018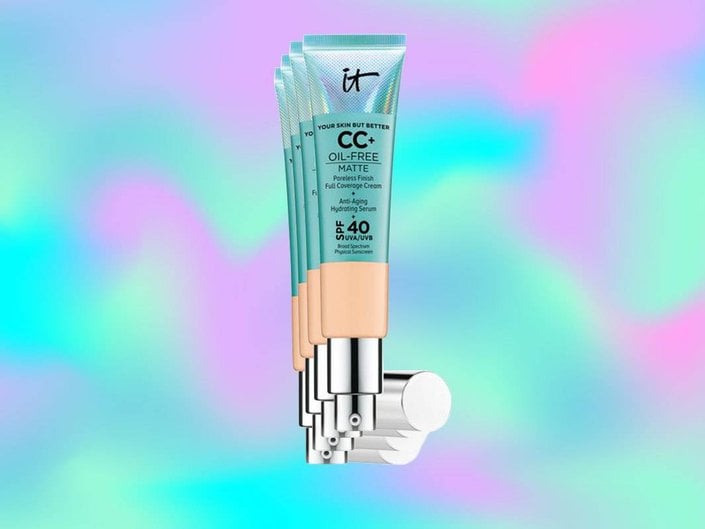 A single search for "IT Cosmetics CC Cream" on Google will yield you over 43 million hits in under one second — and for good reason. It's the do-it-all formula; that one desert-island beauty product if you will. The OG formula beloved by all makeup wearers — from newbies to experts to teens to grandmas — will forever remain a living legend, however, it now has a matte counterpart oily skin and breakout-prone babes can get behind. Behold, the new IT Cosmetics Oil Free Matte CC+ Cream with SPF 40, a new formula that I put to the ultimate test over a 12-hour period to see how it would hold up throughout the day (see: IT Cosmetics IG Story for evidence).
My first observation with the new, oil-free matte formula is that it feels and looks a little bit thicker than the formula I'm used to. At first, I was a little nervous to slather it on, thinking it might look mask-y or be too thick, but I found that there was nothing to fear. On the morning of my CC Cream "road test," I dispensed two pumps of the formula onto the back of my hand, dotting the product onto my face and applied — using a little extra in areas that had redness or unevenness (aka, my cheeks). The finish left me feeling like I found my holy grail. You could still see some of my freckles peeping through the matte formula, and it gave me a medium-coverage, matte finish that could easily be built up for full-coverage if I wanted. I didn't get the satin look the OG CC+ Cream does, but my skin looked healthy and real, which is always the goal for me.
My Timeline
If you're an East Coast city gal, you know the struggle of just existing in 95-degree temps when your makeup melts down your face and you question whether or not you should have just skipped makeup altogether. This is the reason I embrace my minimalist side during the summer, a.k.a., why I hoard super-light tinted moisturizer formulas like my life depends on it. But the description of IT Cosmetics Oil-Free Matte gave me hope. Said to control oil and shine, serve as your SPF and keep your skin matte for 12 hours, I knew I had to test this out — through all the elements, of course.
For a breakdown on my day wearing the new formula for 12 hours, check out my handy timeline of events below:
9am: I dotted IT Cosmetics Oil-Free Matte CC Cream in my shade (light) onto my face and then used my Heavenly Skin CC+ Skin Perfecting Brush #702 — blending the product in circular motions. Once it was fully blended, I applied concealer, mascara and a touch of bronzer and highlight for a simple workday look.
12pm: I forced myself to go outside in the heat and instantly realized iced coffee was very, very necessary. My coffee and I made it back to the AC, and even though I definitely started to melt, my CC cream stayed matte.
6pm:Whether you're pro gym makeup or not, I admit that I took to the treadmill for four miles in my full face of makeup to see if it could make it through. Nevertheless, it persisted, surviving the sweat sesh and a few (small) tears, too.
9pm: Twelve hours later, my CC Cream was still fully intact. I took an IT Cosmetics Makeup Removing Micellar Wipe to my face, and swiped it all off.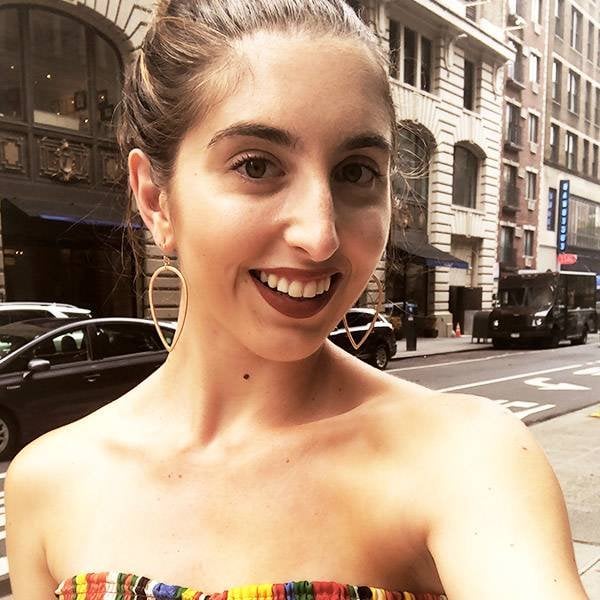 The Verdict
Without a doubt, the brand's original CC will always hold a special place in my heart, but the new oil-free matte formula is officially my new everyday go-to. I trust it to last through everything I need it to and help me feel my most confident.
Who Should Use It?
Anyone and everyone. I highly recommend this product to anyone who is looking for a matte finish foundation. As someone with dry skin and occasional breakouts, I don't always look for an oil-control product because that's not my biggest concern. Instead, I look for hydrating products that double as skincare and Oil-Free Matte CC Cream does that.
No matter your skin type, this is matte makeup you won't regret adding to your cart. Someone seriously needs to go swimming in this stuff because it's that good.
Read More:
This Star-Shaped Makeup Brush Is the Perfect Combination of Extra and Patriotic
6 Best Makeup Primers With SPF To Wear All Year Round
The Best Beauty Podcasts You Should Subscribe To This Minute

Read more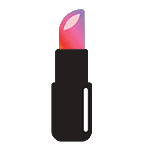 Back to top