The New L'Oréal Paris Infallible 24HR Fresh Wear Foundation in a Powder is Going Viral on TikTok — Check Out Our Editors' Reviews
February 10, 2021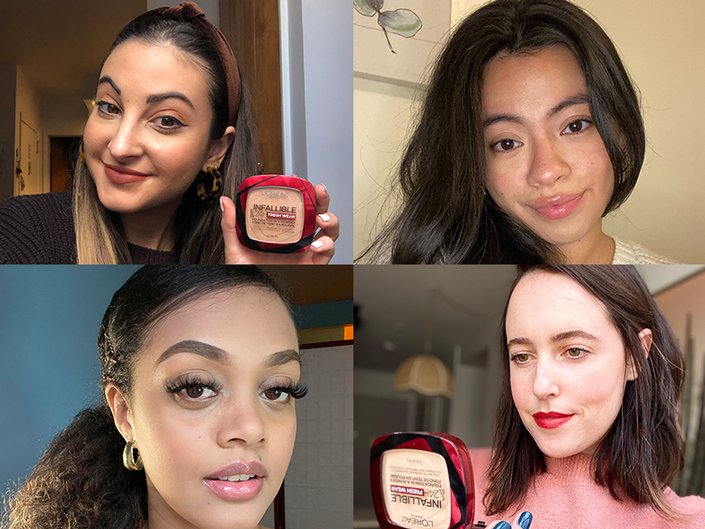 Sarah, Senior Editor
Shade: Porcelain
Because my skin can be dry, especially during the winter, I'm a tinted foundation or BB cream kind of person. That's why, like some of my colleagues, I wasn't so sure I would be into this powder. Still, I tried the formula three ways and am happy to report that two of them ended up being hits. First, I used the included sponge to apply the powder all over my face after going through my skin-care routine. This exacerbated some flakes on my T-zone so I removed the makeup and moved onto test number two. Here, I applied my go-to tinted moisturizer and then added a light dusting of the powder on top with a fluffy brush. This not only made my complexion look more flawless, but helped set the liquid, making it more mask-proof. Success! Finally, I tried the powder a third time after applying a nourishing face oil. I dusted on a light layer with a fluffy brush and it helped even out my complexion without making it look like I was wearing anything at all and made my skin feel super soft — another win.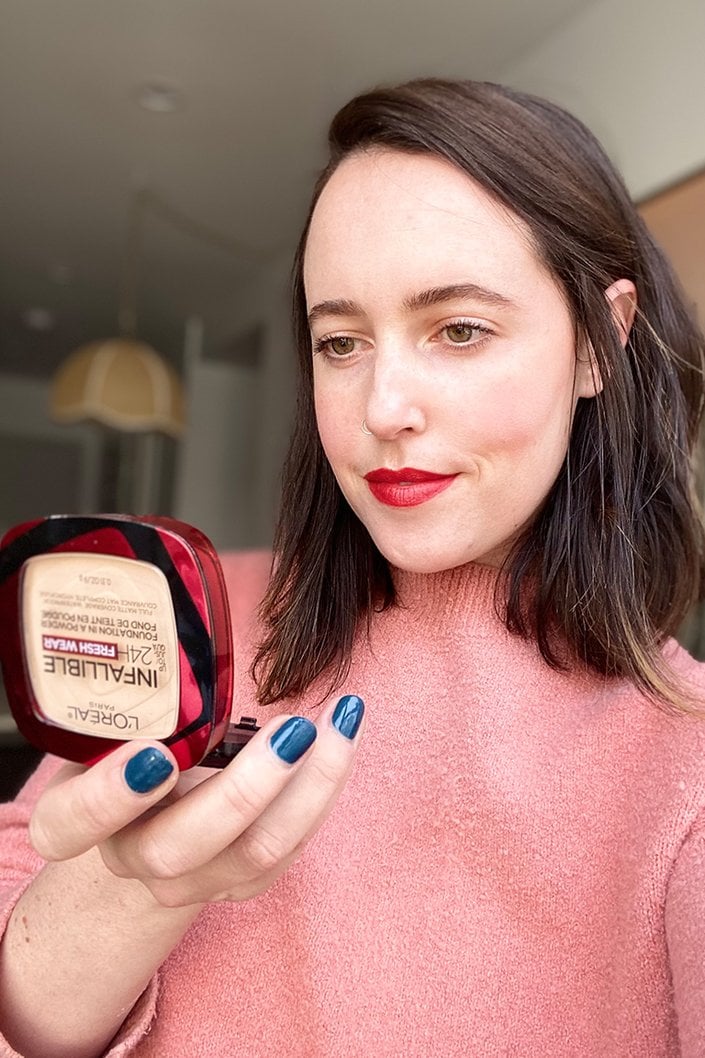 Alanna, Assistant Managing Editor
Shade: Sand
Between my oily-to-combination skin type and wearing a protective mask on the reg, finding the right foundation that keeps me matte has been a struggle. My typical CC cream and liquid options just haven't been making the cut, so I was super pumped to try this new powder formula. I started by applying my concealer and then took a round fluffy brush to buff the powder all over my face. It's super thick and creamy, totally easy to layer and didn't end up looking cakey on my skin. After applying, I set it with my usual setting spray and went about my day, mask and all. I not only noticed that it wasn't coming off on the inside of my mask, but that it also kept me looking shine-free. Without a doubt, I'll be incorporating this powder foundation into my everyday routine.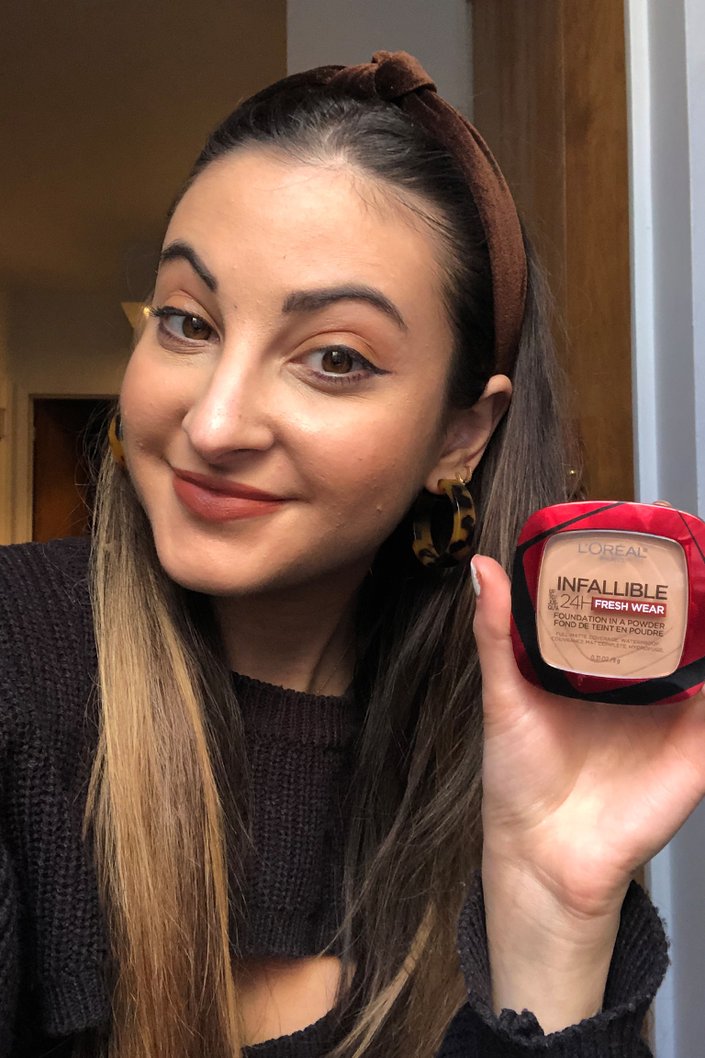 Shauna, Associate Editor at Beauty Magazine
Shade: Sand
I'm new to the powder makeup game and can be pretty picky when it comes to foundations. I like full-coverage formulas that won't leave my face feeling super heavy with product. After trying out the new Infallible Fresh Wear, I was so shocked at how good the powder looked on my face. It gave me a full-coverage matte finish which I loved because my skin tends to get oily throughout the day. It went on super smoothly and was easy to build up without looking too cakey. I used the sponge it came with to apply it all over my face and then blended it out with a bigger makeup brush. My favorite part about this powder foundation was the finish — no fine lines or dry patches anywhere! This product will be staying in my makeup bag from now on.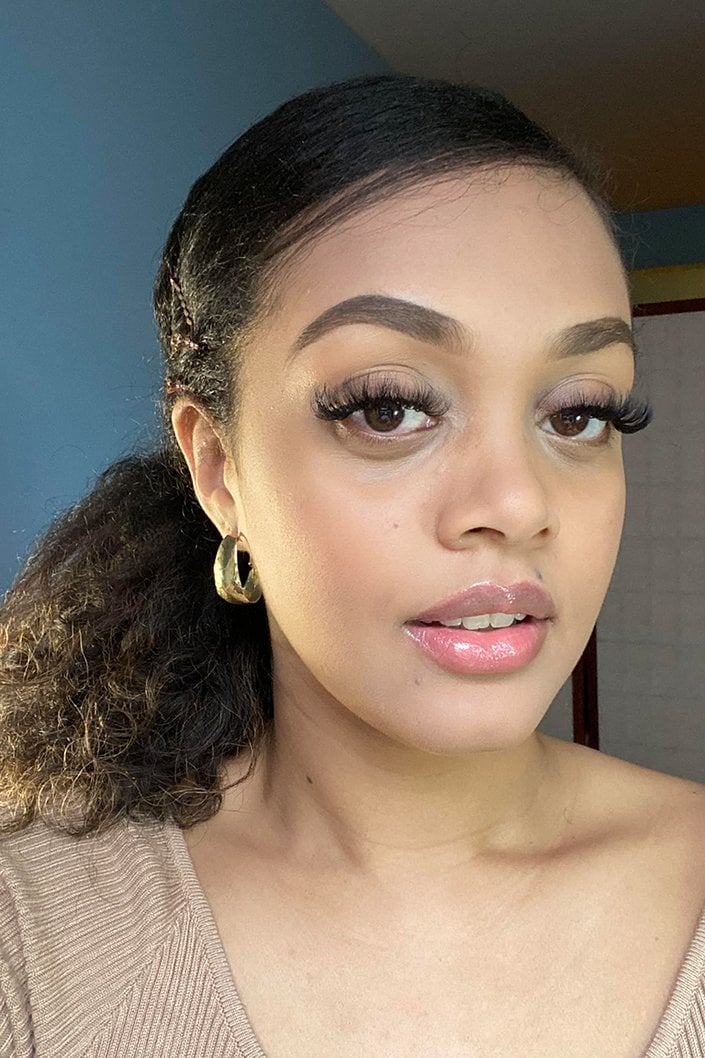 Sam, Assistant Editor
Shade: Ivory
I've honestly never used powder foundation — I'm a BB cream girl through and through. But after hearing about how much some of the Makeup.com editors love the new Infallible Fresh Wear powder, I decided to give it a go. TBH, I was pleasantly surprised by the results. The formula is creamy and smooth, feels weightless and glides onto the skin almost like a liquid foundation. I was a little concerned that the powder would look cakey or settle into my pores throughout the day, but it actually gave me a flawless, matte finish, looked natural and kept my face shine-free. It's definitely a great option for days when I'm wearing a face mask or will be applying my makeup on the go.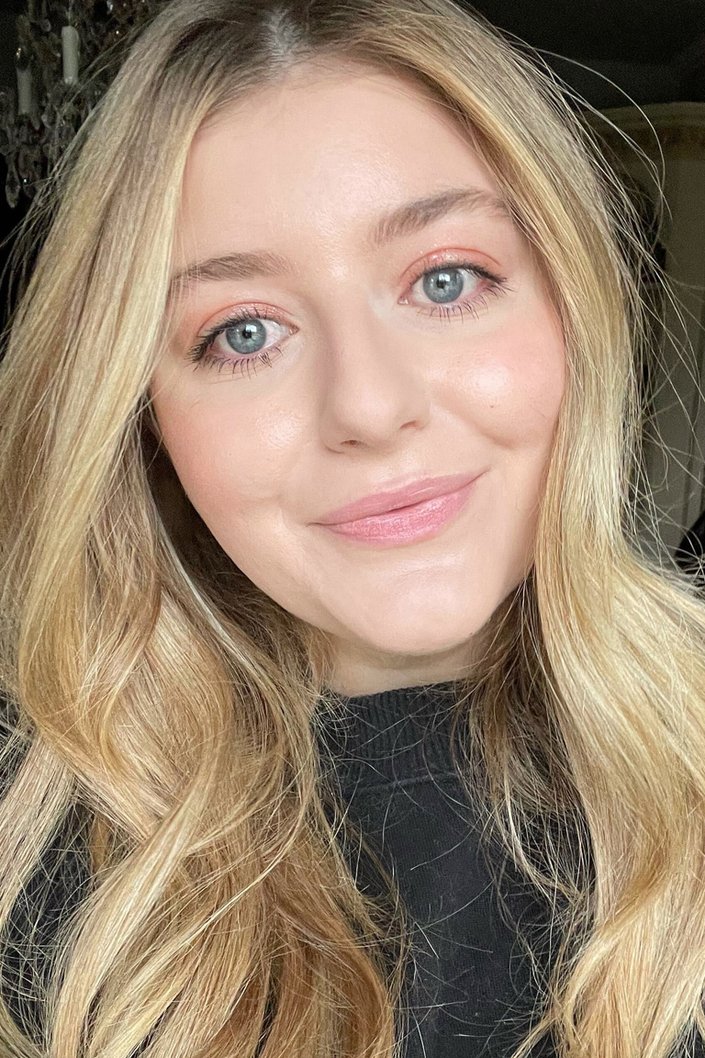 Genesis, Assistant Editor
Shade: Linen
I'll be honest, I don't love powder makeup, especially during the winter. My skin is dry and I find it clings onto the dehydrated patches and makes me look lackluster. That being said, I was pleasantly surprised by this foundation. The formula is very soft and offers a very natural-looking finish. It's also full coverage, so one swipe is enough to cover any blemishes without looking cakey. After wearing it for a full day, my favorite part was that it felt weightless. While I'm not sure I'll replace this formula with my everyday liquid foundation, I think it's a great option on the days when I'm looking for a little more coverage without sacrificing a skin-like look.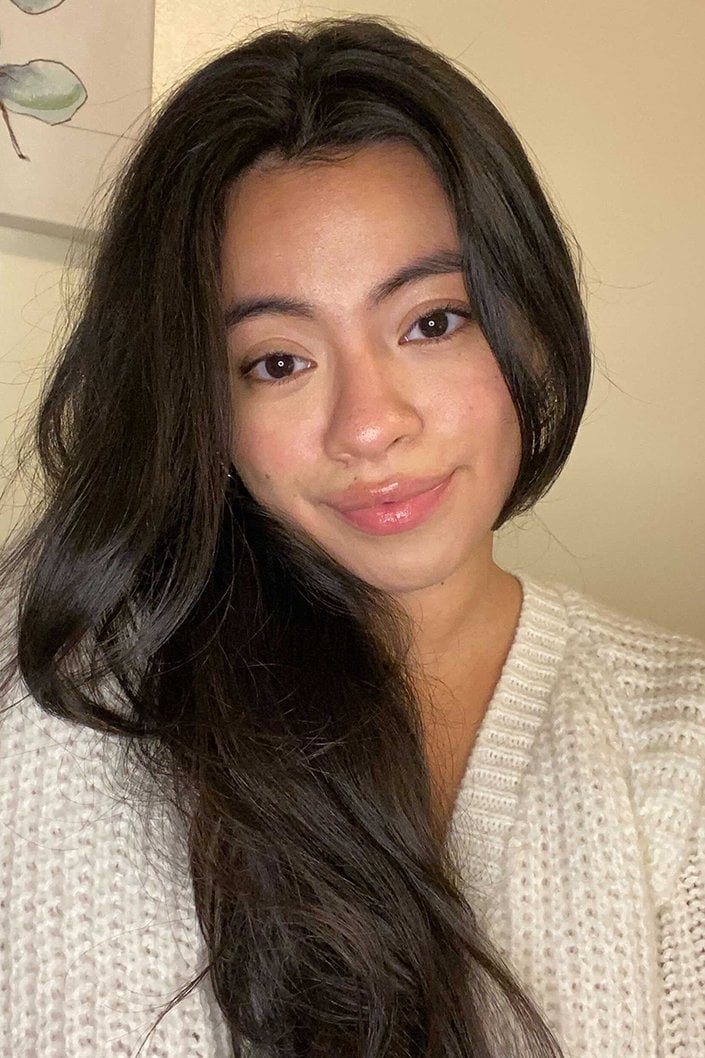 Malaika, Audience Development Manager
Shade: Deep Amber
When I think of powder foundation, the words 'cakey' and 'flakey' always come to mind. Plus, I've always had trouble finding a powder foundation that matches my skin tone, while also covering discoloration and my enlarged pores. Fortunately, this powder met and surpassed all of my expectations. I tried the color in Deep Amber and I loved how it blended seamlessly with my skin and matched my cool undertone. I used a makeup sponge to press the powder into my skin, and it covered my acne scars and pores effortlessly. I also love how lightweight it feels. It didn't feel cakey or flaky, and the matte finish didn't make my skin look dull. But my absolute favorite part is how long this lasted! After putting on a full beat, I finished my laundry, cleaned my room and cooked dinner and I
still
looked flawless. I'm so glad I finally found a mattifying powder foundation that I truly like.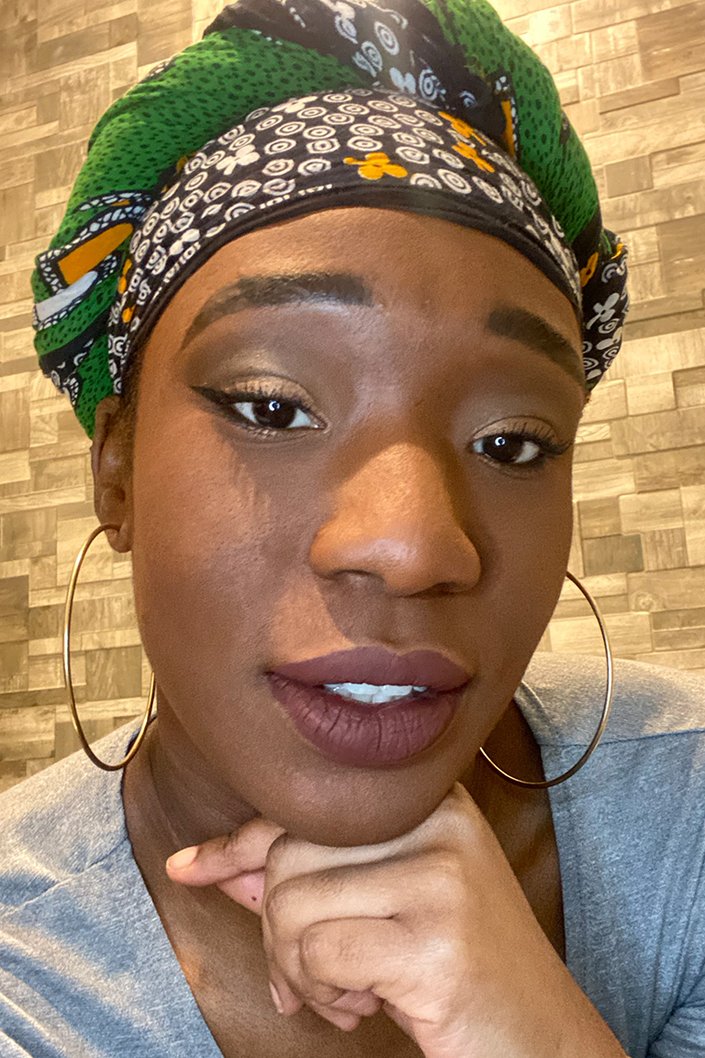 Photos: Alanna Martine Kilkeary, Sarah Ferguson, Samantha Holender, Genesis Rivas, Malaika Nicholas, Shauna Beni
Read more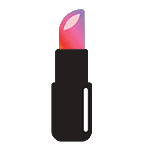 Back to top