What 5 Editors Thought of the New L'Oréal Paris Skin Paradise Water-Infused Tinted Moisturizer
January 13, 2021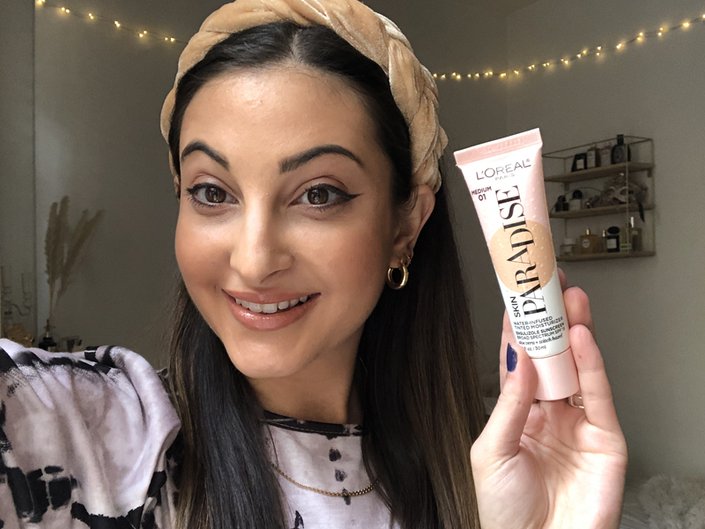 It's no secret that tinted moisturizer is one of our editors' favorite types of face product. These formulas help keep the skin hydrated and looking glowy and refreshed throughout the day, plus they're extremely lightweight. So when the new L'Oréal Paris Skin Paradise Water-Infused Tinted Moisturizer landed in our mailboxes, we couldn't wait to test it out. The formula boasts 70% water, plus aloe vera and witch hazel to keep the skin hydrated and dewy. And because the formula is non-comedogenic, it's suitable for oily skin types. Ahead, our editors share their thoughts on the tinted moisturizer.
Sarah, Senior Editor
Shade: Fair 02
My skin has been extra dry this winter from working right next to my indoor heating unit, so I've been looking for a hydrating foundation that feels lightweight and won't look cakey or flaky on my skin. This formula fits the bill. It melts into skin with ease and with just a few drops, it gives my complexion a filtered effect that makes it look more even and bright. I like to apply it with a damp beauty sponge (I spray mine with a hydrating face mist) for even more of a dewy glow.
Alanna, Assistant Managing Editor
Shade: Medium 01
A lightweight tinted moisturizer is a must-have for me in the winter when my skin gets shiny along my T-zone and dry around my cheeks and eye area. That's why I was pumped to try the Skin Paradise formula, which has a combination of aloe vera and witch hazel to help keep skin moisturized while absorbing excess shine. When I tried it out, it did exactly this, and I found that I didn't need to reapply powder every few hours like I normally do. Instead, my oily areas were matte and my dry areas looked hydrated — I looked dewy without feeling like a greaseball. I definitely would recommend this product to someone who prefers light-to-medium coverage and struggles with combination skin like I do.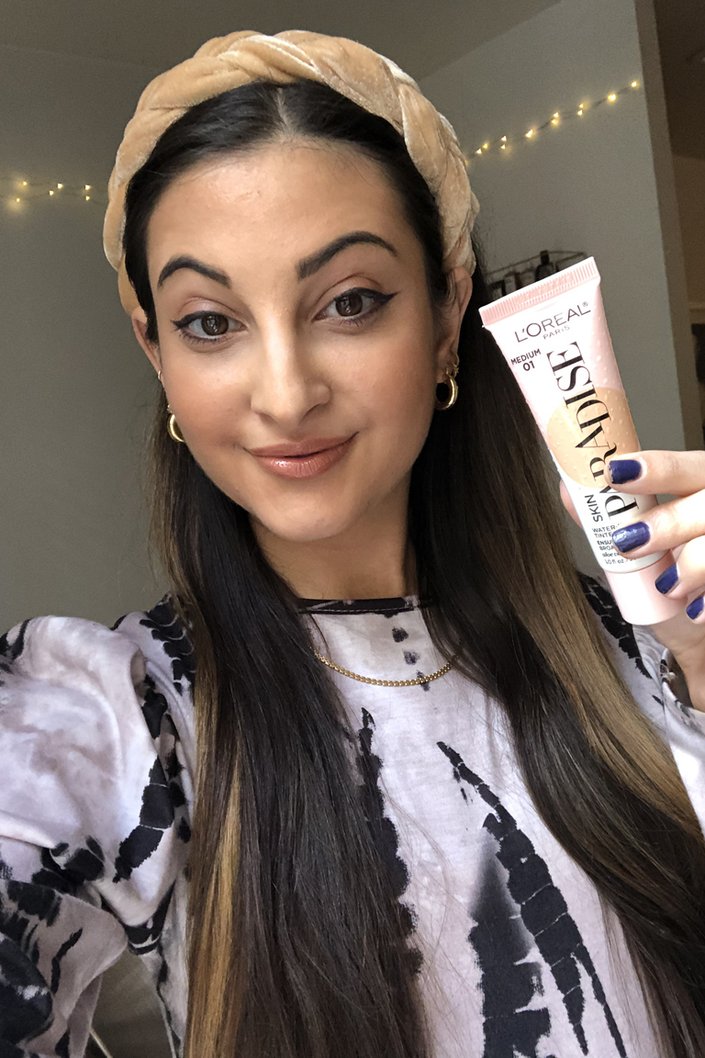 Sam, Assistant Editor
Shade: Fair 03
I love to have glowy, dewy skin year-round, but right now my skin is on the drier side. My normal foundation has been separating around my nose and mouth, so I couldn't wait to try out this hydrating tinted moisturizer. The formula, which is infused with aloe vera, felt super hydrating on my skin and gave me a dewy sheen that lasted all day long. It feels super lightweight, but still provides just enough coverage to even out my skin tone. Personally, I find that using a beauty sponge to apply the tinted moisturizer gives the most second-skin effect, but massaging it in with my fingers works too. I'll definitely be grabbing this product on days when my skin needs a little extra moisture.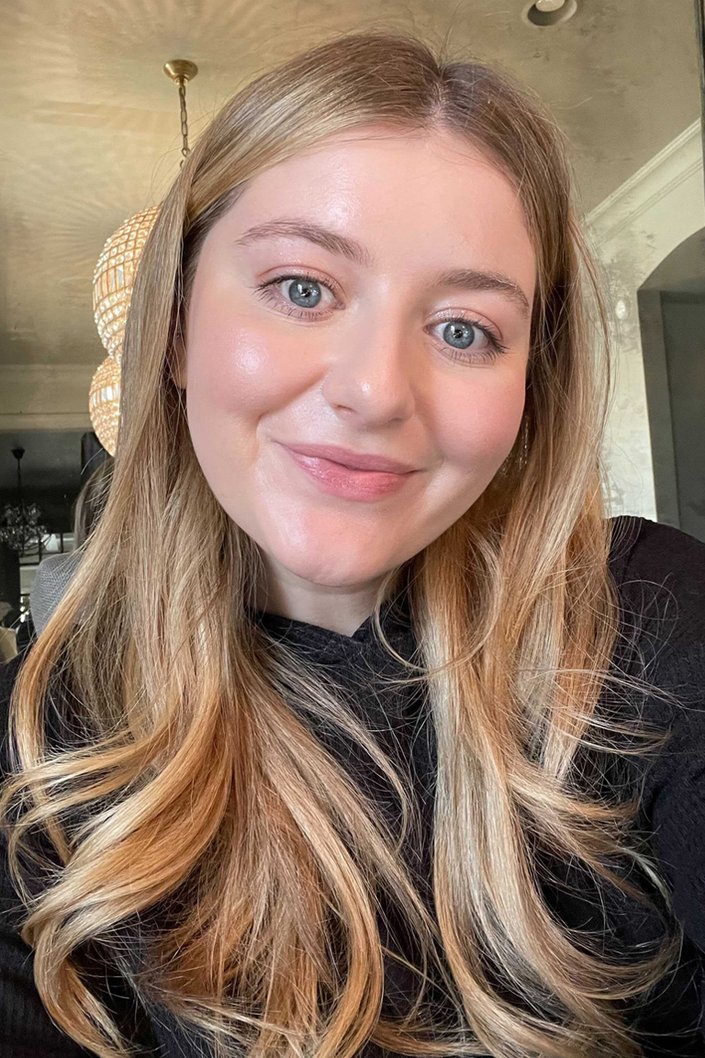 Genesis, Assistant Editor
Shade: Medium 02
When it comes to my face makeup, I've always preferred lightweight tinted moisturizers, which is why I was very excited when L'Oréal Paris launched a new formula at an affordable price point ($16.99). After trying it out, I'm excited to report that it's my new go-to for everyday, no-makeup makeup. It's lightweight, hydrating and comfortable to wear for hours at a time. I applied it using my hands (just like a regular moisturizer) and felt that this application method helped the formula seamlessly melt into the skin and offered a natural, dewy look where my beauty marks still peaked through. That being said, I found that when I do apply it with a brush, it's very buildable so if you are looking for some extra coverage, it's definitely possible. I 10/10 recommend this formula.
Malaika, Audience Development Manager
Shade: Deep 03
If you're looking for an instant Instagram filter in a bottle, look no further than this tinted moisturizer. It melts into my skin and I feel comfortable wearing it all day. I'm also really big on taking care of my skin, so I love that it also has a broad spectrum SPF 19 sunscreen infused in the formula. What really blew me away is the coverage. I applied this tinted moisturizer with my fingers, and it instantly blurred my pores and covered my dark spots and acne scars with ease, leaving a glowy finish that looked so natural. Whether you're making a quick trip to the grocery store, hopping on a last-minute Zoom call, or if you want a selfie-worthy natural look, I highly recommend adding this moisturizer to your makeup and skin-care routine.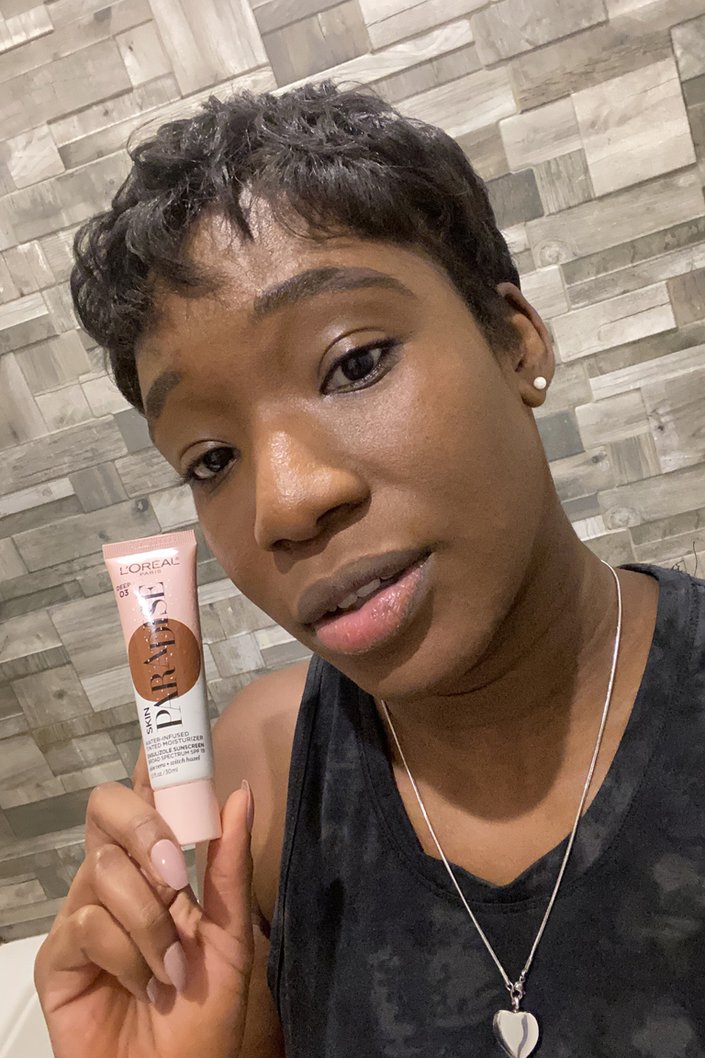 Photography: Alanna Martine Kilkeary; Sam Holender; Malaika Nicholas
Read more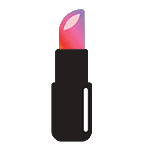 Back to top