8 Editors Put the New NYX This Is Juice Lip Gloss to the Test
February 24, 2022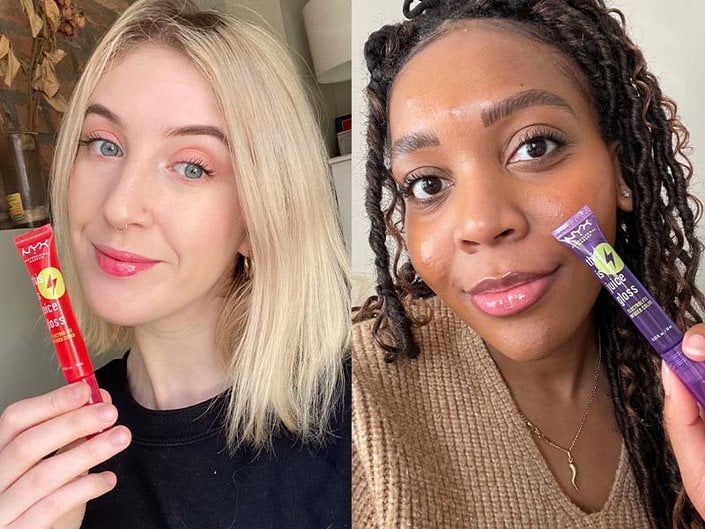 Juicy, hydrated lips are at the top of our makeup wishlist everytime we try a new lip gloss. And according to NYX Professional Makeup, they've cracked the juiciest code ever with their new This Is Juice Lip Gloss formula. Infused with electrolytes and five lip-loving oils, from grape seed oil, to jojoba, avocado and even squalane, this high-shine gloss gives you healthy, moisturized lips inside and out. Here, read our editors thoughts on the newest lip gloss to hit the block.
Alanna, Assistant Managing Editor
Shade: Coconut Chill
I'm not often a gloss girl, so it takes a pretty special formula to get me hooked. That being said, I was thoroughly impressed with this one — it's non-sticky, super shiny and totally clear, allowing you to wear just a touch of shine while your natural lip color shows through. I love how moisturizing it felt throughout the day, and how plump and smooth my lips looked — clearly the electrolytes and oils were doing their job. For a non-gloss lover, this scores pretty high in my book, and I'll be reaching for it a lot more than I thought.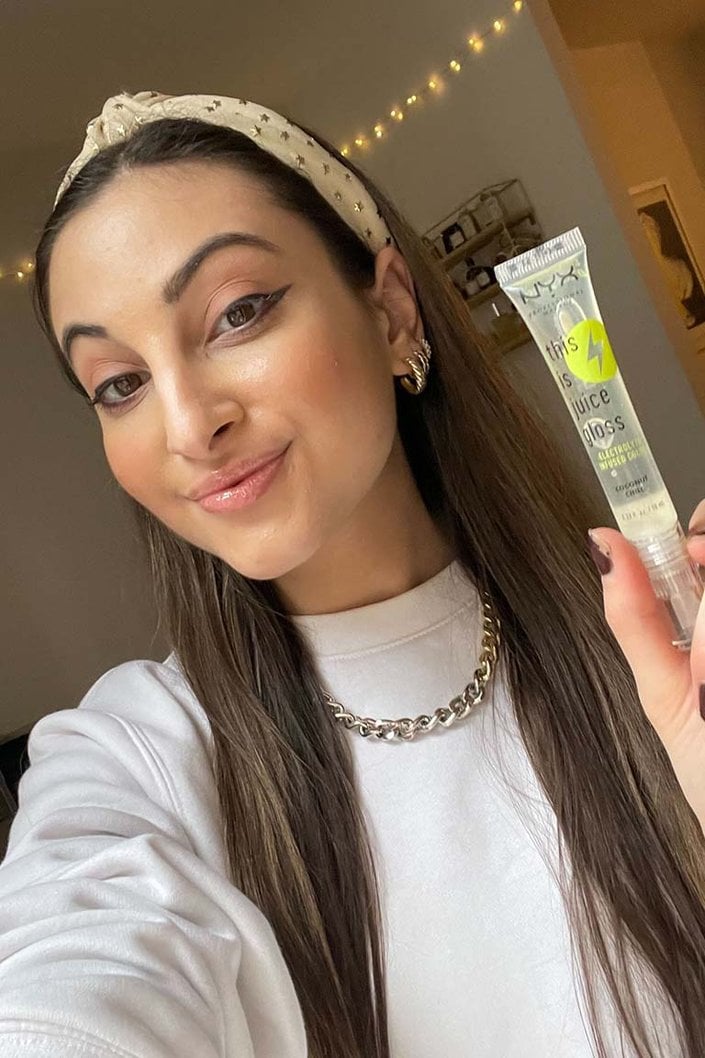 Jaz, Senior Editor
Shade: Pomegranate Clout
Don't underestimate the power of this gloss! Not only does it have a sheer wash of color that's perfect for those no-makeup makeup days, but it's infused with electrolytes that drench my lips in shine and 12-hour hydration. I love the feel that lip-loving oils in the formula leave behind — not goopy, but light and moisturizing. The sweet-smelling scent brings me back to my middle school days when lip gloss is all I would wear.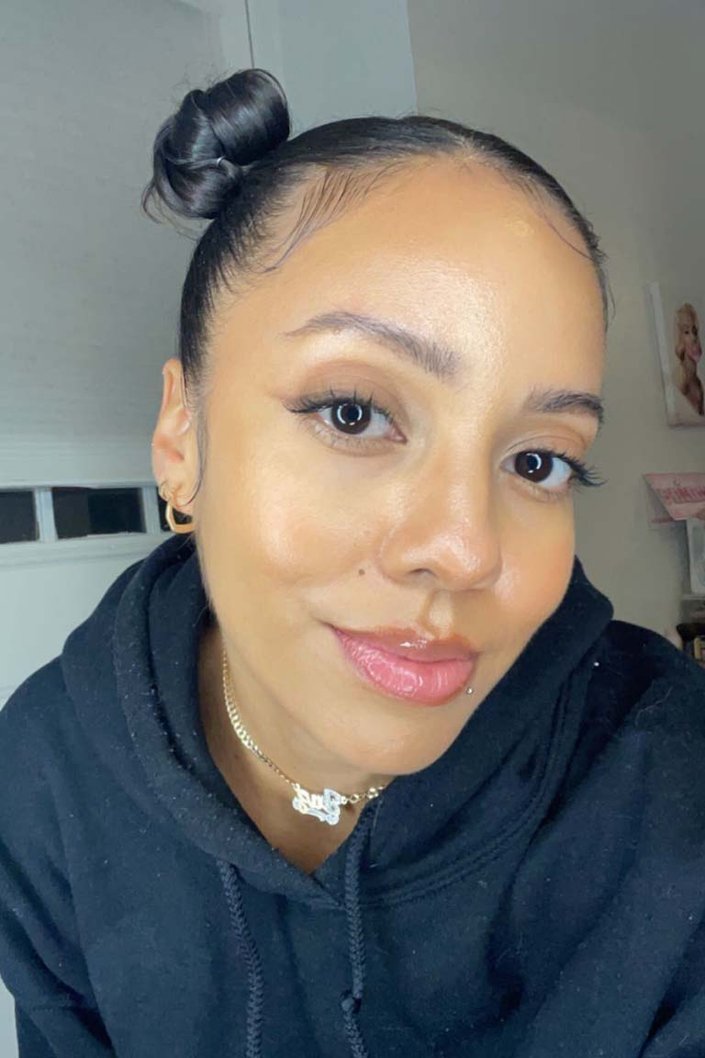 Ariel, Associate Editor
Shade: Pomegranate Clout
I'm a lip gloss girl through and through, and I'm in love with this electric pink shade. It's buildable, so you can apply a single coat for sheer, jelly-like shine and color, or layer it on for a vibrant pink pout. The formula glides on smoothly with zero stickiness and has great wear time for a gloss — it lasted about two hours, even as I sipped my morning coffee. The doe-foot applicator earns this gloss yet another plus in my book, because it's easier to reapply than a squeezy tube. I can't wait to try another shade!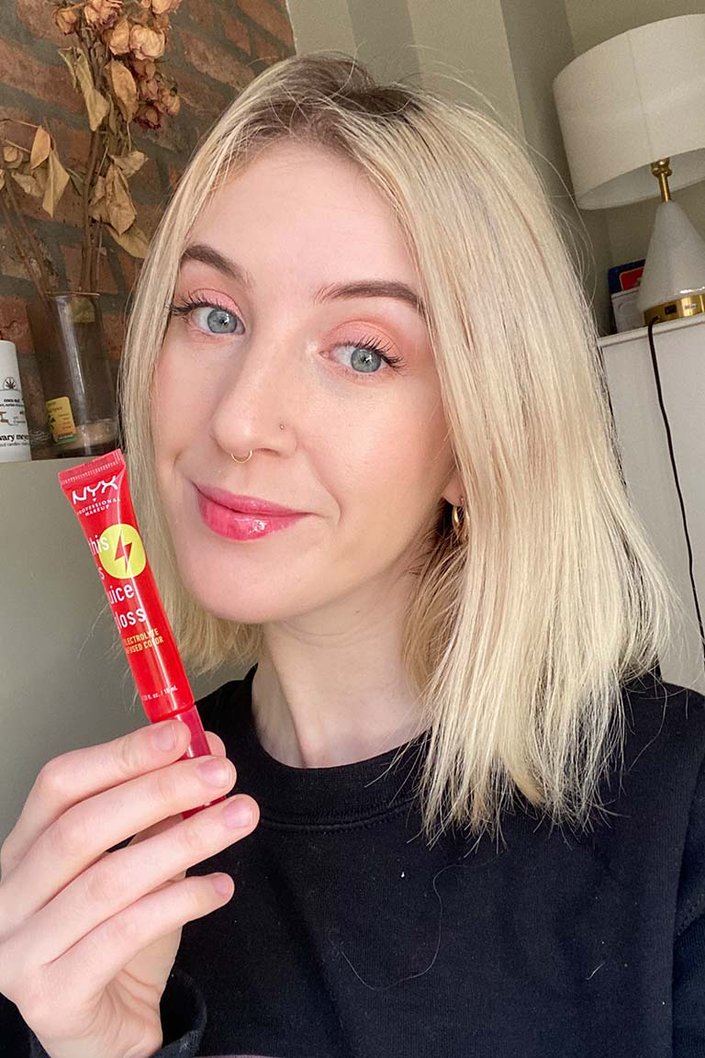 Mary, Associate Editor
Shade: Strawberry Flex
Over the years I've had a love/hate relationship with lip gloss. I adore how it adds an eye-catching gleam to my pout but despise how sticky some formulas can be (it's game over when my hair gets stuck to my lips). NYX really got it right with this gloss, though. Not only does it add a glide onto my lips without feeling goopy but I appreciate that it's buildable — I can swipe on a subtle sheen or layer it for a super shiny glaze. Strawberry Flex is one of the most versatile shades in the line: it's a sheer pink that looks beautiful on it's own and is universally flattering over any lip color.
Caitlyn, Assistant Editor
Shade: Watermelon Suga
I'm a lip gloss loyalist – I cannot stand dry-looking lips (sorry, matte lipstick). Not all glosses are made equal, though; some feel sticky and uncomfortable while others lack in the shine department. Thankfully, that's not the case with this electrolyte-infused lip gloss. In a couple swipes, the applicator drenches lips in an ultra-hydrating formula that feels comfortable on the lips thanks to its combination of nourishing oils. The best part, in my opinion, is that it leaves behind a high-shine finish that looks and feels juicy. I love wearing Watermelon Suga on my bare lips or atop a cool '90s-inspired brown-toned lip look.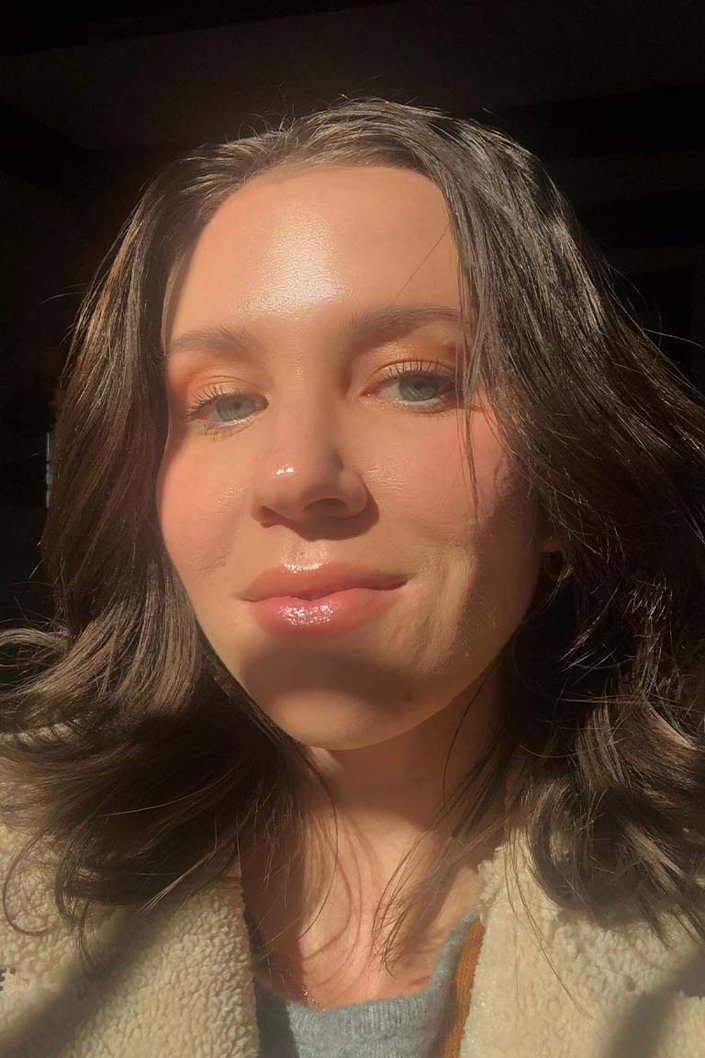 Sarah, Junior Designer
I have been a gloss enthusiast since I was 10 years old so it tasks a lot to impress me! When I came across this NYX gloss I was pleasantly surprised. The applicator is similar to the ones that typically come in a twist out lipgloss. But the tube is similar to the lip glosses that you press to apply and I'm obsessed with it. Press tubs are usually my favorite but this hybrid form alone has won me over. The product is not sticky on the lips and provides the perfect amount of gloss while being moisturizing as well.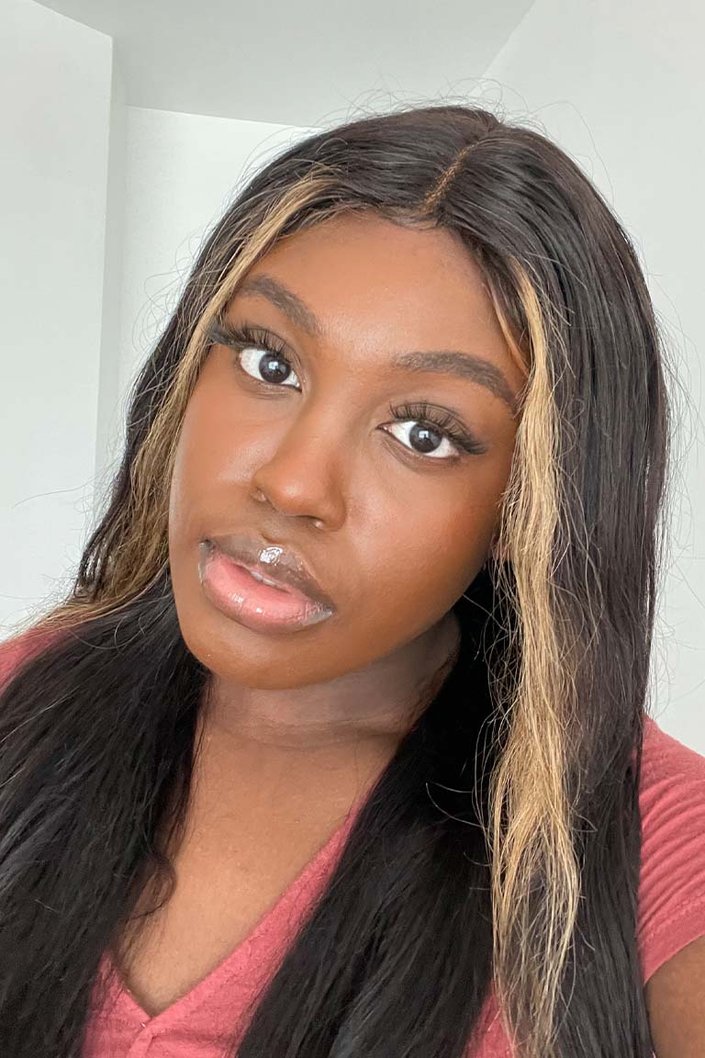 Kat, Social Media Editor
Shade: Passion Fruit Snatch
I've found myself reaching for glosses recently, so I was really excited to try this one. Not only does it smell amazing, but it gives me major 2000s vibes! Since receiving it in the mail, I found that I like wearing this on its own or pairing it with a lip liner to match the Y2K energy it gives me. It's a really hydrating formula that makes it extremely wearable throughout the day. I love the fact that it's not sticky, so I don't have to worry about my hair getting stuck on my lips throughout the day. If you're also a lip gloss lover, I guarantee this is going to be a staple in your everyday makeup routine!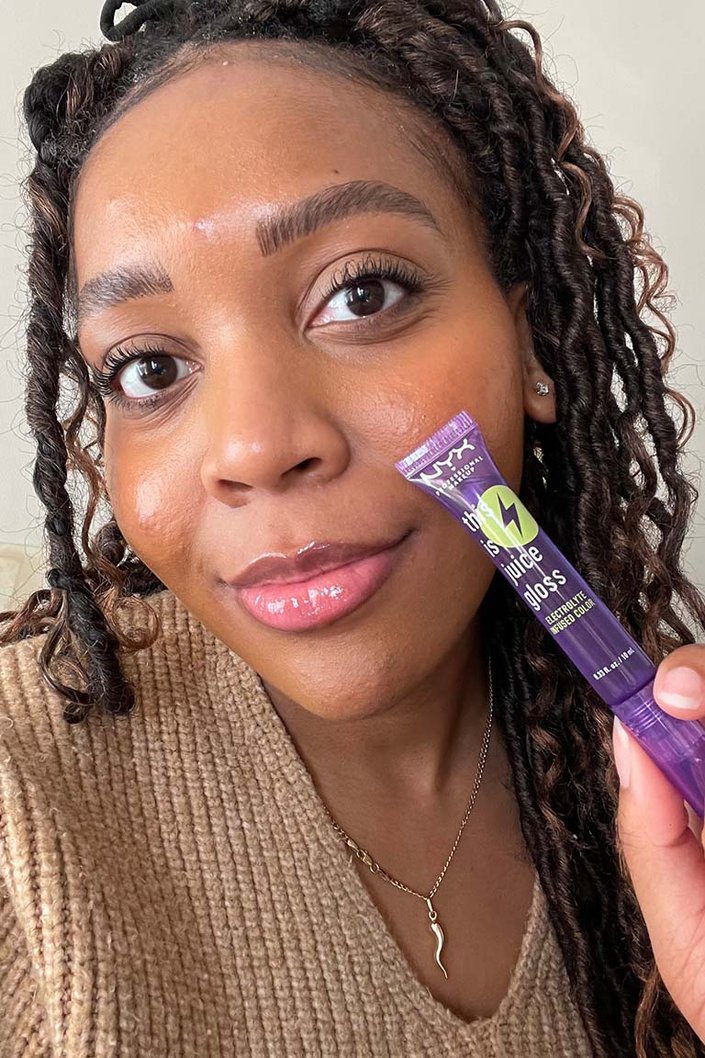 Photos: Alanna Martine Kilkeary, Jazmine Ortiz, Ariel Wodarcyk, Mary Honkus, Caitlyn Martyn, Sarah Duvivier, Katlyn Pierre
Read more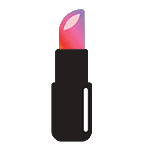 Back to top