I Tried the New NYX Glow-On Lip Gloss and Now I Can't Wait for Halloween
October 09, 2019
Applying Halloween makeup throughout the years has always been one of my favorite pastimes, but using the not-so-great makeup from the party store definitely has definitely soured a few experiences. That's why as I've gotten older, I've learned to invest in more out-of-the box makeup products from higher-quality brands to use when spooky szn rolls around. One of these very items landed on my desk recently, the new NYX Professional Makeup Glow-On Lip Gloss from the brand's Wonderland After Dark Collection. Due to my love for all things Halloween — and the early October timing (with the holiday just around the corner!) — I knew I had to give it a try immediately.
The Glow-On Lip Gloss comes in three shades: Floral Space, an electric neon pink, Lilac Vibes, a stunning, bright lavender, and Violent Violet, a striking ultra-violet. The glosses look ordinary (but bright!) in their tubes, but once I took them out to apply, I realized how radiant they really were. The fluorescent shades practically glow as you pull them out of the tube, and literally glow (like for real) when you wear them under a black light, making them a no-brainer for All Hallows' Eve.
Once I began applying Lilac Vibes, I was immediately drawn to the texture of this lippie. It's super creamy, felt non-sticky and wildly pigmented with just one coat. I really wanted to up the ante with this one as much as I could, so I went ahead and applied one more coat for an extra layer. As the formula was settling onto my lips, I loved that it was bright, thick and opaque but didn't feel heavy on my mouth. It felt more like a normal lip gloss than I had anticipated, and I was super pleased at its quick comfortability. 
As for the color, this Rainbow Brite purple shade lived up to its "Glow-On" name. It completely popped off of my olive skin and brightened my entire face, even when I simply paired it with a typical black cat eye and mascara. If you love a bold color in your everyday routine, these glosses can definitely be worn well past Halloween. When put under the blacklight, I was surprised to see that the color actually turned a fluorescent orange shade. After testing it on my mouth, I was curious about what the two other colors would look like underneath the black light, and both Floral Space and Violent Violet turned a stunning shade of bright pinky-orange. That's probably the coolest part of this lip gloss all together — it actually turns a completely different color in its glow-on form.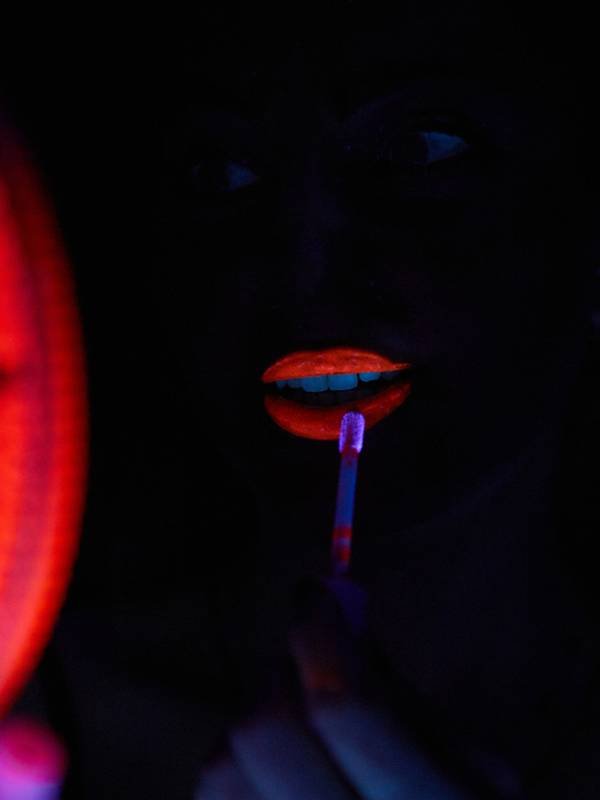 Pro tip: After wearing the lip gloss under black light, I would recommend actually applying it under one from the get-go. Because of the consistency of the gloss and its altered color under the light, you're actually able to see what parts of the lip color you might have painted over incorrectly or smudged. 
The true Halloween-approved test for these lippies was how long they would hold up and what would happen when I removed them, and Glow-On pretty much nailed it in both categories. The gloss creates a soft stain on the lips over time and requires very minimal touching up, depending on what your mouth is coming into contact with. I wouldn't exactly expect it to last through a bobbing-for-apples-sesh, but I'll tell you that you'll only need to reapply it once right after. As for how easily they are removed, I was shocked to discover that all of the shades swiped off with two (yes, just TWO!) passes with a makeup remover wipe, and based on the experience I've had with party-store bought makeup never disappearing from my skin in the past, this was a miraculous discovery. 
Final Thoughts
If I wasn't already convinced from NYX's creative Halloween collections and Face Awards every year, this lip gloss truly proved that the brand does Halloween right. Glow-On has the consistency of the NYX lip glosses we know and love, with the benefit of a crazy cool fluorescent color you won't be able to find anywhere else (or you will, but it will be crap). No matter what I decide to dress as for Halloween this year, at least I'll have my glowing lip color sorted out. 
Read More:
White Eyeliner Over Eyeshadow Is the Fall Trend You Have to Try
5 Illusionist Makeup Artists to Follow on the 'Gram Now
The Best Drugstore Setting Sprays
Read more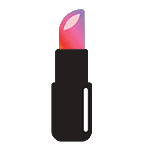 Back to top