Try a Cool Two-Toned Lipstick Look at Home With This Easy Tutorial
March 24, 2023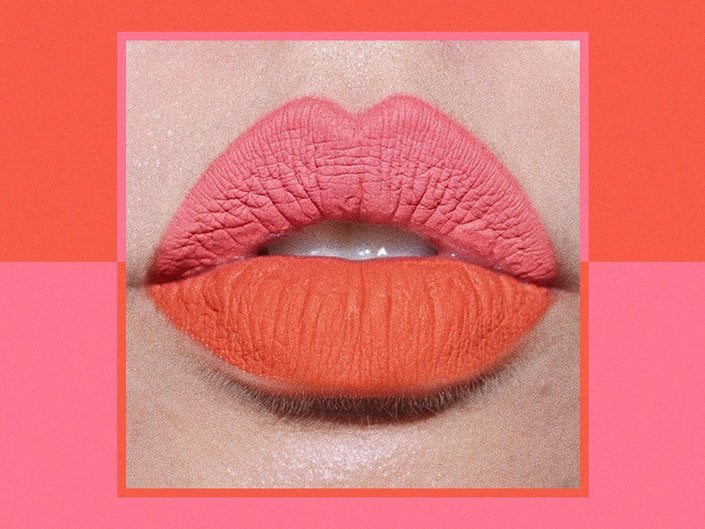 As beauty editors, we are always expanding our lipstick stashes. Lipstick is a timeless makeup mainstay, and there is a seemingly endless array of them to try out. Between the range of finishes, from matte to satin, the different brands to shop and the rainbow of shade options, there's basically no such thing as having too many lipsticks — it's impossible to try them all. With so many fun lippie options out there, we love scrolling Instagram to find inspiration for different creative ways to wear them.
Enter: two-toned lip looks, which are surprisingly easy to create. From the understated, monochromatic looks to bold, unexpected color pairings, there is a two-toned lip look for everyone. Our favorite thing about the trend? You don't have to be a makeup expert to do it yourself. We tapped professional makeup artist Shreni Patel to break down how to try a two-toned lip at home. Plus, we've rounded up some inspo below if you're not sure where to start.
What Are Two-Toned Lips?
According to Patel, "two toned lipstick is just using two or more standout colors on the lips." Other than that, it's completely up to you! You can interpret this colorful trend however you'd like to suit your personal style. "Whether you are just lining the lips and coloring them in with a contrasting or lighter color, or are differentiating colors between both the top and bottom lip to try to add an editorial spin, I love that the look can be done in many different ways," she says, "and it is actually a lot easier than you may think!"
How to Get the Two-Toned Lip Look in 3 Easy Steps
As mentioned above, there is no right or wrong way to do a two-toned lip look. However, Patel notes that the easiest take to replicate is using two different shades of lipstick on your top and bottom lips. Pro tip: "Use a long-wearing matte color lipstick to ensure the colors don't bleed together right away," she suggests. "I love Maybelline New York's Super Stay Matte Ink Liquid Lipstick."
Step 1: Apply Lipstick to Your Top Lip
"I would start by taking the first color and only coloring in the top lip with that color and waiting for the color to set," says Patel. If you're using lip liners that match your lipstick shades, line your top and bottom lips before going in with the main colors.
Step 2: Apply Lipstick to Your Bottom Lip
"Then, just fill in the bottom lip with your second color of choice and let that dry," she explains. It really is that simple. In fact, the hardest part may be choosing the colors you want to use. Not sure where to start? Patel loves classic contrasting combinations including orange and pink, pink and violet and red and pink. "If you want to kick it up a notch, you can try black and green or black and purple, and pat some glitter in the middle for a fun pop," she suggests. "Lastly, for a more wearable two-toned lip, try pairing darker lip liners with lighter lipsticks."
Step 3: Finish With Optional Clear Lip Gloss
For an optional twist on your two-toned lips, you can finish with a layer of clear lip gloss. This may make the colors more likely to bleed together, but Patel has a creative way of embracing it and making it look intentional: "Smack the middle of your lips together a few times to create a fun gradient between both lips, basically creating a tri-tone lip!"
Two-Toned Lip Ideas
Twice as Nice
Can't choose between punchy pink or bright orange shades? Wear 'em both. The vibrant colors look great together and serve major spring vibes.
Outside of the Lines
For this graphic look,
@tobeyoutiful_
overdrew the top half of the lips with a neutral shade, under-drew the other half with a neon pink hue and then did the opposite on the bottom lip. The result is some seriously cool geometric lip art.
A Purple Pair
This two-toned purple lip may seem difficult, but according to @kelseylipsz, with creamy formulas and a little bit of blending, you can recreate it in minutes.
In a Flash
Ready to put your makeup skills to the test? Try this colorful lightning bolt lip look. You can use any two shades, but we love this playful combo of fuchsia and teal.
Dripping Gloss
This editorial lip look actually incorporates three different colors. The lips are overlined in a bright orange-red liner and the main lip color is a glossy baby blue. However, the show-stopping element of this look is glittery dripping lip gloss at the center of the bottom lip.
Cotton Candy Shades
Contrasting cotton candy shades of neon pink and blue make this lip look pop. We love how the bright statement lip is juxtaposed with a completely bare face, allowing the lips and the model's freckles to shine.
Purple Ombré
For a more subtle two-toned lip, try an ombré effect using lipsticks in similar shades. Here, a darker violet liner on the outside of the model's lips transforms into a bright electric purple in the middle.
Yin Yang
Treat your lips like a canvas and turn them into a work of art by painting a yin yang pattern. You can use any two contrasting colors, like the turquoise and dark purple used here. The finishing touch that makes this look so eye-catching is the dots of purple on the turquoise sides of each lip.
Blotted Ombré
The blotted, soft matte finish of the lipstick in this photo gives the two-toned lip a more romantic feel compared to the super bold iterations that dominate this list. Unlike the purple ombré example, this makeup artist started with the lighter color on the outside and got darker further in, giving the lips a berry-stained look.
Monochromatic Red
A slightly edgy spin on a classic red lip, this monochromatic two-tone look is a more subtle way to try the in-your-face trend. The lip look in this photo pairs a darker crimson with an almost metallic finish with a brighter true red.
Vinyl Finish
If you like to take risks with your makeup, this mustard and yellow pairing is for you. But our favorite thing about this two-tone lip look is the super glossy vinyl finish of the lip colors. Though it doesn't come in shades of yellow, the
Maybelline New York Super Stay Vinyl Ink Longwear Liquid Lip Color
will give you a similar finish. It's also transfer-proof, so the colors won't bleed together.
Little Details
At first glance, this doesn't look like a two-toned lipstick look, but a subtle detail sets this apart from a normal orange lip. The makeup artist bisects the upper lip with a stroke of white lip liner, adding a little extra edge.
Checkerboard
We are mesmerized by this avant-garde lip look that contrasts an intricate black-and-white checkerboard top lip with a completely bare bottom lip. It may take an expert hand and a lot of patience to try to recreate this look, but we think it would be well worth the time and effort.
Gothic Lip Liner
We love the idea of using black lip liner to create a moody, gothic look. Here, creator Rowi Singh used a black liner to outline nude-pink lips. The final look is pulled together with a coat of super shiny clear lip gloss. In a stroke of creative genius, the lip color combo almost matches her black and red hair.
Mirror Image
In this editorial beauty look, makeup artist Raoúl Alejandre uses lip liner to create an optical illusion in which the exaggerated top lip is reflected in a perfectly symmetrical bottom lip. He also uses the liner to create an ultra-dramatic bow on both lips. A terracotta-colored lip pencil is paired with neutral lips and a shimmery lip gloss to complete the look.
Photo: @beautybekky, Design: Juliana Campisi
Read more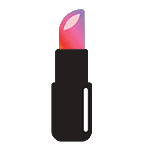 Back to top