How to Determine Your Skin Tone
January 23, 2023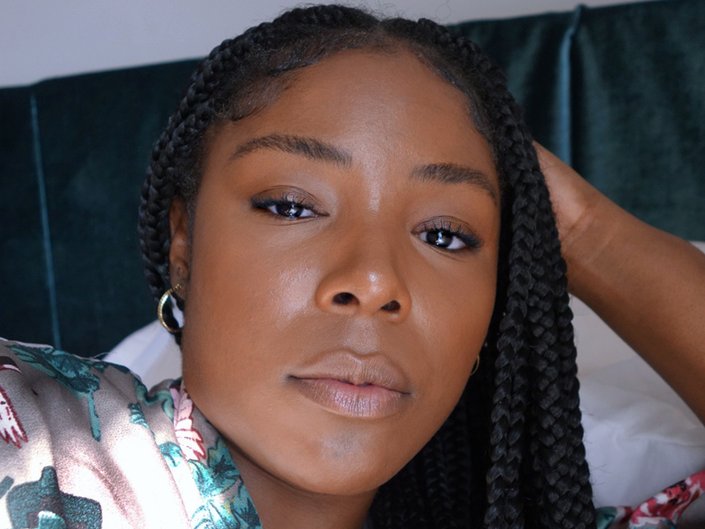 Considering your skin tone when buying complexion products is essential. Have you ever picked up a foundation that ended up looking too pink for your complexion? Or maybe you've tried a concealer that turned out to be too yellow? It's likely because the product didn't match your skin's tone or undertones.
To make sure you never choose the wrong makeup again, we tapped professional makeup artist Jaleesa Jaikaran to share her advice on identifying your skin's undertone and determining the right shades of makeup for you. Follow our Jaikaran's advice and our guide below to determine your undertone and to discover our top product picks for your skin tone.
What Are Skin Undertones?
The undertone of your skin is its underlying hue or cast. According to makeup artist Jaleesa Jaikaran, the main skin undertones are warm, cool and neutral. "Warm undertones include golden, yellow or peachy hues," explains Jaikaran. "Cool undertones include pink, red or bluish hues." With neutral skin, both warm and cool tones are present.
Olive is another undertone, according to Jaikaran. If your skin has either a warm or neutral cast, as well as a slight green shade, you have an olive undertone.
How to Determine Your Undertone
While it's pretty easy to assess whether your skin is fair, light, medium, deep or dark, figuring out your undertones can be more challenging. Understanding yours can help you find the right foundation and concealer matches, as well as determine what shades of blush, lipstick and eyeshadow will best complement your complexion.
One method that can help you determine your undertone is to look at the veins on the inside of your wrist. If they have more of a blue-purple color, you are in the cool-toned category. If your veins appear green, you are warm-toned. "If it seems difficult at times to decipher whether your veins are blue or green, it may be an indication that your undertone may be neutral," says Jaikaran.
You can also examine your jewelry to determine your skin's undertones. Personal preference aside, does silver or gold jewelry suit you better? If you're team silver, you may be cool-toned; if gold is for you, you may be warm-toned; if both look equally great, then you are likely neutral-toned.
How to Choose the Best Makeup for Your Skin Tone
For complexion makeup like foundation, you want to match as closely as possible to your natural skin tone and undertone. First narrow down your skin tone and then look at two to three different shade options with different undertones, advises Jaikaran. "Use your jawline to test the best option in natural lighting," she says. "The shade that melts into the skin would be the winner." In other words, you can determine the best foundation for you by testing the different options on your jaw and noting which blends in the best.
When choosing blush, lipstick and eye makeup shades, Jaikaran recommends swatching different colors on the inside of your wrist to see which ones pop and which ones look washed out.
"However, you should not limit yourself to makeup that's only your undertone," says Jaikaran. "A fiery red, although warmer, looks great on every skin tone. As you start identifying the undertone of colors, you'll most definitely have more confidence in choosing your makeup selections."
Jaikaran's ultimate advice is to not worry too much about matching to your skin tone when it comes to other kinds of makeup beyond complexion products. "Most important, make sure you're experimenting with different techniques and eyeshadow and lipstick shades," she says. "Always remember, it's makeup and it's meant to be fun!"
If You Have a Fair or Light Skin Tone
Fair skin tones often have cool or neutral undertones and are also likely prone to redness and skin conditions such as rosacea. Light skin tones are often cool or neutral, but it's not uncommon to have light skin with warm undertones. Pro tip: Keep your beauty cabinet stocked with gentle moisturizers and sunscreens with a high SPF.
Product Picks
A green color corrector is great to have in your collection to counteract redness that might appear in your complexion. We also love how a light dusting of a cool or neutral bronzer can instantly bring fair and light complexions to life.
Redness doesn't stand a chance against the Lancôme Teint Idole Ultra Camouflage Color Corrector in Green. The ultra-pigmented and full-coverage color corrector helps neutralize redness and even out your skin tone. A little bit of this product goes a long way, so start with a pea-sized amount and apply it with a concealer brush or your fingers before going in with the rest of your face makeup.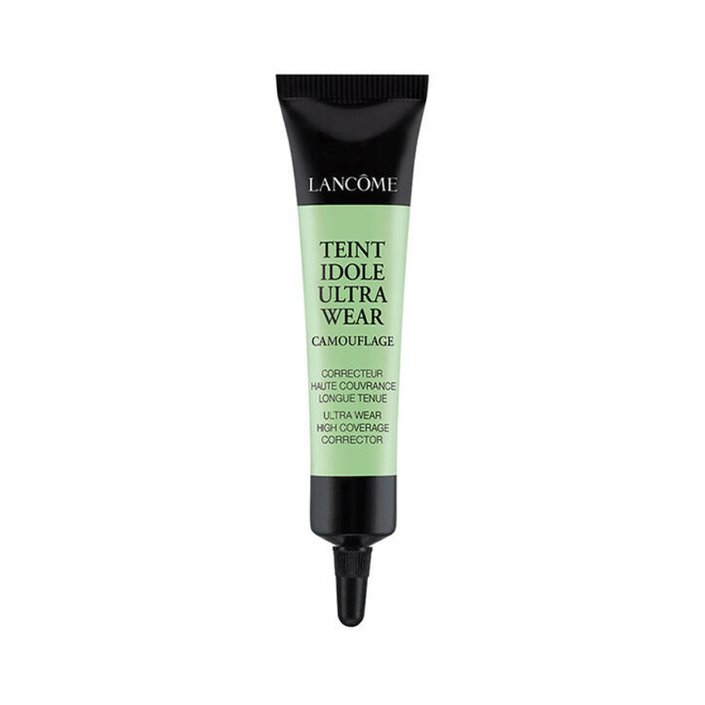 Check out the Valentino Beauty Very Valentino Liquid Foundation in Light Rosa 1 for a light, cool-toned foundation option. This silky, breathable foundation doubles as a sunscreen with an SPF of 26 to protect your fair skin from damaging UV rays. The semi-matte finish guarantees a gorgeous natural look. It's also available in options for neutral and warm undertones.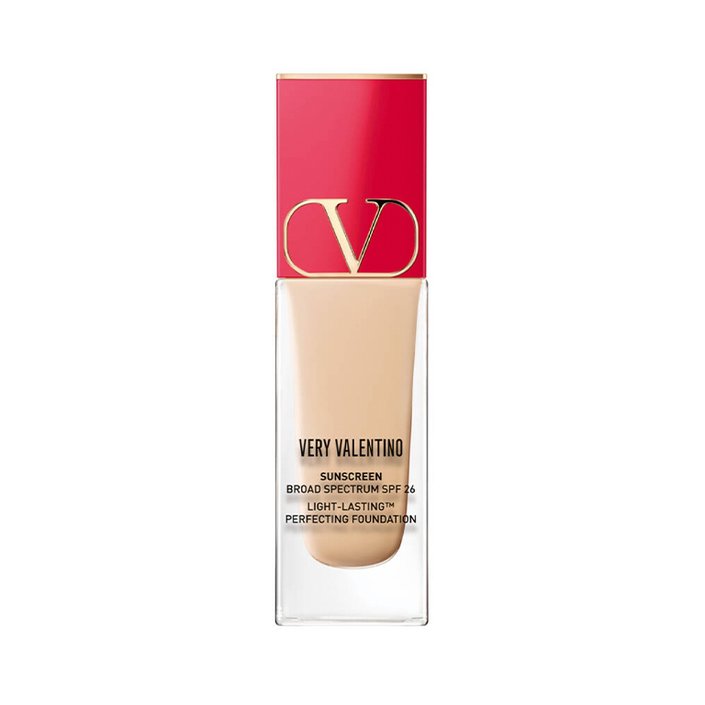 Bronzer can quickly take on an orange look on fair and lighter skin tones, so be sure to choose one with a cool or neutral undertone. We like the L'Oréal Paris Infallible 24H Fresh Wear Soft Matte Bronzer in Fair for lighter skin tones. This bronzer gives your skin a subtle sun-kissed glow. Dust your skin with this powder and you'll look like you've just returned home from vacation.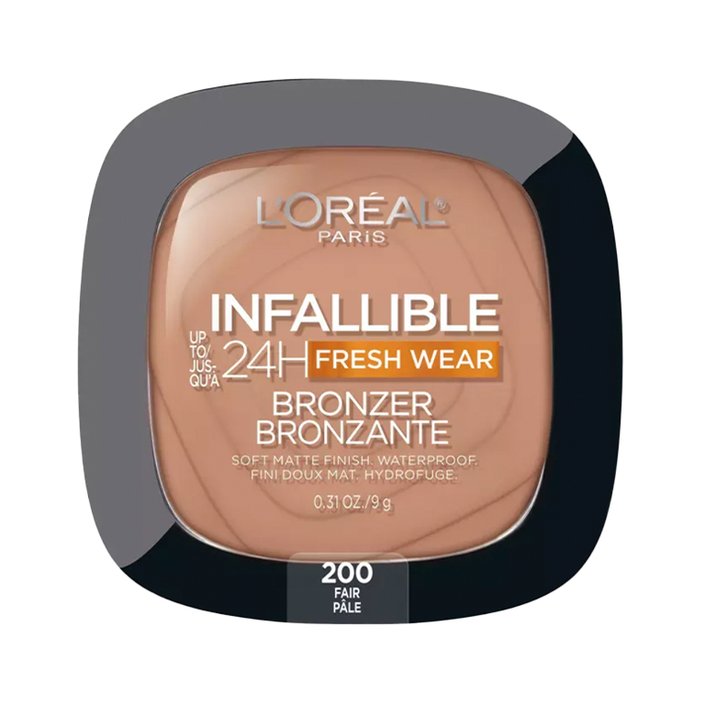 If You Have a Medium Skin Tone
Typically, those with medium complexions have neutral undertones which makes finding products like foundation and concealer easy — and if you do have a neutral undertone, just stay away from anything too warm or too cool. The exception to this rule is an olive-tinged medium tone. If you have olive skin, you likely have warm undertones and tan easily. If you have warm undertones, Jaikaran warns against choosing a bronzer or foundation that is too reddish.
Once you've narrowed down the right undertone, look for a bronzer that's two to three shades darker than your natural skin tone.
Product Picks
The shade range in the iconic Giorgio Armani Beauty Luminous Silk Foundation has tons of great options for medium skin tones, and if you have olive-toned medium skin, shade 6 was made just for you. True to its name, this foundation goes on silky smooth for a blurred, airbrushed complexion. It has medium buildable coverage, so it's still flexible, breathable and natural-looking.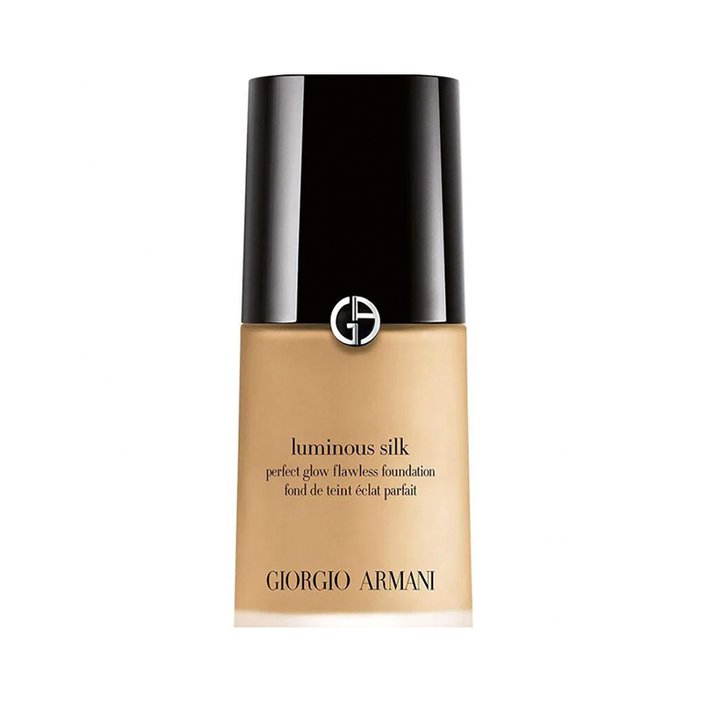 If you prefer a foundation with a matte finish, try the Maybelline New York Fit Me Matte + Poreless Liquid Foundation. It has tons of medium shades, and at $9, it's a more budget-friendly option. Not only does this foundation match to your skin tone, but it also absorbs oil and controls shine, so it's a great choice for people with oily skin types.
Use this brand new concealer and color corrector to address dark circles, acne blemishes, hyperpigmentation, discoloration and redness. The vitamin E-infused formula delivers all-day hydration and the built-in applicator makes using it easier than ever. It comes in five medium shades.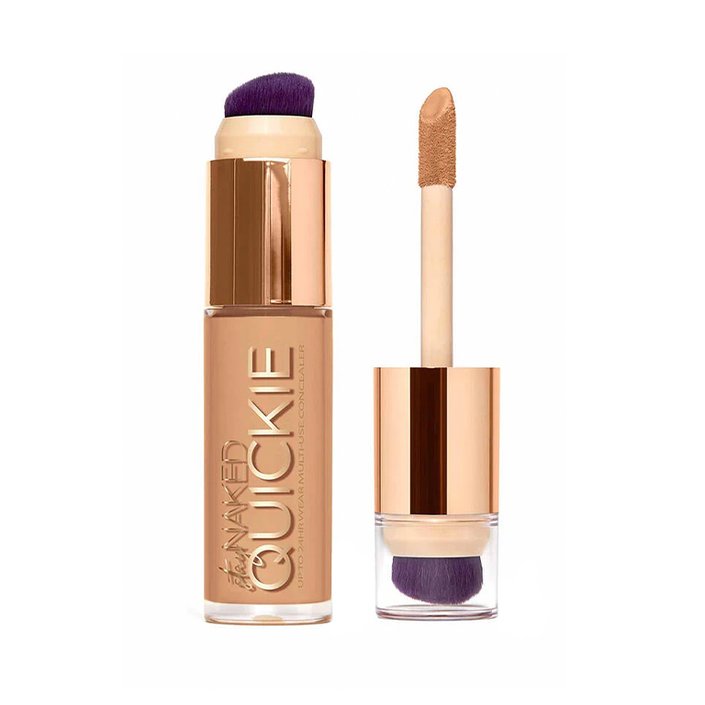 If You Have a Deep or Dark Skin Tone
Deeper and darker skin tones range from copper and espresso tones to dark brown or ebony. In addition to the general tone, deep and dark skin can be cool, warm or neutral. Hyperpigmentation is a common skin concern, so look for brightening ingredients and don't forget the SPF. As with medium skin, you'll want to look for bronzers two to three shades darker than your skin tone.
Product Picks
The IT Cosmetics CC+ Nude Glow Lightweight Foundation + Glow Serum with SPF 40 is a makeup bag staple because it has several dark shades with varying undertones. It's also formulated with ingredients to address uneven skin tone and dryness. The best thing about this foundation is that it's several different beauty products in one. It acts as a foundation, color correcting skin tint and hydrating serum. We personally can't get enough makeup products with skincare benefits.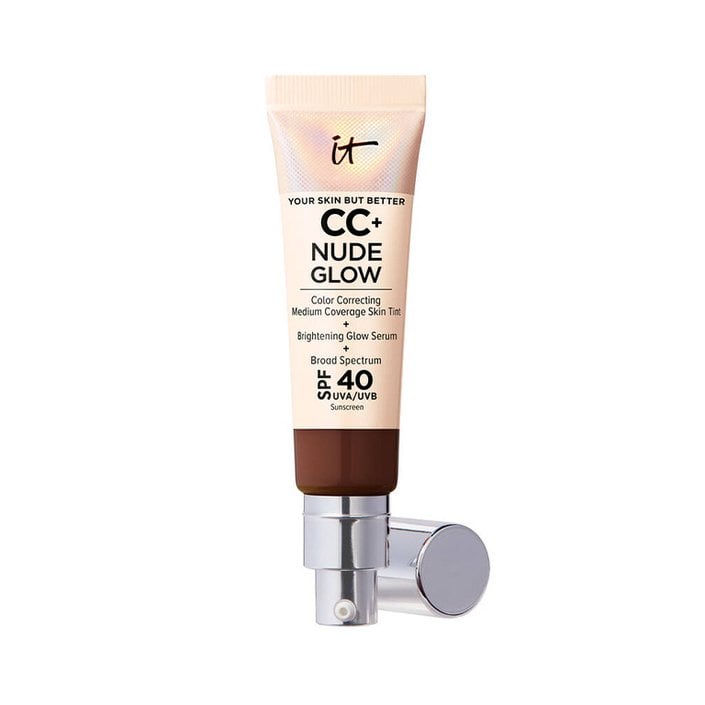 The new YSL Beauty All Hours Foundation is a luminous matte foundation with SPF 30 that stays looking stunning for up to 24 hours. This is the right foundation for you if you have a busy, on-the-go lifestyle. On top of being long-lasting, it's also transfer-proof, waterproof and heat resistant. Basically, it can stand up to whatever your day has in store.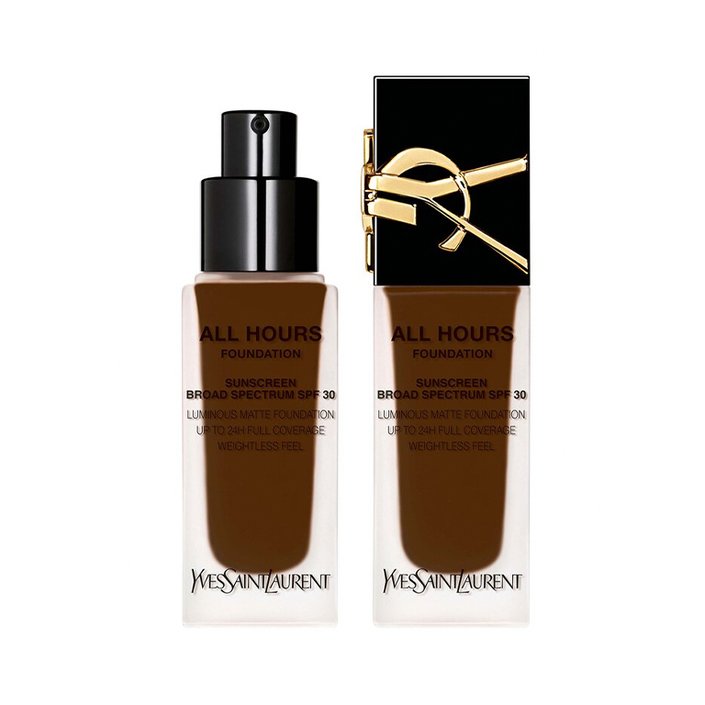 We love the Glossier Cloud Paint, a glowy liquid blush, for darker skin tones because it's incredibly pigmented, will pop beautifully and is super easy to blend. It's also so simple to apply even if you have minimal experience with makeup. Just tap a small amount onto your cheeks and use your fingertips to gently blend it out. You'll never go back to powder blush after trying this product.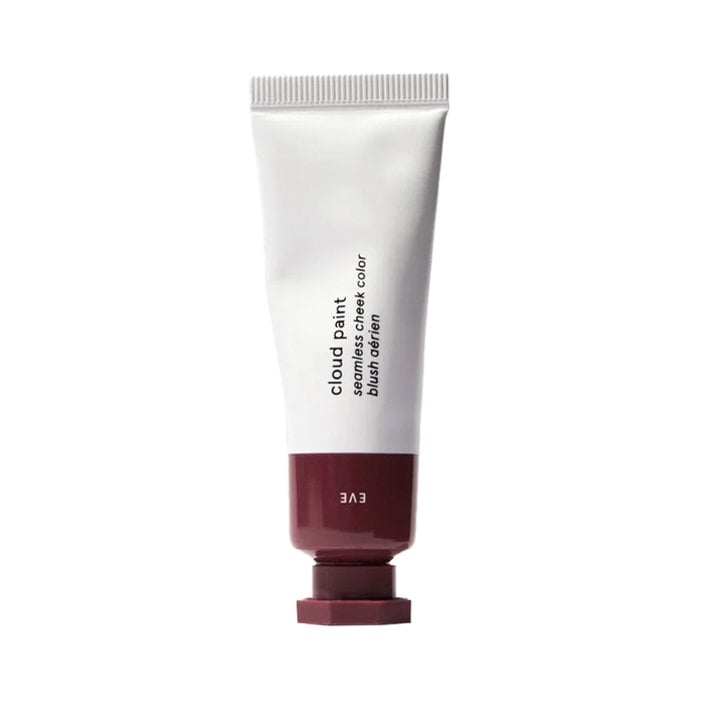 Photography and Makeup: Jonet Williamson
Read more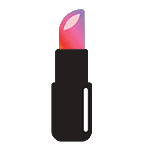 Back to top