Blue Shampoo For Brunettes 一 What You Need To Know
July 25, 2023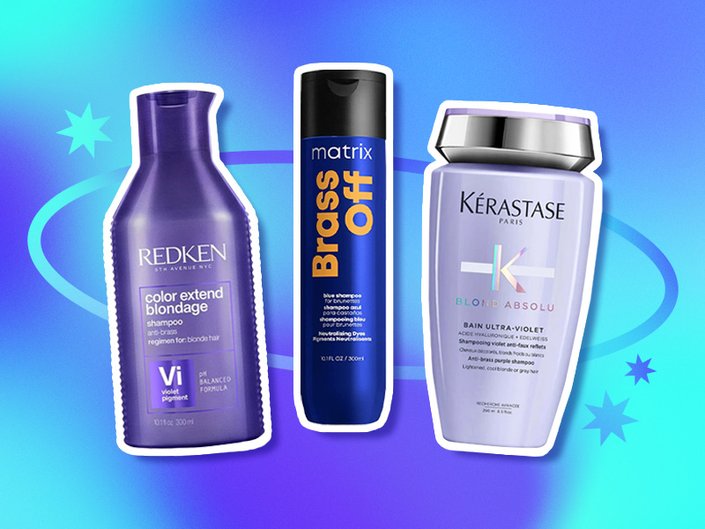 When it comes to dyeing your hair, the work doesn't end when you leave the salon after your appointment. If you're thinking of changing up your look with a new hair color, it's important to know there's maintenance involved in ensuring that your color looks its best and lasts as long as possible. From root touch-ups to hydrating hair masks, hair glossing treatments and more, upkeep is simply part of the deal.
One of the key components to maintaining the integrity of your hair color is toning it to remove brassiness. While you're probably familiar with purple shampoo, which helps to remove brassy tones from blonde hair, you might not be as familiar with blue shampoo. Blue shampoo is an incredibly useful hair-care tool for light brunette shades. We consulted Matrix artistic director Nick Stenson and Tyler Timothy Carfi, owner of Selfish Salon in Mt. Kisco, New York, to learn about what blue shampoo does and how to incorporate it into your hair-care routine.
What Is Blue Shampoo?
Like purple shampoo, blue shampoo is an at-home toning product that can help you best maintain your hair color long after your visit to the salon. According to Stenson, it's "a blue based color deposit that would help neutralize any unwanted brassy tones that are often found in darker blonde and light brown hair color." Since it's a shampoo, it also helps cleanse your hair.
But why might you need blue shampoo in the first place? "Lightened hair often turns brassy, especially when exposed to build up, sun and excessive use of hot tools," Redken brand ambassador and professional colorist Ryan Pearl previously told Makeup.com. If you have brown hair that you've lightened, blue shampoo is your best defense against this unwanted effect.
Blue Shampoo vs. Purple Shampoo: What's the Difference?
Blue shampoo and purple shampoo are very similar. Both are used to help tone and maintain color by eliminating brassiness. Of course, blue and purple are also very similar colors and are next to each other on the color wheel. However, there are subtle differences: Blue works to neutralize red and orange, while "purple shampoo is better suited to neutralize yellow tones," says Carfi. To make sense of this, think of opposing hues on the color wheel. The theory is that colors that sit opposite from each other on the color wheel work to cancel each other out.
"Blue shampoo is very useful in darker hair types due to the stronger counterbalance of brass tones provided by the blue base toning deposit," Stenson explains. "Purple shampoo is key in overcoming yellow tones in blonde or platinum hair, while blue shampoo neutralizes orange tones." TL;DR: Blue shampoo is ideal for brunettes and purple shampoo is the better choice for blondes.
What Does Blue Shampoo Do?
As detailed above, "blue shampoo is designed to help minimize unwanted red and orange tones in color-treated hair," says Carfi. The blue toning deposit balances and combats brassiness in brunettes with light brown hair or reddish undertones to their hair.
Who Should Use Blue Shampoo?
Considering that purple shampoo neutralizes yellow tones, it makes sense that it's best suited for blonde hair which tends to oxidize yellow. When it comes to blue shampoo, Carfi recommends that anyone with colored hair or highlights in the "bronde" family opt for blue shampoo. He explains that stylists refer to "bronde" as a color that falls between blonde and brown. Think caramel, mocha and butterscotch tones. These shades most often oxidize brassy which presents as unwanted warm tones that lean orange. You can also benefit from blue shampoo if you have reddish-brown hair and want to achieve a cooler tone.
How to Use Blue Shampoo
You'll want to use blue shampoo when you notice brassy tones appearing in your hair. Leave it on your hair for five minutes to let the pigments sink in and work their magic. Additionally, you can pair it with other hair-care and color maintenance products to get the best results. Stenson recommends following up your blue shampoo with a neutralizing or toning conditioner. "For additional cooling, allow the conditioner to sit on the hair for 5-10 minutes before rinsing with cool water," he adds.
One thing to keep in mind is that it is possible to overdo it on the blue shampoo. Carfi suggests using it every other time you wash your hair at a maximum. "If you feel the need to use it more often than that, you should consult your colorist to discuss more professional toning options," he says. Adds Stenson, "the signs of overuse would be over darkening or a blue tint and can easily be reversed with a clarifying shampoo." On days when you don't use your blue shampoo, reach for a color-protecting shampoo to support the longevity of your hair color.
Our Favorite Blue Shampoos and Conditioners
For eliminating unwanted brassiness, Stenson recommends the Matrix Brass Off Blue Shampoo. A clarifying formula that deposits blue-violet pigments, it's best suited for dark blondes or light brunettes who color their hair lighter than their natural color. It's also effective on non-color-treated hair with naturally red, orange or brassy tones. Still not sold? This customer-favorite product has over 20,000 five-star reviews on Amazon gushing about the visible results. To get the most out of the toning effects, leave it on for two to three minutes before rinsing.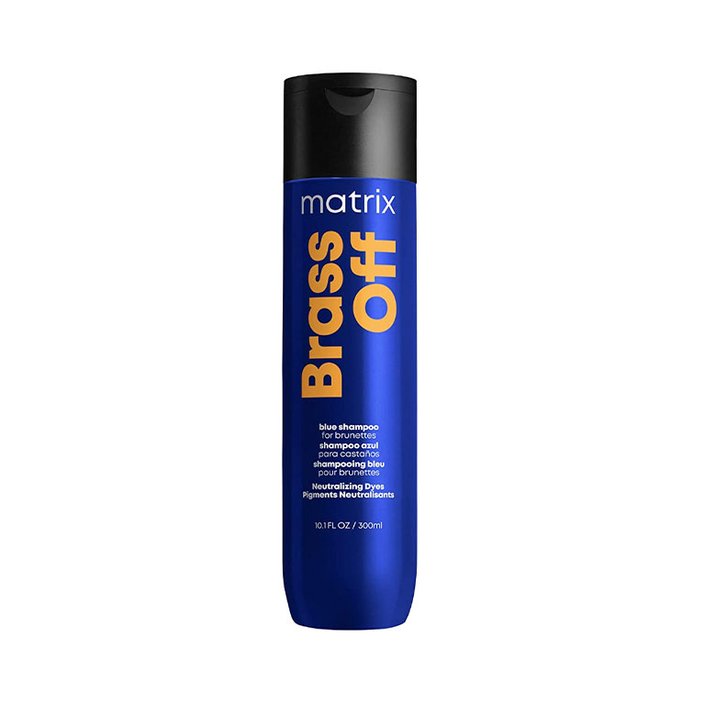 Pair your blue shampoo with the Matrix Brass Off Blue Conditioner, another one of Stenson's favorites. This non-color depositing formula helps support the cool tones in your while nourishing and hydrating dry strands. When used with the accompanying shampoo,
leave-in spray
and mask as part of a complete system, it delivers up to six times less breakage for your healthiest-looking hair ever.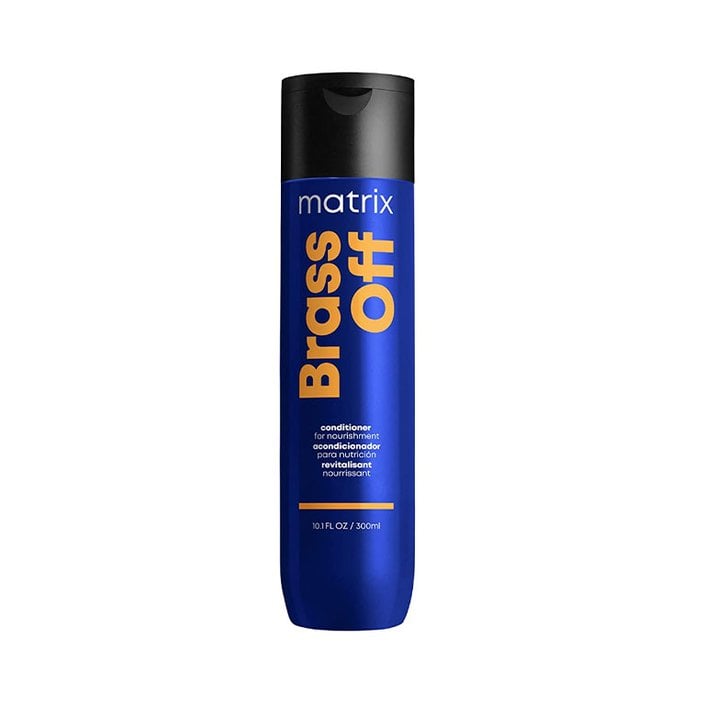 Round out the Matrix Brass Off system with this All-in-One Toning Leave-In Spray, a color-depositing formula that fights brassiness and helps prep your hair for styling at the same time. This multi-tasking spray boasts benefits like toning, boosting moisture, adding shine, preventing breakage, detangling, improving frizz and split ends, smoothing the hair's cuticles and more.
Another toning conditioner we love is the oVertone Blue Toning Conditioner. This brand is known for its temporary hair color conditioners in every color in the rainbow, but it also offers toning and neutralizing products like this conditioner for orange and brassy tones. If you have blonde to light brown hair with highlights or balayage, this conditioner should keep brassiness at bay.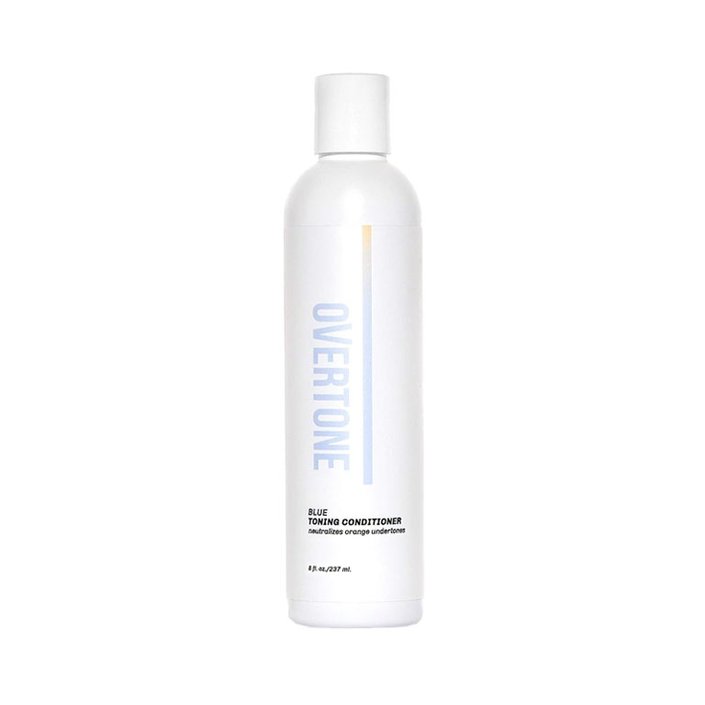 The Eva NYC Brass to Sass Brunette Shampoo is also a great option because it's formulated with blue tansy, which produces a natural blue oil. It also has spirulina to help to make the hair look and feel healthy, as well as juniper berry, which is rich in antioxidants to help fight free radicals.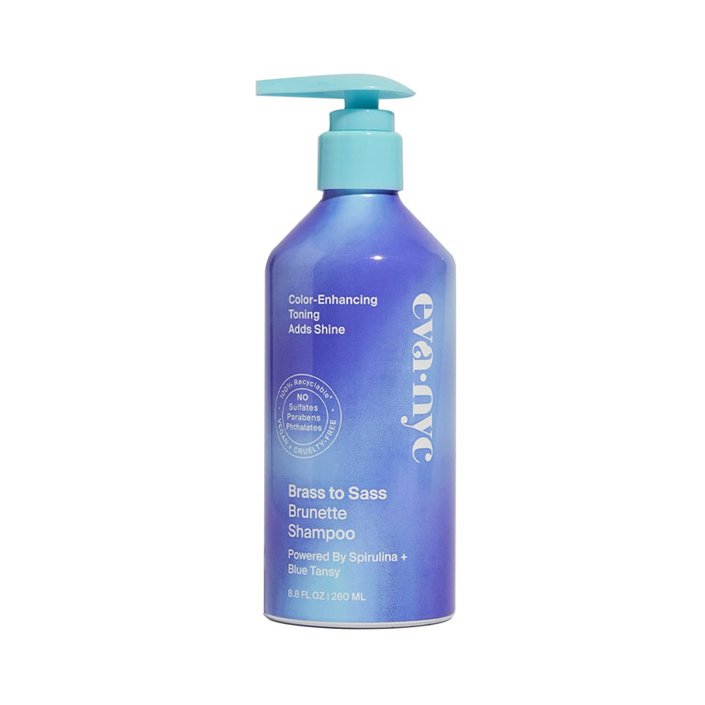 Our Favorite Purple Shampoos
If you have lighter hair and think the undertones may be more yellow than orange, you should probably be using a purple shampoo instead of a blue one. Here are some of our faves.
Believe it or not, you can get a premium-quality purple shampoo at a drugstore price. Enter: the L'Oréal Paris EverPure Sulfate-Free Brass Toning Purple Shampoo. Protect your color, neutralize brassiness and keep your hair healthy and hydrated with this gentle formula. It can be used on color-treated, blonde, bleached, highlighted, and brown and silver hair.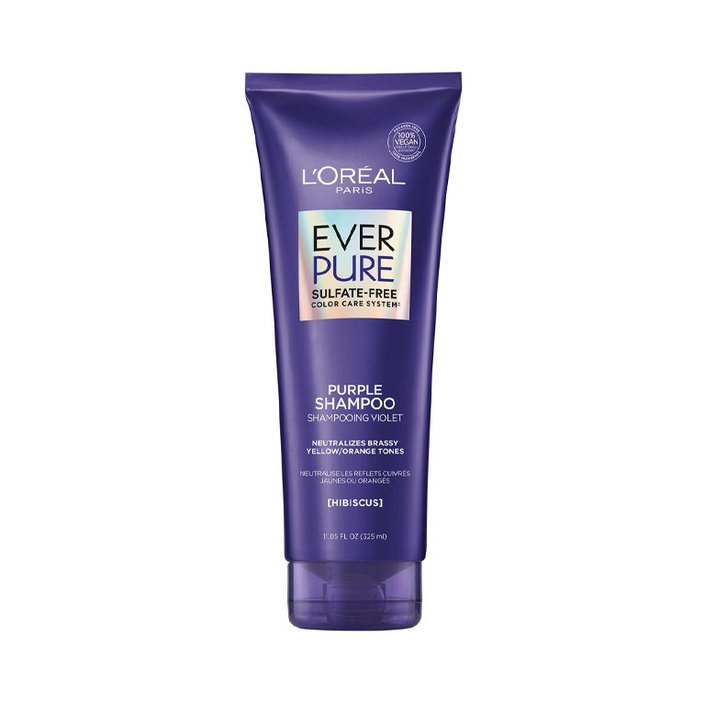 Get the cool, icy blonde hair of your dreams with the Kérastase Blond Absolu Bain Ultra-Violet Purple Shampoo. This best-seller targets yellow and brassy tones for brighter, blonder hair. Bonus: The formula contains hyaluronic acid, a powerhouse ingredient that nourishes and strengthens hair to protect against future breakage.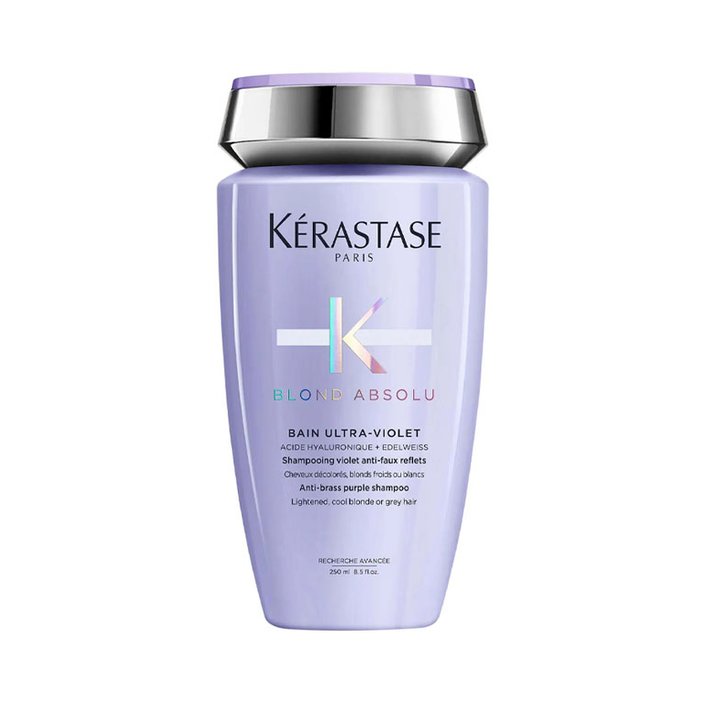 Not only does the Redken Color Extend Blondage Shampoo tone and neutralize blonde and highlighted hair, but it also repairs your hair from the core, thanks to salicylic acid in the formula. It also effectively cleanses your strands for softer, shinier hair free from noticeable yellow and orange tones.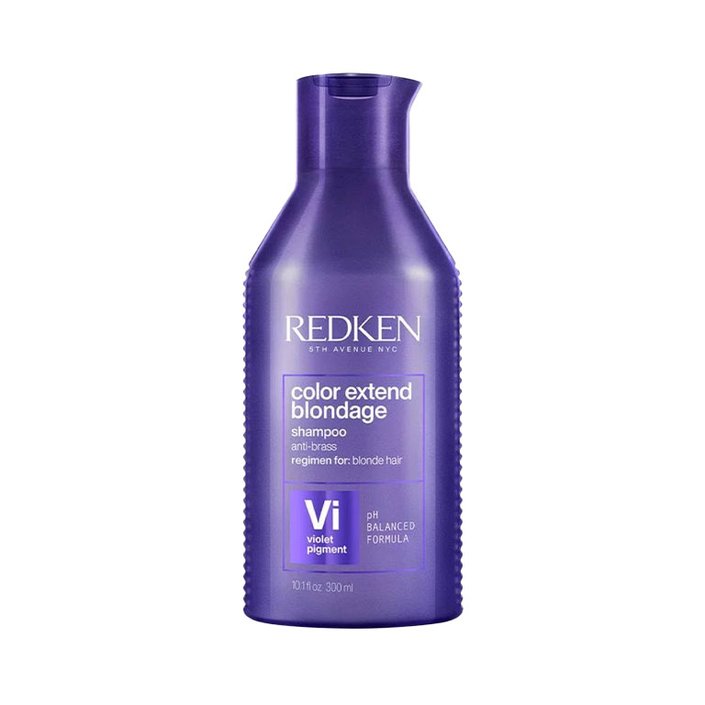 Whether you have straight, wavy, curly or coily hair, you'll love the Violet Hour Purple Shampoo from aesthetically-pleasing indie brand dae. It's a color-safe cleanser that helps you tackle hair concerns including brassiness and dryness. The yummy citrusy scent and cute, shelfie-worthy packaging are just an added bonus.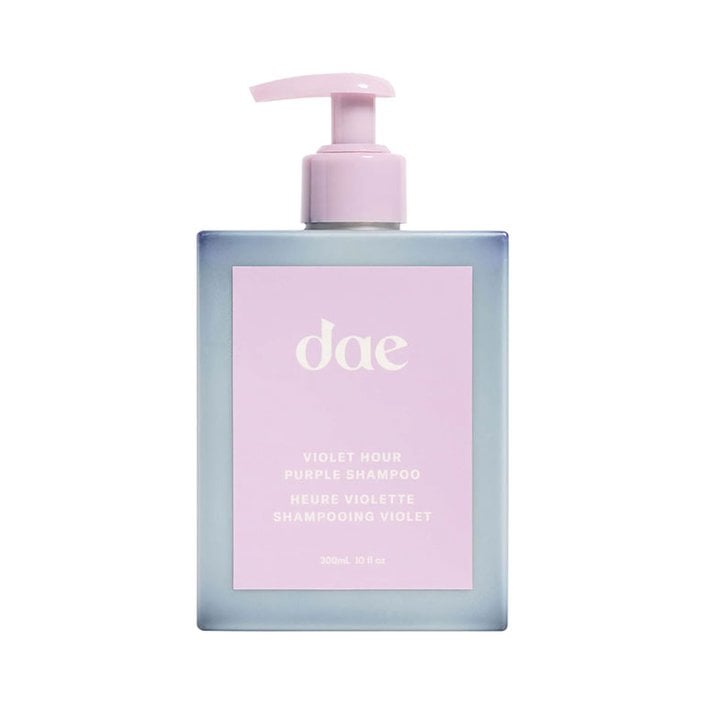 Read more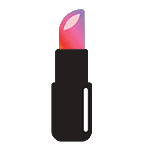 Back to top