How to Use Purple Shampoo to Cool Down Your Blonde
July 21, 2023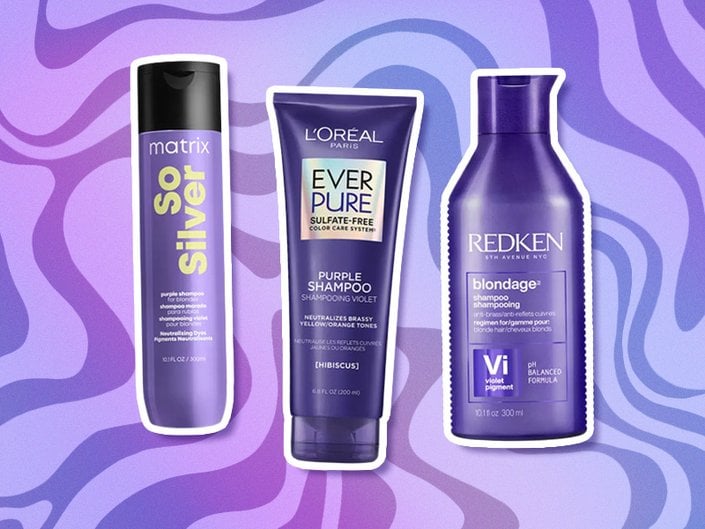 There's nothing quite like stepping out of a salon and admiring your freshly cut and colored hair. After the first few hours, though, you may start to wonder how exactly you're going to maintain your color at home, especially if you're new to blonde hair. Allow us to introduce you to purple shampoo, your soon-to-be best friend. Purple shampoo helps tone blonde hair and prevent it from turning a brassy, yellow or orange hue. Find everything you need to know about using purple shampoo at home, ahead.
What Is Purple Shampoo?
Purple shampoo is a must-have for blondes. Designed to be an at-home toning tool for maintaining blonde hair between appointments, purple shampoo can neutralize any unwanted pigment. "Lightened hair often turns brassy, especially when exposed to build up, sun and excessive use of hot tools," says Redken brand ambassador and professional hair colorist, Ryan Pearl. And, according to Matrix brand ambassador Sharon Spellman, purple shampoo keeps your tone looking as if you just left the salon.
Purple vs Blue Shampoo: What's The Difference?
Purple shampoo is the best option for blonde hair, while blue shampoo is better suited for neutralizing brassy tones in brunettes. "Think about the color wheel — if you have a lot of yellow, then the opposite side of the color wheel is purple, which will help neutralize the color," explains Elana Tavarez, a blonde specialist at Cutler Salon and Redken brand ambassador. Meanwhile, she says that brunettes tend to see more orange tones peeking out, and since blue is across from orange on the color wheel, blue shampoo will help cancel out the orange tones.
How to Use Purple Shampoo
Step 1: Don't Overuse Purple Shampoo
To keep your blonde hair looking lustrous and anything but dull, the experts we consulted recommend using purple shampoo no more than once a week — "sometimes even less than that," says Tavarez. When it comes to your daily routine, Pearl recommends using a color-safe shampoo and conditioner. But, once every two weeks, Pearl suggests toning your hair with a purple shampoo. We love the Redken Color Extend Blondage Color Depositing Shampoo or the Matrix Total Results So Silver Purple Shampoo for Blonde Hair. For more of the best purple shampoo recs, just keep scrolling.
Step 2: Lather and Leave On
Purple shampoo can be used like a normal shampoo — in the shower on wet hair. Spellman recommends lathering purple shampoo throughout your hair and, depending on brassiness, letting it sit for up to fifteen minutes before rinsing thoroughly. Since purple shampoo has toning properties, it will continue toning your hair if you leave it in. "Be careful not to overuse purple shampoo," Spellman says. "Doing so can cause your hair to build up and become immune to the product, which will make your blonde look dull."
Step 3: Follow up With a Mask or Deep Conditioner
Over-using purple shampoo can potentially dry out your hair in addition to dulling the color. To prevent this, stick to the no-more-than-once-a-week rule, and always follow up with a deeply hydrating conditioner or hair mask. We love the Redken Color Extend Blondage Color Depositing Conditioner, which gently tones the hair in conjunction with the corresponding shampoo. If you don't want to use a purple conditioner on top of your purple shampoo, the L'Oréal Paris EverPure Bonding Conditioner is one of our favorite formulas, drugstore or otherwise. After several weeks of using the L'Oréal Paris EverPure Bonding Pre-Shampoo Treatment, Shampoo and Conditioner system, one of our editors noticed her damaged, color-treated hair became significantly softer and her blow-drying time was cut in half.
How Often Should You Use Purple Shampoo?
Again, our experts warn against using purple shampoo more than once a week. If you overuse purple shampoo, Tavarez says, "you'll notice the color of your hair start to look more purple-ly and it will dull the color."
What Does Purple Shampoo Do to Brown Hair?
According to Tavarez, purple shampoo won't do much to brown hair (unless your hair is a very light shade of bronde). "It won't do much to brown hair as typically the hair is already so darkly pigmented, [so] you won't see any real effect," says the hairstylist.
Can You Use Purple Shampoo on Dry Hair?
You should only use purple shampoo on wet hair, says Taverez. That's because "most formulas are very drying for the hair and are heavily concentrated with purple pigment," which can tint your hair a silver, gray or purple hue.
The Best Purple Shampoos for Blonde Hair
"When Redken was developing their formula for the Color Extend Blondage Shampoo and Conditioner, they infused it with ingredients like citric acid and salicylic acid to strengthen and repair blonde hair from the core," says Tavarez. That means that instead of drying out your blonde, this shampoo will tone it and leave it looking and feeling soft and strong. You can leave this formula in your hair for up to three to five minutes to achieve the most dramatic toning transformation.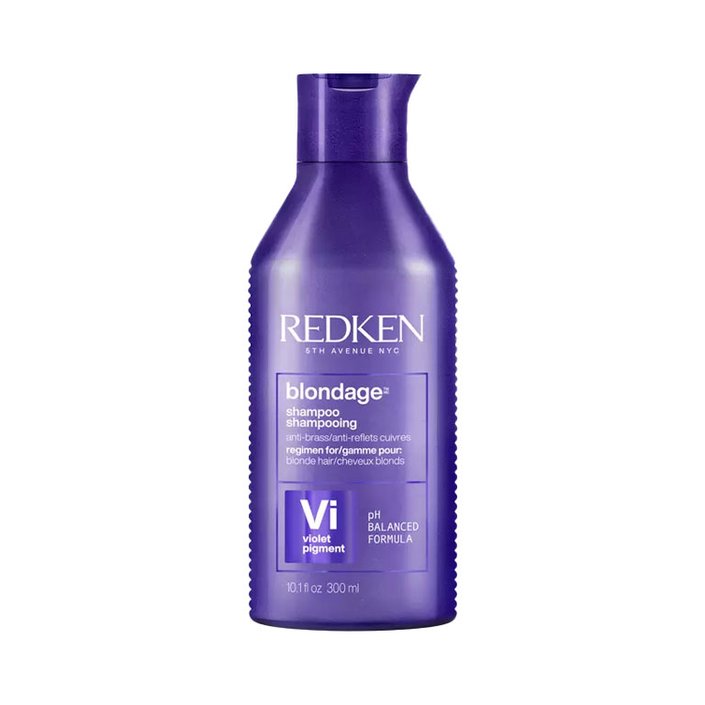 Tired of noticing warm tones in your blonde, gray or platinum hair? This pick instantly neutralizes warm tones and even adds a whisper of silver to the palest platinum hues. You can apply this pick for up to three to five minutes, then follow with conditioner. Once you're out of the shower, you can further perk up your blonde with the Matrix So Silver All-in-One Toning Leave-in Spray.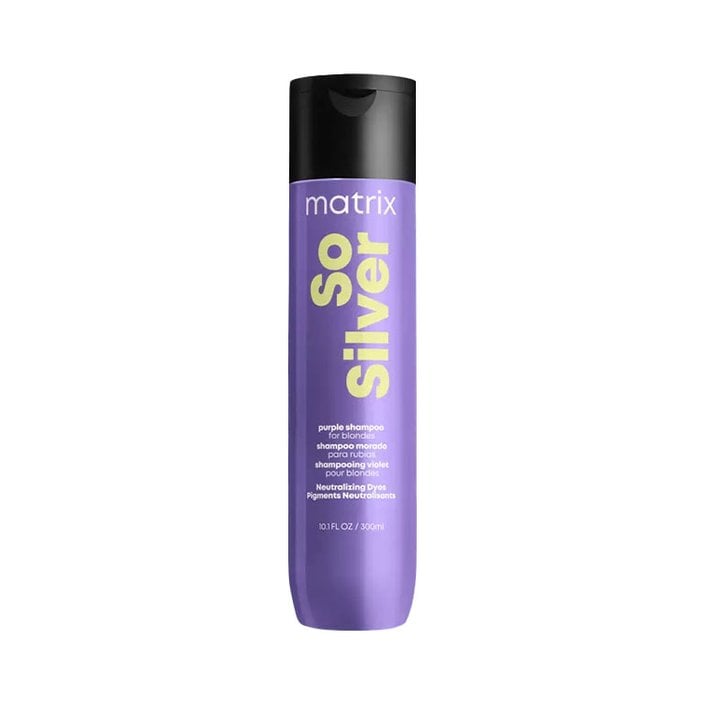 For less than $10, this purple shampoo from the drugstore is a no-brainer purchase for blondes. The vegan and sulfate-free formula protects your color while neutralizing unwanted brass using a combination of hibiscus and purple dyes. If you want to amp up your cool-toned blonde color, you can follow the shampoo with a liberal application of the L'Oréal Paris EverPure Sulfate-Free Anti-Brass Purple Mask Treatment, a deeply nourishing and pigmented purple hair mask that will turn your warm blonde into a cool, icy hue in just five minutes.
Inside this violet-tinted shampoo, you'll find a cocktail of hydrating ingredients, including hyaluronic acid and edelweiss flower, which will leave your hair softer and up to ten times stronger. It brightens blondes and cancels out brass, leaving your color looking salon-fresh.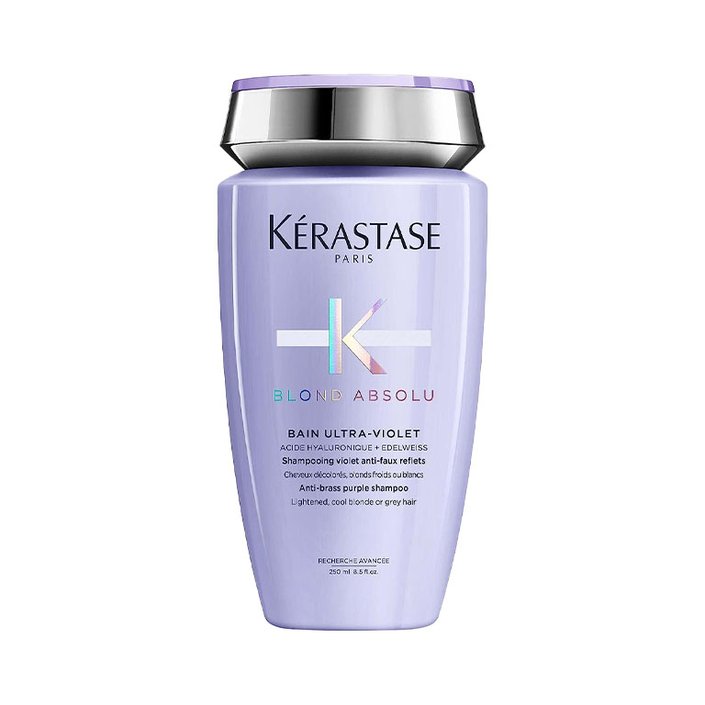 Fight brassy tones while maintaining your hair's silky-soft feel with this gently cleansing purple shampoo. Ingredients include white peony, which soothes, moisturizes and fortifies the hair with antioxidants, as well as a cool-toned Japanese purple pigment to neutralize brass. If that's not enough to make you fall in love with this shampoo, its heavenly scent (ginger tea top notes with a heart of feminine florals and a warm, white musk base) may be enough to entice you.
A little goes a long way with this richly pigmented violet shampoo, which promises to leave blondes three times brighter without sacrificing your hair's hydration or strength. It helps to cool down brassiness and brighten your blonde with just one wash, plus the sulfate-free formula is pH-balanced to retain moisture in the hair and scalp.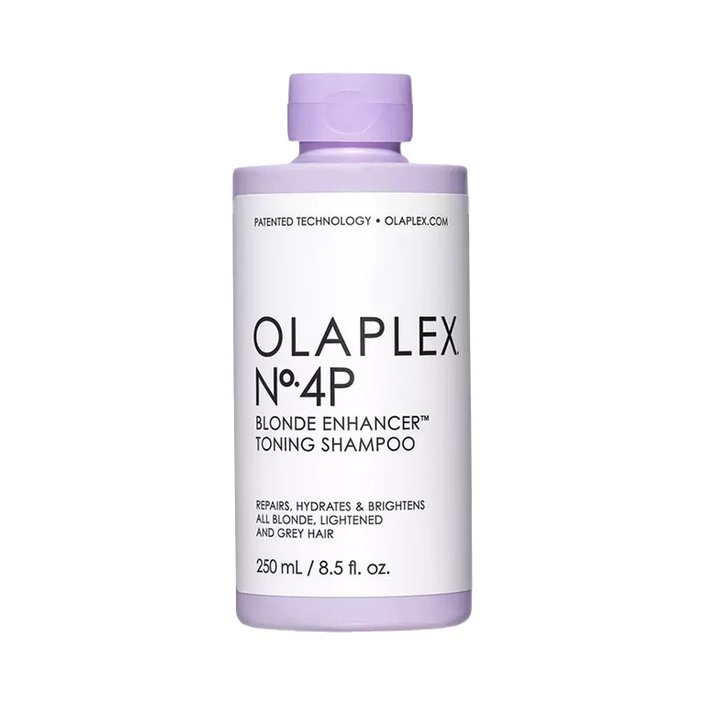 Just as its name suggests, this cleanser will give you the buttery blonde strands of your dreams. The lavender-infused formula is also rich with hydrating ingredients, including fatty-acid-packed murumuru butter, shea butter, mango seed butter, jojoba seed oil and sunflower seed extract. Together, these softening ingredients help counteract the potential drying side effects of purple shampoo and leave your strands feeling soft and silky.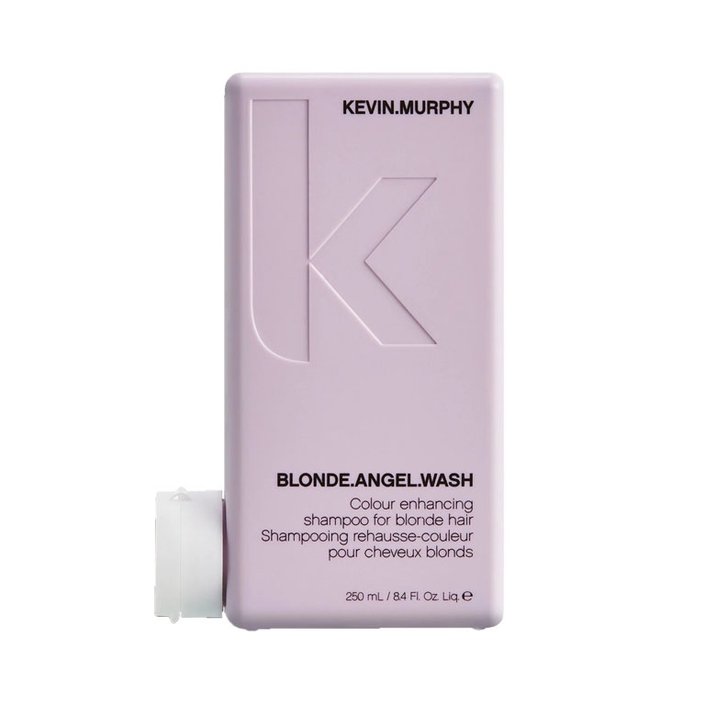 Packed with violet pigments and blackberry extracts, this toning shampoo helps to banish brassiness in blonde, white, gray and silver hair colors. The vegan formula also features a color guard complex to help protect your strands from UV and environmental damage, in addition to a romantic, fruity-floral scent that will transport you to a spa every time you wash your hair.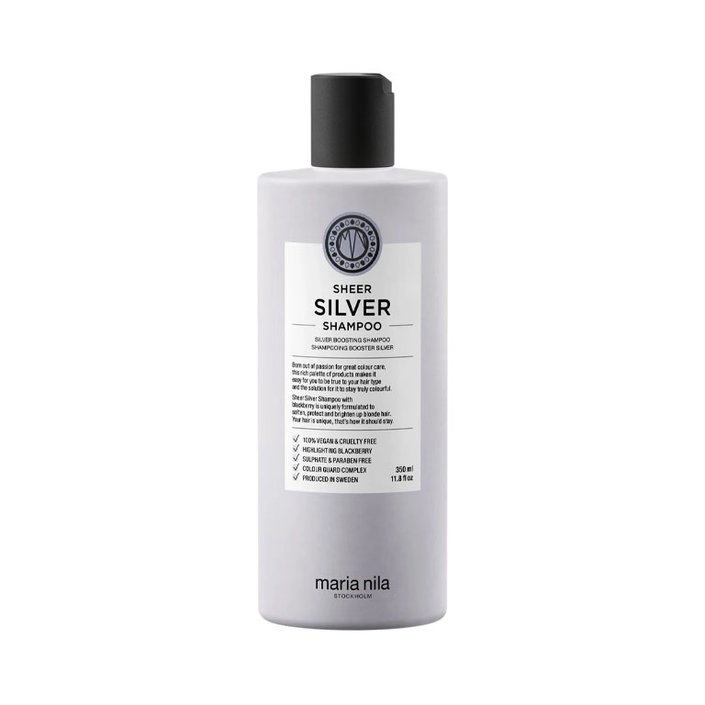 This shampoo has a deep, inky purple tone that instantly cools down brassiness on blonde and gray hues. Sulfate-free, vegan and cruelty-free, it packs a powerful toning punch without stripping the hair or leaving it dry. For the strongest toning results, you can leave the shampoo on for two to three minutes before rinsing and following with a purple-hued conditioner.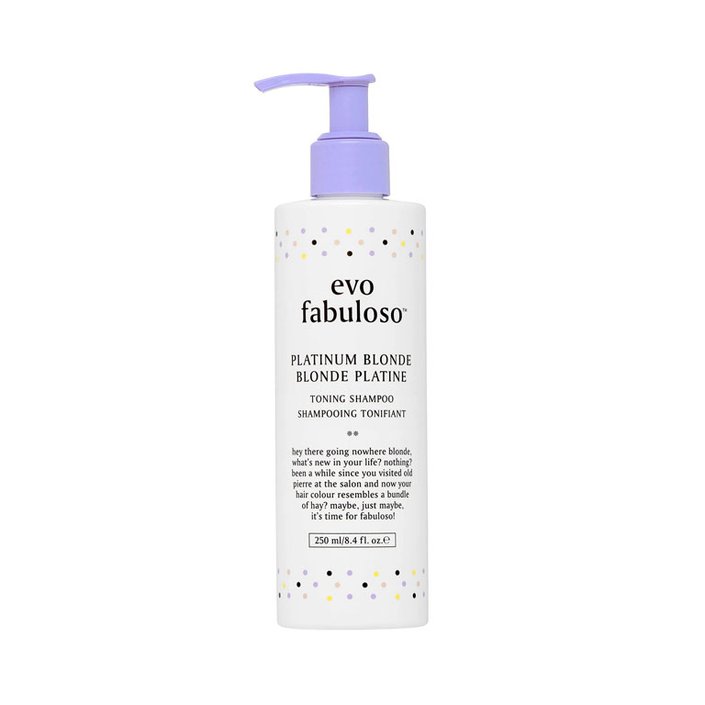 Tackle dryness, damage and split ends while you tone your hair with this deeply moisturizing purple shampoo. The formula helps repair broken bonds in the hair and contains vegan proteins to help strengthen each strand. Reviewers love this shampoo's results on blonde and highlighted hair, with one saying it brought the highlights on her curly hair "back to life."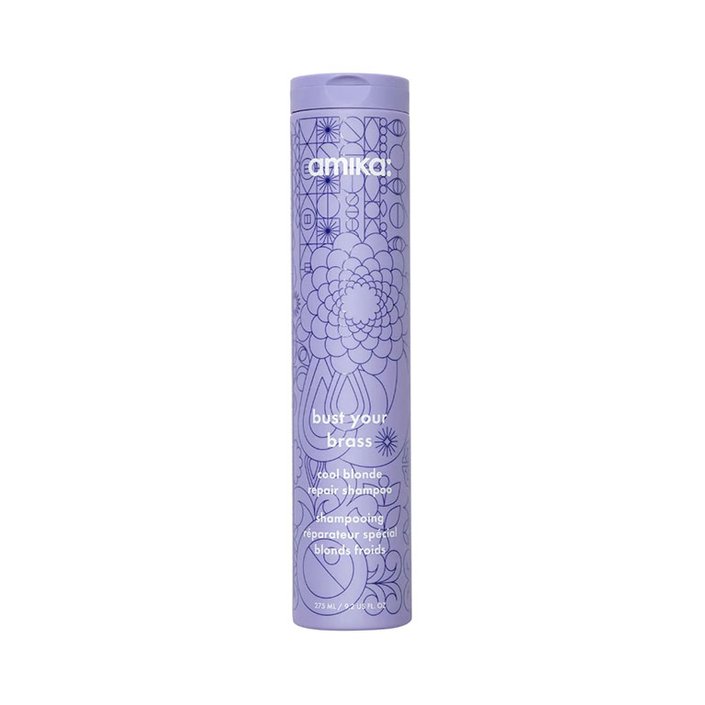 Read more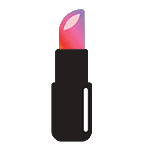 Back to top