18 Chic Ways to Style a Claw Clip
May 24, 2023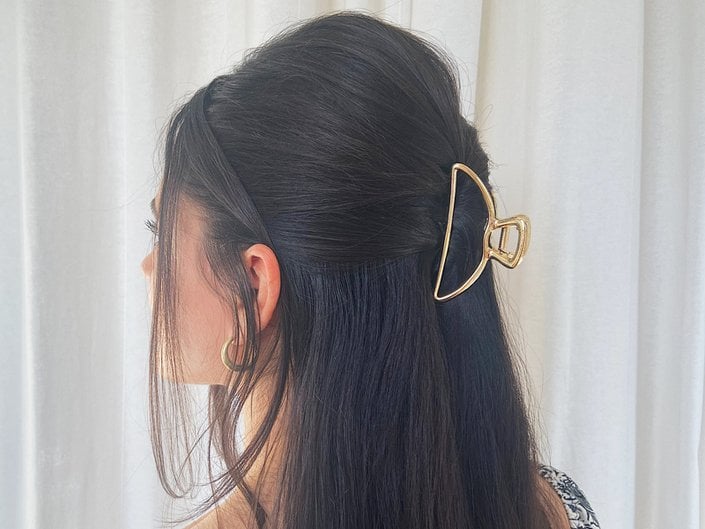 ICYMI: Claw clips have been trending for quite a while now. Initially part of the '90s and Y2K beauty revival that started a few years ago, it's clear the cute, easy-to-use hair accessory is not going anywhere anytime soon. Since they started to pop back up, we've accumulated a collection of claw clips in all different shapes, sizes, colors and patterns. Whether your hair is on the oily side, you're having a lazy day, or you just want a chic and easy way to get hair out of your face, a claw clip may be the answer to your problems. Ahead, hairstylist Jasmine Burnside shares her tutorial for doing a half-up, half-down hairstyle with a claw clip. Plus, keep scrolling to find other claw clip styling ideas we love.
What Is a Claw Clip?
If you grew up in the '90s or early 2000s, chances are you are already very familiar with the concept of a claw clip. Also sometimes called a jaw clip, it's a type of hair accessory with a spring and pronged "teeth" that close around your hair to hold it in place.
How to Do a Half-Up, Half-Down Hairstyle With a Claw Clip
Step 1: Section the Hair
Section hair by creating a center part and leaving out pieces around the face for softness. Then, gather your hair starting from the top of the ears to the mid-crown of the head.
Step 2: Start Teasing
Tease the gathered section at the root to create volume and texture.
Step 3: Twist and Pin
Twist the hair at the back of the head and pin where you want the clip to sit. "This gives it extra security and makes the style easier to hold," says Burnside. Then, clip over where you pinned the hair (Burnside used the Kitsch Open Shape Claw Clip).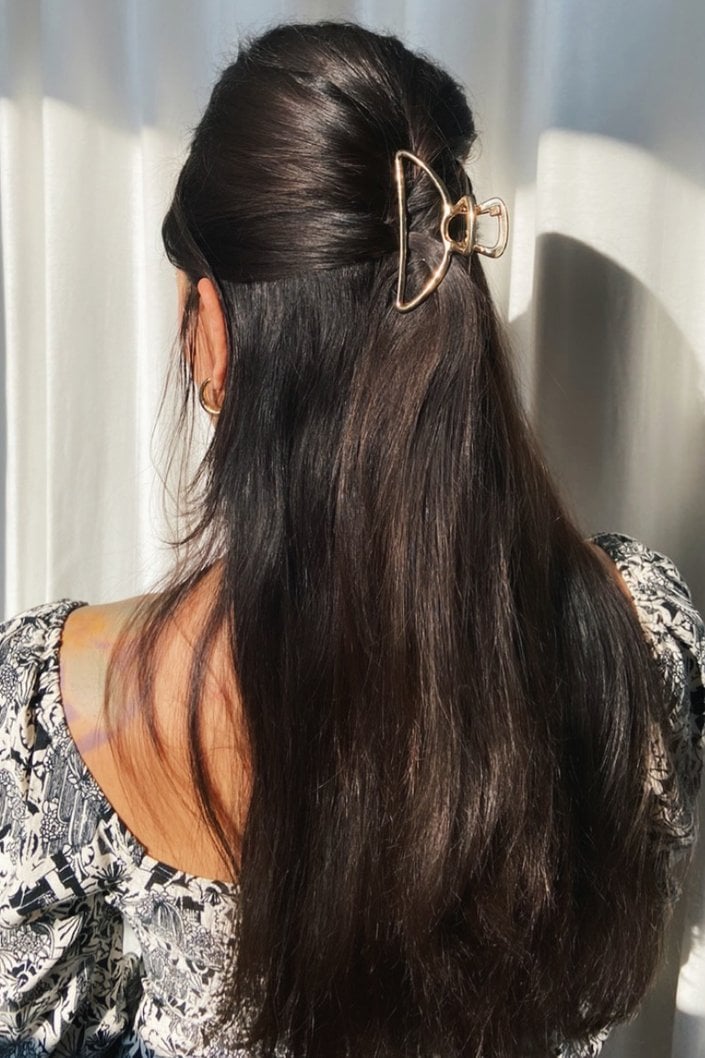 More Claw Clip Hairstyles to Try
Claw Clip Hairstyles for Long Hair
Combine two different hair trends by incorporating small fishtail braids into your claw clip hair look.
We're obsessed with how
@elle.on.elle
left the long braids around her face out of her claw clip for a cool and unique take on the trend.
Are you a pro at doing your own hair? Challenge yourself with this incredible half-up, half-down Dutch braid look.
When in doubt, try this ultra simple claw clip hack. It consists of dragging your open clip from the top of your head starting at your hairline, down to the middle-back of your head to section off the exact amount of hair you need for a half-up, half-down style in seconds.
Claw Clip Hairstyles for Thick Hair
Ensure thick hair stays secured by doubling up on the claw clips. Using two clips in fun shapes and colors, like these pink and purple flowers, makes for an adorable hairstyle that will stay put.
We love the idea of securing a boho braid crown with a medium-sized claw clip. If you have face-framing layers, this style is a great way to highlight them.
Or, you can style your hair in one big braid and twist it up into a claw clip for an effortless style that's sure to impress. To keep your look locked in place, spritz it with the
Matrix Fixer Hairspray
.
Instead of leaving loose strands of hair around your face, you can side part and slick down your hair in the front for a sleek interpretation of the claw clip trend. Use the Carol's Daughter Black Vanilla Edge Control Smoother to try the look at home.
Claw Clip Buns
Buns or twists are probably what you picture when you think of claw clips — and for good reason. Claw clips make styling updos quick and easy for all skill levels.
Want to dress up your claw clip updo for a special event? Reach for a bejeweled clip like the oversized pearl one pictured here.
If you have two small matching claw clips like these whimsical green butterflies, you can use them to accessorize space buns. Bookmark this look for
festival season
hair inspo.
To really get the romantic, feminine claw clip bun effect, be sure to leave a few tendrils of hair loose around your face. Keep frizz under control by applying the Garnier Fructis Sleek & Shine 10-in-1 Leave-In Spray before you style your hair.
Claw Clip Ponytails
Claw clips are not just for updos — they're also useful for creating a super bouncy, voluminous pony like the one in this photo.
If you wear your hair in a protective style, you can always sweep your twists or braids up into a claw clip for a simple, chic look.
We're officially declaring messy claw clip ponies the modern descendant of the messy bun (though we still love a good messy bun as much as the next person).
If you have super long or thick hair, gather your hair into a ponytail with a thick hair elastic before reaching for your claw clip.
Read more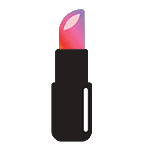 Back to top