How to Create the Perfect Messy Bun in 3 Easy Steps
December 13, 2022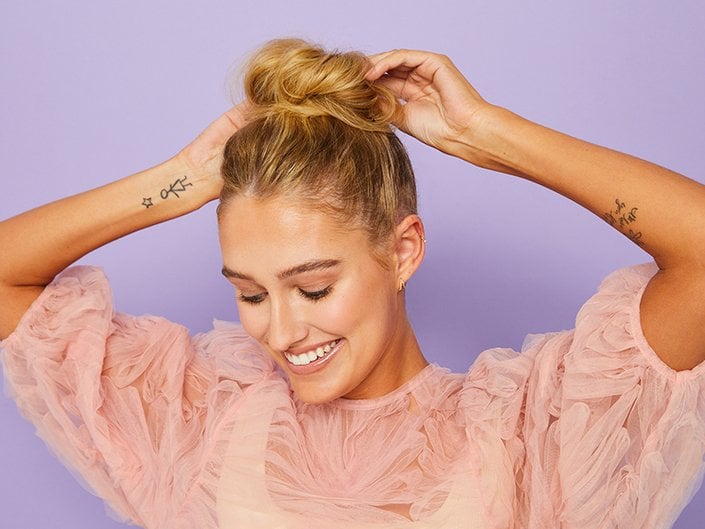 Consider a
messy bun
one of life's great ironies: When it comes to beauty, the most undone looks usually require the most effort. In our quest to master the perfect I-woke-up-like-this messy bun, we've ended up with looks that are too messy and deflated, too ballerina-tight, or just wrong all together. After lots of trial and error, we finally found a fool-proof way to nail the messy
bun hairstyle
. The secret?
Second-day hair
(or third, or even fourth). Think of it this way: A tousled, messy bun is to dirty hair what glitter is to a night out — absolutely essential if you want to do it right.
"The messy bun is playful and timelessly chic," says
Jill Engelsen
, a New York City-based hairstylist and L'Oréal Professionnel National Academy Artist. "Most importantly, you feel like you're you when you wear a messy bun — you don't feel like you're trying to be something you're not."
Read on to learn how you can get the classic look in just three simple steps, plus three ways to switch up your messy bun.
How to Do a Messy Bun
STEP 1: Pull Hair Into a Ponytail
First, flip your head upside down and pull your hair into a loose ponytail, as high or as low as you'd like it. Don't use a comb or worry about your hair being perfectly slicked back — some bumps are OK.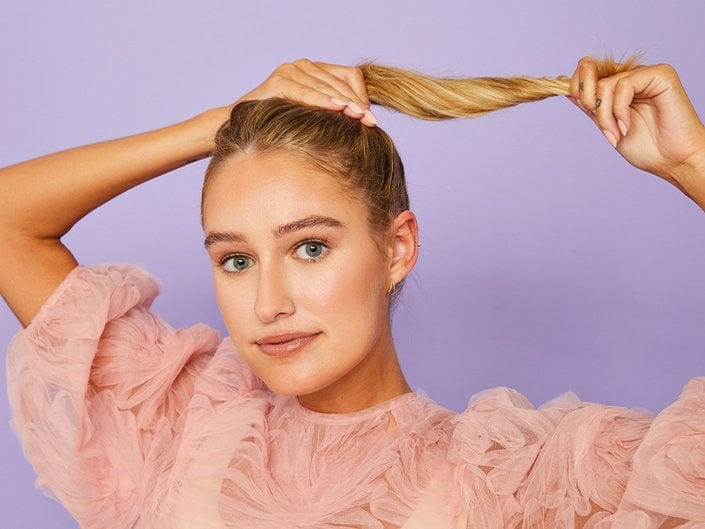 STEP 2: Twist and Wrap
Twist your hair and spin it around the base of the ponytail, continuing to wrap below the bun. Be sure to leave the tail out at the end.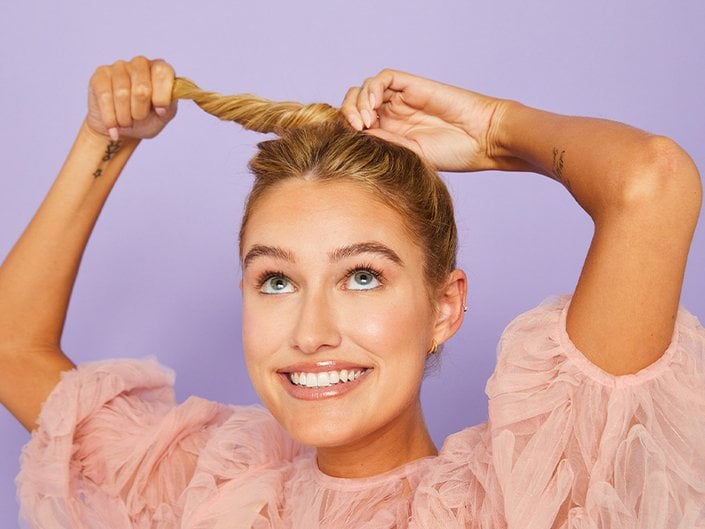 STEP 3: Secure in Place
Secure the bun with a hair elastic and bobby pins.
Pro Tip: Use Dry Shampoo or Texturizing Spray
One of our favorite things about messy buns is that they work well on dirty hair, but if your hair is clean and you want to pull off the look, spray your hair with dry shampoo (try the Garnier Fructis Invisible Dry Shampoo) or texturizing spray to add some texture and grip. To make your messy bun look even more, well, messy, pull out the sections and the pieces of hair that frame your face. "As you wear it throughout the day, it starts to take on its own personality," says Engelsen. "Only redo it if it's really drooping; otherwise, go with it." And there you have it — an effortless style that's actually easy to achieve.

Want to jazz up your everyday messy bun? Find three more fun tutorials that work for a variety of hair types, below.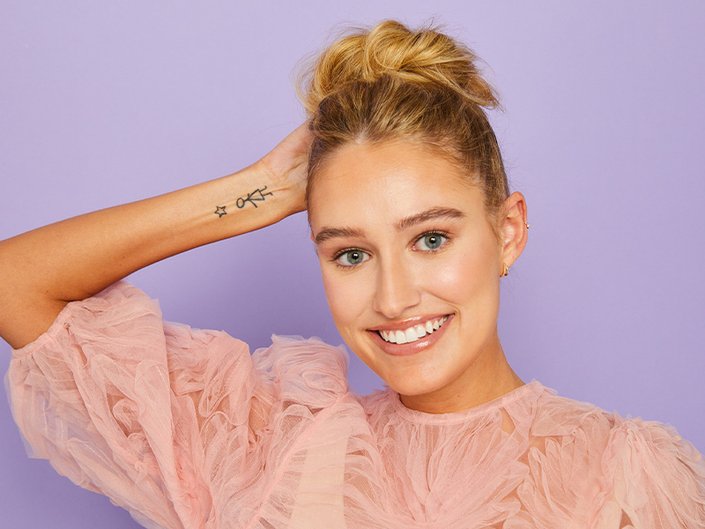 How to Do a Volumized Messy Bun
STEP 1: Volumize Your Ponytail
Use your fingers to comb through the hair, and pull it into a high, tight ponytail. Once your hair is secured, spray a fine-tooth comb with hairspray and gently tease the ponytail, from roots to ends.


STEP 2: Conceal the Hair Tie
Wrap the teased ponytail loosely around the hair tie, creating coils until all hair is swept around the tie. Then secure with bobby pins in the front, back and sides. If there are excessive flyaways, spritz with hairspray and gently pull back towards the topknot with your fingertips.


How to Do a Sleek Messy Bun
STEP 1: Tame Frizz Before It Appears
On wet hair, apply two pumps of a styling product throughout your hair to help tame frizz. If your hair is straight, try the L'Oréal Paris Elvive Dream Lengths Frizz-Killer Serum. If it's wavy or curly, we recommend the L'Oréal Paris Elvive Dream Lengths Curls Leave-in Conditioner, which will leave your coils looking soft and defined. Blow dry as usual before creating your sleek bun.


STEP 2: Gather Hair on the Top of Your Head
For a fierce look, position the ponytail on top of the head in front of the crown and secure with a hair tie. Start to coil the ponytail around the hair tie. The first several wraps should be extremely tight and close to the ponytail holder. Each subsequent wrap can get looser and looser.


STEP 3: Secure With Pins
Once all of the hair is coiled, tuck it under the first coiled layer and secure using bobby pins. Use bobby pins to secure the rest of the knot — front, back and sides, then use hairspray for extra hold.


How to Do a Braided Messy Bun
STEP 1: French Braid
Part your hair to the side. On the side with more hair, French braid the front section of your hair to the end. Secure with an invisible hair elastic.


STEP 2: Add a Scrunchie
Once you complete the braid, gather the rest of your hair into a low side bun and tie back with a fun scrunchie of your choice. The more tendrils you pull out, the cuter and messier this style will look.
Photographer: Chaunte Vaughn; Art Director: Hannah Packer; Visual Designer: Juliana Campisi; Creative Producer: Becca Solovay; Content Director: Victoria Moorhouse; Digital Tech: Paul Yem; Photo Assistant: Sam Kang; Makeup Artist: Jonet Williamson; Makeup Assistant: Chloe Baltimore; Hair Stylist: Akihisa Yamaguchi; Hair Assistant: Chisa Sakurai
Read more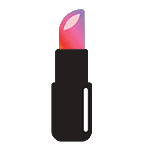 Back to top