The Best Moisturizers For Your Skin Type
October 05, 2018
Moisturizers can be one of the most polarizing products in your skincare arsenal. Do you opt for a gel-like formula that's light and pairs well with a full face of foundation or a thicker formula that's ultra nourishing and heavier on the skin? While the answer comes down to lots of things — one being personal preference — your skin type can be a good guide.

Before we recommend anything, it's important to talk about cleansing. Be sure to cleanse your skin daily to remove any oil buildup that has accumulated throughout the day or night. The best way to do this is by using a Clarisonic with a Deep Pore Cleansing Brush Head nightly to banish blackheads, whiteheads and clogged pores. If you're doing it the old fashioned way (i.e. your hands or a cloth), let the cleanser sit on your skin for a minute before wiping it away. Cleansing properly will not only wash away excess sebum, but will also allow for better product absorption. Once you cleanse, reach for a gentle toner like Thayers Witch Hazel Toner and apply all over before moisturizing your skin. Try to moisturize as soon as you cleanse and tone for optimal product absorption.
Now that we've given you a quick reminder about the importance of cleansers, we've broken down the best moisturizers for every skin type, and which beauty buys belong on your vanity.


Normal Skin
If you have normal skin, meaning you don't tend to be consistently oily or dry (skin fluctuation with the season is normal!), you're in luck. A wide range of moisturizers work for you and you have a little more flexibility in your product picks. We recommend keeping it simple, still, and opting for a moisturizer with a little SPF for extra coverage. Try Garnier Skinactive Clearly Brighter Brightening & Smoothing Daily Moisturizer with SPF 15, a fast absorbing moisturizer with gentle exfoliating LHA acids to reveal brighter, smoother skin. Another great option is L'Oréal Revitalift Bright Reveal Face Moisturizer, a brightening moisturizer that helps to correct uneven skin tone.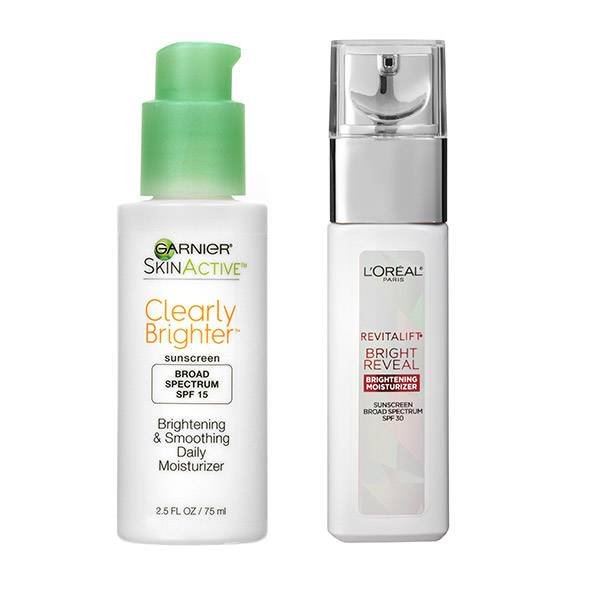 Dry or Mature Skin
The right product will have the ability to give you a dewy glow, without the risk of greasiness. Try using IT Cosmetics Confidence In a Cream Moisturizing Super Cream, a thick cream that's ultra-moisturizing and makes skin feel supple and nourished. If you're on the hunt for a budget-friendly option try CeraVe Moisturizing Cream for Normal to Dry Skin, a cream that offers 24 hour hydration and is infused with ceramides. Both options will give you that fresh faced glow you desire and are great options when it's particularly dry (think fall or winter).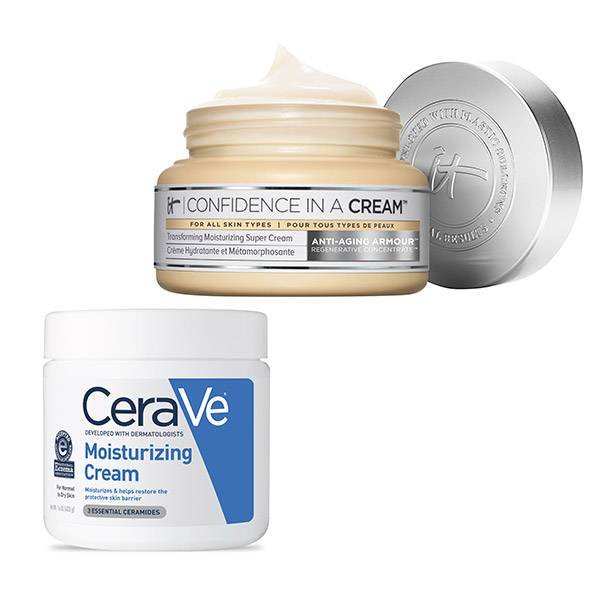 Oily Skin
For oily skin types, we recommend using a product that's so light it feels almost non-existent. Kiehl's Midnight Recovery Concentrate Night Care Facial Oil can be used in place of a heavy moisturizer. We know what you're thinking: oil on oily skin? We must be crazy! But seriously, the oil your skin naturally produces is not the same as oils used in skincare lines, meaning it's safe and can actually be good for your face. If you want a more traditional moisturizer try the CeraVe Moisturizing Lotion or the Kiehl's Ultra Facial Oil-Free Gel Cream — lightweight options that won't leave your pores feeling clogged.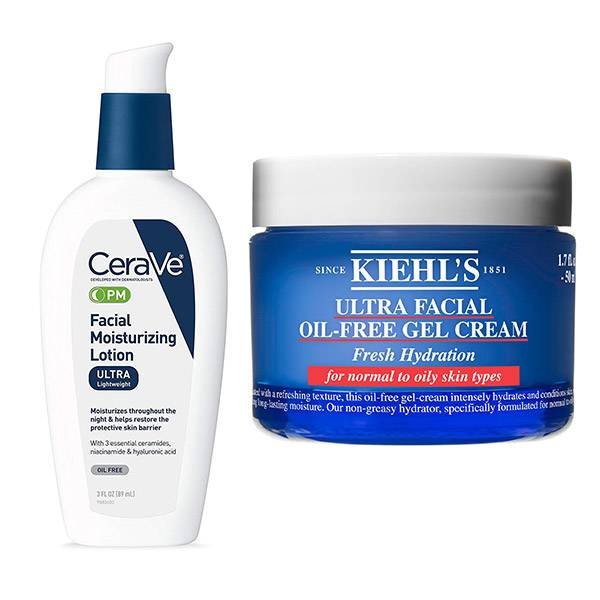 Sensitive Skin
Moisturizers that are fragrance-free, detergent– or "deodorant–" free and alcohol-free are best for sensitive skin types. An ideal fix is the Vichy Aqualia Thermal Serum, which is chock-full of minerals and provides 24-hour hydration.
Combination Skin
We recommend a moisturizer that's somewhere in between for combo skin types — you don't want something that's too thick and will aggravate your t-zone, but you can also use the hydration of a slightly thicker cream. Our pick is the CosRX Oil-Free Moisturizing Cream, a calming moisturizer that quenches dry skin without leaving a greasy residue.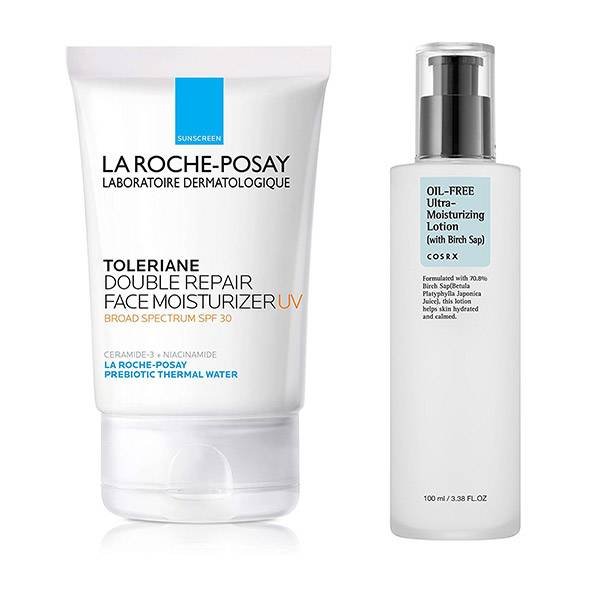 Before we go, a quick but necessary reminder that moisturizer isn't your last step. Follow your favorite moisturizer with a healthy dose of SPF, whether it's a mineral formula that won't make your skin look ashy, or a formula that's perfect for oily skin — for the love of god, just put it on.
Read more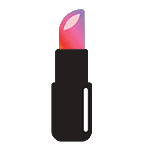 Back to top