The Glossy Eye Makeup Tutorial You Need to Try This Holiday Season
December 12, 2017
If you're familiar with the #Instagrambeautytrends of life, you've probably noticed the glossy eye and matte lip combo making a major appearance throughout your feed and explore page. It also happens to be one of my favorite looks — one I'll definitely be rocking this holiday season. NYC makeup artist Emily Amick agrees — so she shared with us her version of the glam look, with a little glitter to make it extra special. Ahead, find the step-by-step tutorial.
What you'll need:
Clear gloss
NYX Professional Makeup #GlitterGoals Kit 2 in Gold
IT Cosmetics Bye Bye Lines Foundation
L'Oréal Infallible Matte Lip Paint in Cinna-Bomb
Step 1: Amick starts by mixing a clear lip gloss with the NYX #GlitterGoals Kit 2 in Gold with a flat eyeshadow brush.
Step 2: Amick applies the glitter and gloss mixture onto her lids working from the inner corner of your eyes to the outer corners. "You can use as little or as much as you want," Amick says, "depending on the look you're going for."
Step 3: Next, she lines her lower lash line with a taupe eyeshadow to give the look a little more definition.
Step 4: Amick applies IT Cosmetics Bye Bye Lines Foundation all over her face with her fingers for lightweight coverage. "I like this one because it has a really natural finish that lets your skin show through," she says. "And since we're doing so much on the eyes and lips, it's nice to just keep the skin fresh."
Step 5: Next, Amick applies a little blush and bronzer to her cheeks to give her face some color.
Step 6: To complete the eye look, she adds a coat of YSL Vinyl Mascara in I'm The Clash to her lashes.
Step 7: Amick then exfoliates and preps her lips with a scrub and a little lip balm. "My pro tip with matte lipsticks is always exfoliate and use a little bit of balm before you apply. This step is really important for a long lasting finish, and it will help prevent any flaking," she adds.
Step 8: Finally, Amick applies the L'Oréal Infallible Matte Lip Paint in Cinna-Bomb to her lips and is ready to pose for that perfect #Insta-worthy selfie.
"Matte lips have made a huge resurgence thanks to beauty influencers on social media," says Amick. "And I'm pairing it with something super editorial. So, you're kind of getting the best of both worlds!"
Read more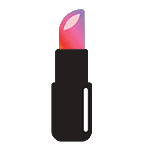 Back to top