I Did Makeup Backstage at NYFW — Here's What Happened
September 13, 2018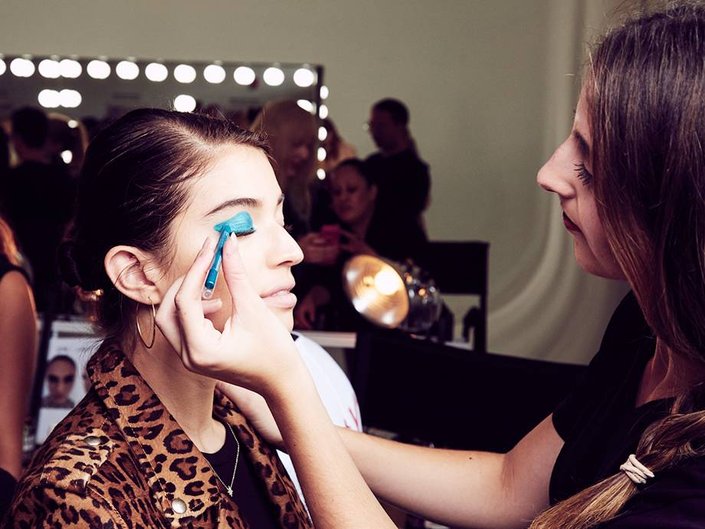 To begin my dramatic soliloquy, I'd like to disclose that I'm not a professional makeup artist — yet. Yes, I'm a beauty editor, but I still have a meltdown every now and then when my winged liner is uneven, and I frequently ogle at the work of MUA's, wondering how they work their magic with such ease and patience. Take last year's Alice + Olivia eye makeup look for example. The show's cool, black glitter smoky eye was an artistic masterpiece I marveled at as celebrity makeup artist Erin Parsons effortlessly brought it to life with a black eyeliner pencil, chunky black glitter and an air of confidence that made everyone in the room stop and stare.
So you could say I was a little nervous when I headed backstage at Alice + Olivia this season to help do makeup on a model. What if I messed up so badly that she wouldn't be able to walk in the show — or worse! — cause such chaos that she ended up in a hospital bed questioning every choice she made up until this very moment. Similar dark thoughts like these raced through my head as I was handed a black Maybelline T-Shirt and was sent to my very own artist station to work with Carlo Longo, a patient makeup artist who appeared to believe in my makeup artistry skills — which, prior to this experience, generally only took place on my face as opposed to the faces of the world's top models. No pressure here — none at all.
Thankfully, my model, Daniela, was chill. She was dressed in a fabulous Cheetah print jacket that I promised myself I could treat myself to post-show if I successfully completed the look without harming anyone. When I arrived, Carlo had already prepped Daniela's face with foundation, concealer and powder, so she was ready to get the main part of the look: a bold, teal-blue crescent eye made to be stared at on the runway. Carlo handed me a Maybelline Eyestudio Lasting Drama Pencil Eyeliner in Silken Turquoise and instructed me to fill in Daniela's eyelid in a rounded crescent shape. I leaned in to do my thing while hundreds of makeup artists, hairstylists and manicurists worked around me. The room hummed with chatter, slight chaos and the clicks of photographers. As far as everyone else was concerned, I was a makeup artist, too! I mean, I had the T-Shirt to prove it.
Carlo instructed me to fill in Daniela's eyelid in long, sweeping motions without lifting the pencil up from her eye. I started at her lashline, getting as close as I could to her lashes with the pencil and then eventually worked my way above her lid to get that crescent shape dreamt up by Parsons. I approached the first eye with trepidation a little unease and some help from Carlo to perfect that crescent shape. But the second eye came so much more naturally. I filled it in in less than half the time and managed to convince myself that maybe makeup artistry is my true calling. False — but it felt damn right in the moment.
Once we completed the teal crescent shape with the teal blue eyeliner, it was time to mattify the teal look with, which — to my surprise — was just a teal body paint picked up at a local party supply store (see, Fashion Week doesn't need to be so serious). Carlo handed me a lip brush dipped in the body paint and instructed me to quickly paint in the eyelid, covering the teal eyeliner entirely. I followed his instructions, but not fast enough, because Carlo took over, finishing the outline of the space I didn't fill in. After that, we added just a touch of brow gel and a little concealer here and there before presenting the look to Erin Parsons, who greeted us all smiles and approved the look for the runway.
So here's what I learned from my experience as a backstage MUA: confidence, patience and a just-do-it attitude are all requirements. I transformed my internal panic into excitement, took my time and carefully followed Carlo's instructions — and it worked. As far as my makeup artistry skills, I no longer feel like I need to clarify whether they exist or not. If you do makeup, you're a makeup artist and just as is the case for everything: practice makes perfect.
I left the Alice + Olivia presentation with more than just an impressive addition to my résumé, the perfect portrait mode photos and behind-the-scenes makeup tips. I also left with a newfound appreciation for all the work that goes on before the runway. Since the BTS isn't what the public generally has the chance to see, let me do my best to describe it to you. It's the initial chaos and panic of being in a time crunch; it's the talent and passion of the artists who bring an idea to life; it's the excitement and goosebumps minutes before the backstage clears out for the main event; and it's the feeling of completion, knowing you were a little part of it all. I'm grateful to know that feeling.
Read More:
Spotted Backstage at NYFW: The Perfect Berry Stained Lip Look for Fall
The Real Story Behind the Nails at This Year's Kate Spade Show
Rebecca Minkoff Reveals the Inspiration Behind The Fall 2018 Essie Collection
Read more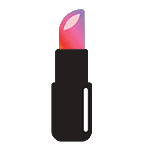 Back to top