This Glittery Blue Eyeshadow Look Is a Winter Dream — Here's How to Create It
January 27, 2021
Beauty trends come and go, but if our Instagram feeds are telling us anything, it's that all things 90s have returned to the scene. From butterfly clips to brown lips, makeup and hair looks from years past are making a major comeback. Our current obsession? Frosted blue eyeshadow, thanks to this look created by @nikki_makeup. To learn how to recreate this ice queen vibe at home, we tapped makeup artist Tyra Janea for help. Here, she's breaking down how to do this soft, sparkly blue eye.
STEP 3:

Brighten With Sparkle

Next, take a small, flat detail brush and coat it in a silver, shimmery shadow. Pack the color in the inner corner, keeping it concentrated around the tear duct. For more color payoff, try spraying your brush with a setting spray before dipping into the pan.

STEP 4:

Blend Away

For a softer look, it's a good idea to blend out the blue shadow. Use a buffing brush to diffuse the blue shadow across your crease, up to your brow bone and out to the outer corner of your eye.



STEP 5:

Draw a Wing

Because no makeup look is complete without a wing, Janea suggests coating an angled brush with the black shadow from the NYX palette. Draw a thin wing, starting from the middle of your lash line. If you need help creating a straight line, we recommend using a piece of tape as a guide. Just make sure to remove it gently once your liner is complete.



Photography and Makeup: Tyra Janea, Design: Hannah Packer
Read more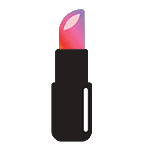 Back to top