Here's How to Pull Off Red Eyeshadow IRL, With Expert Tips
November 11, 2019
We're never afraid to rock a bold red lip, but red eyeshadow?  This trend sounds like one of those avant-garde runway looks that might not  translate well IRL, but Maybelline New York makeup artist Gabriel Almodovardisagrees. In fact, red eyeshadow is completely wearable, it just takes some masterful artistry to get it done right. Whether you wear it as a quick flash of color or a full-blown smoky eye, Almodovar has some helpful tips for pulling off the bold red eyeshadow trend. Read on to find out how you can rock red eyeshadow with ease. 
Red Eyeshadow Tip #1: Choose the Right Red
"Just like any colored makeup product, the right tone of red eyeshadow makes all the difference," says Almodovar. To start, you have to consider your skin tone. For example, if you have dark skin, a light red won't show up as well, so you might want to opt for a bordeaux, burgundy or eggplant shade. Fair skin pairs best with rusty reds, and medium skin tones look good with primary-colored reds. We love NYX Professional Makeup Hot Singles Shadow in Heatfor light tones, NYX Primal Colors in Hot Red for olive and medium skin and Urban Decay Eyeshadow in Relish for darker tones. 
Red Eyeshadow Tip #2: Even Out Your Skin
Once you've chosen the shade that best suits you, don't start applying the shadowjust yet. You want to conceal and even out your complexion before applying your eyeshadow. Pay extra attention to your under-eyes, which can have red tones that you'll want to conceal before application. Apply concealer all the way up to the bottom lash line and don't forget about dark shadows in the inner corners of eyes. "While not usually red, the blue-ish hue of under-eye circles can be exacerbated by red eye shadow, so cover it well," says Almodovar. "Use your concealer or a tinted lid primer to neutralize those tiny red veins on your eyelids." 
Creating a neutral complexion will let the red eyeshadow stand out. For concealer, we recommend the Lancôme Aquatique Waterproof Eyecolour Base. Next, complete your complexion with a sheer or medium-coverage foundation like the Maybelline New York Fit Me Dewy and Smooth Foundation to create an even base.  
Red Eyeshadow Tip #3: Swap Out Bronze for Terracotta
If you normally use a warm earth tone (bronze, copper, gold) when you grab an eyeshadow contour color, swap it out for a warm red shade. "Because the two tones are very similar, it's a really easy switch that doesn't take you too far out of your comfort zone," says Almodovar. If you're wearing a red eyeshadow all over your entire eyelid, blend a more neutral color (in this case brown will work well) in the crease to give the lid definition.
Red Eyeshadow Tip #4: Switch Up Your Eyeliner
Give your everyday black eyeliner a break and swipe on a red liner with a deep, plum undertone instead, like the Urban Decay 24/7 Glide-On Eye Pencil in Love Drugor NYX Professional Makeup Vivid Brights Eyeliner in Vivid Fire. "The dark undertones of the liner will help give the bright color some depth and add definition to the eye," says Almodovar. 
If you can't seem to part with you black gel liner, you can just layer the red liner on top. Line just the top lash line or swipe it across the bottom. Feeling adventurous?  You can create a double wing, too. Almodovar says it's simpler than it sounds. "Directly above the black line, draw a red winged line — the two-toned effect will look bold and graphic."
Red Eyeshadow Tip #5: Try a Two-Toned Smoky Eye
If a bright red lid isn't your speed, you can take test-run a  red smoky eye instead. "Apply red eyeshadow on the inside half of the eyelids, blending the bright color into a black shade on the outer half," says Almodovar. Layering on a couple different shades of red with different finishes gives eyes more depth and definition. For an easy and controlled application, we recommend using  the NYX Jumbo Eye Pencil in Rusted Red, which doubles as an eyeliner and an eyeshadow. To add depth, consider applying a metallic shade on the center of the lid as well. 
Red Eyeshadow Tip #6: Keep the Rest of Your Look Simple 
Hopefully we've convinced you that this trend is versatile and wearable, but make no mistake, red eyeshadow is not a neutral shade and because of this, it's best to keep the rest of your look minimal.  When completing your look, you'll want to stay away from highly pigmented blushes or an extra bold lipstick shade. Let your eyes be the star of the show and finish off your complexion with some subtle contour. "When I do an outlandish eye color, I skip the pop of color on the cheeks and go for a subtle cheek contour instead," Almodovar says. We like to use YSL Les Sahariennes Bronzing Stone to really make red shadow pop.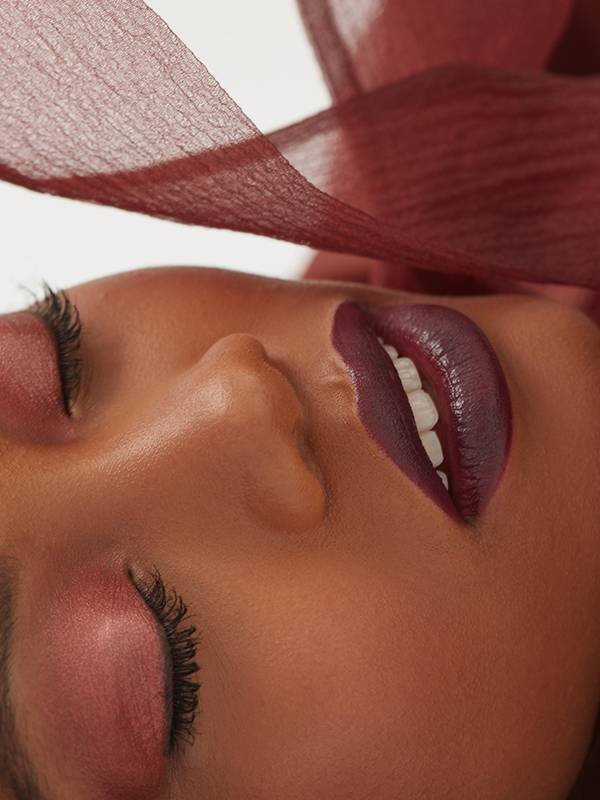 Read More:
How to Get Perfectly Separated Eyelashes With Mascara, Once and for All 
How to Apply Liquid Eyeshadow the Right Way 
12 Buzz-Worthy Makeup Techniques You Need to Know