How to Wear Red Eyeshadow, According to an Expert
November 08, 2022
We're never afraid to rock a
bold red lip
, but
red eyeshadow
? You might think this sounds like one of those avant-garde runway looks that won't translate well IRL, but celebrity makeup artist
Gabriel Almodovar
disagrees. In fact, red eyeshadow is completely wearable — it just takes some practice to get it done right.
Whether you wear it as a
flash of color
or as a
full-blown smoky eye
, Almodovar has some helpful tips for pulling off bold red eyeshadow. Read on to find out how you can rock red eyeshadow with ease, plus shop some of our favorite formulas.
How to Wear Red Eyeshadow in 4 Easy Steps
Step 1: Choose the Right Red
"Just like any color makeup product, the right tone of red eyeshadow makes all the difference," says Almodovar. To start, you have to consider your skin tone. For example, if you have dark skin, a light red may not show up well, so you might want to opt for a bordeaux, burgundy or eggplant shade. Fair skin pairs best with rusty reds and medium skin tones look good with primary-colored reds. The NYX Professional Makeup Ultimate Color Palette in Phoenix has all of these options and more.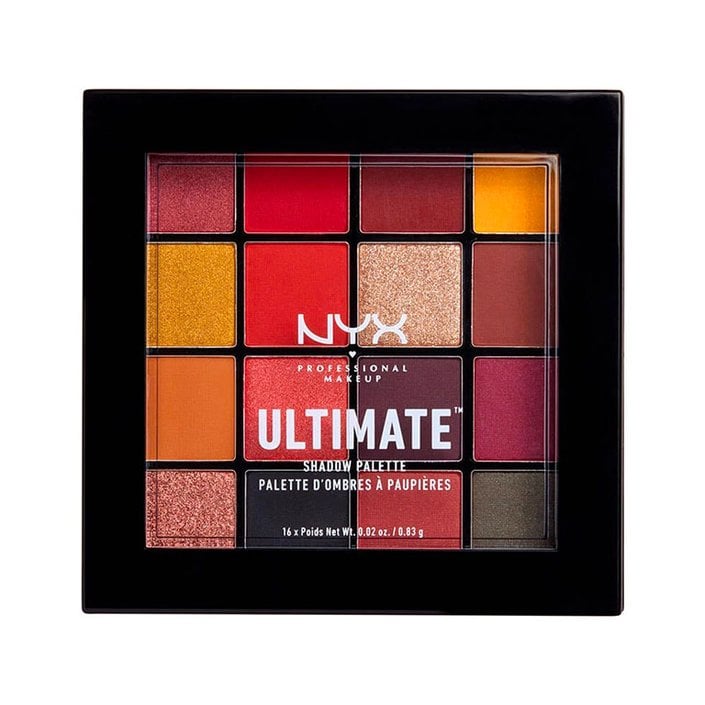 Step 2: Even Out Your Skin
Once you've chosen the shade that best suits you, don't start applying the shadow just yet. You want to conceal and even out your complexion before applying your eyeshadow. Pay extra attention to your under-eyes, which can have red tones that you'll want to conceal before application.

Apply concealer all the way up to the bottom lash line and don't forget about the dark shadows in the inner corners of eyes. "While not usually red, the blue-ish hue of under-eye circles can be exacerbated by red eyeshadow, so cover it well," says Almodovar. "Use your concealer or a tinted lid primer to neutralize those tiny red veins on your eyelids."

For concealer, we recommend the Lancôme Teint Idôle Ultra Wear All Over Concealer, a lightweight, full-coverage formula. Next, complete your complexion with a buildable, medium-coverage foundation like the Maybelline New York Fit Me Matte + Poreless Liquid Foundation to create an even base.


Step 3: Choose Your Eye Makeup Style
Swap Out Bronze for Terracotta
If you normally use a warm earth tone (bronze, copper, gold) for an eyeshadow contour color, swap it out for a warm red shade.

"Because the two tones are very similar, it's a really easy switch that doesn't take you too far out of your comfort zone," says Almodovar. If you're wearing a red eyeshadow all over your eyelid, blend a more neutral color (in this case, brown will work well) in the crease to give the lid definition.


Switch Up Your Eyeliner
Give your everyday black eyeliner a break and swipe on a red liner with a deep, plum undertone instead, like the Urban Decay 24/7 Glide-On Eye Pencil in Love Drug. "The dark undertones of the liner will help give the bright color some depth and add definition to the eye," says Almodovar.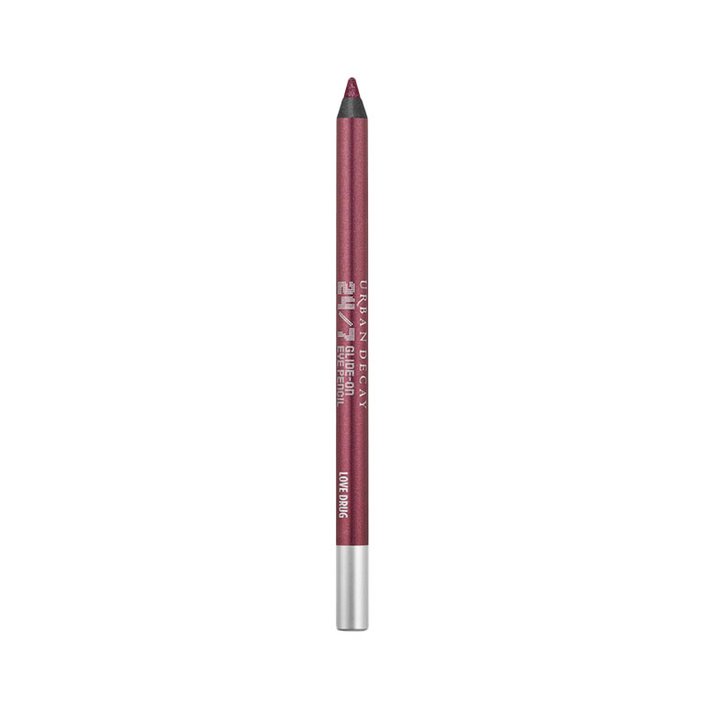 If you can't seem to part with your black gel liner, you can just layer the red liner on top. Line the top lash line or swipe it across the bottom. Feeling adventurous? You can create a double wing, too. Almodovar says it's simpler than it sounds: "Directly above the black line, draw a red winged line. The two-toned effect will look bold and graphic."
Try a Two-Toned Smokey Eye
If a bright red lid isn't your speed, you can try a red smokey eye instead. "Apply red eyeshadow on the inside half of the eyelids, blending the bright color into a black shade on the outer half," says Almodovar. To add depth, consider applying a metallic shade on the center of the lid as well. If you're looking for a cream-based red eyeshadow with shimmer, we love the L'Oréal Paris Brilliant Eyes Liquid Eyeshadow in Radiant Ruby.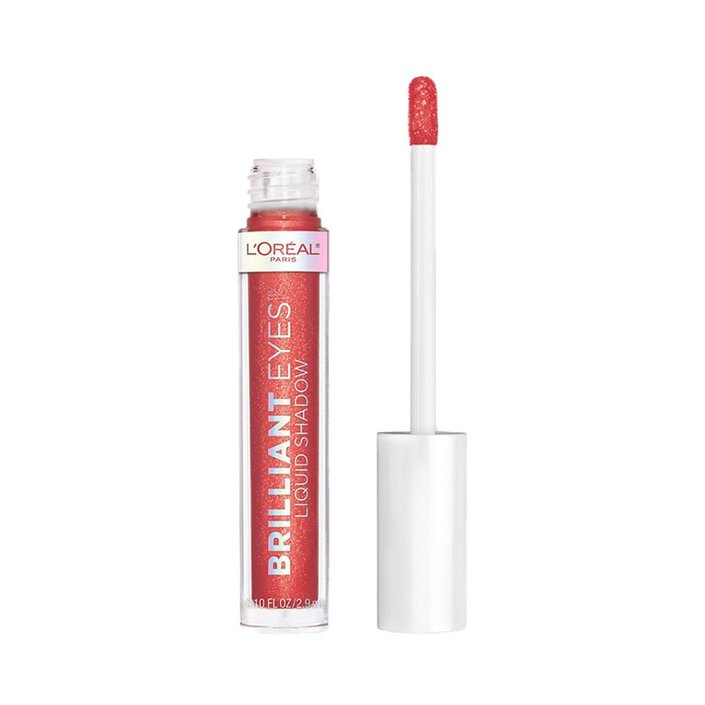 Step 4: Keep the Rest of Your Look Simple
Hopefully we've convinced you that this trend is versatile and wearable, but make no mistake, red eyeshadow is not a neutral shade, and because of this, you may want to keep the rest of your look minimal. When completing your look, consider staying away from highly pigmented blushes or an extra bold lipstick shade. Let your eyes be the star of the show and finish off your complexion with some subtle contour.
"When I do an outlandish eye color, I skip the pop of color on the cheeks and go for a subtle cheek contour instead," says Almodovar. We like to use the
Maybelline New York City Bronzer
to really make red eyeshadow pop.
20 Red Eyeshadow Looks to Try
Red Eyeshadow With a Nude Lip
This look is bright and fiery on the eyes — and perfectly balanced with a nude lip gloss and subtle, glowy base.
Add a Black Wing
Red and black are the perfect color combination — which is why a red eyeshadow look with a black cat eye never misses.
Or, Add a Bat Wing
If you want to get spooky with your eyeliner, add a graphic bat wing to your red eyeshadow look. Trust us — it brings all the autumnal vibes in the very best way.
Sharp Red Eyeshadow
With a thin (but sharp!) black wing, a sparkly red eye pops even more.
Smoke It Out
This smoky and bold red eyeshadow look is one of our favorites. Paired with black shadow, matching face gems and complementary lipstick, it definitely deserves a spot in your weekly rotation.
Red Eyeshadow and Graphic Eyeliner
Red eyeshadow is already bold, so why not take the look to the next level by playing with some geometric eyeliner and face gems?
Black, White, and Red All Over
A black and white eyeshadow look is made all the more dramatic with a pop of red. We love this look that feathers out into crimson near the outer corners.
Negative Space Red Eyeshadow
For a cool graphic look, feather out red eyeshadow at your waterline and above the crease of your eye. Fill in the blank space between with glitter for a stunning twist on red eyeliner.
Add Some Red Lashes
If you want to kick the red-hued negative space look up a notch, apply some bright red falsies. Finish off your look with a swipe of matte red lipstick like @_makeupbyyamii.
Red Twin Eyeliner
This red eyeshadow plays with black and red eyeliner, gold glitter and mini white hearts. To recreate it, we recommend reaching for the Valentino Twin Eyeliner in Black & Rosso; it has a black liquid eyeliner on one end, and a red gel eyeliner on the other.
Red and Gold Cut Crease
A red cut crease is always cool — but with gold glitter, too? This is the fiery look of our dreams.
Lots of Love
We love how this red eye makeup look incorporates a precise red wing and mini black hearts in the inner corners.
Red Heart Eyeshadow
To make your red eyeshadow even more playful and sweet, use heart stickers to form negative space when you apply your eyeshadow. When you take them off, you'll have the cutest eye look.
Red Eyeshadow With Pearls
The graphic wings and inner-corner hearts make this look super cool, but the miniature pearl details make it stunning. Who knew ruby and pearls went so well together?
Put a Bow on It
With the holiday season in full swing, red eyeshadow look makes for the perfect present.
Red Mushroom Look
To truly get creative with your look, don't be afraid to turn your red eyeshadow into the top of a forest mushroom. With some leaves and white lashes, this look is one of our faves.
Monochrome Red Eyeshadow
If all else fails, keep it classic with a matte eyeshadow and monochrome lashes.
Read more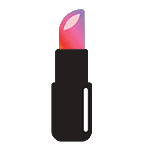 Back to top