4 Shimmery Looks to Create With the New Urban Decay Naked Cyber Palette
September 30, 2021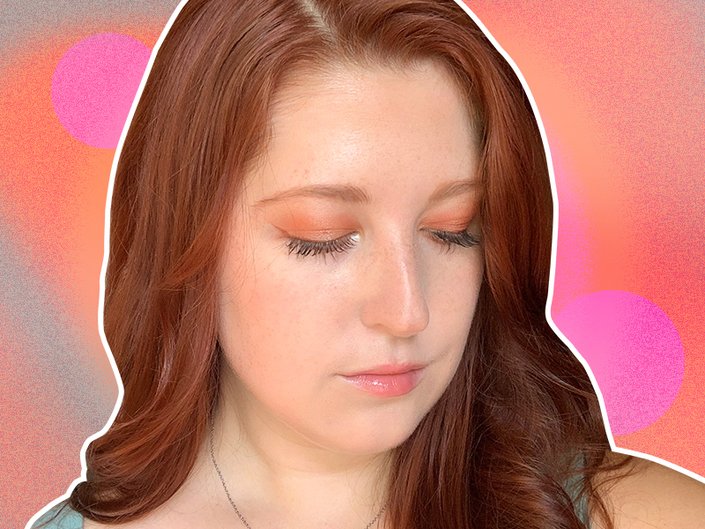 We can always tell what the next makeup trends will be when Urban Decay comes out with a new eyeshadow palette, and the latest — Naked Cyber — is pointing towards dreamy, iridescent eye looks for fall. The futuristic 12-pan palette features a little bit of everything — satin, matte, shimmer, metallic, glitter and even two-toned duochrome finishes that are just begging to be played with. Below, we challenged four editors to get creative with Naked Cyber and their final looks are fun, totally wearable and easy to recreate.
Mary, Associate Editor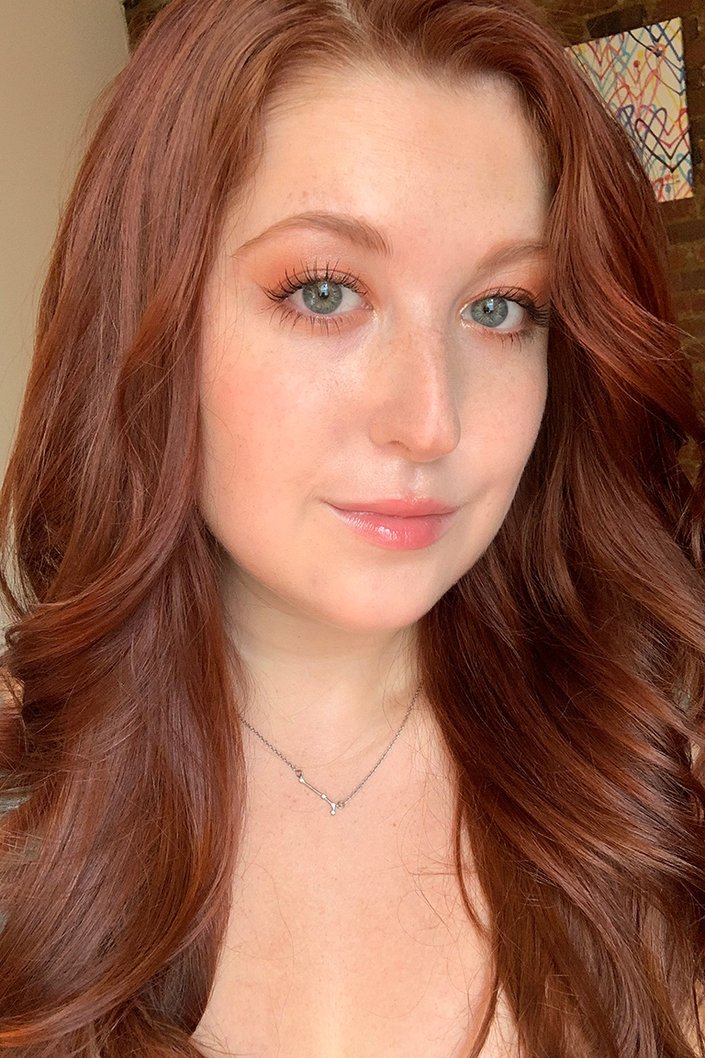 I'm automatically drawn to anything glittery and shimmery, so when I opened this palette I was instantly infatuated. Though metallics can feel intimidating to wear sometimes, Urban Decay makes them user-friendly with the shades in Naked Cyber. For my look, I aimed to create a warm-toned halo eye, which isn't always an easy feat on my small, hooded-eyes but I loved the outcome (so much so that I wore my makeup like this two days in a row!). I first packed Byte, a matte terracotta red, into the inner and outer corners of my eye and gently diffused it with a clean blending brush, making sure to keep the center of my eye free of color. Once that shade was blended, I tapped a bit of Virtual, a light peachy hue, onto the center of my lid. Using a bit of setting spray, I wet Override, a sheer, red-tinted topper that has delicate specks of blue and green glitter, before tapping it over the center of my lid (this made the glitter really pop). Next, I blended a bit of Byte into my lower lash line; then, to match the warm tones of the look, I used a copper-gold metallic liquid eyeliner to create a slight wing to lift my eye before finishing the look with two coats of mascara.
Sarah, Junior Designer
This palette is definitely one of my new faves! I was hooked before even opening up the palette — the packaging is everything. Typically, I'm drawn to matte eyeshadow shades only, but the Cyber palette allows me to step out of my comfort zone in the best way. I started my look by covering my entire lid with Byte, a warm reddish-brown shade. I found that this shadow is an amazing base for layering glitter on top. I then went in with Electrode, a metallic peach shade, from the inner corner of my lid stopping in the middle then blending it with the previous shade. My favorite step in creating this look is using Static to make a dramatic outline right above the lid and extending it into a sharp wing. Last, but not least, I blended Byte into my lower lash line, focusing on the outer area before putting on my favorite lashes to complete the look. And voila! I created a futuristic yet simple makeup look.
Ariel, Associate Editor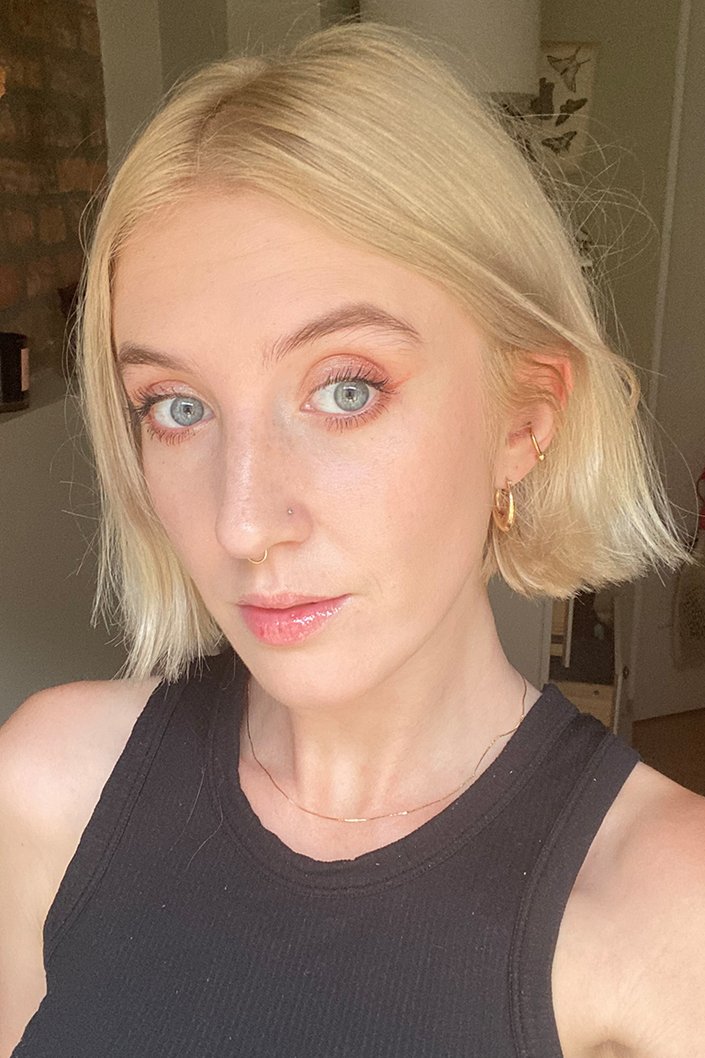 I'm obsessed with this palette. The warm tones and duochrome shades remind me of a Southwestern desert with a futuristic, alien-like spin. To create this look, I started by applying Virtual, a pale orange in the crease, then layed Gadget, a peachy shade, on top. On the lid, I used my finger to swipe on Cyberspace, a golden shade with a hypnotizing green duochrome (it doesn't pick up well on camera, but I promise the green is there IRL!). To add depth to my outer corners, I applied Override, a rich rusty shade speckled with blue shimmer. I found that the shimmers and duochromes look the most pigmented when applied with a finger, but a flat synthetic brush would also work well. I created a small wing using Byte, a deep reddish-brown matte shade, then buffed that along my lower lash line as well. To complete the look I brightened up my inner corners, using A.I., a soft champagne satin shadow, before swiping on mascara.
Katlyn, Social Media Editor
This palette has slowly made its way to one of my top five favorites — I'm obsessed with how unique these colors are! After swatching Cyberspace, I knew that had to be the main focus in my look. Once I applied my base, I used a piece of tape on the outer edge of my eyes to help me get a sharp edge. I used a combination of Gadget and Virtual and worked those into my crease. Then, I slowly added in Byte to deepen the crease and outer edge. When everything was blended, I removed the tape and cut the crease with just a bit of concealer. Next, I applied Cyberspace to the lid, blending it into Byte. For my inner corner, I used Not A Bot. To finish off the look I winged out my bottom lash line, with a mixture of Byte and Gadget, ensuring I left space between the top and bottom wings for added drama.
Photo: Mary Honkus, Design: Hannah Packer
Read more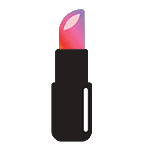 Back to top