Here's Everything You Need to Know About Eyebrow Lamination
July 20, 2023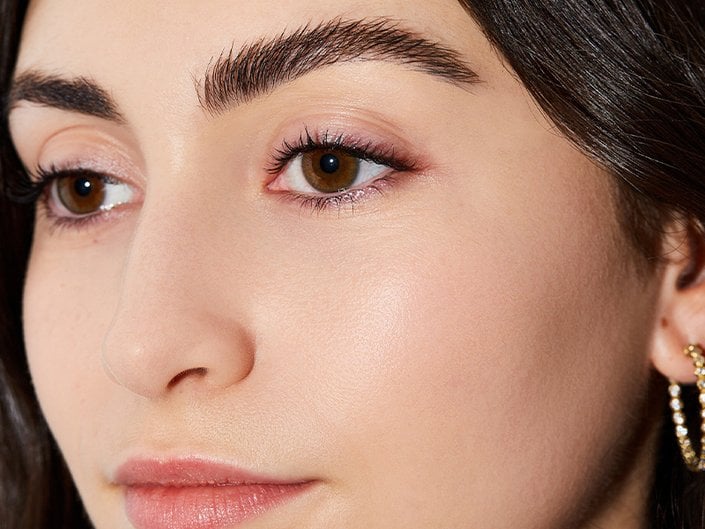 Between microblading, tinting, shaping and more, there are tons of different ways to take care of the color and shape of your brows. But for those who are blessed with naturally full brows and don't need the extra eyebrow TLC, there is a way to groom your brows while keeping your natural style intact. Brow lamination, as the treatment is called, is sort of like a perm for your eyebrow hairs.
We chatted with Joey Healy, brow expert and founder of Joey Healy Eyebrow Studio, and Jeanna Figliolia, owner of Bowie Brows and cosmetic tattoo and lead eyebrow artist, to break down everything you need to know about the brow lamination process. Plus, we're sharing some of our favorite eyebrow makeup products if you're not quite ready to take the plunge on the treatment.
What Is Brow Lamination?
According to Healy, brow lamination is a chemical process that straightens the eyebrow. "It's very similar to a lash lift, but what it does is straighten the brow in a vertical and swept way that lasts for five to eight weeks," he says.
"Brow lamination, aka 'brow lifting,' is a keratin infusion for your eyebrows," adds Figliolia. "The keratin compound used at Bowie Brows contains essential oils, vitamin B and minerals specifically designed to provide nourishment, antioxidants and hydration to each individual hair during processing. This treatment will straighten, lift and set the brow hairs in place to create a perfected shape and sleek finish."
Lamination is different from micro-feathering, for example, because it's about texture, not color. "Most brow treatments are meant to fill in the brows and add darkness and can mimic the look of the hair," says Healy. Lamination, on the other hand, is more similar to a perm for the brow hairs.
The Benefits of Brow Lamination
The end goal of brow lamination is to have sleeker, perfectly-shaped brows that stay put and don't require daily styling with makeup. In other words, it can be a huge time-saver in your morning routine.
Beyond that, brow lamination is a great option for all different hair types and can have different aesthetic benefits depending on your specific brows. "Lamination is stellar when used for taming coarse, unruly and curly brows or cowlicks," says Figliolia. "This smoothing treatment will straighten out the brows, including stubborn hairs, creating a lifted and uniform hair pattern."
However, if your brow hairs tend to lay flat on their own, that doesn't mean you can't still benefit from brow lamination. "For those with fine brow hairs that desire fuller, more symmetrical brows, the 'lami' technique, as we call it for short, will utilize the length of the hairs," says Figlioilia. "By brushing and setting hairs upward, we are able to create the illusion of a thicker, fluffier brow." She jokingly refers to it as "a brow comb-over" because of how it can "camouflage sparseness by using existing brow hairs."
What Is the Brow Lamination Process?
The entire lamination process can take anywhere from 30 minutes to an hour from start to finish, depending on your brows and the salon and technician you choose. You can book the treatment on its own or followed by a brow tinting treatment to boost the color of your newly-laminated brows and create a fuller effect.
For those with coarse hair, Figliolia likes to start "with a pre-smoothing solution to prep the eyebrows by softening the hairs." Then, it's time to go in with the perming solution, or perma-gel. The solution breaks down the bonds in the hair and in turn, makes the hairs straighter, says Healy.
Once the gel is applied, the technician will comb through your brows. "During this step, your brow artist will create the preferred shape by brushing hairs into place," says Figliolia. "The eyebrows are then covered with clear plastic wrap while processing takes place." The processing time may vary depending on your hair type and the perming solution, but your brow tech should always follow the product instructions.
After enough time has passed, the perma-gel is removed and a neutralizer is applied to reform the bonds to create the new brow shape. Then, a post-treatment oil is applied to nourish the hair. This process should be done before brow tinting and brow shaping.
Brow Lamination Aftercare Tips
Be sure to keep in mind that post-service, your brows cannot get wet for 24 hours. Avoid activities that could cause you to sweat during that first 24-hour window as well, such as working out, taking steamy showers and going in a sauna. In fact, a general rule of thumb is to keep your hands away from your brows for the first day after your appointment. Rubbing your brows and applying makeup, creams and oils around the brow area are all no-nos.
Another important tip is to space out your appointments to give your brow hairs an occasional break. "Overall, thicker hair can endure more treatments every six weeks, but with finer brow hairs, it's recommended they wait at least ten weeks because it can be damaging to the brow hair," says Healy. If you want to get the look without the laminating process in between appointments, try the NYX Professional Makeup Fill & Fluff Eyebrow Pomade Pencil to lift your natural brows with makeup.
How Long Does Brow Lamination Last?
As Healy mentioned above, brow lamination can last around five to eight weeks. However, Figliolia notes that your stunning laminated brows may not last quite that long, providing a window of four to six weeks.
How Much Does Brow Lamination Cost?
According to Figliolia, a brow lamination treatment can cost between $150 and $200. Depending on where you live, you may be able to undergo a brow lamination for closer to $80 to $100. Though it may seem like a splurge, bear in mind your laminated brows will last quite some time. The process is best left to a trained professional, since the chemicals in the perming solution can result in permanent damage to your brows if not applied properly.
Brow Lamination vs. Microblading: What's the Difference?
"Many confuse brow 'treatments,' such as brow lamination with brow 'procedures,' such as microblading," says Figliolia. This is a key misunderstanding because the processes and results vary greatly. The main difference between brow lamination and microblading is how the processes are performed. "Microblading entails a more invasive technique similar to that of a classic tattoo," explains Figliolia. "Pigment is implanted with a sterile blade within the skin, creating the look of individual brow hairs." Laminating, meanwhile, is a non-invasive cosmetic treatment.
The results of microblading also last longer than those of brow lamination, enduring for more than a year, while the effects of brow lamination wear off after a month or so. "Both services are extremely popular amongst our clientele," says Figliolia. "However, the final decision will depend on desired maintenance and whether the client prefers a cosmetic tattoo versus a temporary hair treatment."
Our Favorite Brow Products
Not ready to commit to a brow lamination just yet? Check out some of our favorite eyebrow products, from pencils to gels and waxes.
If you're trying to achieve that full, bushy brow look, you need to add the L'Oréal Paris Infallible 24HR Wear Brow Mascara to your makeup arsenal. This smudge-resistant, transfer-resistant formula volumizes your brows and stays looking flawless for up to 24 hours. It also comes with a 3D grip brush to guarantee that no brow hair is left uncoated. It's available in seven shades, so you don't have to worry about not being able to find the right match for your hair color.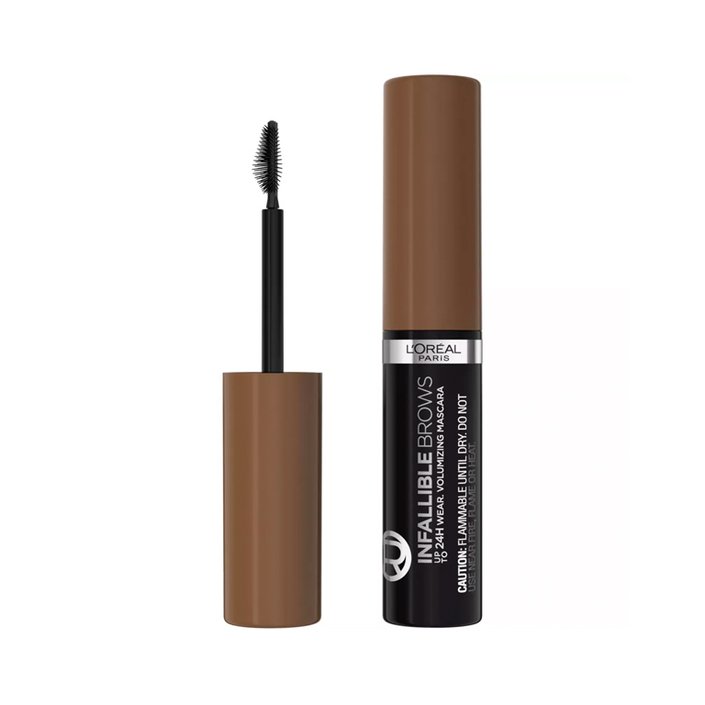 To mimic the distinctive lifted look of laminated brows at home, brush your eyebrow hairs up with the Maybelline New York Tattoo Studio Brow Lift Stick. The dual-ended stick has a brush to lift and sculpt and a wax end to tint and lock your look in place. We like the clear option for a laminated look, but if your brows need a boost of color, this product is also available in Blonde, Soft Brown and Deep Brown shades.
The Valentino Beauty Brow Trio is not your average eyebrow pencil. This dynamic, multi-tasking product actually comes with three different brow products in one for a simple yet effective brow filling routine. Start by using the brush tip to comb and shape your brows, then fill in sparse areas with the flat-tip pencil. Finish by using the liquid micro-liner to draw realistic, hair-like strokes.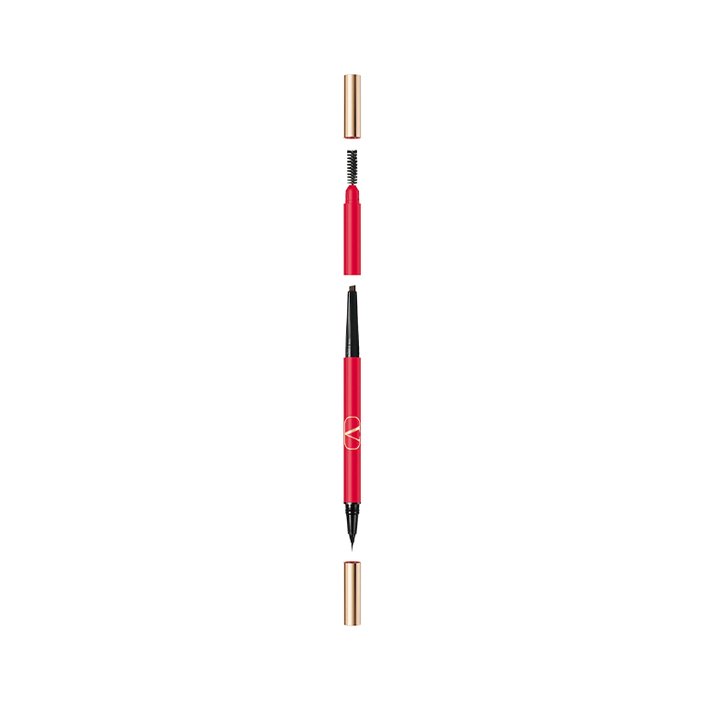 The NYX Professional Makeup Zero to Brow Longwear Brow Gel allows you to transform your arches to fit tons of different looks, thanks to the stencils included in the packaging. There is a skinny brow stencil and a thick brow stencil to help guide you where you should apply the tinted gel formula. Use the doe-foot applicator to deposit the brow tint and the spoolie brush to blend and comb.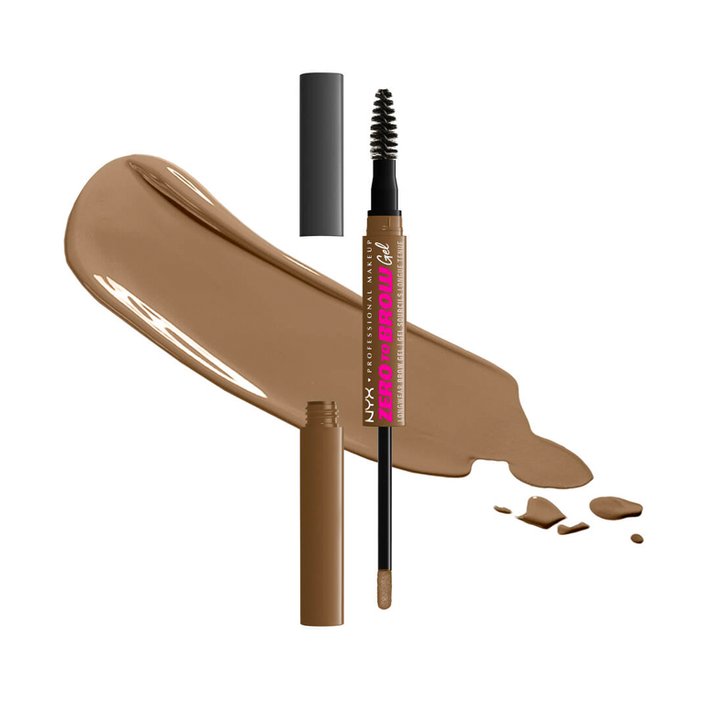 Read more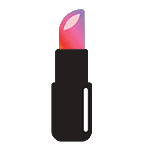 Back to top