The Winged Glitter Eye Makeup Tutorial We Challenge You to Try ASAP
March 16, 2020
Step 1: Start With A Metallic Shadow

Step 2: Layer Your Glitter

For the first layer of glitter, choose an easy-to-apply gel. Here, Williamson used the Urban Decay Heavy Metal Glitter Gel in Dreamland. "Tap on the glitter gel with your finger so you can place it where you want it," she says. "You don't want it to be a solid layer of glitter, rather just touches of glittery areas."
"Tap on the glitter gel with your finger so you can place it where you want it," she says. "You don't want it to be a solid layer of glitter, rather just touches of glittery areas."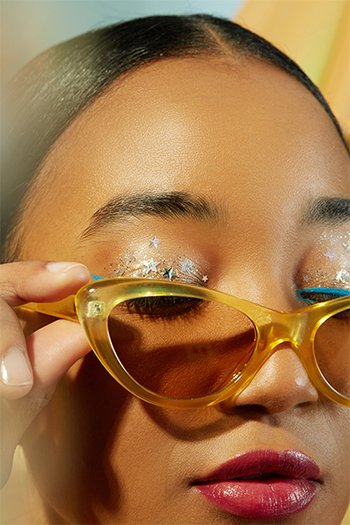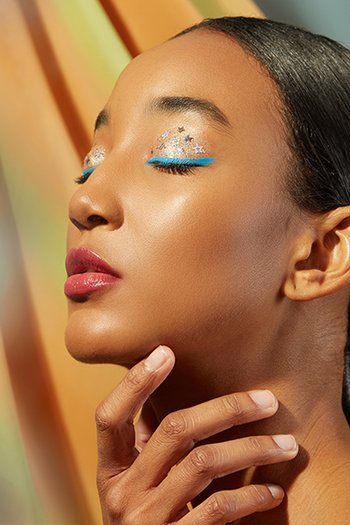 Step 3: Apply Your Liner

Pick a bright liner in a contrasting color of the shadow for your eyeliner wing. Williamson used the Urban Decay Wired 24/7 Glide-On Eye Pencil in Vivid. "You want to make sure you've left a little space for the liner to go on your upper lash line, so that you don't move around any of the glitter you just placed down," she says. Begin your liner at the inner corner and drag it all along the upper lash line with a slight wing at the end.

Step 4: Apply Your Stars

"Use tweezers and eyelash glue to apply your glitter stars," says Williamson. Dip one corner of the star into the glue and place it, one by one on your lid space. Apply as many stars as you like for a stunning, glitter-flecked finish. We recommend using the NYX Professional Makeup Shaped Glitter in Electro for this.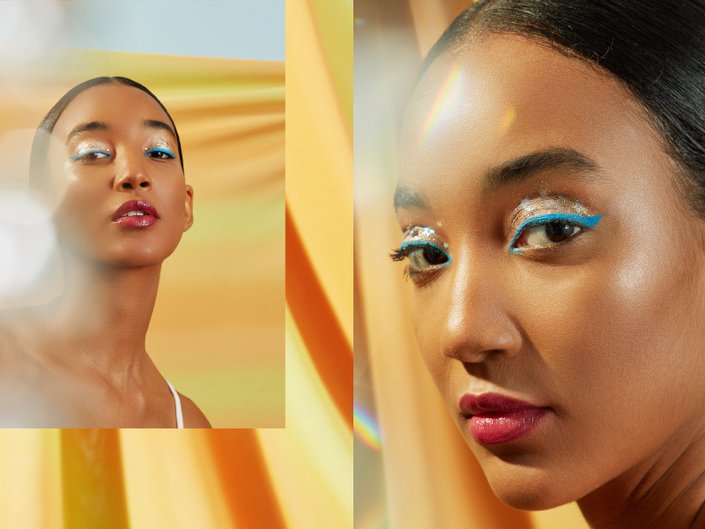 Photographer: Chaunte Vaughn, Art Director: Melissa San Vicente-Landestoy, Makeup Artist: Jonet Williamson, Hair Stylist: Kiyo Igarashi, Visual Designer: Hannah Packer, Producer: Jessica Thiel, Digital Tech: Paul Yem, Model: Shaderska Valdez
Read more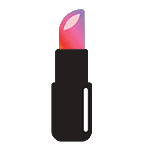 Back to top