The Ultimate Disco Eye Makeup Tutorial to Rock on NYE
December 23, 2019
New Year's Eve eye makeup is all about the glitz and glam, so it's only fitting that as we ring in 2020, we throw it back to the epitome of both: Studio 54. Disco of the 1970s gave this Manhattan night club a total renaissance, so we challenged NYC-based makeup artist Jonet Williamson to give us her take on glittering eye makeup that captures this decade to no avail. Ahead, here's how to get the hypnotizing look in just four steps. We guarantee you'll want to wear it when the ball drops. 
STEP 1: Start With the Outer Corner
To begin this disco-inspired eye look, Williamson suggests building the outline of your eye look with a taupey-gray shadow. "You want to pick up a matte eyeshadow like the L'Oréal Paris Colour Riche Monos Shadow in Meet Me in Paris, and apply it to the outer corner and blend it into the crease," she says. This will keep the glitter finish from looking flat. 
STEP 2: Apply a Black Eyeliner to the Lash Line
Next, to build off that dimension and add more of it, pick up the L'Oréal Pro-Last Waterproof Eyeliner Pencil in Black and apply it to the bottom lash line. "You don't want to go all the way in with this, so apply it from the outer lower lash line inward and stop halfway," says Williamson. "It will make your eyes look smaller if you don't stop there, and we want to keep the inner corner open for glitter anyway." To make the line appear softer, smudge Meet Me in Paris on top of the liner you just created and smudge it out.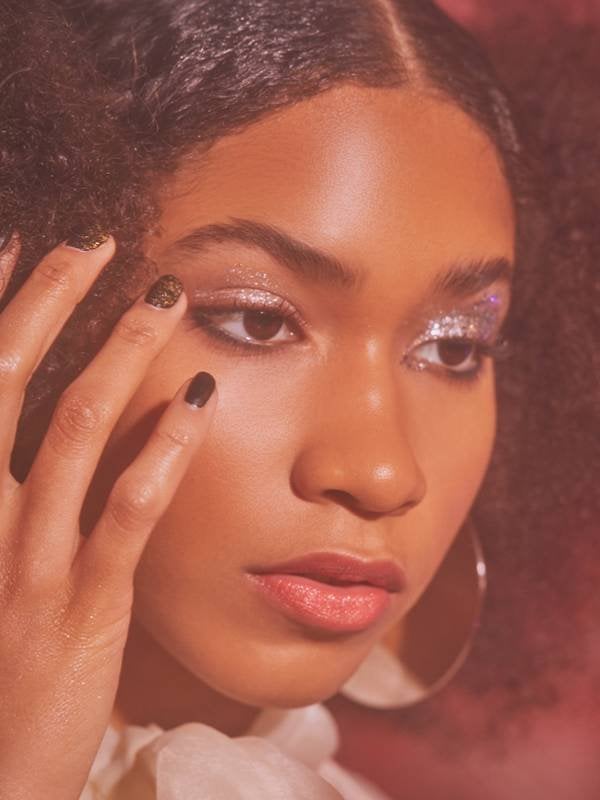 STEP 3: Add a Sparkling Shadow as Your Base
It's time to add your base, and according to Williamson, you want to choose a silver or white shimmering liquid shadow to get the job done. Here, she used a touch of the Stila Glitter & Glow Liquid Eyeshadow in Diamond Dust, but if you prefer a brighter white finish, try the L'Oréal Paris Brilliant Eyes Shimmer Liquid Eye Shadow in String of Pearls all over the lid.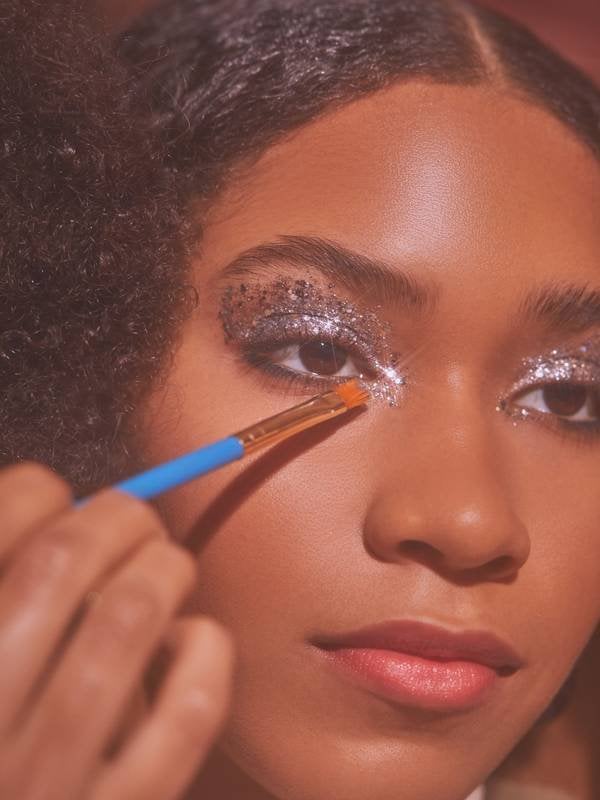 STEP 4: Time to Add Your Glitter
After applying your liquid eyeshadow base, it's time to add your glitter.  "Apply the Urban Decay Heavy Metal Glitter Gel in Disco Daydream onto the back of your hand, let it dry a little bit so that you can get more of a chunky, glitter-fleck finish," she says. Once slightly dry, pick up the glitter with a flat shader brush and pack it all over the lid and crease. "When you get to the crease, you can start making it more patchy to soften and diffuse the glitter a bit." Add a touch of the glitter gel to the crease to complete the seriously Studio 54-inspired look.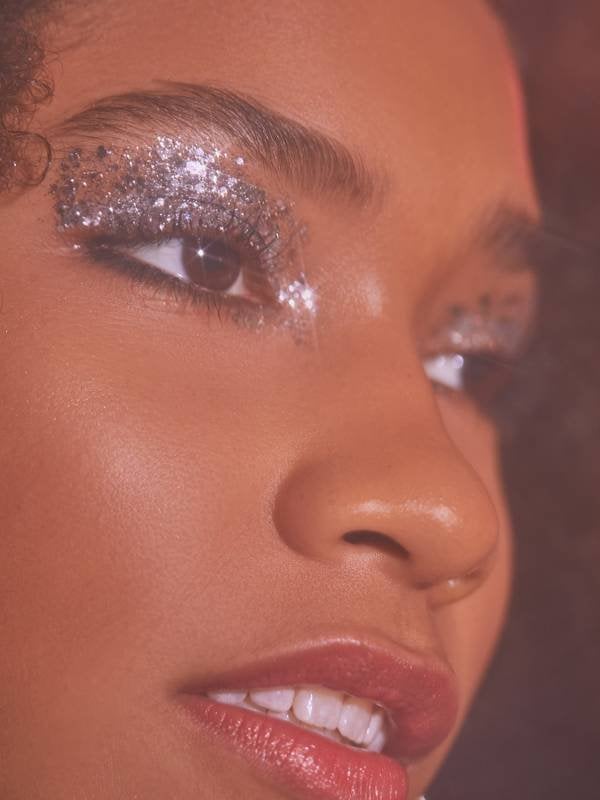 Photographer: Chaunte Vaughn, Art Director: Melissa San Vicente-Landestoy, Makeup Artist: Jonet Williamson, Makeup Assistant: Nana Kumi, Hair Stylist: Kiyo Igarashi, Wardrobe Stylist: Mecca James-Williams, Visual Designer: Hannah Packer, Producer: Jessica Thiel, Production Assistant: Kaela Francesca, Model: Avi McClish
Read More:
5 Drugstore Nude Lippies to Try
How to Change Your Brow Shape Like a Pro
One Editor Tests Out the Urban Decay Lip Plumper
Read more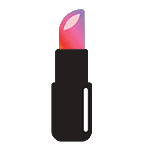 Back to top