New Year, New Beat! Here Are 12 Makeup Products to Kick Off 2020
January 02, 2020
It's a brand new month (and new year!), which means a new round of products is making its way onto store shelves and into our makeup bags. These are the products Makeup.com's editors can't live without this January.
Lindsey, Content Director
Lancôme Rénergie Lift Makeup Foundation SPF 27
I've said it before and I'll say it again: My skin is dry AF, which makes a flawless makeup application difficult, especially in winter. Most foundations accentuate my flakes and settle into my fine lines, and they almost all start crack around my chin by mid-afternoon. Lancôme's newly reformulated Rénergie Lift Foundation is a true exception, though. In addition to SPF, it contains skin-care ingredients like caffeine, vitamin E and iris extract, and the blend keeps my skin plumped and blessedly hydrated. Its medium-to-full coverage is exactly what I need to even out my skin tone. I'm hooked!
YSL Beauty Rouge Volupté Rock'n Shine Lipstick
I firmly believe that applying lipstick should feel like a treat, which is why I'm utterly obsessed with this new YSL lippie. From the glittering top of the tube to the bullet with a star at the center, everything about it screams cool-girl luxury. I've been wearing the shade Pink Bass, a perfect dusty rose, on repeat.
Alanna, Associate Editor
Lipstick Queen Lipdulgence Velvet Lip Powder in Brown Sugar
A good brown matte lip color is the way to my heart — but a good brown lip powder? Needless to say, I was skeptical. I've always been wary of powder-to-cream formulas, simply because they intimidated me at first, but this changed when I tried Lipdulgence. This velvety formula makes the powder-to cream transformation very easy to use and even more comfortable to apply on the lips. Brown Sugar might just replace the brown matte lipsticks in my collection, and I'm not mad about it. 
NYX Professional Makeup High Glass Illuminating Powder in Daytime Halo
High Glass Illuminating Powder is the 2020 highlighter we all need in our lives. It creates a luminous, reflective glow when applied onto the cheekbones, down the nose and on the Cupid's bow and looks stunning on all skin tones. Not to mention, it's the perfect hybrid of glassy and "dewy dumpling" skin.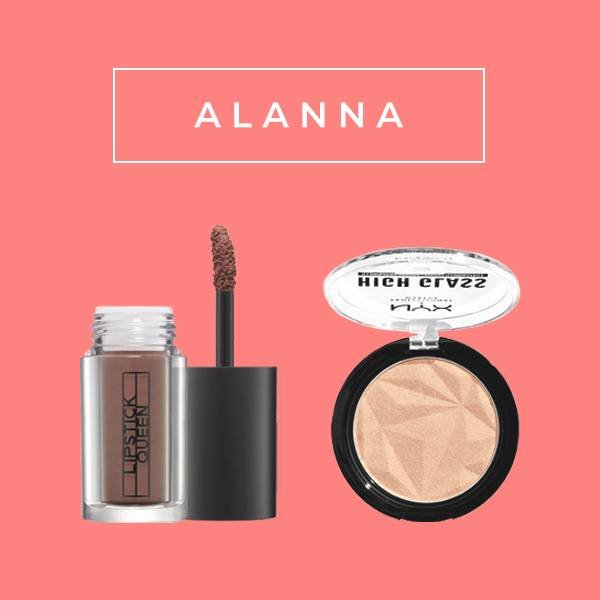 Jessica, Associate Editor
Maybelline New York The Falsies Lash Lift Washable Mascara 
I'm very particular when it comes to my mascara brush — not the formula, the brush — and this one is absolutely perfect. The hourglass wand shape allows me to coat each eyelash with mascara and provides maximum volume. Now onto the formula (which is equally as promising as the wand). The Falsies Lash Lift mascara gives me soft, lengthy eyelashes sans any clumpiness or flakes. After curling my lashes and applying two coats of this formula, my look is complete, and the washable formula doesn't budge until I go to wash my face at the end of the day. 
Charlotte Tilbury Instant Look In a Palette in Stoned Rose 
I've recently discovered the beauty in multipurpose face palettes so the Charlotte Tilbury Instant Look In a Palette in Stoned Rose came at the perfect time. It contains seven pans — three eyeshadow pigments, one bronzer, two blushes and one highlighter — for a quick and easy five-minute face. It's become the go-to product I grab when I'm running late and need to get out the door ASAP or when traveling.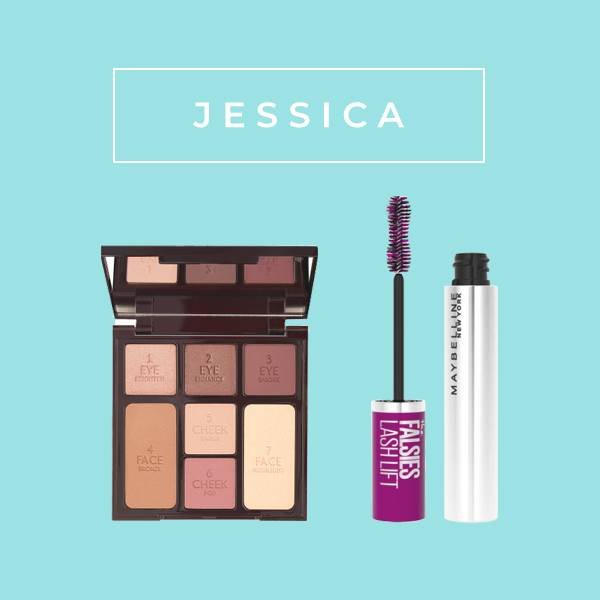 Genesis, Assistant Editor
Maybelline New York Hyper Easy Liquid Eyeliner 
On a regular day, you'll almost never catch me wearing winged eyeliner. I love the look, but I find it is way too tedious to accomplish on a half-asleep-already-late-morning before work. Luckily for me, this Maybelline Hyper Easy Liquid Eyeliner has been a serious game-changer. If you're a cat-eye novice, this flex tip paired with the hexagonal grip calls for a seamless and, well, hyper easy application leaving you with an intense black eyeliner sans any slips, skips or gaps. 
L'Oréal Paris Rouge Signature Matte Colored Ink
Considering my beauty resolution is to wear bright red lipstick on a more casual occasion, I guess you could say this lipstick just blessed me and my makeup bag at the right time. You might already know this cult-favorite lippie for its affordable price point and beautiful pigmentation, but the brand recently launched eight new universal red shades, and I am in love. The lightweight formula has a barely-there stain-like feel with a matte finish, making it comfortable for everyday wear.
Samantha, Assistant Editor
IT Cosmetics Pillow Lip in Vision
Logic would tell me that my lipstick collection has reached its max — but my overflowing collection won't stop growing. My newest addition is the IT Cosmetics Pillow Lip in Vision. My mega-chapped lips this season make hydrating formulas a must, and the finish on this lippie does not disappoint. Infused with collagen and a tri-oil complex, the product is super moisturizing. It's become my front-runner when I want a lipstick that gives both high-pigment and hydration. 
I wish things were different, but unfortunately, I have to wash my hair every other day to avoid looking like a greasy mess. And for the record, day two requires loads of dry shampoo. That being said, I despise the crunchy feeling. Recently, though, I've been literally obsessing over the Be Free by Danielle Fishel Scalp Refresh. All I have to do is use the dropper to put the liquid (a blend of nutrients, botanicals and vitamins) on my scalp and let it soak in. It absorbs excess oil, takes away itchiness and leaves my hair feeling — and looking — just washed.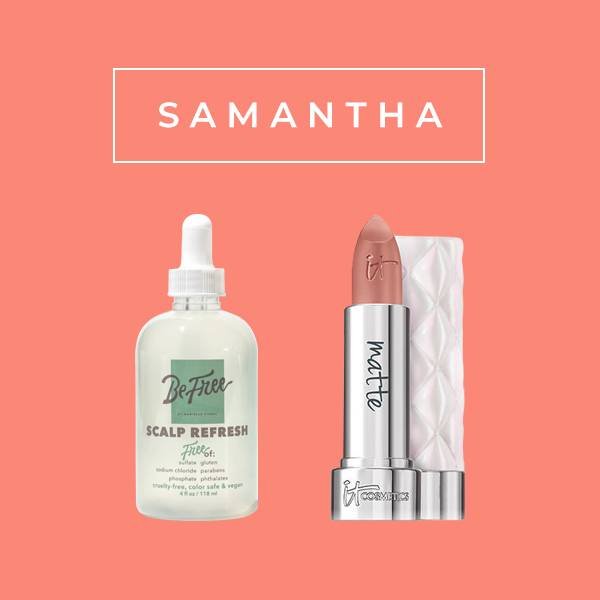 Jillian, Social Media Editor
NYX Professional Makeup High Glass Face Primer 
Winter is my least favorite time of the year for the sole reason that I have to work extra hard with my makeup to achieve the perfect glow, but the new High Glass collection from NYX is truly a lifesaver. Of the lineup, I'm obsessed with the face primer the most. It illuminates my skin like nothing else, and I can totally see the finish carry from when I first apply my foundation to when I finish my face with highlighter. It's the perfect product if you're going for a lit-from-within look.
L'Oréal Paris Matte Signature Waterproof Liquid Dip Eyeliner
One of my New Year's resolutions is to get more adventurous with my eye makeup, and the first step is getting into the eyeliner game. The L'Oréal Paris Liquid Dip Eyeliner has the perfect applicator if you're new to eyeliner (like me) because it's so precise that you'll get a flawless line without much effort. Plus, the formula is matte *and* waterproof. What more could you ask for?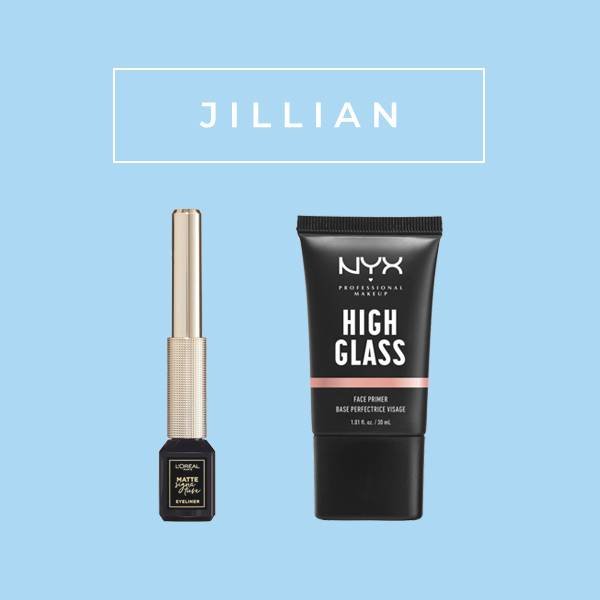 Read More:
7 of the Best Powder Foundations and Why You'll Love Them 
7 Hydrating Lipsticks for a Moisturized Pout 
How to Fix Any Eyebrow Mistake
Read more