The Real Story Behind the Nails at This Year's Kate Spade Show
September 07, 2018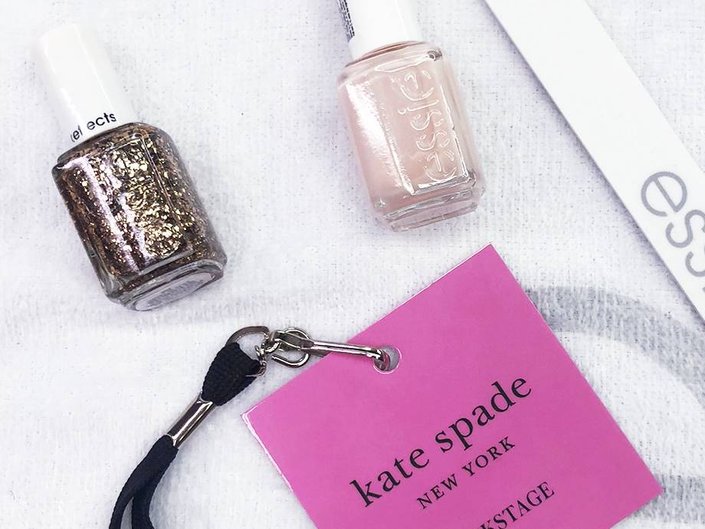 Walking into the Kate Spade on Park Ave is just the sort of experience you'd imagine it to be: magical and overloaded with color. I strolled into the luxe space on Thursday morning wearing my most vibrant ensemble (all-black everything was out of the question) to meet with the Kate Spade team and Julie Kandalec, Essie celebrity nail artist and creative director of Paintbox Nails. We all congregated early in the morning to powwow over a very important topic: the nail look for Fashion Week 2018. Last season, the team opted for just two simple coats of jet black Essie nail polish to pair with the dark, statement-making eye look. Unsurprisingly, everything came together perfectly, even though there was a series of changes made to the nail look, per request. I couldn't help but wonder what was in store for this season — one that is certainly emotional for many.
After gazing around the beautiful space, half-lost, half-on a mission to find the Essie nail team, I walked into yet another, bright, perfectly-organized, peppy room to find hair stylists, makeup artists and of course, Julie, testing out the nail look, which at first glance looked so much subtler than last year. Upon closer glance, I inferred that the look was a neutral nail, topped with light glitter for a hint of sparkle. I asked her a few questions as she effortlessly painted glitter polish onto a model's nails.
"We haven't confirmed the base yet, but the glitter polish is called Summit of Style," Julie whispered to me while perfecting a model's thumbnail. "We're using a little bit of glitter in an adult, lived-in way, not like a full-crazy. We call this a nude glitter — not bright or flashy. That's why I'm going with Summit Of Style, which is beigey or almost a rose gold, versus a bright shade."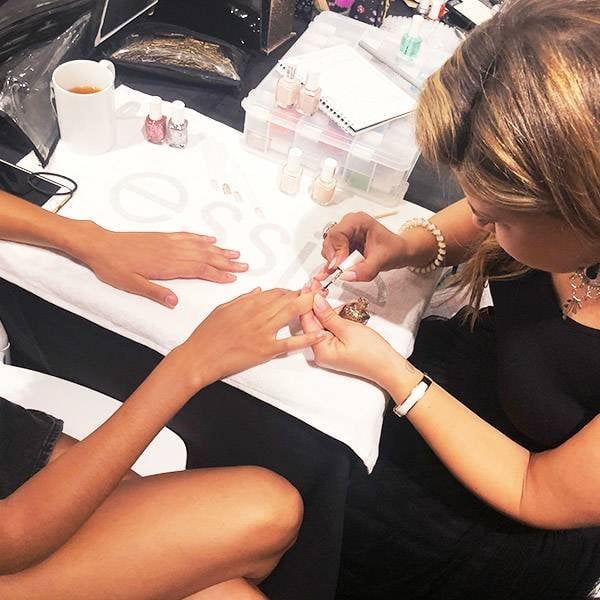 Backstage at the Kate Spade NYFW Show
Flash forward to the following day (#teamnosleep #NYFW) and I found Julie backstage. Naturally, I had to ask her the first thing that came to mind. "Did the nail look stay the same as yesterday?" You see, prior to the actual show, nail looks either do a complete 360 or they stay exactly the same. In this case, I was happy to hear (for her sake) that the nail look was the same as the day before: an "adult glitter" nail look that was the perfect combination of subtle and chic.
The Show
At the Kate Spade Fashion show, every attendee received a postcard that read, "She left a little sparkle wherever she went," paying tribute to the late Kate Spade and the long-lasting impact she'll have on the fashion world. Even though I went into this whole thing with the goal of finding out how a nail look is born, I left with more than that. As models made their way down the runway's path of silver glitter, I saw the bold, glitter eyeshadow look reflecting off of a model's sunglasses and from there my eyes diverted down to the subtle specks of gold glitter on their nails. In that moment, it all hit me loud and clear: Kate Spade's sparkle will never dull.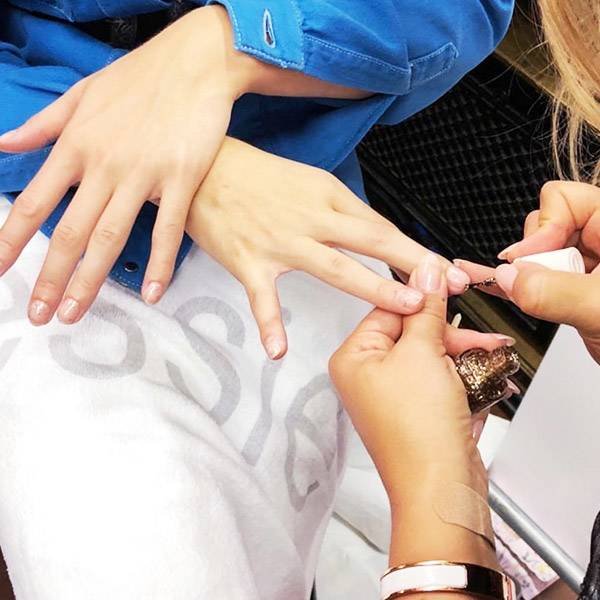 How to Get the "Adult Glitter" Nail Look At Home:
STEP 1: Prep your nails with Essie Here To Stay Base Coat.
STEP 2: Apply one coat of Skinny Dip, a sheer, peachy-nude.
STEP 3: Using Summit of Style, lightly and mindfully apply it so that only the small and medium glitter chunks are on the nail (Summit of Style contains three sizes: small, medium and large). If any large chunks make it onto the nail, get it off using a dotting tool.
PRO TIP: If you don't have the time to pick and choose the specific pieces of glitter, Julie recommends just taking the nail polish brush from Summit of Style and just dotting it like a stamper onto your nails for a subtle finish.
STEP 4: Finish with Speed Setter Top Coat.
Read More:
EXCLUSIVE: Maybelline Just Launched 10 New "City Edition" Shades of SuperStay Matte Ink
An Urban Decay Naked Cherry Collection is Coming and You're Not Ready for This
We Swatched the Maybelline Soda Pop Eyeshadow Palette and We Love It So Much We're Giving It Away
Read more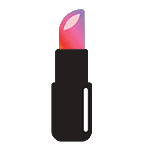 Back to top