Your Ultimate Wedding Day Nail Guide
December 16, 2019
With a lengthy list of pre-nuptial to-dos, wedding nails can easily go overlooked. Compared to the dress, the venue and the flowers, your nail polish color can feel like an insignificant thing. But, trust us when we say that your nails will get a lot of attention on your wedding day, like every other detail. Afterall, you will spend a majority of the event showing off the dazzling new piece of jewelry on your left hand. 
To help you nail the look (pun intended), we asked Essie celebrity manicurist Michelle Saunders to help us create the ultimate wedding nail handbook. Ahead, find intel on how to get your nails in tip-top condition before your special day, plus some major wedding manicure inspiration. Pin it, screenshot it — and most importantly — don't forget to bring it to your pre-wedding nail salon appointment.
How to Get Your Nails Ready for the Big Day
Two Months Out: At this point in the wedding timeline, you've probably noticed that the whole planning phase can be crazy stressful. If you tend to manage all that stress by biting your nails or picking at your cuticles, now is the time to stop (we know, easier said than done). If you need some extra assistance, try a special bitter-tasting polish designed to deter you from the nervous habit. For some people, simply keeping their nails painted is enough to make them think twice before ruining your polish.
This is also about the time you want to start getting regular, weekly manicures. These maintenance manis will help get your nails in perfect wedding day shape and length. "During this time, you can ensure your wedding nails and cuticles will be at their maximum health and you can audition some nail colors, too," says Saunders. At home, don't forget to moisturize your hands and feet daily to keep skin soft and smooth.
One or Two Days Before: This is when you want to get your wedding mani and pedi. Be sure to buy your own bottle of polish and bring it with you to your appointment. This way, if you have any unfortunate chips happen post-mani, you have the color on hand for touch-ups. Better yet, Saunders strongly recommends getting an almost indestructible gel manicure that should last through your honeymoon. 
Pro tip: If you go with a sheer pink gel manicure, you can paint any nail polish shade on top of it to change it up. "Perhaps you have red in mind for rehearsal dinner," says Saunders. "Just pop your ideal hue over the gel and remove with polish remover the next day to reveal the sheer pink gel again." 
Find Your Perfect Wedding Nail Style
To find your ideal nail color for the big day, Saunders recommends using your wedding colors and personal style as a guide. "If you have an accent color highlighted in the décor, then match your nails to that," says Saunders. "It brings continuity to your beauty look." While you may not want to go all matchy-matchy with your table linens or bridesmaids' dresses, you can tie in your colors in a more subtle way. "Match your wedding nails to the brightest color in your bouquet, or the softest," which is  another way to mesh your mani with your wedding vibe. 
Wedding Day Manicure Inspiration
Nail Look #1: The Classic Wedding Manicure
Wedding Style: You're sticking with tradition and have planned a picture-perfect wedding steeped in elegance.
Your Dress: A structured A-line or fit-and-flare gown in luxe satin or French lace.
Your Bouquet: A lush, all white mix of roses, hydrangeas and tulips.
Your Dream Venue: An elegant ballroom.
Your Mani: Creamy whites or pinks go perfect with your wedding day look and décor. As for the nail look, you might consider a modern take on the classic French manicure. Try Essie Gel Couture Of Corset, a sheer beige nude color with subtle warm chestnut tones.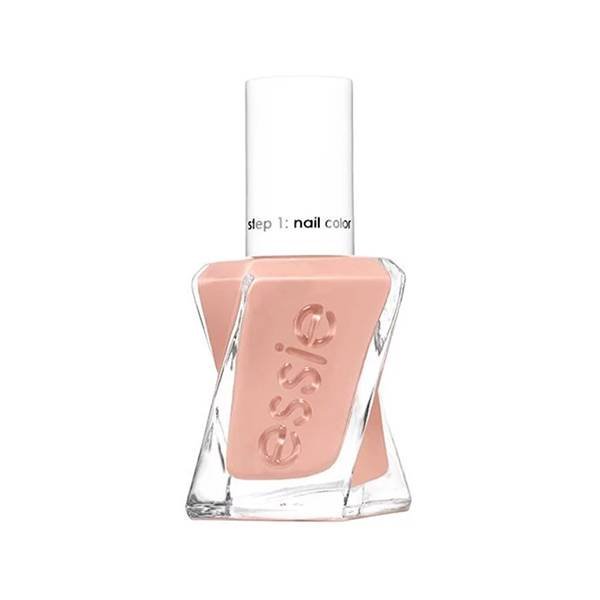 Nail Look #2: The Bold Wedding Manicure
Wedding Style: You like to push the envelope whenever possible. Your goal is to keep your guests talking about your wedding day long after you've returned from your honeymoon in some exotic hot-spot locale.
Your Dress: It's all about the show-stopping details such as a plunging neckline or a large-scale floral embroidery. 
Your Bouquet: Bright and vibrant with punchy shades of red, orange and hot pink.
Your Dream Venue: A cool cocktail lounge.
Your Mani: Skip the pale pinks and whites and paint your nails with a bright, but dramatic deep red nail polish. Try Essie Gel Couture Bubbles Only, a flashy, burgundy créme shade.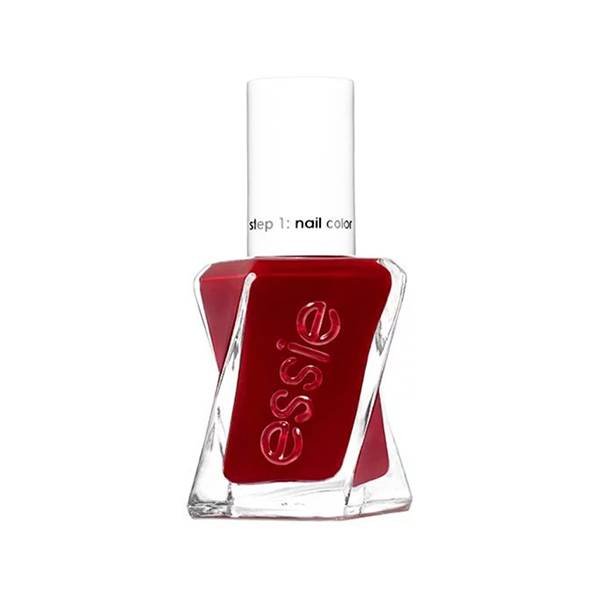 Nail Look #3: The Romantic Wedding Manicure
Wedding Style: You've been dreaming of this day since you were a little girl. You can bet your candlelit wedding reception will be full of feminine and sweet, personal touches. 
Your Dress: Elegant and ethereal with lots of soft tulle.
Your Bouquet: A mix of soft blush pink and creamy white roses and peonies.
Your Dream Venue: A fairy-tale-like castle.
Your Mani: "I'm in love with deep nudes that match your skin tone right now," says Saunders. These neutral, complexion-like shades really pump up the dreamy factor. Try AILA I'm Naked! I'm Naked!, a soft, nude beige color.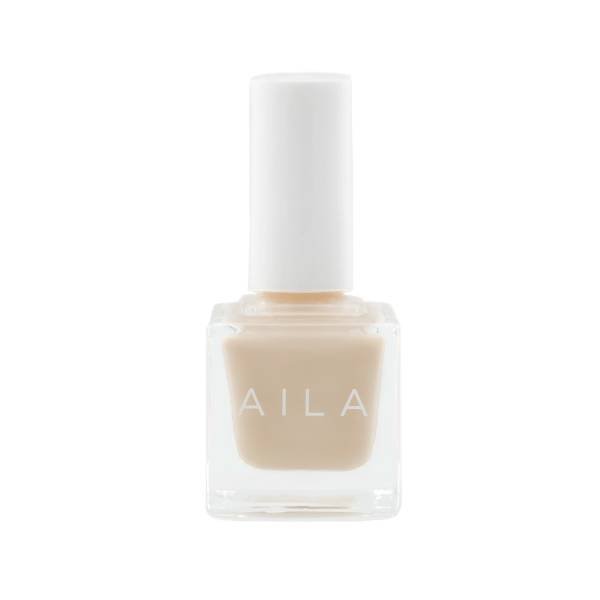 Nail Look #4: The Glam Wedding Manicure
Wedding Style: Your ideal wedding reception takes cue from old Hollywood glamour, straight out of The Great Gatsby era. 
Your Dress: A sleek, vintage-inspired, art deco gown with beaded embellishments and geometric patterns.
Your Bouquet: A mix of lush white flowers accented with crystals and feathers.
Your Dream Venue: A historic mansion or hotel.
Your Mani: "A bit of metallic is the perfect choice to bring out the glamorous touch," says Saunders, like a shimmery silver, rose quartz or gilded gold color. Try 10FreeChemistry Platinum Rose Quartz.
Nail Look #5: The Edgy Wedding Manicure
Wedding Style: White and frilly is just not you. You'll do your wedding day your way — modern, unexpected, but still incredibly chic.
Your Dress:  No Cinderella-style dresses for you; you're lusting over an of-the-moment, eye-catching wedding gown.
Your Bouquet: A graphic mix of black and white anemone.
Your Dream Venue:  An urban warehouse space.
Your Mani: "I've seen deep midnight blues on a few brides, and it really brought a dramatic and sexy vibe to the manicure, especially for an evening wedding," says Saunders. Try Smith & Cult Kings & Thieves, an opaque dark ink blue.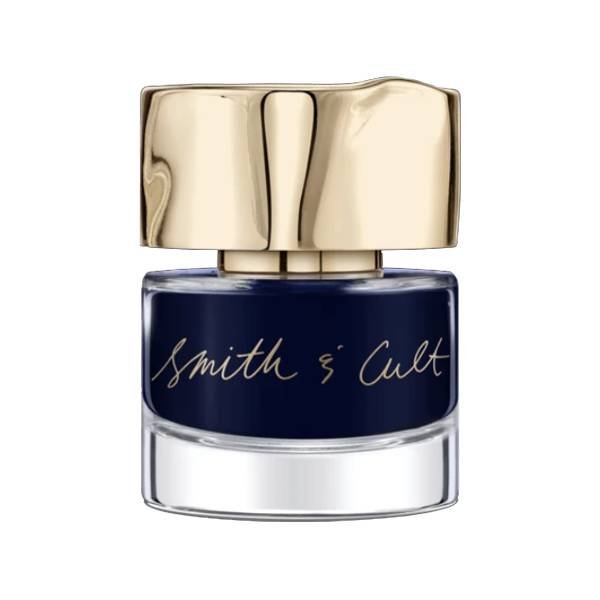 Read More:
Winter Is Coming: 8 Essie Nail Polishes You'll Want to Rock All Season
6 Winter Nail Art Ideas That Aren't the Least Bit Cheesy
6 Classic Nail Polish Shades Everyone Should Own
f
Read more