How to Safely Remove Nail Glue — Plus, the Best Nail Glues for Press-Ons
April 26, 2023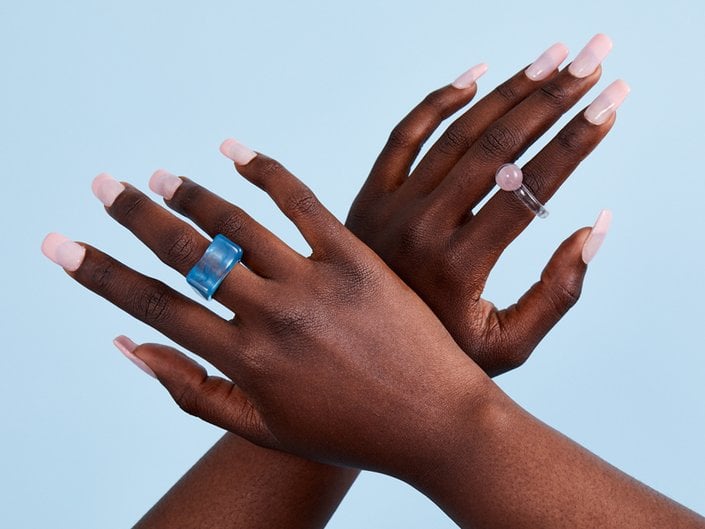 Press-on nails have plenty of perks — not only are they available in a wide range of cool, on-trend designs, they also tend to be less expensive and less time-consuming to apply than getting a fresh set of acrylics or a Gel-X manicure at the salon. However, one of the downsides of applying press-ons is having to deal with mishaps like getting nail glue stuck to your skin. Before you try to pry it off (which you should never do!), follow these steps from Julie Kandalec, celebrity nail artist and founder of Julie K Nail Artelier in New York City, on how to get nail glue off your skin safely.
What Exactly Is Nail Glue?
First things first, it can be beneficial to understand exactly what nail glue is. Though it is often compared to household super glue, nail adhesive actually acts differently than regular super glue.
"Both adhesives are made from cyanoacrylates — a family of strong, fast-acting adhesives with industrial, medical and household uses," explains Kandalec. "But nail adhesives are designed to dry fast and clear, are waterproof — and, of course, are designed to bond to the nail. Not all adhesives can do that."
Nail glues also often contain beneficial ingredients that can help strengthen your nails and prevent fungal infections. That said, these adhesives should be reserved for the nail bed. If you do end up with nail glue on your hands, there are a few ways to safely remove it, detailed below.
What Can You Use Nail Glue For?
You can use nail glue to apply press-on nails (most press-on nail kits actually come with a tiny tube of nail glue) and to temporarily reattach false nails that may have fallen off in between appointments. Nail glues are the only types of glue that are recommended for use on the natural nails — even if you're in a pinch, it's best to avoid using household glues because they have not been tested for use on fingernails or skin.
How to Safely Remove Nail Glue From Your Skin
How to remove the nail glue depends on the amount you have on your skin. But no matter how much, it's imperative to use acetone to effectively remove it all. "If there is a small amount on the skin, acetone will break the bond of the adhesive," says Kandalec. Simply soak a cotton round in acetone and place it on the affected area for a few minutes so the build up can dissolve. We like this bottle of 100% pure acetone from Amazon, which comes with an accompanying nail file.
If you have a lot of nail glue on your skin, there are a few extra steps you'll need to follow. "First soak the area in warm water — warmth will allow the adhesive to come off more easily," Kandalec explains. "Then, soak a cotton ball or cotton swab in acetone and apply it to the area, allowing it to dissolve the glue. Once the area has gotten unstuck, use a soft nail file or padded nail buffer to smooth out the nail glue left on the skin."
We like using this Onsen Secret Japanese Nail File Set because they're soft, double-sided and come in a pack of six with subtle, understated patterns.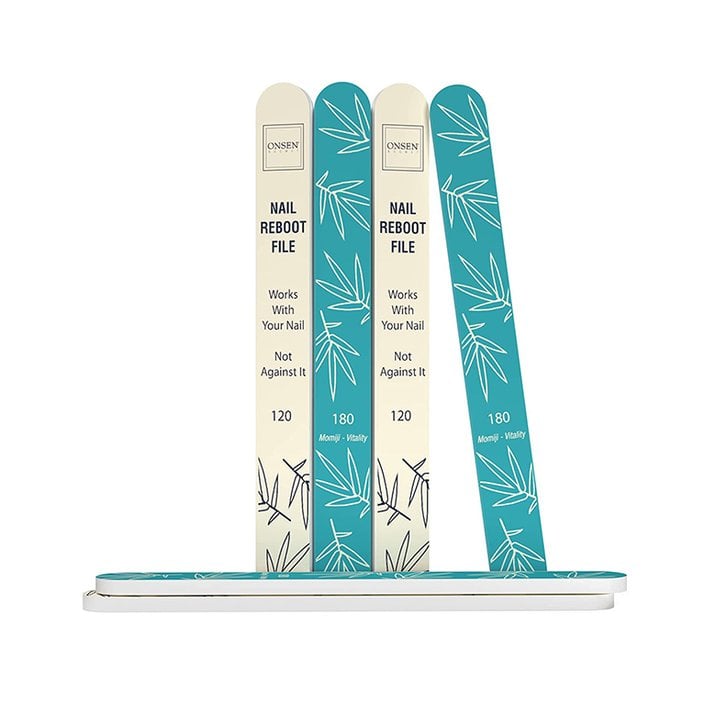 There are also specific products intended to help get nail glue off of skin, such as the Kiss Glue OFF Instant False Nail Remover. The chiseled tip helps nudge press-on nails off of your natural nail, and the formula itself dissolves nail glue and nourishes nails with a combination of castor oil and pro vitamin B.
Also, be sure to moisturize your skin and cuticles after removing nail glue because acetone can be drying. We recommend trying the CeraVe Therapeutic Hand Cream because it's formulated with ultra-moisturizing ingredients like ceramides, hyaluronic acid and niacinamide. Follow up with the Essie On a Roll Apricot Cuticle Oil to rehydrate and revitalize your cuticles. For a quick, polish-free mani, paint on two coats of the Essie Hard to Resist Nail Strengthener Treatment to nourish and strengthen your nails.
Whatever you do, never try to pry nail glue off of your skin, as it can cause the skin to tear. It's also best to avoid using an excessive amount of adhesive, too. "If it squishes onto your cuticles and between your fingers it can be difficult to remove," says Kandalec. "Nail glue itself isn't toxic, but improper usage or using too much is what can cause minor skin irritation."
The Best Nail Glues for Press-on Nails
Below, find 10 strong-hold, long-lasting nail glues that will repair tears and broken nails and keep your press-on nails in place.
This flexible, fast-drying glue is hailed as the "best nail glue by far" on Amazon — reviewers say it even helps their press-on nails stay on securely while they're washing dishes. With an easy-to-squeeze bottle and a three-second drying time, this is one of the most user-friendly nail glues we've tried.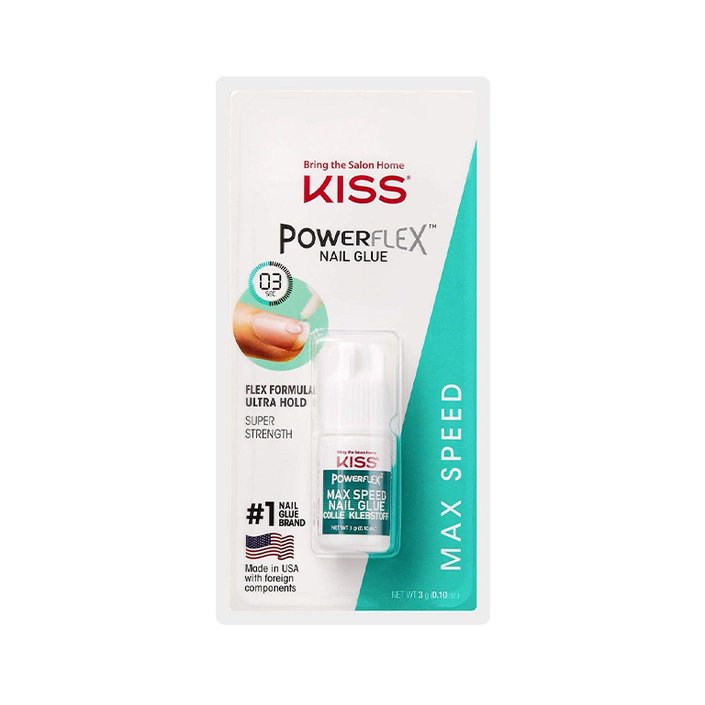 This brush-on nail glue is the perfect product to toss in your purse and keep on-hand just in case a press-on nail pops off while you're out and about. Not only is the brush-on format incredibly easy to apply, it's also super strong and long-lasting — reviewers say it kept their press-ons secure for three to four weeks.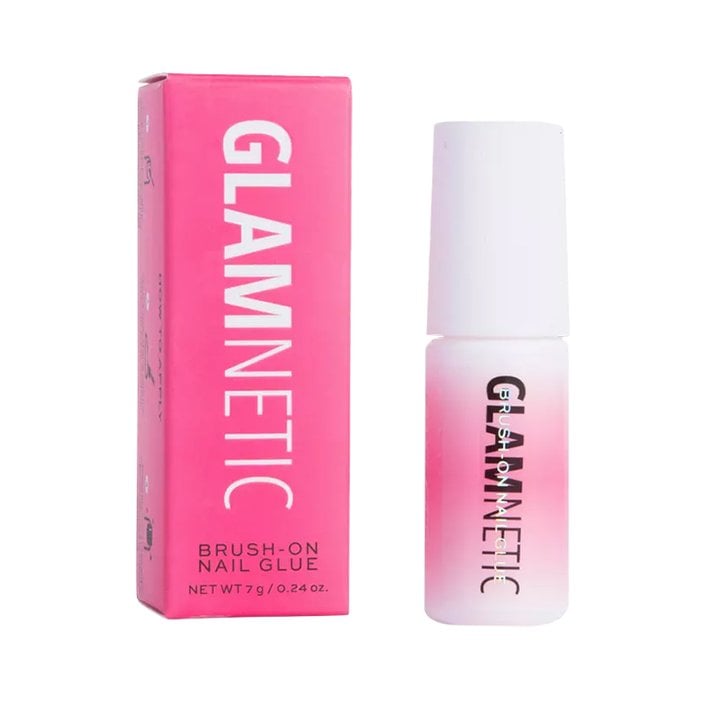 For serious, long-lasting hold, look no further than this nail glue. It sets fast (in as little as three seconds) and can be used to apply press-on nails or re-attach and repair broken nails. To repair a broken nail, the brand recommends placing a drop of glue on the break, hold it in place with tweezers for five seconds, then buff the area to smooth.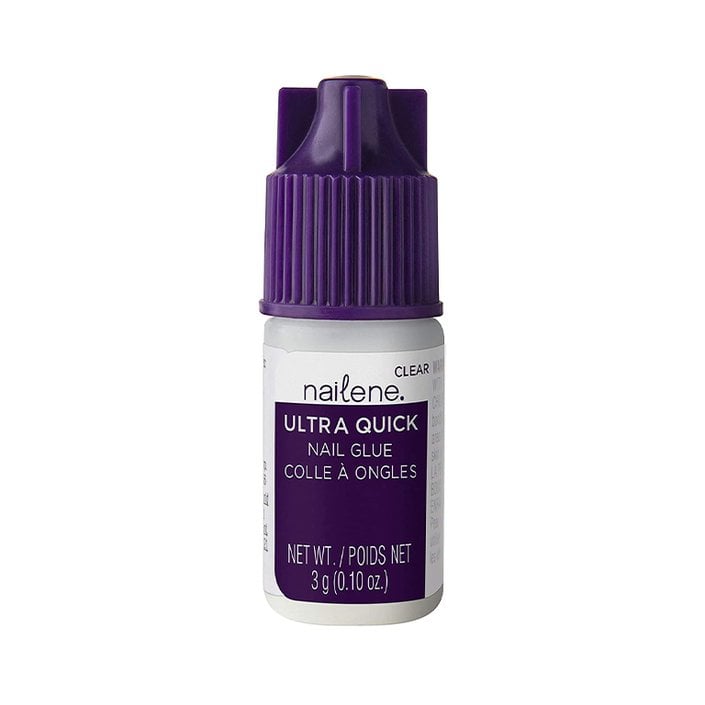 This nail glue is incredibly sticky and strong, according to reviewers – the only downside is that it sticks to everything, so be sure to apply it carefully and clean off the tip after using. The precision tip is fast and easy to use to instantly adhere false nails.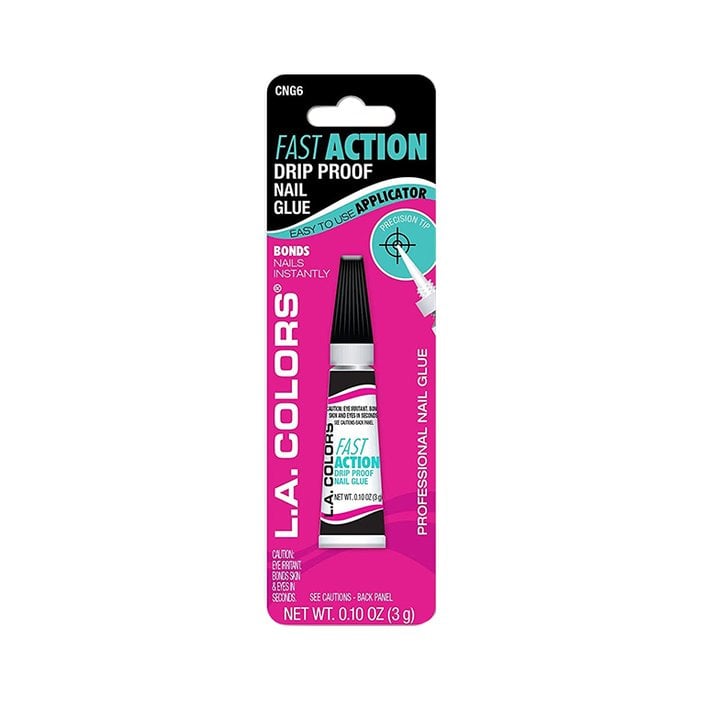 Another favorite from Kiss, this nail glue is a go-to for repairing tears and breaks in artificial nails. It's a must for those who like to stretch their acrylic sets as long as they can between appointments — the tiny size and precision nozzle means you can stash it in your bag and apply for on-the-go repairs.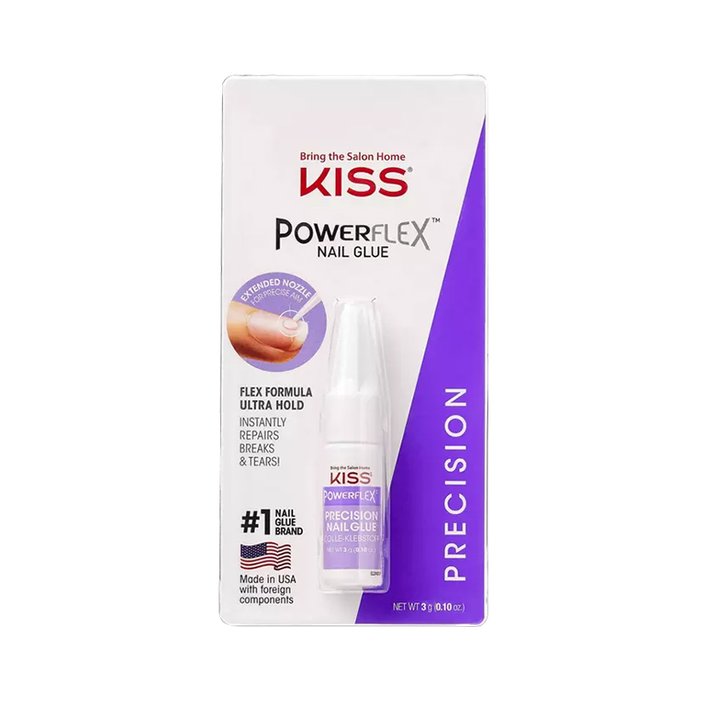 Before applying any nail glue, it's important to completely clean your nails of any dusts, oils or contaminants. This will give the glue and your press-on nails a clean, prepped surface to adhere to. You can do so by wiping your nails with a thin layer of rubbing alcohol or nail polish remover. We like that nail glue's brush-on format, which makes it easy to use even on your dominant hand.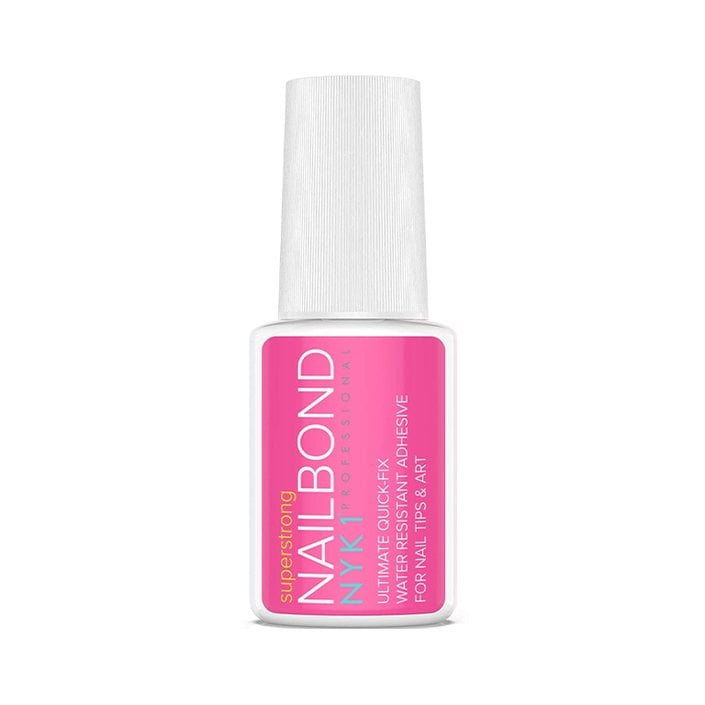 Brush-on nail glues are our go-to for quick, easy and mess-free application. This one stands out for its strong-hold formula, which bonds to the natural nail like an acrylic to keep false nails in place for as long as 18 days. It's waterproof and dries in seconds without the need for a UV lamp, plus it dissolves overtime so there's no residue to remove from your skin.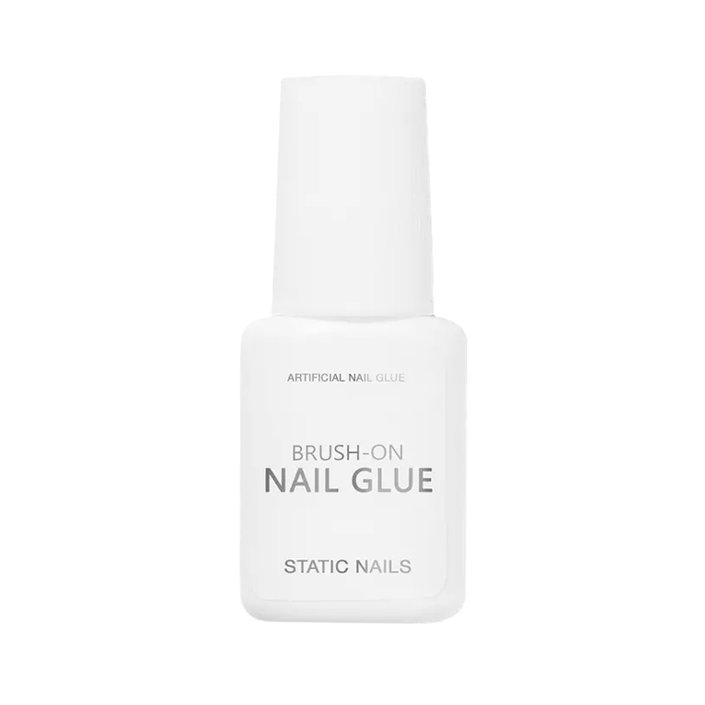 The same Kiss PowerFlex formula is available with a sheer pink tint, making it perfect for emulating the
lip gloss nails trend
with a set of sheer press-ons, or for layering underneath a set of false French nails. It sets in seconds and has an easy-to-squeeze bottle.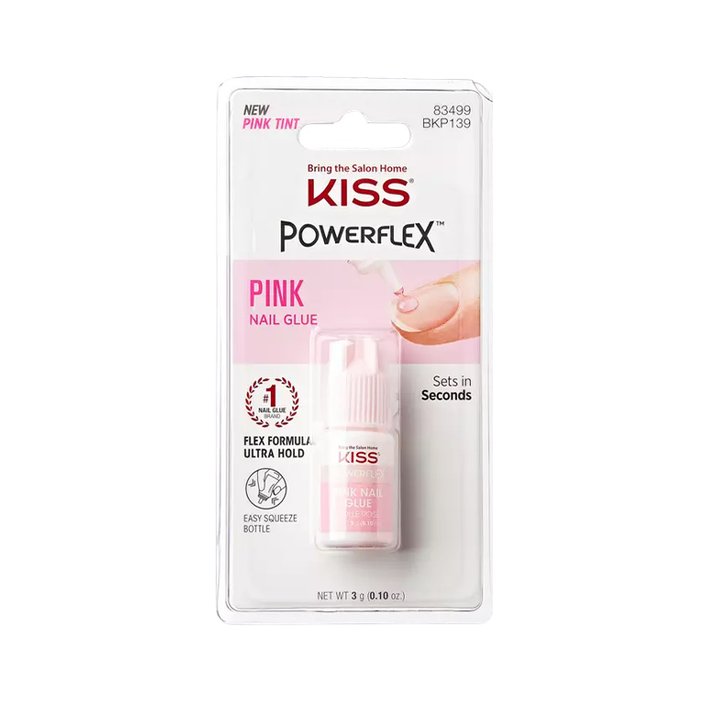 This brush-on nail glue is a quick, reliable pick for applying your press-on nails. It's mess-free and beginner-friendly, allowing you to get a salon-quality manicure at home, minus the expertise and the price. Reviewers say that it was "simple to remove" when they made a mistake, but still kept their press-ons on securely — one said theirs lasted a week with this glue.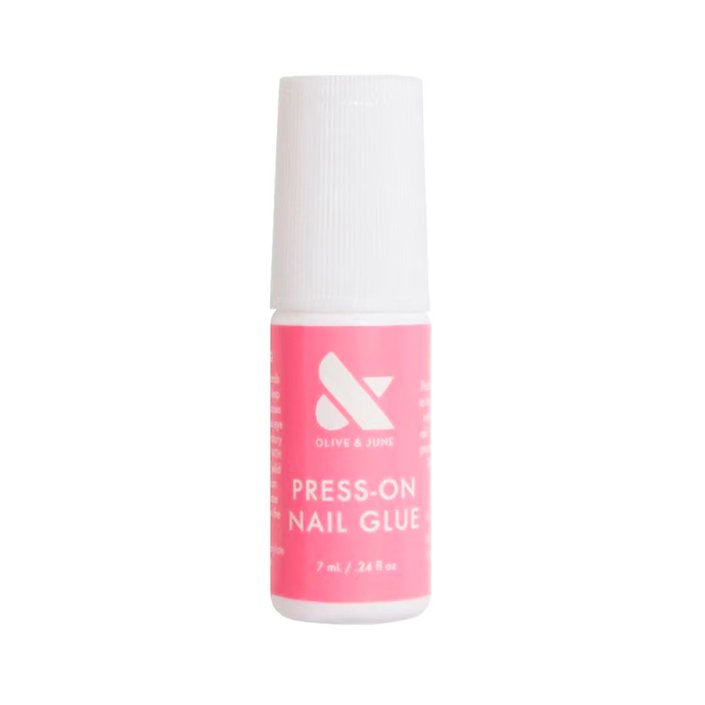 This fast-drying, brush-on formula is a quick and easy way to apply artificial full-cover nails or nail tips. For the best adhesion, the brand recommends filing the surface of your natural nails first, cleaning them, then applying the glue to the base of your artificial nail. Place the nail on top of your natural nail bed, then hold in place for 10 seconds. From there, you can shape and file your nails to your liking.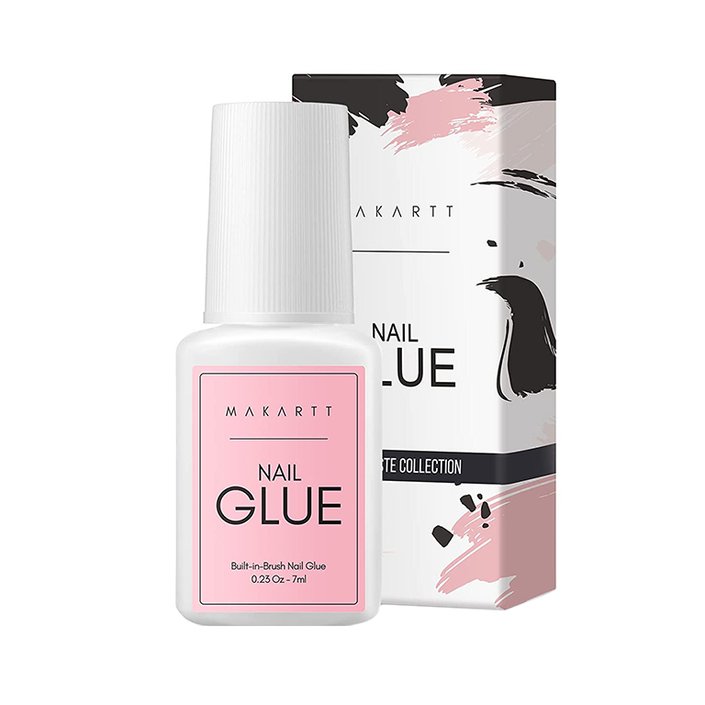 Read more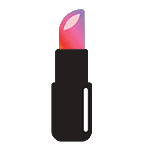 Back to top