Our Favorite Nude Nail Polishes to Complement Every Skin Tone
January 06, 2020
There are a few trends out there that we can safely say will never go out of style. On the beauty front, a bold red lip, classic black winged eyeliner and nude nail polish are a few of the most noteworthy. No matter how many nail art trends and manicure styles come and go, nude polish has quite the staying power. There's truly something to be said for a shade that works for every season and occasion.
Like red lipstick, blush and foundation, nude nail polish comes in a variety of hues and tones. To find the best nude nail polish for you, we created a complete guide to our favorite nude polish shades, ahead.
Nude Nail Polish for Fair and Light Skin Tones
Because of your lighter skin tone, white or beige nudes should be avoided as they can wash you out. The key to rocking nude the right way is to allow it stand out in contrast to your complexion. We know, this sounds a bit counterintuitive to the word "nude," but it's the truth. Sheer pink shades are the best way to go as they add a touch of warmth to your fingertips.
The best nude nail polish shades for light skin:
Essie Nail Color in Ballet Slippers: There's a reason this little number has been the brand's best-seller for years. The pale pink shade works wonders on any skin tone and nail shape, making it a staple in every salon and beauty drawer (including ours)!
Aila Make Him Wait a Day: This opaque blush pink hue is subtle but still gives the look of a clean and crisp, classic nude manicure. It's the perfect barely-there color with just a touch of shine.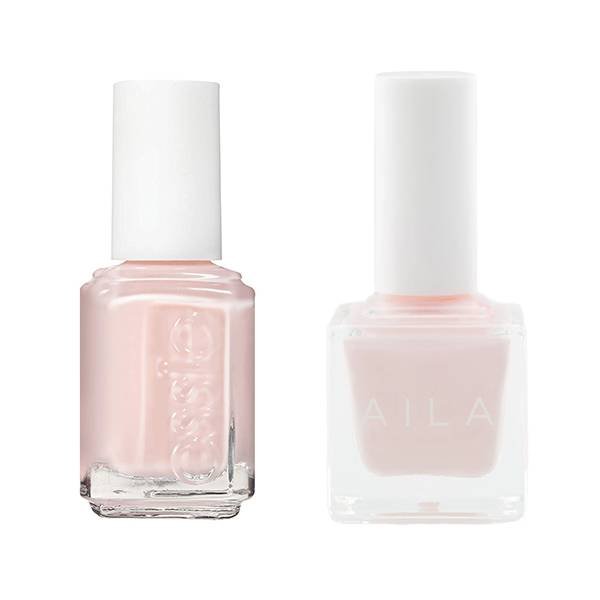 Nude Nail Polish for Medium and Olive Skin Tones
Medium skin has a beige or light tan hue to it, with yellow or golden undertones. Olive has a bit more warmth than medium tones and has more brown or green undertones to it. When it comes to nude polishes, make sure you avoid soft browns or warm mauves as they will blend into your skin tone. Go either the lighter or brighter route with pinkish nudes that lean on the cooler side. If pink isn't your thing, try pale taupes or light beige shades to get the perfect nude.
The best nude nail polish shades for medium and olive skin:
Essie Nail Color in Bare With Me: As a member of the Essie Wild Nudes Collection, Bare With Me is the perfect naked nail polish color. It has an apricot tone with a gray cast, helping it land on the cooler side and complement medium and olive skin.
Paintbox Nail Lacquer in Like Mystery: This sandy shade puts a twist on your standard neutral nail polish color. It has a slightly pink, soft and milky hue that makes it complementary to all skin tones, especially medium and olive.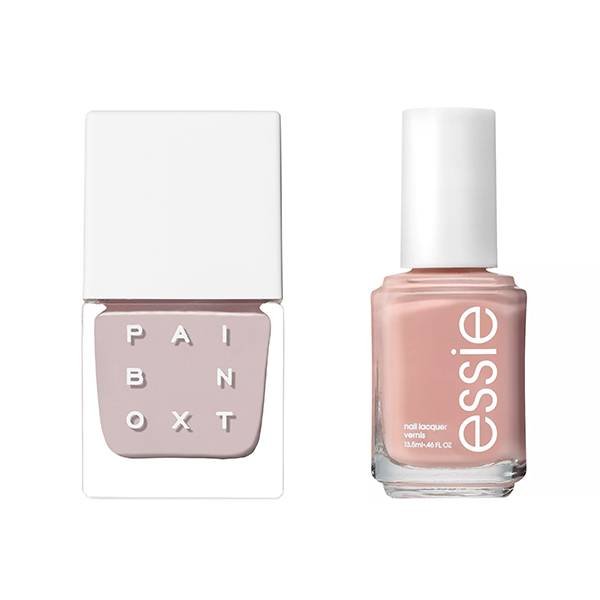 Nude Nail Polish for Deep and Dark Skin Tones
Dark-skinned complexions range from copper and espresso tones to dark brown and ebony.
When searching for the perfect nude nail polish, it's safe to say most shades are going to flatter your skin. While light and bright shades offer a nice contrast, rich, dark nudes look very dreamy against your fingers. Try deep taupes, dark browns and warm roses.
The best nude nail polish shades for deep and dark skin:
Essie Nail Colors in Clothing Optional: For deeper skin tones, this sienna brown nail polish shade is super flattering. It offers just enough contrast and warmth without it being too obvious.
Dear Sundays Nail Polish in No. 07: If you prefer more pinky nude colors, this dusty beige rose polish will suit you perfectly. It feels feminine, yet down-to-earth all at once.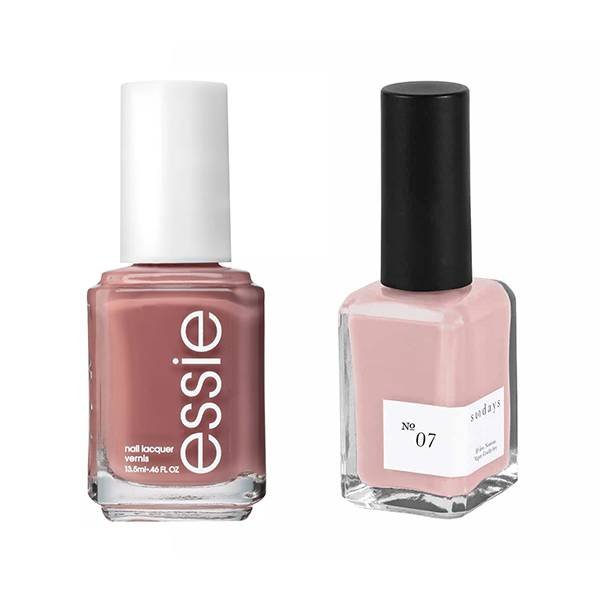 Tips for the Perfect Nude Manicure
Applying nude nail polish may seem like a no-brainer, but according to the pros, it still requires a little finesse. In addition to picking the right shade, there are a few key rules you should follow for the best results.
1. Steer Clear of the Cuticle: "Whenever I apply nail polish, I always avoid the cuticle area and if I do get a little polish on the skin, I wipe it off immediately," says nail artist Mimi Wilson. Another easy way to remove mess-ups is to dip a cuticle brush in nail polish remover and use it to brush over the paint on your skin.
2. Triple Up: "When I use nude nail polish, I like to apply it in two thin coats and one thicker, to avoid any streaking," says nail artist Reina Santos. "I usually apply three coats to achieve opacity. The third coat is applied a little thicker to even everything out. I also use a generous amount of top coat to smooth out the polish."
3. Moisturize the Nails: Because your nails are going to be about as naked as can be, your hands will be on full display. Make sure you're keeping them looking healthy and hydrated. That means your cuticles need to be in check, too.
Read More:
7 Nude Essie Polishes That Look Stunning on Darker Skin Tones
The Best Nude Polishes
Winter Is Coming: 8 Essie Nail Polishes You'll Want to Rock All Season