15 Makeup Products Our Editors Are Literally Begging You to Try This July
July 09, 2019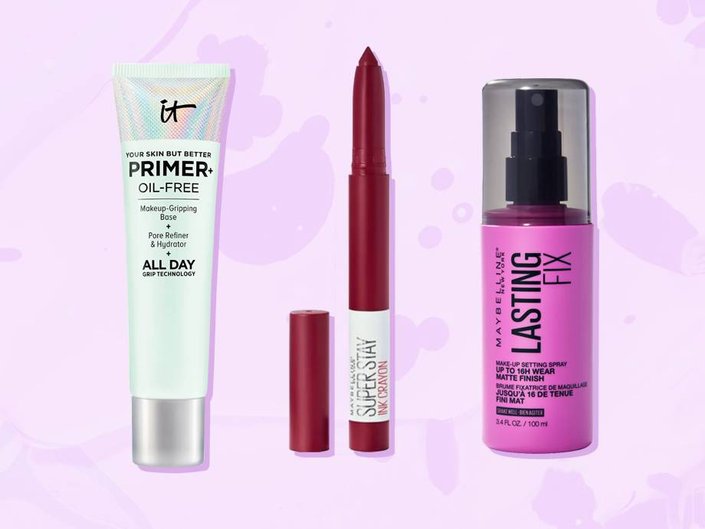 It's a brand new month, which means a new round of products is making its way onto store shelves and into our makeup bags. These are the products Makeup.com's editors can't live without this July.
Jillian, Social Media Editor
NYX Cosmetics On The Rise Volume Lift Mascara
I have extremely fine, short lashes, so it's always been difficult for me to find the perfect mascara that not only amps up my thin lashes' volume but also gives me the extra length I want (without turning to something major like eyelash extensions). With the lastest NYX mascara, though, I have absolutely everything I'm looking for in one product. I would almost consider it a two-in-one product because so many mascaras out there only focus on length or volume and hardly ever both. On The Rise is the whole package.
GlamSquad Ah-Mazing Setting & Hydrating Mist
I was so excited when GlamSquad announced it was dropping its own makeup line because I already love the brand's hair products. I immediately gravitated toward the Setting & Hydrating Mist. I'm a firm believer that you should set your makeup every time you apply it, but when the summer months hit, I want something that's just as refreshing as it is effective. With GlamSquad's line, I get both. This spray has caffeine, chamomile and coconut extract, so it has a light finish while still refreshing and setting my look.
Maybelline New York SuperStay Ink Crayon Lipstick in Make It Happen
I love a good long-wear lipstick, but liquid formulas tend to make my naturally dry lips feel a bit uncomfortable. The SuperStay Matte Ink lipstick has major staying power, so I was more than ready to try it in a crayon formula, which is my favorite texture because I can easily control the coverage and pair it with lip balm or gloss. The shade Make It Happen is a stunning dark magenta that has such strong pigment. I'm completely obsessed and will be using it all summer.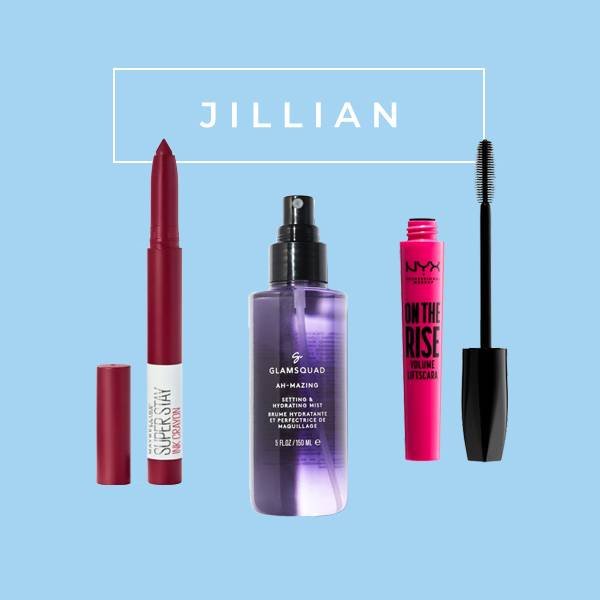 Hannah, Graphic Designer
I just recently got into primer, and now I ask myself why in the world was I not using this stuff before? It's amazing how much of a difference it makes. With primer, my foundation glides onto my skin, makes it look and feel smoother and reduces the appearance of my pores. Lately, I've been loving the YSL Touche Eclat Blur Primer. It's super soft without leaving any sticky residue and gives me an added golden shimmer.
When Essie announced that it was collaborating with Jonathan Van Ness from Queer Eye, I freaked out a little bit. I love nail polish, Essie especially, but I LOVE LOVE JVN. Obviously, I had to check out all the shades he used to create his rainbow nail look, and let me tell you, they are SO fun and SO cute (I would expect nothing less). It's hard to choose a favorite because I would wear any and all of them at the same time — but Play Date definitely fit the bill with its bright light green pistachio finish.
NYX Bare With Me Hydrating Cheek Tint in Creative Cleanse
My latest obsession is the Creative Cleanse Hydrating Cheek Tint by NYX. I use this blush when I'm on the go or when I want that flushed no-makeup makeup look. Also, the stick applicator is a game-changer because I don't have to stress over messy powder.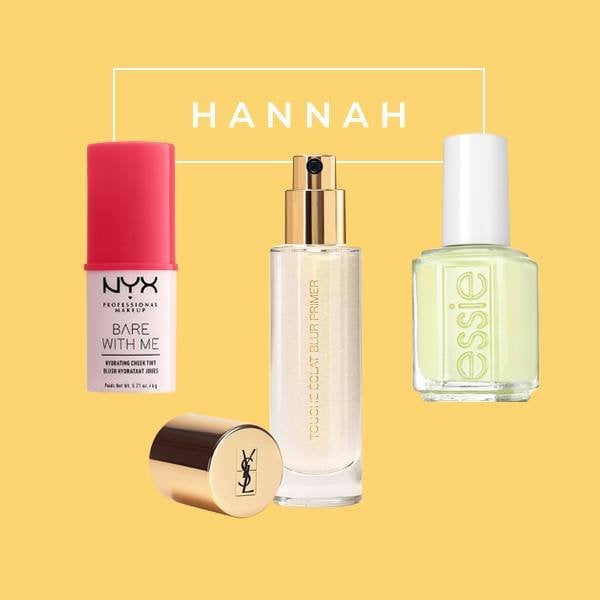 Marisa, Associate Editor
Naturally Serious Mineral Sun Defense Moisturizer Broad Spectrum SPF 30
This one makes the cut for my monthly picks because it acts as the ideal base for my summer makeup. I can't rave enough about how glowy and dewy it makes my skin look, while giving the tiniest amount of natural-looking coverage. I use it as a primer on makeup days and as a replacement for foundation on no-makeup-makeup days. And have no fear, there's absolutely no white cast.
Patrick Ta Major Glow Body Oil
When summer rolls around, I always look to add a new, buzzy formula to my collection. This one from makeup artist Patrick Ta is it this year. It gives skin an instant dose of glow and hydration — and inmakes me feel like one of Ta's celeb clients. I apply it all over my body using the Patrick Ta Body Brush for even coverage.
Urban Decay Perversion Waterproof Fine-Point Eye Pen
I can survive without waterproof mascara, but I can't say the same about eyeliner. I need it to be waterproof or else I'll end up with it smeared all over my face (only exaggerating a tiny bit). Enter, the Urban Decay Perversion Waterproof Fine-Point Eye Pen. I've been using it every single day because the fine-point pen makes application super easy, and it won't come off until you actually need it to.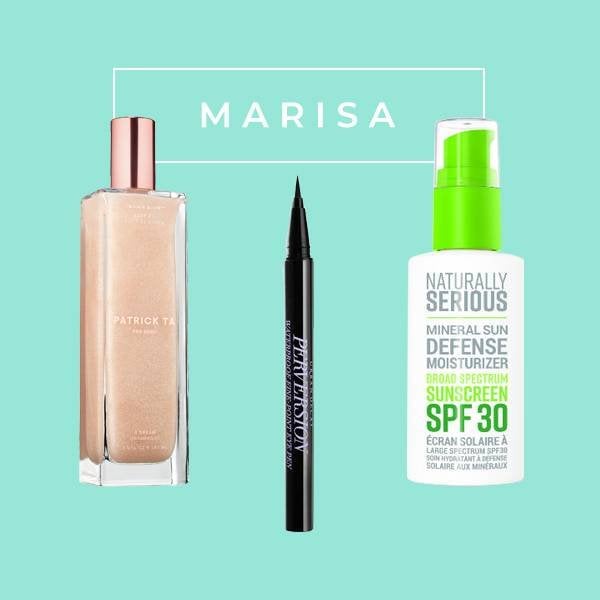 Alanna, Associate Editor
NYX Professional Makeup Lip Lingerie 'Push Up' Lipstick in Teddy
Plumping lipsticks are often not my go-to because I don't always love their glossy, sticky consistency and long-lasting (and sometimes uncomfortable!) tingling. This is exactly why this innovative plumping lipstick by NYX piqued my interest. It's so different from your typical plumping formula. Push Up has the consistency of a crayon, making it feel a lot more lightweight on the mouth and able to cover more surface area with just one or two swipes. It tingles for about 60 seconds once applied, and then the sensation disappears, making it a whole lot more comfortable to wear. It's like wearing a normal lip crayon with a subtle plumping benefit — what more could you want?!
Lime Crime Sunkissed Face Palette
There are few highlighter palettes that really take my breath away, but Sunkissed by Lime Crime is one of them. This six-shade palette comes with two bronzers, two blushes and two extremely sparkling highlighters: a rosy champagne and a literal sunshine yellow. The pigments of these colors are so good, they're going to be a part of my summer makeup routine for the next two months, no questions asked.
Maybelline New York Lasting Fix Setting Spray
Switching up my setting spray is something I don't often do — especially in the hot summer months when I know I need some heavy-duty coverage. But when I stumbled upon Lasting Fix a few weeks ago, I took the leap to try it and my life actually changed. This formula has actual powder particles that work to keep you looking and feeling matte no matter how gross the weather is, and for that, I'm so happy I switched.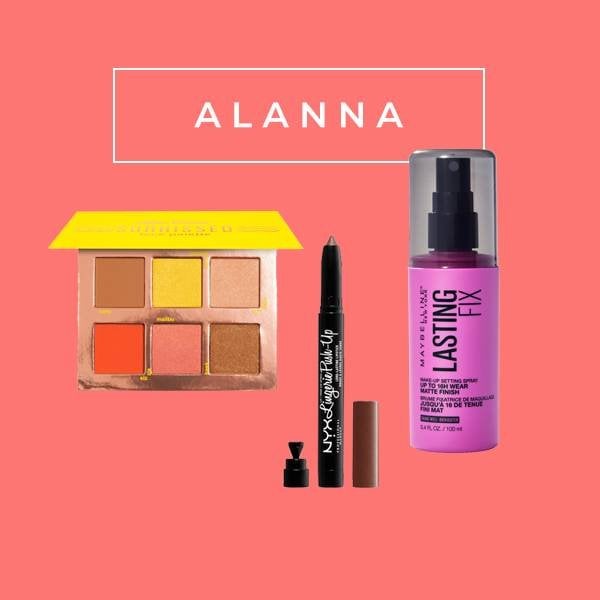 Jessica, Assistant Editor
Urban Decay All Nighter Summer Solstice Scented Setting Spray
A single spritz of the new Summer Solstice addition of the Urban Decay All Nighter Spray transported me to the beach. It has tropical notes of crushed pineapple, coconut and sea salt breeze for a refreshing mist, plus all of the makeup-extending benefits that the OG setting spray provides. I already use All Nighter every morning to lock in my makeup, so I plan on switching over to this one for the warmer months ahead.
IT Cosmetics Your Skin But Better Oil Free Makeup Primer
With a tagline like "It's a magnet for your makeup," I had high expectations for IT Cosmetics' new Your Skin But Better Oil Free Makeup Primer, and may I just say, this product exceeded them. Not only does it have All Day Grip Technology to keep your makeup in place (a summer must), but it also helps hydrate and transform your skin for smaller-looking pores. Just a little bit provides a smooth, even base for the rest of your face.
Ciaté London Marbled Metals Eyeshadow
It's not every day that swatching a makeup product literally makes me gasp out loud, but the new Marbled Metals Eyeshadow pots by Ciate London certainly did. These multi-reflective shadows have a high-impact pigment with absolutely no fallout, and the velvety texture applies seamlessly onto the eyes using just your fingers. They come in five metallic-glitter shades, all equally stunning and fun to play with. I'm completely obsessed.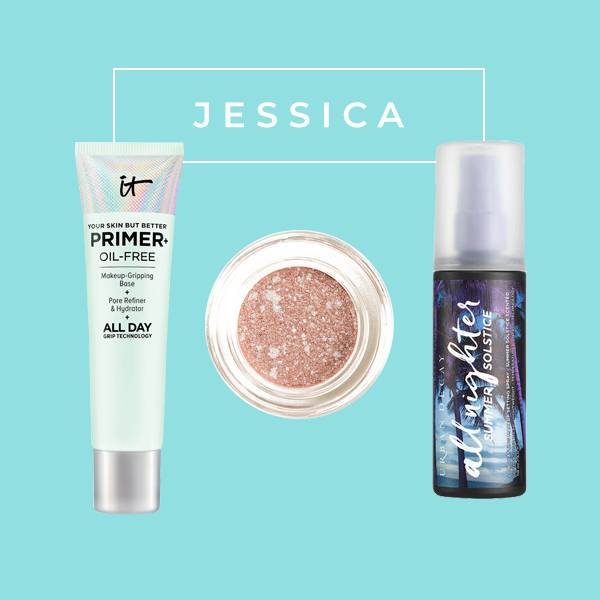 Read More:
Our Favorite Pride Makeup Looks
The Luxury Foundations You Need to Try ASAP
The Ultimate Makeup Tutorial for the Beach
Read more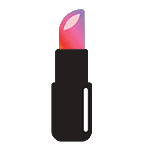 Back to top