24 Makeup Products to Try in June
June 11, 2019
It's a brand new month, which means a new round of products is making its way onto store shelves and into our makeup bags. These are the products Makeup.com's editors can't live without this June.
Dawn, Senior Editorial Director
Lancôme L'Absolu Mademoiselle Shine
I'm more of a lip balm than a lipstick girl, but sometimes I want more color payoff. Enter this shiny, moisturizing, balm-like lipstick from Lancôme. Check out Mademoiselle Stands Out for the perfect juicy cherry shade.
Jouer Soft Focus Hydrate + Set Powder
I wear so many layers of sunscreen, I need some powder to off-set the shine. My skin, however, can also be dry, and powders can make it worse. This one is demi-matte and contains hyaluronic acid for hydration — perfect for anyone who's both shiny and dry.
Not Your Mother's Naturals Activated Bamboo Charcoal & Purple Moonstone Butter Masque
I love when my hair feels as soft as possible, and that's exactly what I get from this deep-conditioning mask. I also love that it has charcoal to detoxify and purple moonstone because, well, that just sounds cool.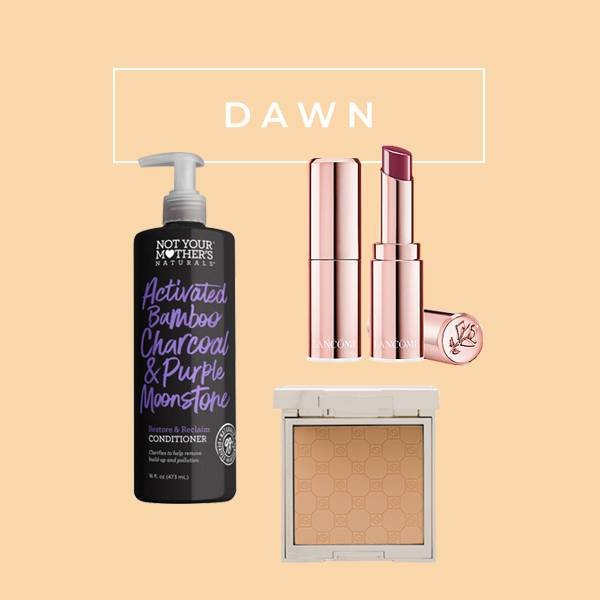 Lindsey, Content Director
Peter Thomas Roth Lashes to Die For Turbo Conditioning Lash Enhancer
I love, love, love eyelash extensions, but I hate what happens to my natural lashes when I take them off. I've been attempting to rehab them with this recently reformulated Lash Enhancer from Peter Thomas Roth. It has peptides, biotin and Tahitian plankton extract to help give the appearance of longer, fuller, denser lashes. I've been applying it to my top lash line as directed for the past few weeks and have already noticed a difference.
Essie Nail Polish in In Full Swing
I'm one of those people who panics every time I walk into a nail salon and the receptionist tells me to pick a color. It's all just too overwhelming. This limited-edition Essie color, though, is the perfect peach-y pink neon nude that literally goes with everything. It's my new go-to when I can't make up mind for both my fingers and toes.
Shu Uemura x Maison Kitsuné Camo Eyeshadow Palette
To be honest, I probably would've loved this eyeshadow palette for its cool packaging alone (I'm a sucker for everything Maison Kitsuné), but the 12 colors inside make it an absolute must have for my summer makeup bag. There are a mix of mattes and soft shimmers that include both best-selling and new shades, and every single one is just so damn wearable that I might not need another to whip out any other eyeshadows for the rest of the season.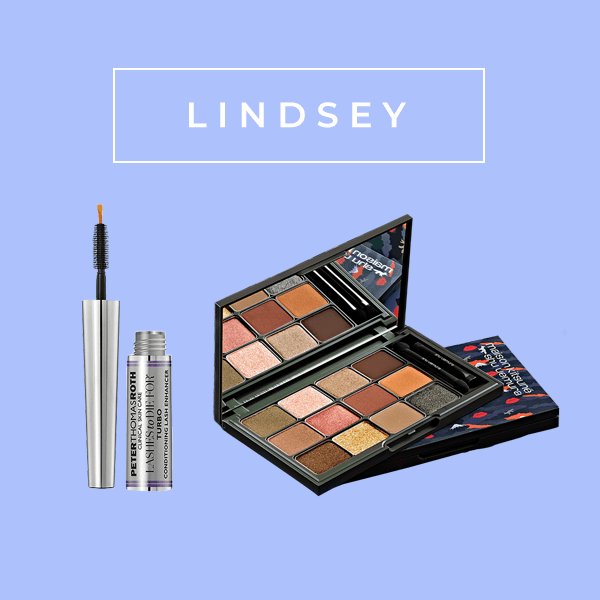 Hannah, Graphic Designer
NYX Professional Makeup Fill & Fluff Eyebrow Pencil
Lately I've been loving the NYX Fill and Fluff Eyebrow Pencil. The teardrop-shaped bullet is perfect to shade my brows with and allows me to control the amount of volume and pigment I want. Flip this pencil around and you've got a micro-paddle brush that helps to blend everything together for that natural, boy-brow look.
Giorgio Armani Liquid Metallic Eye Tint in Gold Foil
Summer is right around the corner, and to me, that means glowy skin, a little shimmer and a million no-makeup makeup looks. One product I'm super excited to bust out this season is the Giorgio Armani Liquid Metallic Eye Tint. On the days when I want to keep my look simple but need a little extra sparkle, I use it as a final touch. I also love the fact that it's buildable, so if you want your eye look to stand out a bit more for a special occasion, just swipe on a few extra coats.
Essie Nail Polish in Soles on Fire
Because bright colors and neons are on trend, I've been switching out my normal nail shades for something a little more fun. Right now, I love Essie's bright tangerine polish called Soles on Fire (honestly their entire summer collection is great). In my opinion, a bright nail can complete any simple, summer look.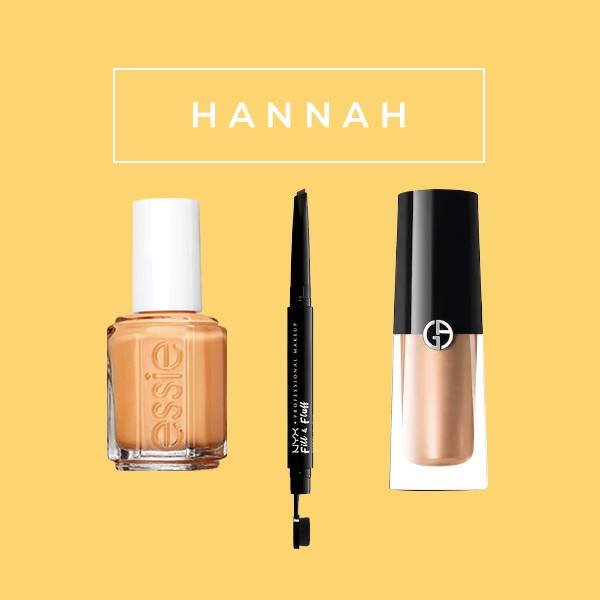 Marisa, Associate Editor
Thrive Causemetics Cosmo Power Multi-Dimensional Strobing Blush
I'm not a huge blush girl, which is why I'm surprised to be sharing this product with you as one of my monthly favorites. I can't rave about the formula enough — it provides the perfect amount of pigment and glow for my skin tone, and I always reach for it to add a little pop of color to my makeup look. I've been using this set in the Golden Brick Shimmer Shade named Angelina.
Maybelline New York Made For All Lipstick by Color Sensational in Mauve
Maybelline Made for All is a revolutionary drugstore lipstick collection, as the colors work for each and every lipstick-wearer (and if not, you get your money back). I recently tried Mauve for Me for the first time and the satin shade is that perfect glossy your-lips-but-better shade. It's become my go-to everyday pick for when a clear coat of lip gloss just isn't enough.
I'm calling it now: Lip gloss is basically my summer mood, paired with minimal, glowy makeup. This new lip gloss formula in particular is an upgrade to your usual formula. It's full coverage, so you can still get the color payoff of a lipstick, but it's paired with a plumping lip gloss and comes in a thick, luxe-looking gold package.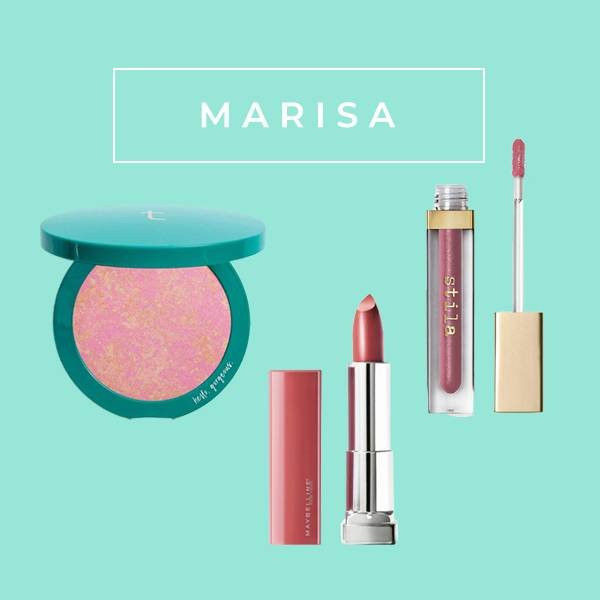 Alanna, Associate Editor
NYX Professional Makeup Bare With Me Hydrating Jelly Primer
As a combo-skinned lass, I always gravitate toward gel primers that feel lightweight but tacky for makeup prep, so when the new NYX Hydrating Jelly Primer landed on my desk, I couldn't wait to try it. The consistency of this is pretty much a gelatin — weird — but worth it. Once applied, it melts into your skin and leaves your skin feeling hydrated and plumped without excess shine.
L'Oréal Paris Pro-Matte Les Macarons Scented Liquid Lipstick in Mon Caramel
I'm already a massive fan of the pro-matte nude liquid lipsticks by L'Oréal Paris (cue Les Chocolats) — but I always wished there was a shade that felt a little warmer as opposed to the many cool browns. With that being said, I was pleasantly surprised when the new Les Macarons lippies dropped with just the shade I had in mind: Mon Caramel! This is a warm browny-nude shade that I'll be reaching for all summer, day or night. I love how it complements my olive skin tone and how soft and smooth it appears on the lips.
Sara Happ Let's Glow Lip Illuminator in Pearl
Combining my two favorite makeup categories of all time, highlighter and lip product, this innovation by Sara Happ is seriously revolutionary. Specifically built to highlight around and on the lips, the Glow Lip Illuminator is pigmented and moisturizing with a serious high-shine finish. Tap it into your Cupid's bow or contour your lips with it — it truly changes everything you've ever thought about when it comes to highlighting the face.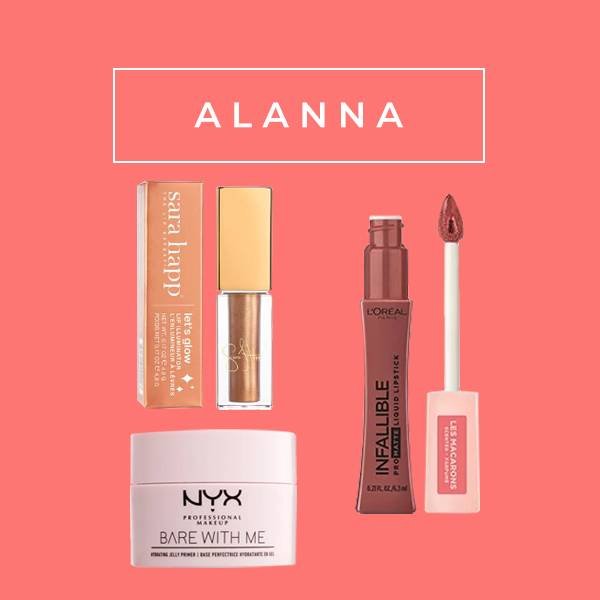 Tembe, Associate Editor
Lime Crime Lip Blaze Cream Liquid Lipstick
As a big fan of the Wet Cherry Gloss and Lime Crime Velvetines Liquid Lipstick, I was more than excited when I found out the brand was dropping a new formula. Lip Blaze is a hybrid of lipstick and gloss, offering color and shine. It isn't sticky though, which makes it comfortable for all-day wear and passes the hair-stuck-to-the-mouth test with flying colors. My favorite shade thus far is Bud, a terracotta hue that looks like my lips but better and leaves them hydrated and smooth.
UOMA Black Magic Color Palette
It's likely you've already heard all about Uoma's foundation formula, but the eyeshadows are particularly good, too. The Black Magic Color Palette, which is available in three color stories, is a must for my growing eyeshadow hoard. I like the Poise version, which features an array of sultry shades, including Mother, a brick red hue I want to wear all over my face.
Lancôme L'Absolu Mademoiselle Shine Lipstick in Light it Up
I've been really into shiny lipsticks, so the Lancôme L'Absolu Mademoiselle Shine Lipstick in Light it Up is a dream for me. I'll be rocking Light it Up, a warm brown shade with a kiss of red that works for any occasion, all summer and beyond.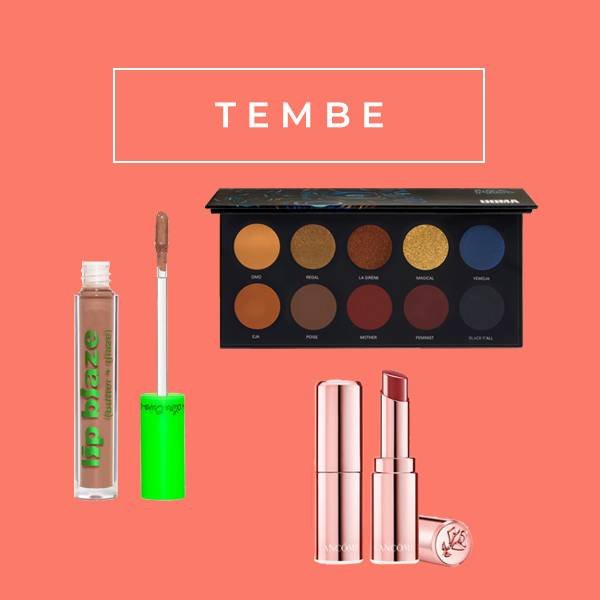 Jessica, Assistant Editor
NYX Professional Makeup Bare With Me Hydrating Cheek Tint
I'm a sucker for all stick makeup products — cheek sticks, bronzing sticks, eyeshadow sticks — so the new NYX Professional Bare With Me Hydrating Cheek Tints are right up my alley. I love the sheer, hydrating formula that this product has and its ability to give me that glowy complexion I always strive for. I already know I'm going to be packing these with me for all of my mini-vacations this summer.
Each time I crack open this eyeshadow palette, I'm surprised at the stunning makeup looks I come up with. The shades in the Hipdot Zion eyeshadow palette are striking, and I love the mix of matte and shimmer options. I personally gravitate to the dramatic pink and deep orange hues. They're ultra-pigmented and have very little fallout — a must when you're using eye-popping shades like this.
L'Oréal Paris Pro-Matte Les Macarons Scented Liquid Lipstick in Praline de Paris
I hoard lipsticks like it's nobody's business, but I'm abnormally excited to add the new L'Oréal Paris Pro-Matte Les Macarons Scented Liquid Lipstick in Praline de Paris to my stash. The long-wear comfort matte has a smudge-proof finish and glides on perfectly with the help of its pro-sculpted applicator. Did I mention, it smells like a heavenly mix of almond, vanilla and cream? I'm in love.
Jillian, Social Media Editor
Kevyn Aucoin Glass Glow Face Liquid Highlighter in Prism Rose
I've been wanting to try more glow-y products as of late, but it's been a challenge to find products that look natural and mesh well with my normally-matte makeup look. Enter the Kevyn Aucoin Glass Glow collection. The Face Liquid Highlighter in Prism Rose not only goes well with my pink undertones, but it also feels natural, lightweight and doesn't move my foundation on application. 10/10 would recommend.
Urban Decay Game of Thrones Eyeshadow Palette
If you're not caught up on Game of Thrones, the least you can do is catch up on the Urban Decay GoT Eyeshadow Palette. It has such a wide range of shades that it covers any look you could possibly want to achieve. The formula of the shadows is also stellar – every shade feels so buttery and applies and blends like a dream. It checks all the boxes of what you'd want in a palette, but still has that badass element.
L'Oréal Paris Rouge Signature Lasting Matte Liquid Lipstick in I Explore
This honestly might be my new favorite matte lip (and as an owner of 100+ lipsticks, that's saying something). It's so lightweight and absolutely doesn't budge, even through meals. The line has a ton of shades, but my personal fave is I Explore because it has everything I look for in a nude. I'll definitely be keeping this in my purse — though it lasts so long that I may never have to reapply.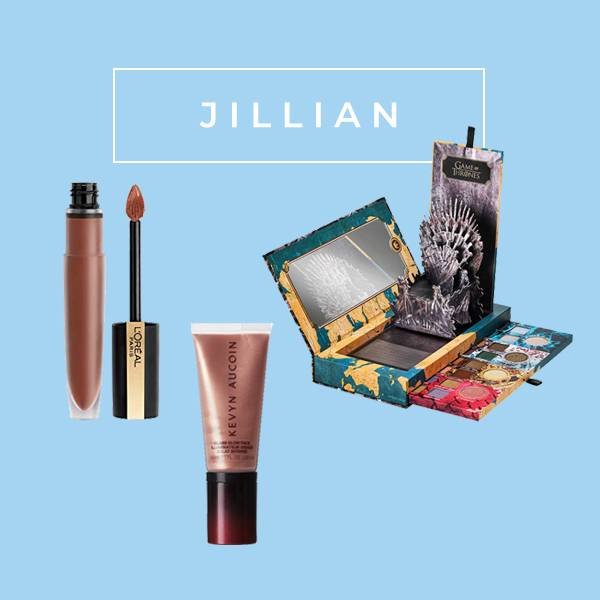 Read More:
6 Confetti Nail Polishes That Will Brighten Your Routine
The Best Tinted Moisturizers for Every Budget
The Best Summer-Inspired Makeup Tutorials
Read more