4 Editors Put the NYX Born To Glow! Naturally Radiant Foundation to the Test
September 05, 2019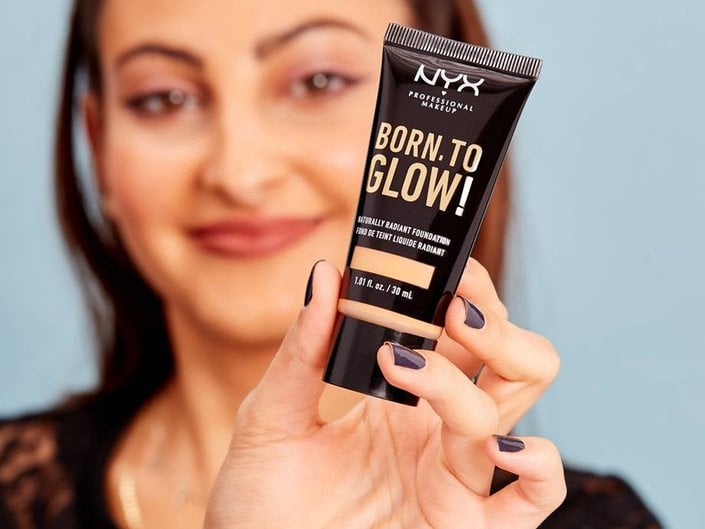 As beauty editors, testing dozens of foundations comes with the job — but rarely do we find ones with a texture that lets us eliminate another product in our routine. We're talking about glowy foundations here — ones that promise to keep our skin looking fresh and balmy and allow us to leave our highlighters behind our beauty cabinet doors. To see if the new NYX Professional Makeup Born To Glow! Naturally Radiant Foundation was up to the job, four Makeup.com editors put the product, which comes in 45 shades, promises to even out skin tone, provide medium coverage and leave a naturally luminous finish, to the test. Here's what happened.
Alanna, Associate Editor
Shade Worn: Neutral Tan
Glowy foundations are typically a big no for me between my oily-to-combination skin, love for the matte makeup look and obsession with highlighters. So, I was obviously hesitant to try the new Born To Glow! Foundation, but because I love the other products in this cult-classic NYX line, I felt like I needed to give it a shot. The first thing I noticed when trying the Neutral Tan shade was how lightweight and flexible the formula felt — it's extremely buildable, easy to layer over any type of primer or moisturizer, and it felt pretty comfortable on my skin. After application, I was also pleased to discover that my skin tone appeared a lot more even and beaming, which made me realize that it was really working. Even after a few hours, I didn't feel the need to reach for a mattifying powder, blotting sheet or even a highlighter (!!!). I felt that it was just the right amount of luminous matte, and damn, the product might make me a glowy-foundation convert.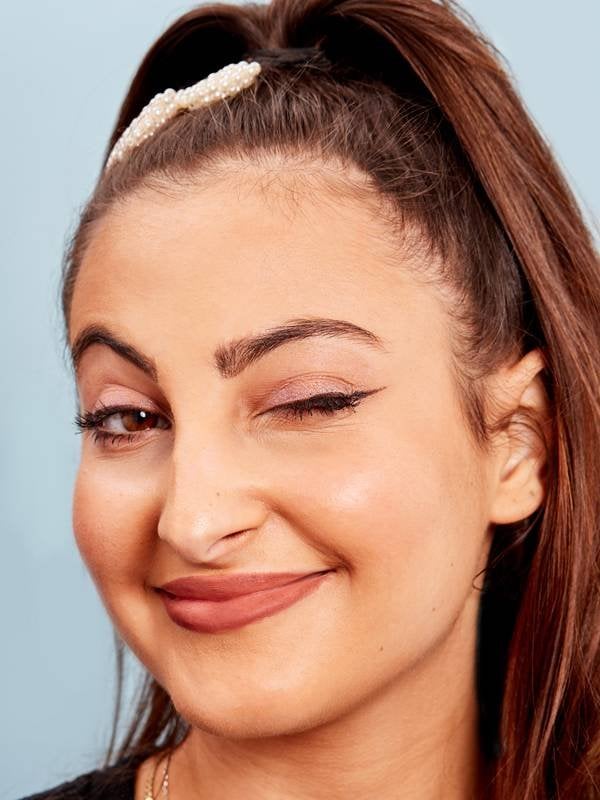 Jessica, Assistant Editor
Shade Worn: True Beige
It doesn't matter what season it is, I'm always looking to achieve glowing skin and a natural finish with my makeup. With that in mind, the name alone of the NYX Born To Glow! Foundation had my attention. I used the shade True Beige to get that second-skin look and found that the undertones of the product complemented my complexion nicely. It blends into skin seamlessly and has a lightweight feel. I'm lucky enough to have fairly normal skin, and I found the foundation kept my complexion hydrated and smooth without any cracking or settling. As someone who has light scarring on my face from past breakouts, I found it covered them with a soft blurring effect, as well. Hours later, it still held up and looked just as good as when I put it on that morning.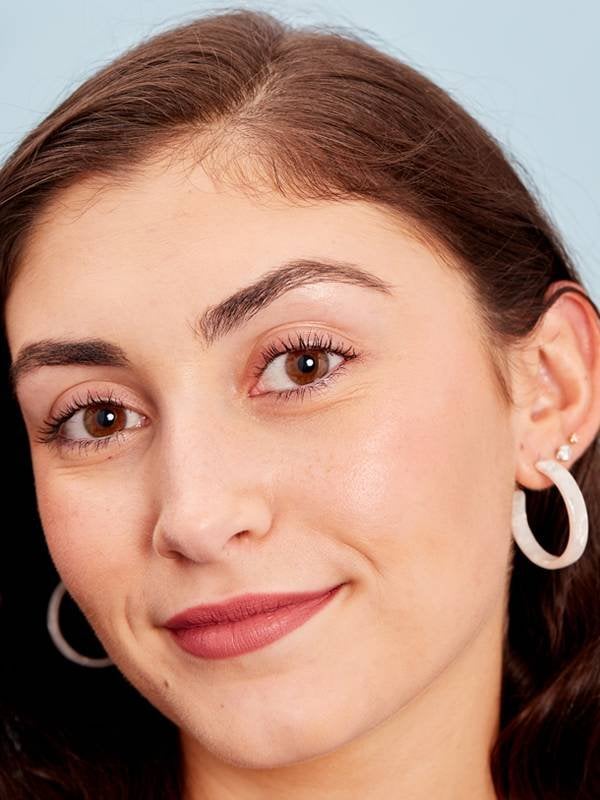 Genesis, Assistant Editor
Shade Worn: Camel
Despite my oily-to-combination skin type, I love a good makeup product that promises glowing skin. While I can never say no to a natural-looking sheen, I tend to gravitate toward lightweight tinted moisturizers and BB creams because I don't love how medium-to-full coverage foundations feel on my face. But, as I said, I can't say no to even the possibility of glowing skin, so I was game to give the Born To Glow! Foundation a try. My initial impression was that I loved the lightweight formula and coverage. I hate feeling like I'm wearing a ton of makeup on my face, so I seriously appreciated this foundation's ability to even out my skin tone without feeling cakey. Not to mention, after wearing Born To Glow! for a couple of hours, it managed to do the impossible — keep my face looking luminous without making me extremely oily. Even after a full day of work, I didn't feel the need to blot or powder my face, which is almost unheard of for me. Overall, I am definitely impressed by this new foundation and am so happy that us oily gals can now have the best of both worlds — glowing skin sans unwanted oiliness.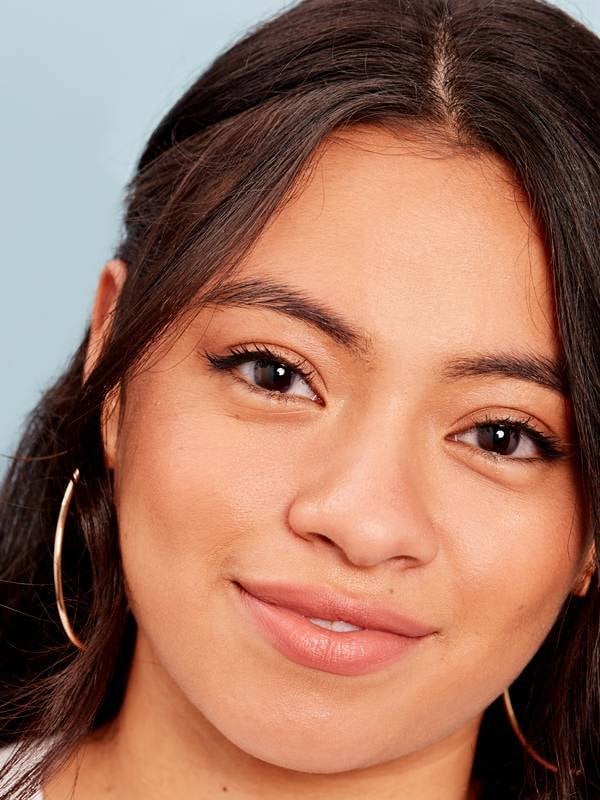 Jillian, Social Media Editor
Shade Worn: Alabaster
It's so hard for me to find a foundation that makes me look *truly* glowy because my skin is usually very dry, but I was pleasantly surprised by the finish of the Born To Glow! Foundation. It felt hydrating and left my skin looking refreshed and luminous, which is exactly what my complexion needs, especially as someone who has chronic "tired face." One of the big selling points for me was the coverage and how buildable it was. I wasn't sure what to expect from the medium coverage because I usually go for full, but I was so happy with how much it actually did provide. My redness was completely concealed, and I was able to build another layer without the foundation looking cakey or patchy on my dry spots. After wearing a full face of Born To Glow! through a busier-than-usual work day, it held up like a dream. I just so happened to not use a setting spray when I did my full face for the day, so I was worried I would have to constantly reapply the longer the foundation sat, but it was just the opposite. It basically didn't budge and held its coverage all day, two perks I certainly can't credit to other foundations I've used. Consider me a Born To Glow! stan.
Read More: 
5 Water-Based Lip Stains to Try
The Best Fall Makeup Looks Trending on Pinterest
You Have to Try These Almost-White Eyeliners STAT
Read more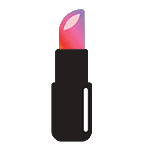 Back to top