Our Editors Tried the L'Oréal Paris Infallible Bronzers — Here's Why They Loved Them
March 09, 2023
Bronzer is a staple in many makeup routines, but sometimes the product can be a little intimidating. A too-dark or too-light shade can leave your complexion looking chalky, orange or washed out, and nobody wants those telltale, hard-to-blend bronzer streaks. If you're looking for a beginner-friendly bronzer formula with shade options that flatter every skin tone, our editors can unanimously recommend the L'Oréal Paris Infallible Up to 24H Fresh Wear Soft Matte Bronzer. It's matte, long-wearing and totally sweat- and waterproof, but somehow it feels like you aren't wearing anything. Keep reading to see how the formula performed on five editors with varying skin tones.
Alyssa
Admittedly, I've been favoring cream bronzers over powder formulas because I love how natural and glowy they look on the skin. However, when I saw how vast the shade range of this bronzer formula is — especially for a drugstore option — I was compelled to give it a try. I opted for the shade Light Medium to give my light, neutral complexion some warmth, and it's a great shade match for me. The formula is incredibly weightless and easy to blend, and I love how smooth and natural it looks on the skin. And perhaps my favorite part? It layers beautifully over my favorite cream formulas.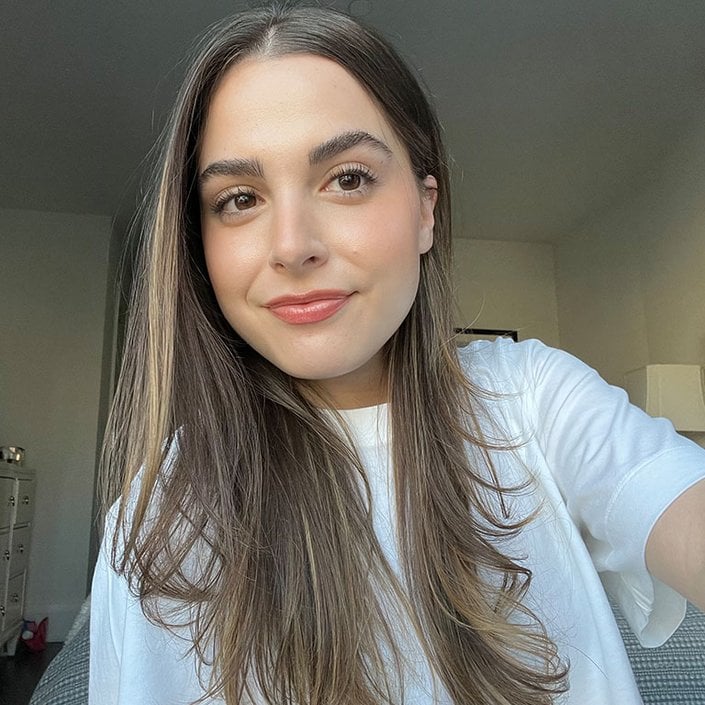 Jen
I love a good powder bronzer, and this one really takes the cake! I feel like I can control how bronzy I want to go. It's great if you have medium, warm-toned skin — it'll match perfectly without any clashing redness or ashiness. It's super buildable and adds a little kiss of sun to my face. I also love using it as a contour because it adds a lovely warmth under my cheekbones and jaw. The best part is that it didn't leave my foundation looking heavy or cakey underneath. A little detail that I love is the mirror tucked under the bronzer, which means touch-ups on the go will be a breeze!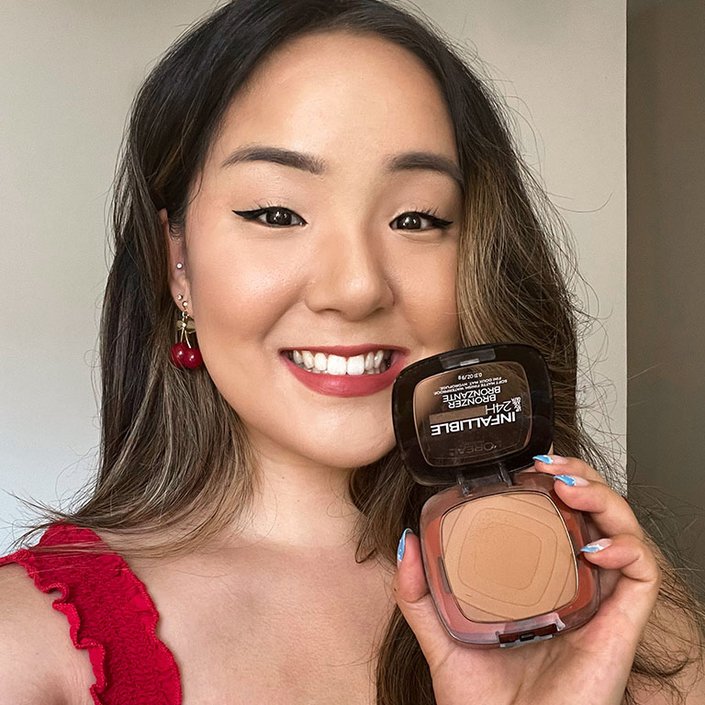 Alanna
My skin tends to get quite oily in the summertime, which is why a matte bronzer is a must-have in my makeup kit. This long-wearing formula is a dream because it keeps my complexion looking soft, matte and totally shine-free. It instantly gave me an air-brushed finish after application, sans any shimmer or sparkle (which I only like to leave up to my highlighter!). I also love that it only took one application for it to last all day — there was no need for another swipe or touch-up. Summer's calling, and this sweat and shine-proof bronzer is the answer.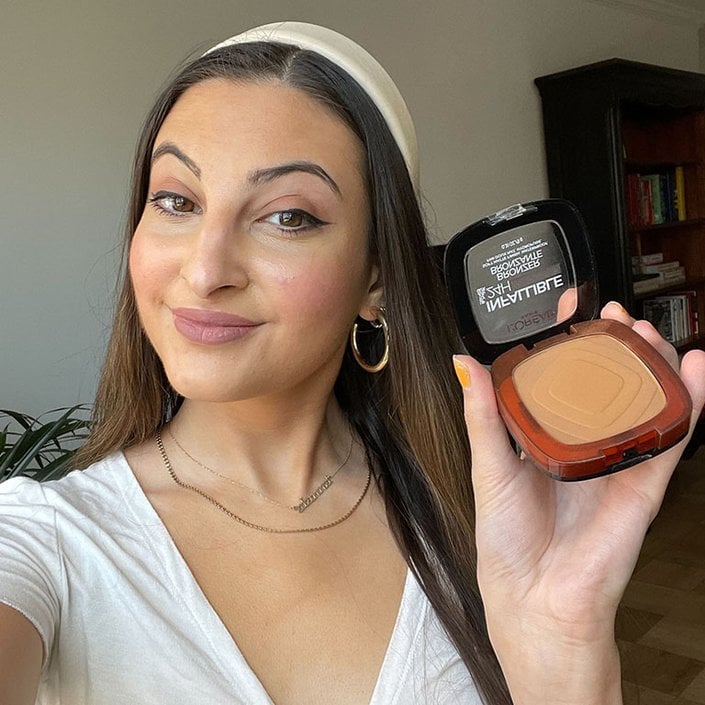 Kat
Summer is all about achieving a sun-kissed look, which makes bronzer a staple in my routine. That's why I was so excited to try this one out! I find that some bronzers can be a bit too orange for my complexion, but this one had the perfect amount of warmth that I was looking for. As someone with oily, acne-prone skin, I love the fact that the formula is non-comedogenic, meaning that it won't clog my pores. After trying it for the first time, I found that it stayed put throughout my entire workday without any touch-ups.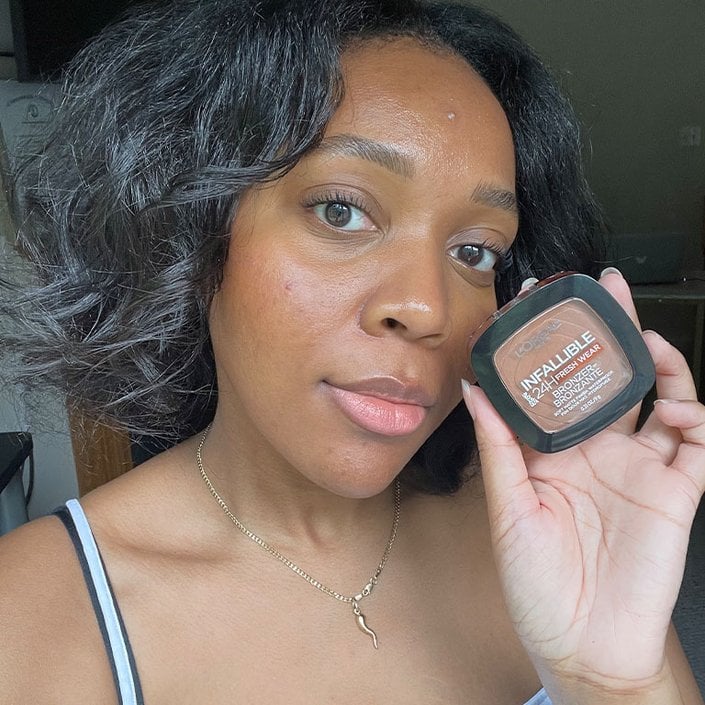 Ariel
As someone with very fair skin and yellow undertones, a lot of bronzing and contour powders look either completely orange or stone-gray once I brush them on. Thankfully, this powder was surprisingly neutral and incredibly easy to blend. The more I built it up with a fluffy brush, the more it looked like I had just spent a day lounging in the sun. The finish wasn't chalky or powdery at all, and the product diffused seamlessly into my skin for a natural-looking glow. Bonus: There's also a small mirror tucked inside the compact!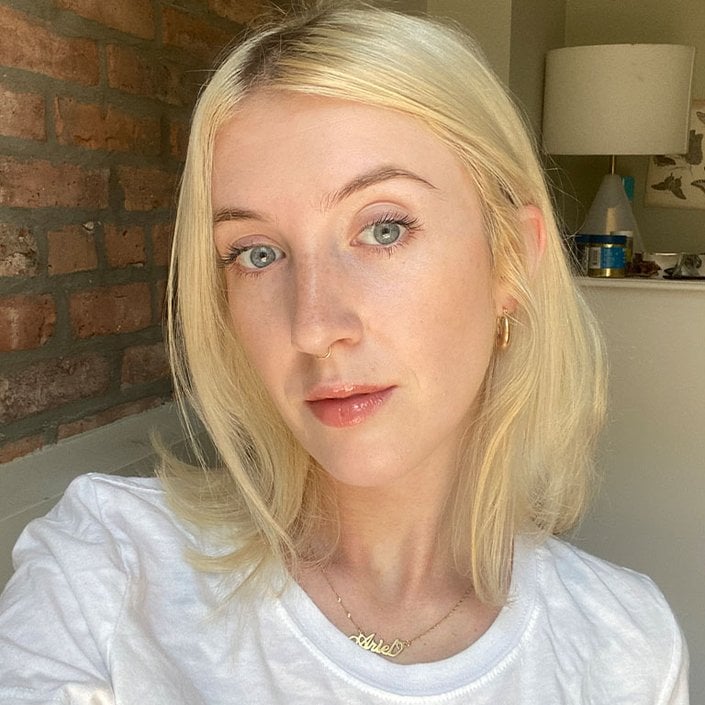 Photographer: Chaunte Vaughn, Art Director: Hannah Packer, Associate Creative Producer: Becca Solovay, Prop Stylist: Katrina Rozeville, Prop Assist: Janae Armas
Read more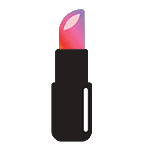 Back to top