6 Editors With Different Skin Tones Tried the New YSL Beauty Concealer
September 28, 2023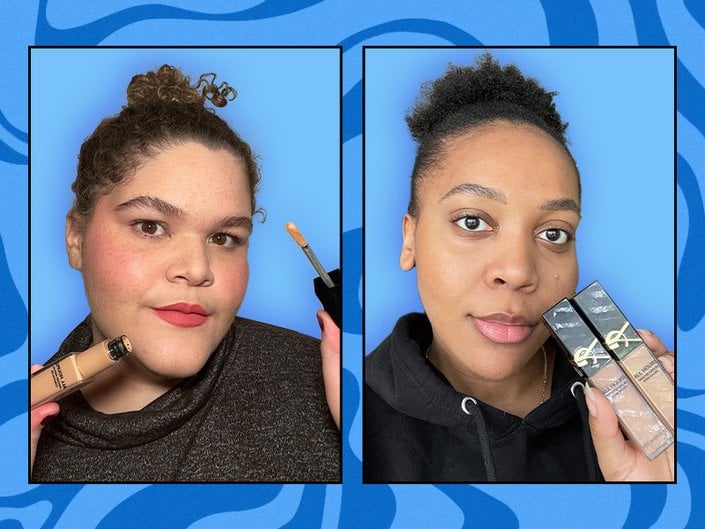 Along with mascara and lip gloss, concealer is one of those beauty staples we simply cannot live without. Whether we're doing a full face of glam or opting for a stripped down, no-makeup-makeup look, we're reaching for concealer at some point during the process. Not only is it versatile, but it's often the key to a more even, flawless-looking complexion. So, it should come as no surprise that at Makeup.com, we're always game to put new concealers to the test. Ahead, six editors share their thoughts on the YSL Beauty All Hours Concealer, a creamy full-coverage concealer with a matte finish. Spoiler alert: It was a hit.
Alanna, Managing Editor
Full coverage concealers are my jam, which is why I was excited to try this new formula from YSL Beauty that has a matte, long-wearing finish. The thing that stood out to me most wearing this concealer was that it truly felt lighter than any other comparable formula I've tried. Often, long-lasting formulas are super heavy on the skin and can feel greasy and cakey, while this one had an extremely lightweight, barely-there feel. It also provided matte coverage all day without creasing or skipping. I love the super precise doe-foot applicator on this one, which makes it easy to apply under the eyes and around the nose with just a few swipes. I'll definitely be adding this one into my full-coverage concealer rotation!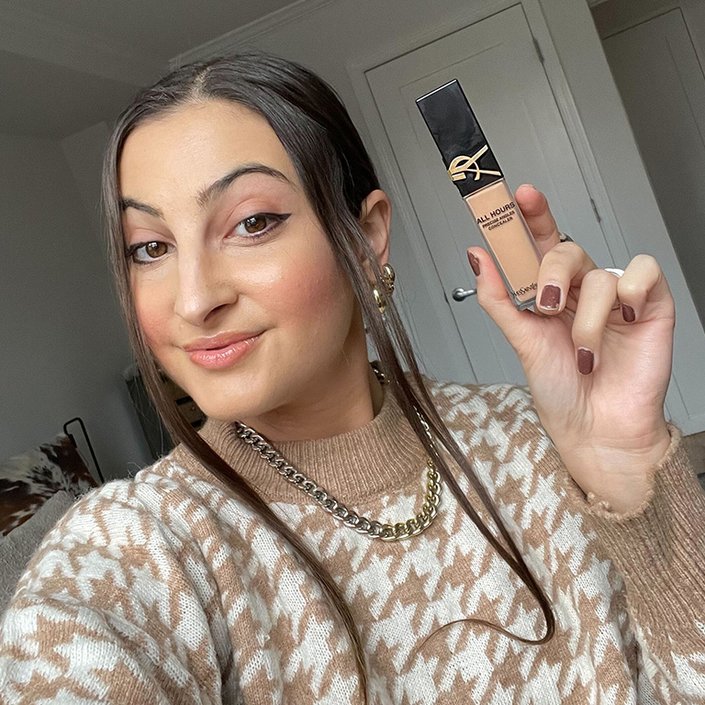 Jordan, Associate Editor
A good concealer is a must-have for me, as I tend to take a more low-key approach to my everyday makeup and often use a few dabs of concealer in place of foundation. Luckily, this full-coverage matte concealer from YSL Beauty came into my life at just the right time — I always switch to full-coverage finishes during the fall after a summer of keeping it light and dewy. I was immediately impressed with how thoroughly this concealer disguised my under-eye circles and hyperpigmentation from sun damage to give me a more even-toned complexion. I was also pleasantly surprised by the shade matching, which is something I struggle with. Even as a beauty editor, I find it difficult to choose the shades of foundation and concealer that will blend most seamlessly with my natural skin tone, and this one was a perfect match.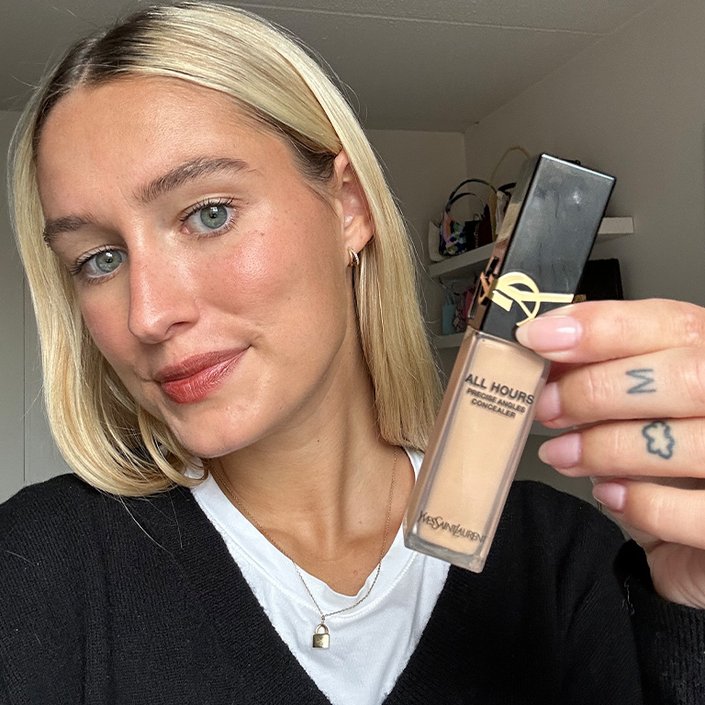 Kat, Social Media Editor
I love a good no-makeup-makeup look, but I find that a lot of the time, the tutorials online showcase light to medium-coverage products to create the look and that's a no-go for someone like me who deals with hyperpigmentation and acne scars. A lot of the concealers and foundations I use to create this kind of look tend to appear heavy on my skin, which defeats the purpose of a no-makeup-makeup vibe. This concealer just might become my go-to for creating more low-key looks. Not only is it a super lightweight formula, but it doesn't look heavy on my skin. The best part? It's able to conceal my dark marks with just a swipe.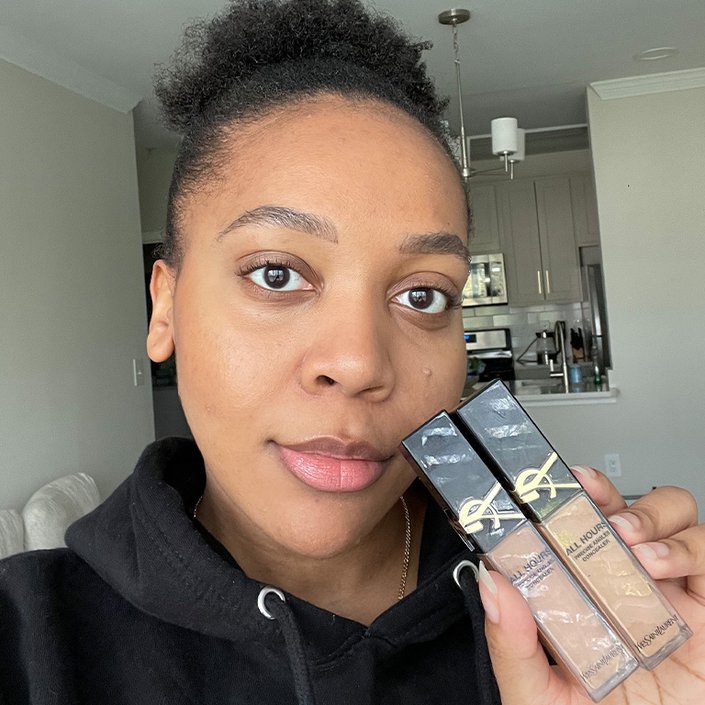 Alexis, Associate Editor
I often skip foundation application in favor of concealer and the YSL Beauty All Hours Concealer has been my go-to lately for covering blemishes, redness and any dark circles from late nights out. This concealer has become my favorite for its buildable coverage that doesn't cake on my skin and leaves a smooth finish no matter how many layers I use. I love the doe foot applicator that makes applying the concealer easier without the need to use an extra brush. I simply dab the concealer on the spots I'm looking to cover (even if it's a majority of my face) and then I use my finger to dab and blend it in. The result is an airbrushed look that settles into my skin beautifully.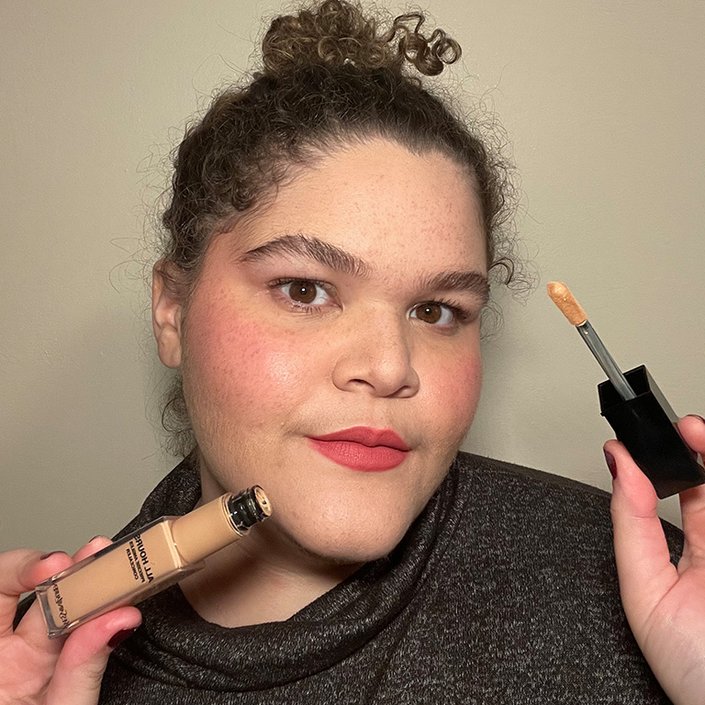 Reece, Associate Editor
This concealer is unlike any other formula I've tried before, thanks to its velvety texture that slightly blurs the skin. As you would expect, it's ultra-flattering, especially around the under-eye area and anywhere else you might have texture. The formula feels hydrating and creamy without smudging, creasing or feeling heavy. If I could create the perfect concealer, it would look non-cakey and blurring on the skin while feeling weightless — this formula achieves that, and I truly think I've found my new favorite.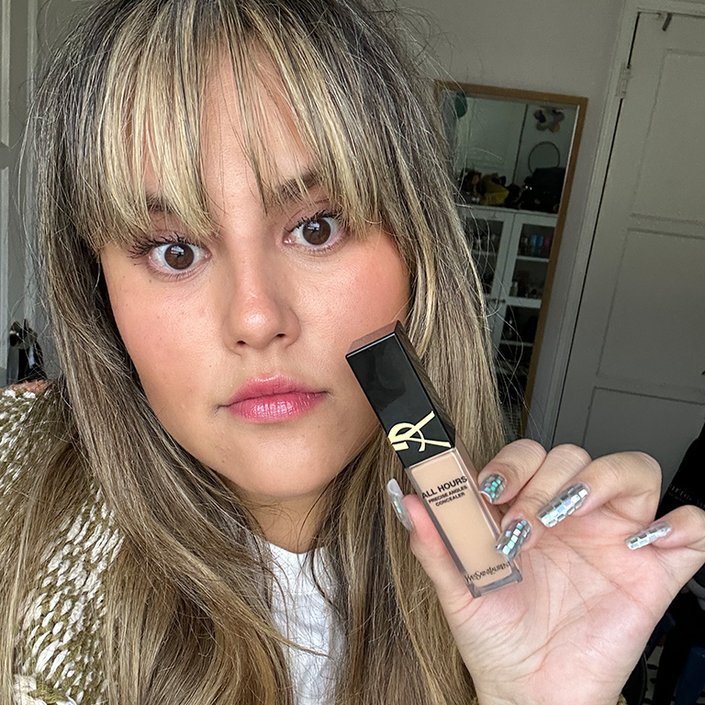 Sarah, Visual Designer
The YSL All Hours Precise Angles Concealer in the Shade DW4 has been a game-changer in my beauty routine. One of its standout features is that I can completely skip the color corrector step. The shade is an impeccable match, effortlessly giving me a flawless complexion. Plus, the way it blends is simply a dream. I adore the shape of the applicator. It's incredibly versatile and makes application a breeze. I've paired it with my YSL All Hours Foundation, and together, they create a perfect canvas for the rest of my makeup. Without a doubt my previous go-to concealer and foundation duo has officially been replaced, and I'm not looking back!
Read more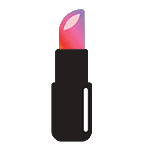 Back to top