21 New Makeup Products to Try Before Summer's Over
August 01, 2019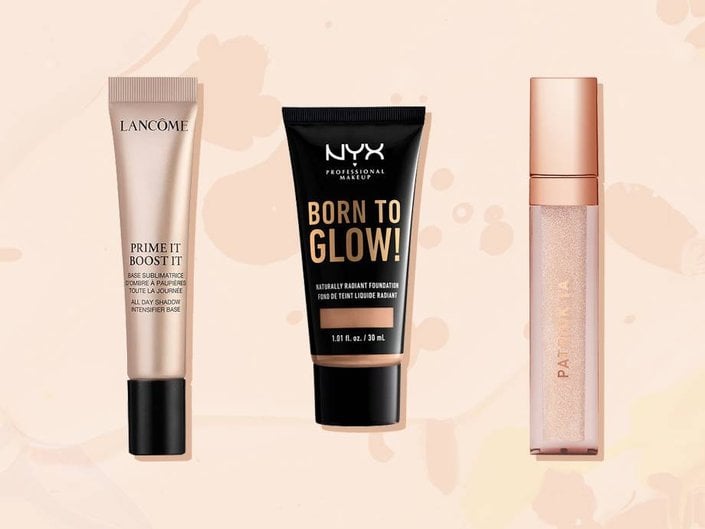 It's a brand new month, which means a new round of products is making its way onto store shelves and into our makeup bags. These are the products Makeup.com's editors can't live without this August.
Lindsey, Content Director
IT Cosmetics Lash Blowout Salon Volume Lift Mascara
I'm a sucker for anything miniature and cute, so I'd probably be drawn to this mascara, which looks like a tiny round hair brush, regardless of how well it performed, but it's a moot point because this sh*t works. The new formula is a collaboration between IT Cosmetics and the blow-dry chain Drybar and emphasizes volume, volume, volume (much like the salon's most-requested style). Two swipes of this mascara and my lashes look like they've practically doubled in number. Read my full review of the It Cosmetics Lash Blowout Mascara here.
Kérastase Résistance Extentioniste Thermique
Despite also treating my hair to a heat protectant before blowing it dry, I still struggle with breakage that causes my brush to get caught when I get to the ends of my hair. (If you have this problem, then you know exactly what I'm talking about. If not, consider yourself lucky.) Thermique is the latest addition to the Kérastase Résistance Extentioniste line, and I think it may have been designed just for me. It's a blow-drying primer that is both a heat protectant and a length protector, designed to reinforce the hair fiber and help prevent breakage. After a month of using it, I'm hooked!
Dermablend Poresaver Matte Makeup Primer
I'm obsessed with makeup primers for the staying power they give my foundation, but so many of them make whatever I layer on top pill — ugh. Not this one, though. It somehow keeps my beat fully in place with zero pillage or a shine. And even though it's a matte primer, it's loaded with hydrating ingredients that help keep my perpetually dry skin super soft.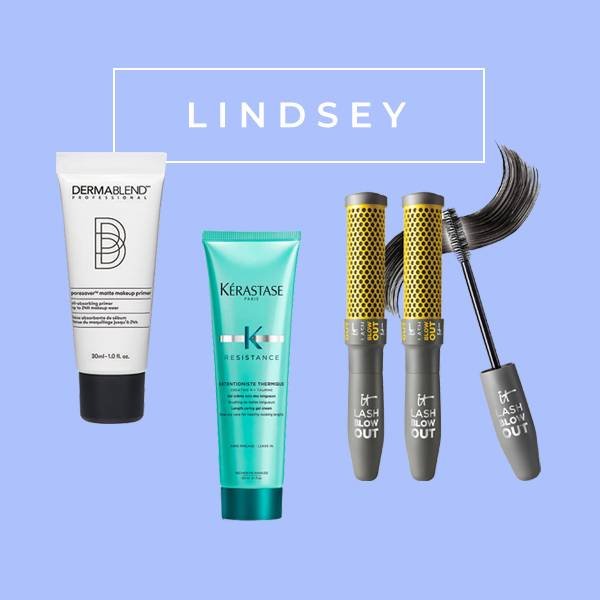 Alanna, Associate Editor
NYX Professional Makeup On The Rise Liftscara
Lately, I've been craving mascara that really does the work of a lash curler without the extra step, and I think NYX totally read my mind with the launch of On The Rise. This really pigmented, matte formula has become my total fave because when you work it through the lashes from root to tip, it lifts, curls and lengthens each individual lash. I've officially kissed my lash curler goodbye.
If you can't get enough of Diptyque Baies, you simply have to try L'Ombre Dans L'Eau. It's warm and spicy — literally the perfect type of scent for the summer-to-fall transition season. Plus, the limited-edition pink bottle is spot-on for any end of summer skin-care Instagram shelfie.
Patrick Ta Major Glow Lip Shine in She's Expensive
Lip gloss is something I still consider myself a rookie at, and that's why I always look for a mess-free, easy to use and often clear, sparkling formula. She's Expensive hits pretty much all of those marks and even exceeds them. It's not sticky, really moisturizing and complements seriously any makeup look — not to mention, it smells like heaven.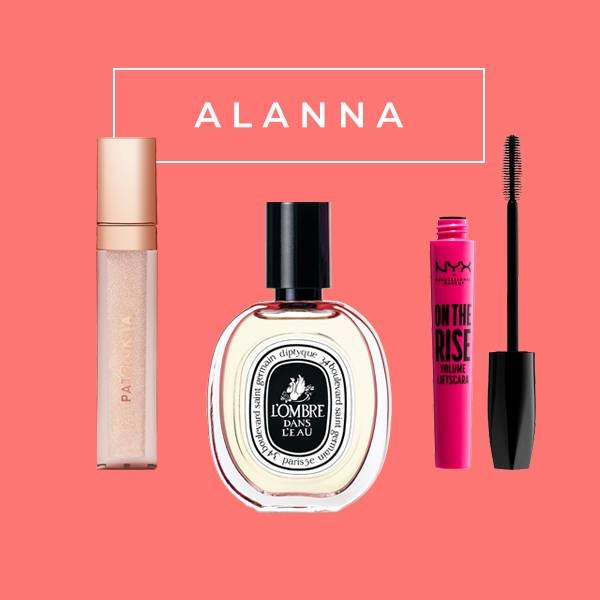 Jessica, Assistant Editor
Maybelline New York Superstay Ink Crayon Lipstick
I love when a lipstick has great staying power, and so far, very few compare to my beloved Maybelline Superstay Matte Ink Liquid Lipstick. That's why when I tried the brand's new creation in crayon form, I was just as happy to find out it doesn't budge either. The lipstick texture glides on smoothly to apply a rich layer of color with the ultra-precise tip of a crayon. It allows for lining and filling in lips with ease, minus the hassle of carrying around multiple products.
NYX Professional Makeup Born to Glow! Naturally Radiant Foundation
Any product that promises a glowing complexion is right up my alley. The new NYX Professional Makeup Born to Glow! Naturally Radiant Foundation comes in an impressive 45 shades that deliver glowing, luminous skin. The liquid formula blends easily for medium coverage and provides you with a smooth, even surface. I've been wearing it with a full face of makeup for work or alone on the weekend for just a bit of extra coverage.
First Aid Beauty Hello Fab Pores Be Gone Matte Primer With Fig Extract
Makeup primers are one of the most underrated products, in my opinion. They have the ability to completely transform your face makeup when you find the right one for your skin type. This new matte-finish primer from First Aid Beauty blurs imperfections and minimizes pores. You can feel it forming a protective layer between your face and your foundation as you smooth it over your skin.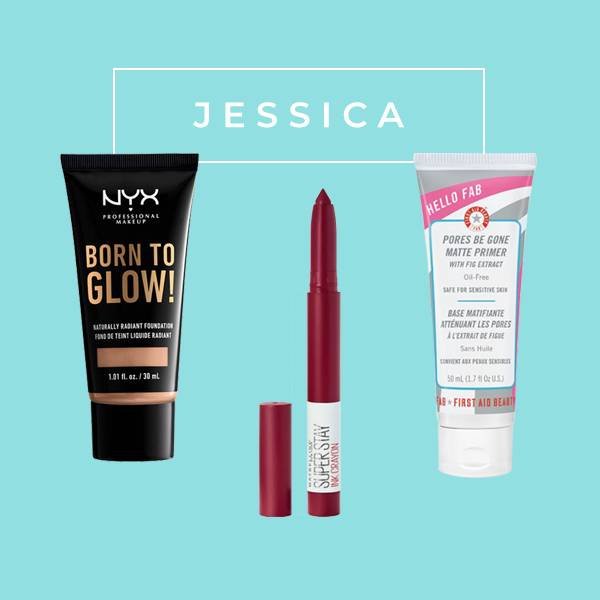 Hannah, Graphic Designer
Garnier Fructis Sleek & Shine Anti-Humidity Hairspray
I love the summer, but I really hate what it does to my hair. Because New York summers usually mean 60% humidity (or higher), I can't walk outside without my hair frizzing or puffing up. Enter Garnier Fructis Sleek & Shine Anti-Humidity Hairspray. This stuff is my saving grace if I actually want to style my hair and keep it that way throughout the day. The best part is that it lasts for 24 hours and makes my hair look super shiny!
Dermablend Glow Creator Liquid Highlighter
This baby is the first liquid highlighter I've ever tried, and I was actually shocked by how much I liked it. The product comes in four different shades and has a lightweight, silky smooth texture. I recommend blending a bit with your foundation for an all-over soft, glowy look!
Glossier Holographic Lip Gloss
If you want to feel like an early 2000s dream, you need this lip gloss. Shiny, glittery and perfect for summer, Glossier's holographic gloss is definitely my favorite product launch this season. It's super thick, glides on easily, and the reflective finish is EVERYTHING.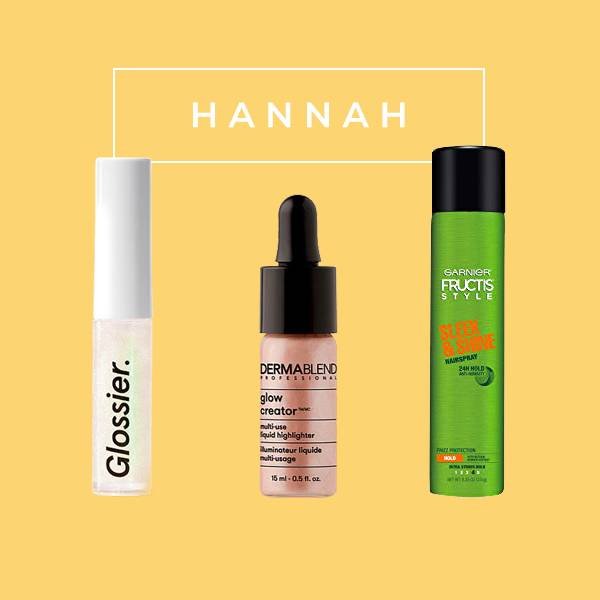 Jillian, Social Media Editor
Garnier Fructis Sleek Shot In-Shower Styler
Garnier's In-Shower Styler is a total game-changer for me. Summer always does a number on my hair (humidity is not a curly-haired girl's friend), and my recent eight-inch chop makes things even more tricky. The In-Shower Styler not only controlled my frizz, but it instantly made my texture smoother, and in turn made styling way easier. Even post-blow drying and straightening, my hair held its styled shape way better in the humidity, which I consider a miracle in this summer heat.
It Cosmetics Brow PowerFULL Eyebrow Pencil
Lately I've been experimenting with different ways to fill in my eyebrows, and the It Cosmetics new brow pencil is a great transitional product for me. I usually use a pomade to line and fill, but sometimes it can be tricky to be precise or prevent patchiness in the color. Enter the Brow PowerFULL Eyebrow Pencil, and it's the perfect pair with my pomade. I can use it to line my brows fully or just fill in missed spots, and the universal shade somehow matches perfectly with my chosen brow color. I'm definitely keeping this in my brow routine.
NYX Cosmetics Bare With Me Cannabis Sativa Seed Oil Lip Conditioner
Maybe it's because I have naturally dry skin all over my body, but for some reason my chapped lips are just as bad in the summer as they are the winter. I've been searching for a lip product that isn't just conditioning but one that I can also pass off as a lip product when I need a break from drying lipstick. NYX's Cannabis Sativa Oil Lip Conditioner is *so* moisturizing without feeling too heavy, and it looks just like my favorite clear gloss. I also love that I can easily top my favorite matte lip with this, so I can still have pigment without my lips drying out.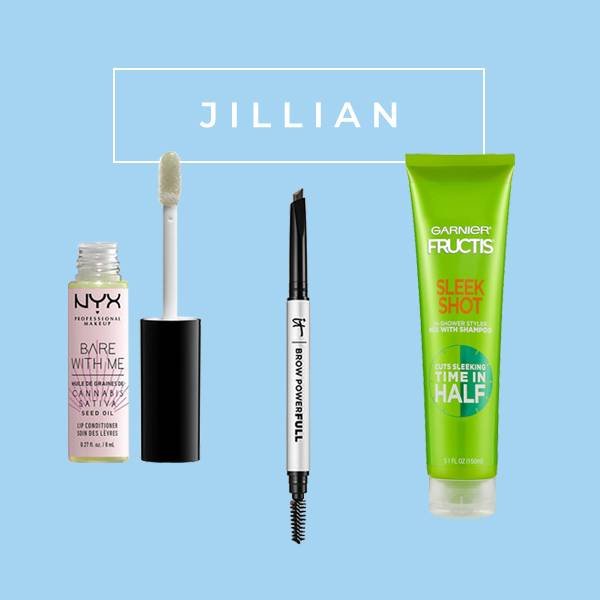 Genesis, Assistant Editor
It Cosmetics CC Cream with SPF 50
When it comes to my face makeup, I often gravitate toward minimal coverage and of course, SPF. It Cosmetics CC Cream is my go-to because it checks off both of those boxes. A little goes a very long way, so I find that one pump is enough for that no-makeup makeup look I'm going for.
L'Oréal Paris True Match Lumi Glow Amour Glow Boosting Drops
A good highlighter is something that is essential to my everyday makeup routine. During the warmer months, I strive to look like I've just come from the beach at all times. That's why I'm obsessed with the L'Oréal Paris True Match Lumi Glow Amour Glow Boosting Drops. It gives an effortless illumination but is super buildable for when you want to add more shimmer for a special night out.
NYX Professional Makeup Micro Brow Pencil
I was blessed (or cursed) with very full brows and have always avoided filling them in. Recently, however, I've noticed some sparse areas and decided to pick up the NYX Professional Makeup Micro Brow Pencil. As a newbie to the brow game, I think this product has been great for helping me fill in my brows. The ultra-thin packaging makes it extremely easy to use, leaving very little room for error and also offers a natural-looking finish.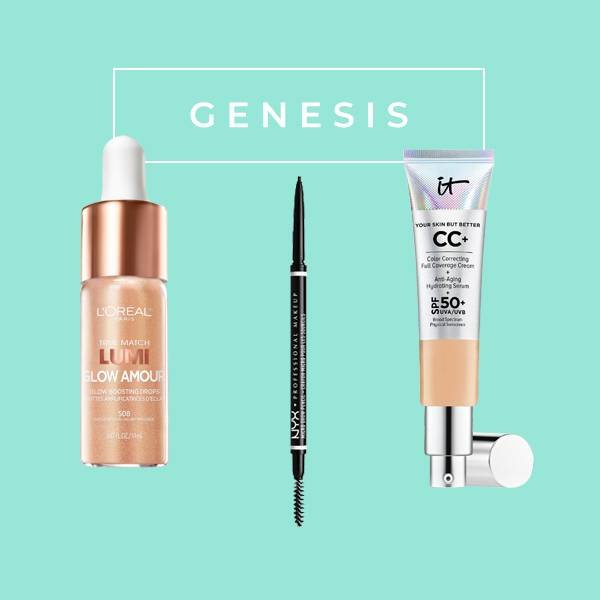 Sarai, Assistant Editor
Lip Bar Matte Lipstick in City Girl
If you're like me and always on the go, then you know that a matte lippie is a number-one choice. One application and you're good to go! My current obsession is the Lip Bar Matte Lipstick in City Girl. The bold orange color gives me a vibrant pop that's perfect for the summer, stays on for hours and leaves my lips feeling moisturized.
NYX Professional Makeup Bright Idea Illuminating Stick in Maui Suntan
Summer is all about the shimmer and glow, and this Illuminating Stick does just the trick. My favorite from the collection is the Maui Suntan. I prefer to use the product after foundation to highlight my cheekbones. With only one swipe, my skin is glowing in a sunkissed caramel color that shimmers.
Lancôme Paris Prime It Boost It Eyeshadow Primer
During the warmer seasons, my eyelids always get a little oily, and it draws me away from applying eyeshadow. I recently, however, started using the Prime It Boost It from Lancôme and it's been a saving grace. I now have the confidence to use eyeshadow in the summer and know that it's going to stay fresh and intact for hours.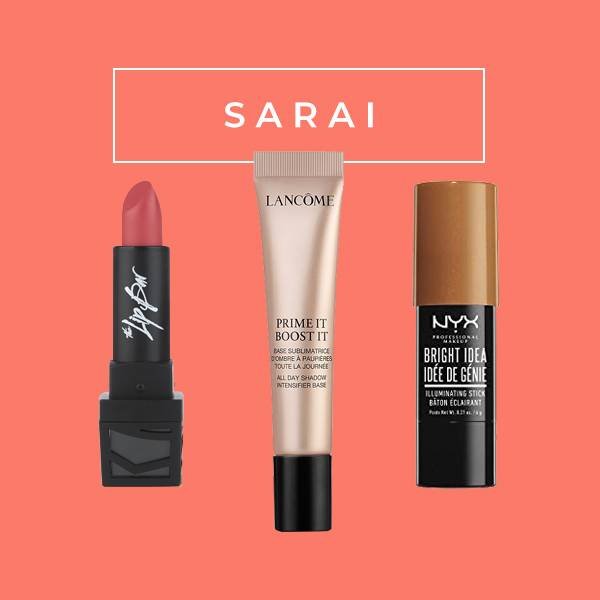 Read More:
The Best Translucent Setting Powders
How to Pick The Best Makeup Primer tor You
The Glowy Makeup Look to Pair With White Outfits
Read more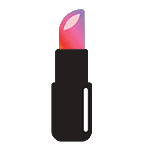 Back to top