I Switched Up My Lazy Hair Routine to Give My Curls Some Love
February 28, 2023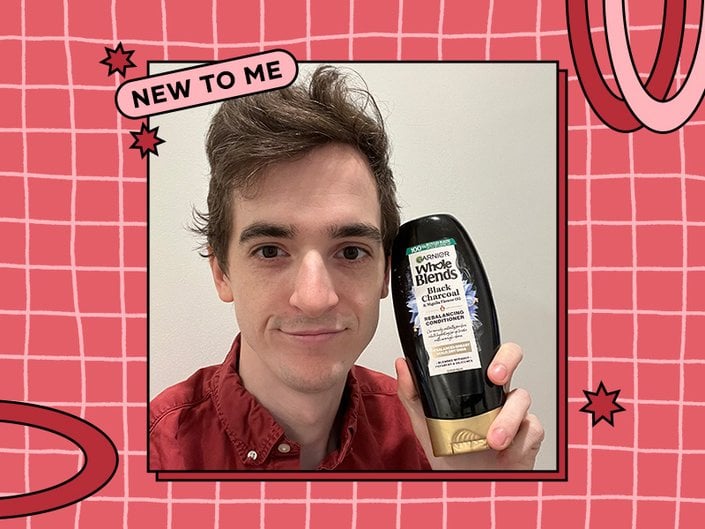 In our column, New to Me, writer and editor Stephen Rubino puts the newest and buzziest beauty products to the test, offering up his honest thoughts on how they perform and if they're really worth adding to your shopping cart.
When it comes to hair care, my routine could use a lot of work. Having hair that's somewhere between straight-when-short and curly-when-long makes it tricky to even identify which type I'm working with. (Okay, it's probably type 2B, but I will say that many guides aren't exactly oriented around guys like myself, who let their hair grow out for a few months between cuts and are therefore working with different shapes and textures as it lengthens.)
After some perusal on the various curly-hair forums, I'd settled on co-washing (that's washing your hair with a conditioning product that also cleanses, for those wondering) with a standard Garnier Fructis option. But only using one product and calling it a day also made me wonder if I was missing out on the benefits of a more involved routine. So, I decided to test out the Garnier Whole Blends Black Charcoal and Nigella Flower Oil Rebalancing Shampoo + Conditioner, plus the Garnier Fructis Curl Shape Defining Spray Gel. I was on my way to a whole new 'do.
My Review of the Garnier Whole Blends Black Charcoal and Nigella Flower Oil Shampoo and Conditioner
Popping open the shampoo and conditioner was really satisfying. They're both made with black charcoal and nigella flower oil, so they each have a rich, dark color that's somewhere between black and purple — and they smell amazing. The charcoal promises to purify and detoxify the scalp, and I definitely felt it. Shampooing gave me a clean feeling and left my hair purged of excess oil. (Although I'm sure some of that comes from the simple fact that I'm actually shampooing for the first time in a while.) The conditioner leans more towards the purple nigella flower oil, which acts as an antioxidant and protects hair. Both did a great job of making my hair feel nourished and healthy.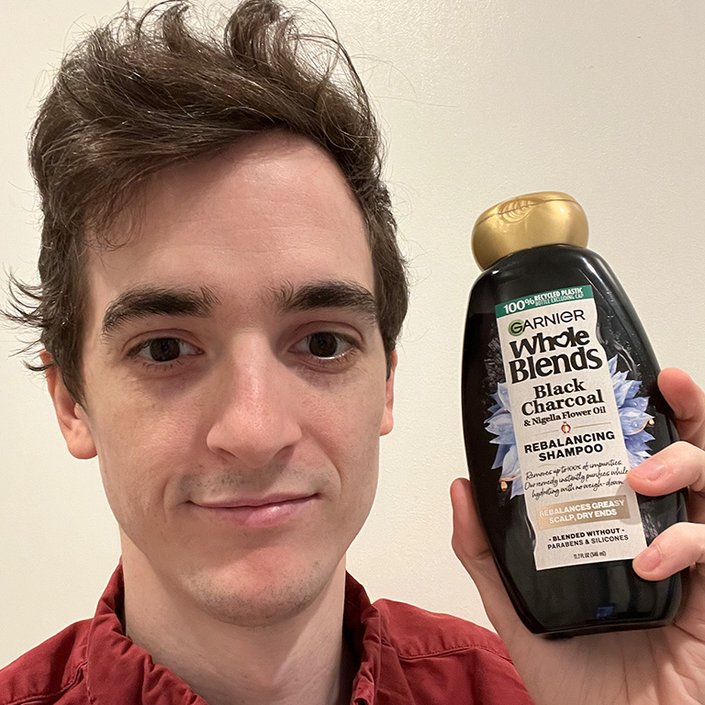 My Review of the Garnier Fructis Curl Shape Defining Spray Gel
The curl spray was more of a wildcard, since I had never used one before. Although it comes in a spray-top bottle, the consistency leans more towards a traditional hair gel; it just goes on more evenly. It defined my curls and gave me a swoosh instead of my normal chaotic waves. Alternatively, I could flip my curl down and give myself a comic-book curl right across my forehead.
The final verdict: I probably don't need any more bounce on my already-floofy hair, but the definition was nice and I could see it being perfect for someone with longer hair looking for hold. When combined with my new shampoo and conditioner, it was a major improvement for my under-loved curls.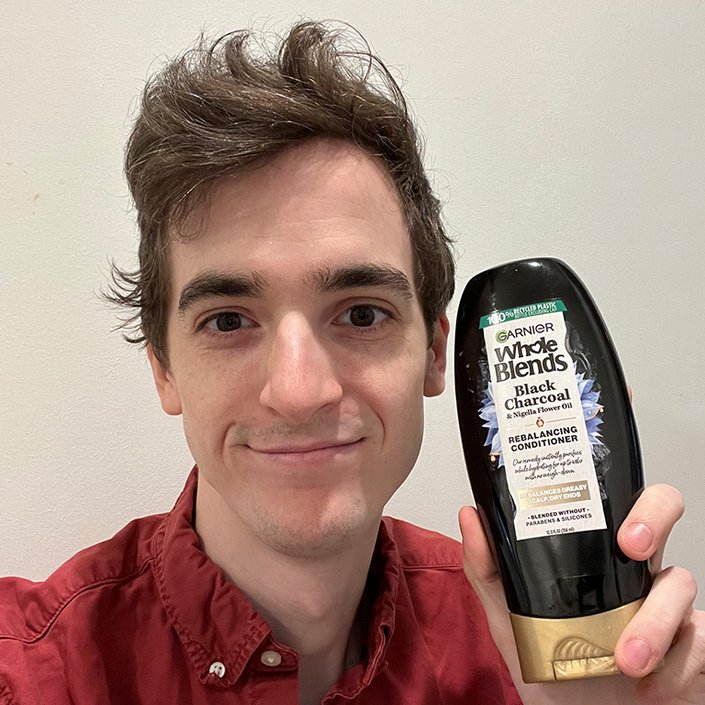 Photos: Stephen Rubino; Design: Juliana Campisi
Read more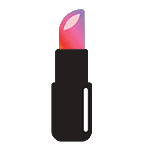 Back to top