The NYX Professional Makeup Epic Smoke Liner Is the Ultimate One-and-Done Eye Product
January 14, 2022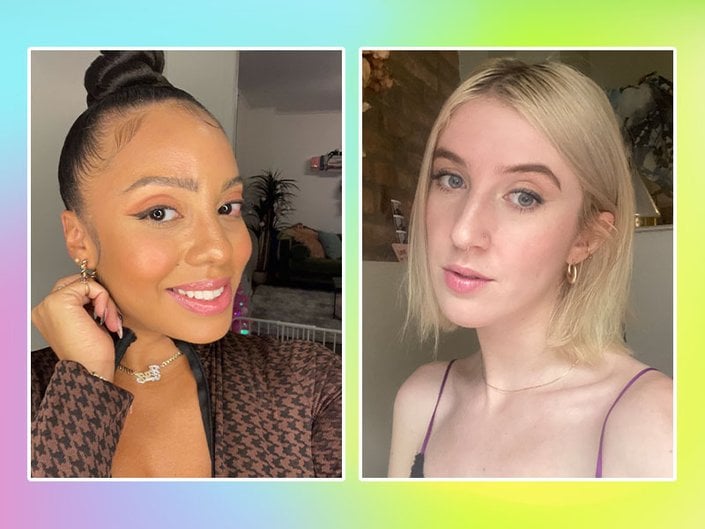 Smoky eyes are one of the most versatile makeup looks. You can use light, neutral shades for the perfect office look, or pump up the drama by blending out vibrant, sparkling shadows. Despite its versatility, the smoky eye look can be time-consuming — but thanks to the new NYX Professional Makeup Epic Smoke Liner, you can create the sultry eye of your dreams in seconds. The dual-ended liner comes in 12 highly-blendable shades and features a unique paddle-shaped brush for easy diffusion. Our editors recently tested this one-and-done product, and it's safe to say it's already one of our favorite launches of 2022. Ahead, see the gorgeous looks they created with the liner, plus find their honest thoughts.
Mary, Associate Editor
Shade: Fired Up
I can't resist creating a smoky eye — it's my go-to for almost every occasion. However, when using powder shadows, the amount of time it takes to blend is a major downside. I never thought I'd be able to achieve the perfect smoke in half the time, until this magic little liner landed in my lap.
The waxy formula seamlessly glides onto my delicate eye area, and the funky paddle brush blends the shade in seconds, without compromising the pigment intensity. Fired up, the burnt-orange shade I'm wearing here, beautifully compliments my blue-green eyes. Once smoking out the liner, I layered on a few shimmering shades from the
Urban Decay Naked Cyber Palette
to add a little more dimension to my look.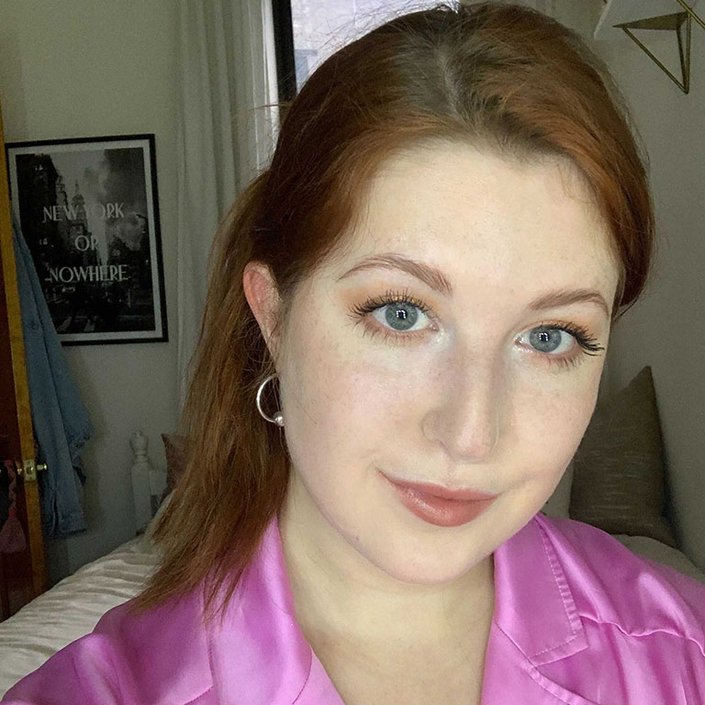 Jaz, Senior Editor
Shade: Mocha Match
My signature liner look is inky black, precise and has a defined flick at the tail — a classic. But recently the slightly diffused, brown eyeliner style that's trending sparked my curiosity and brought me to try NYX's Epic Smoke Liner in Mocha Match.
Creating my version of the look was simpler than I anticipated. Together, the triangular tip and teeny paddle brush end created a cat-eye that is just right for everyday wear or a night out. Initially, I was afraid the brown shade coupled with the liner's wax-like consistency wouldn't have the same impact I love, but that wasn't the case. I'm obsessed.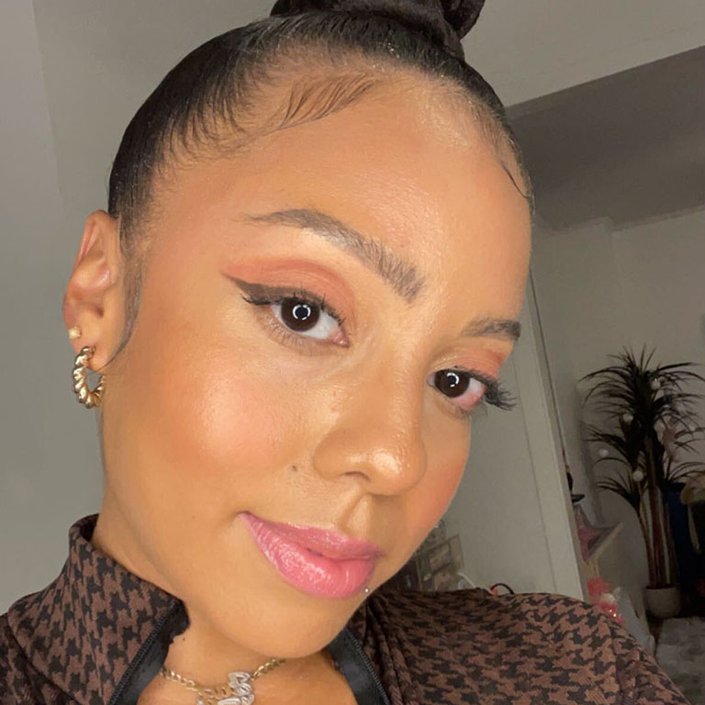 Ariel, Associate Editor
Shade: Slate Smoke
Gray has been my eyeliner color of choice lately, and this smoky pebble shade is the perfect addition to my collection. I love that I can use it to draw on a thick, chunky line, then turn it to the side for a super precise wing. My only gripe is the consistency of the product.
It's very waxy, which makes it difficult to blend out and achieve a smudgy look, despite the smudging brush on the opposite end of the pencil. But, the waxiness adds to its staying power — I've worn this eyeliner several times and noticed very little transfer by the end of the day. It's my new favorite — I give it two thumbs up.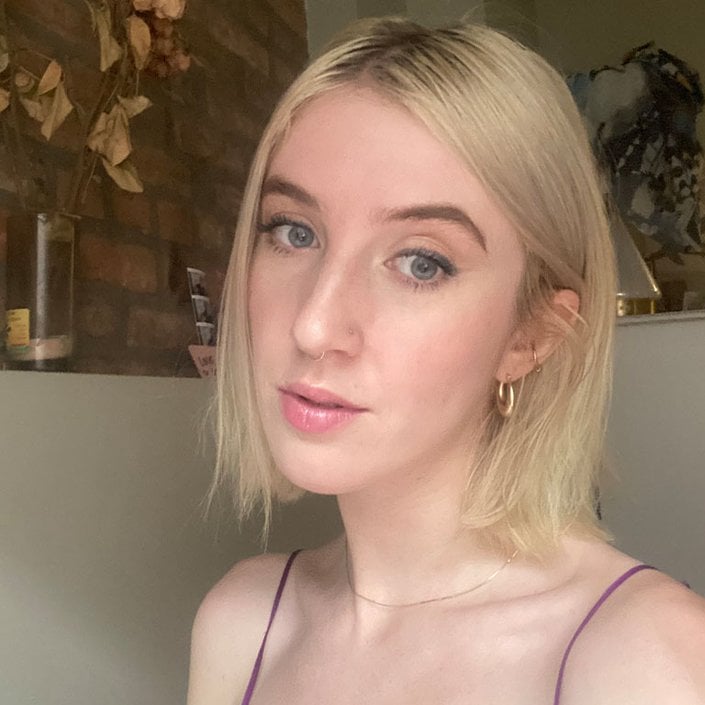 Alanna, Assistant Managing Editor
Shade: Black Smoke
If you know anything about my makeup style, you know that I don't go a day without a cat eye (sorry not sorry!). I was excited to experiment with this smoky eyeliner for my usual look, and I'll tell you, it did not disappoint!
The triangular-shaped tip makes it easy to create a precise line, and the paddle brush efficiently smokes out the pigment for a more diffused look. I had fun changing up my typical eyeliner with this pencil for an edgy, smoked out wing. I will definitely be rocking this in lieu of my crisp liner in the coming months!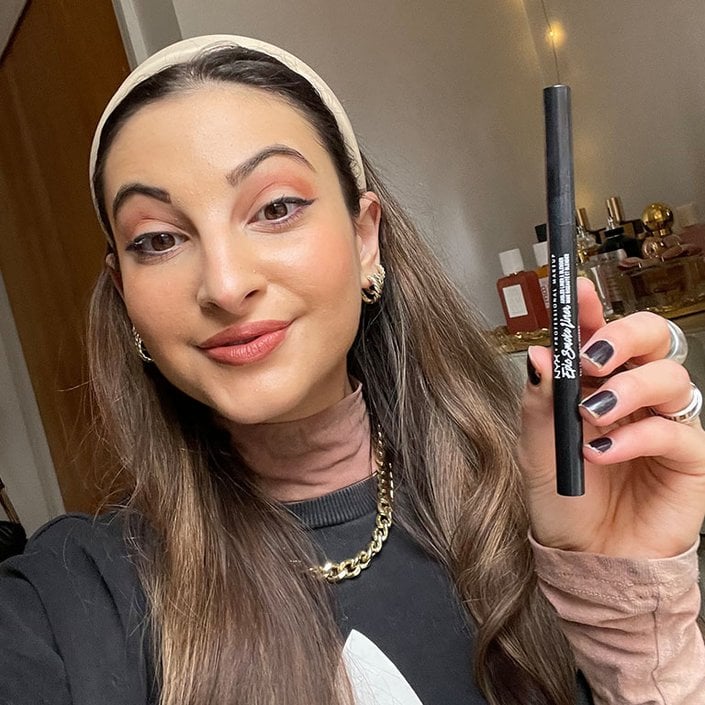 Caitlyn, Assistant Editor
Shade: White Smoke
Don't get me wrong, I love a black liner moment, but lately I've been obsessed with the way white eyeliner makes my eyes pop. While any white liner can help your eyes look wider and more awake, there's something extra special about this formula. After experimenting with a few different products, I found that this one stands out because of its thick consistency that is somehow super easy to manipulate.
I love using it to create crisp, clean lines along my waterline and inner corners, but you can also use the paddle brush to diffuse it and bring the color up your eyelids for an impeccable brightening effect.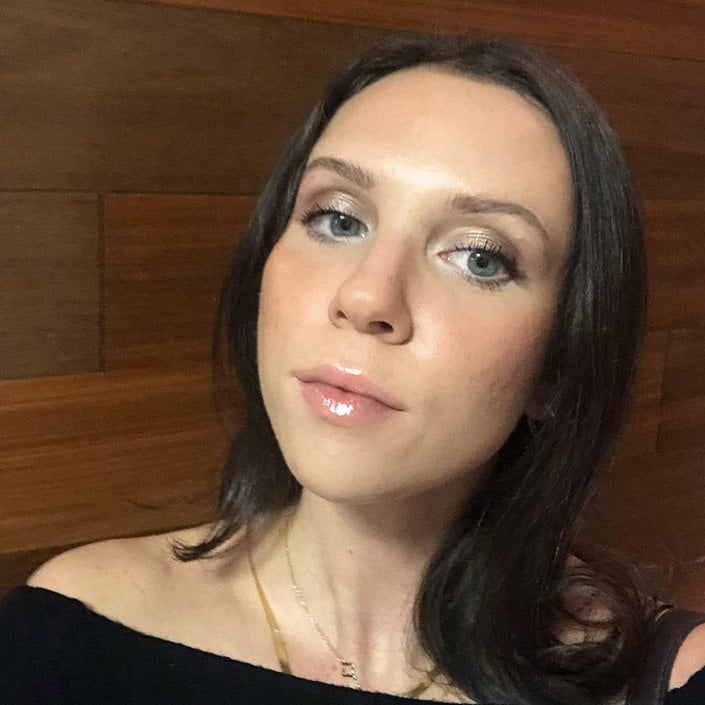 Kat, Social Media Editor
Shade: Sage Sparks
I love experimenting with different color eyeliner shades and the shade Sage Sparks did not disappoint. Upon application, I really liked how it glided on and didn't tug at my eyes. I used the brush on the opposite end and was surprised at how easily it blended out.
As for the color, I usually have a bit of difficulty getting colors to really pop against my skin tone, so I was excited about the color payoff. I found that it stayed put throughout the day without me having to touch up with the pencil, so it's a thumbs up in my book.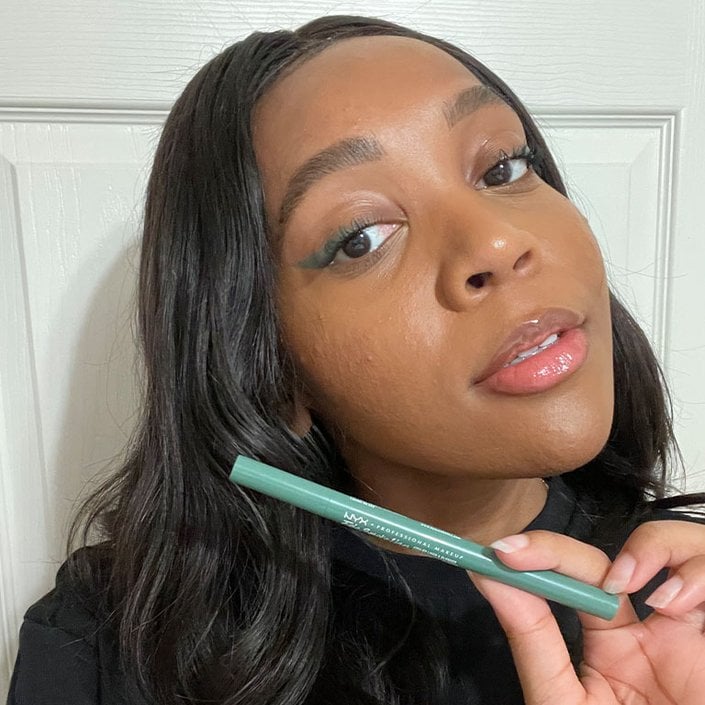 Photos: Alanna Martine Kilkeary, Ariel Wodarcyk, Caitlyn Martyn, Jazmine Ortiz, Katlyn Pierre, Mary Honkus
Read more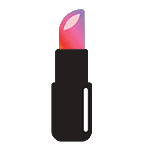 Back to top