Which IT Cosmetics CC Cream Is Right for You? We're Breaking It Down
March 06, 2023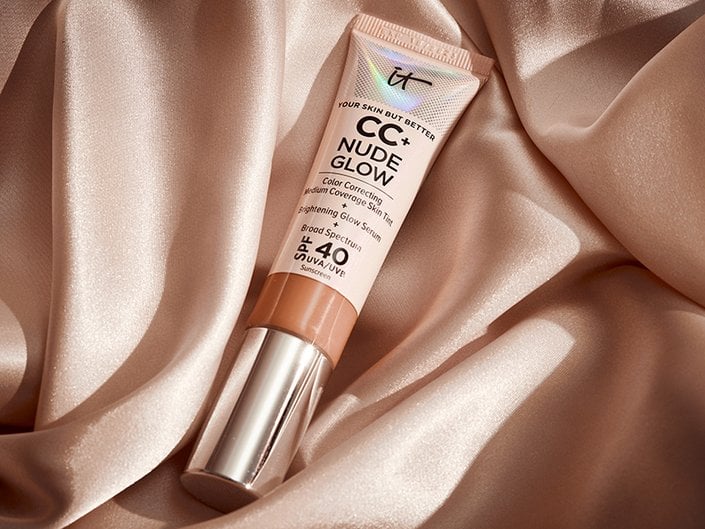 When the original IT Cosmetics CC cream launched in 2013, it was a milestone that put the brand on the map, and for good reason — the product is incredible. Since then, it's become a fan-favorite and one of the bestselling CC creams on the market — so much so that the brand has created three new iterations of the hero item.
If you're new to the world of CC creams, or you're simply looking to try one from a brand that's reached icon status in the category, we're sharing what you need to know about each of the four formulas. Ahead, find a comprehensive guide to the IT Cosmetics CC creams so you can determine which one is best for you.
Fast facts: full-coverage, natural finish, for all skin types
This is the product that started the brand's CC cream empire. The original formula promises full coverage with a natural, skin-like finish. Formulated with collagen, hyaluronic acid, peptides and antioxidants, it helps hydrate the skin while blurring the appearance of fine lines, dark spots and blemishes.
It also contains titanium dioxide and zinc oxide, two types of physical SPF to help protect your skin from harmful UV rays. It's suitable for all skin types, and it's a great option for mature skin as it covers imperfections without drying the skin or emphasizing texture.
If you're looking for an all-in-one product to even out your complexion, hydrate your skin and provide SPF protection, all while leaving behind a natural finish, this is the one for you.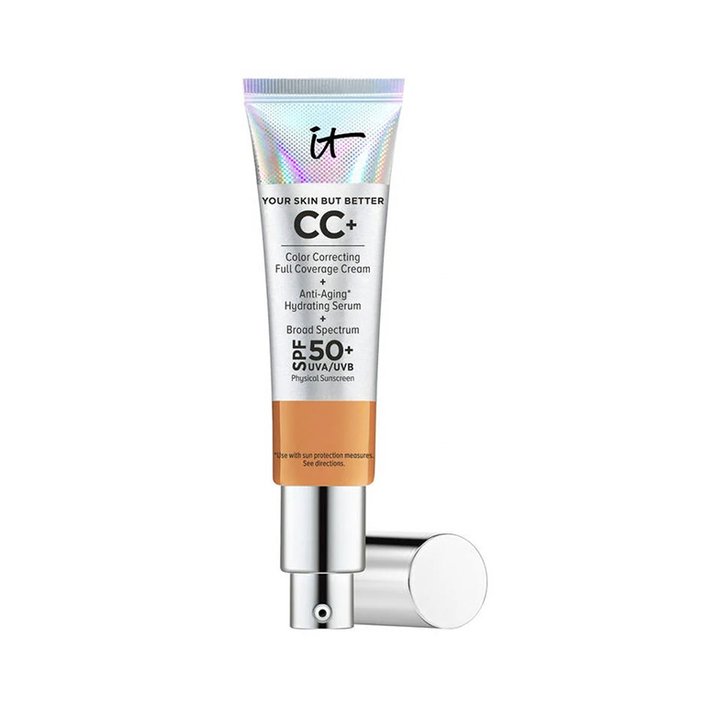 Fast facts: full-coverage, matte finish, great for oily skin
If you have oily skin or you prefer a matte finish, you'll love this CC cream. It provides the same full-coverage as the original version, but it dries down and creates a natural matte finish. In addition to collagen and peptides to help improve skin elasticity and firmness, it also contains charcoal and colloidal clay which work to minimize the appearance of pores and combat excess oil.
Despite the matte finish, this CC cream doesn't look or feel drying on the skin throughout the day. It's a great option for warm weather and humid climates, and because it's not a dry matte, it's suitable for all skin types.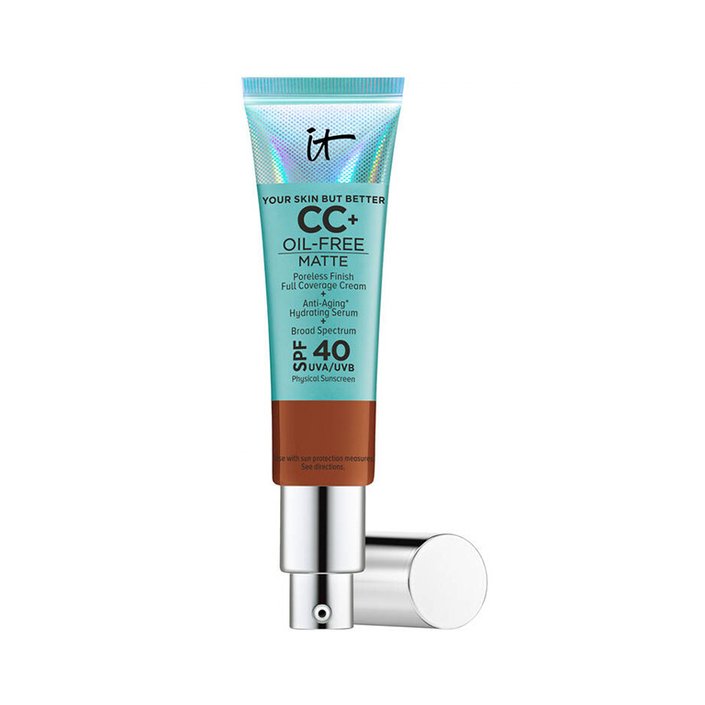 Fast facts: full-coverage, luminous finish, great for dry skin
Formulated with physical SPF as well as the same skincare ingredients as the original formula (niacinamide, hyaluronic acid, peptides and antioxidants), this illuminating CC cream offers full coverage and brightening benefits. While many luminous base products don't have ideal buildability, this one can be layered to achieve your desired level of coverage.
The formula contains micronized light-reflecting pigments to create a radiant finish without looking shimmery or unnatural. If you have dry or dull skin, or you just love a perfected, ultra-glowy complexion, this pick will suit you best.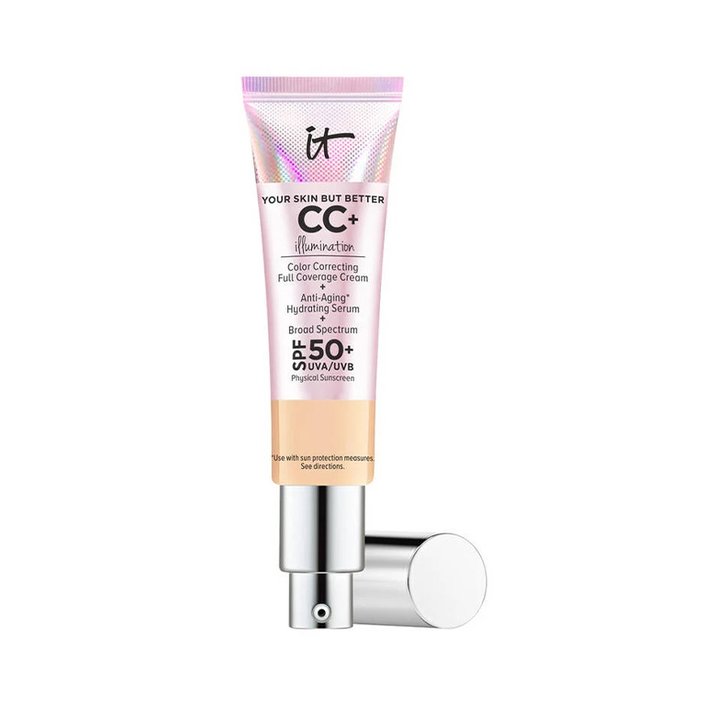 Fast facts: medium coverage, radiant finish, for all skin types
Skinimalism has been a go-to aesthetic in the beauty space for years, and this product is the brand's take on the trend. It's formulated with 90 percent skincare ingredients, like niacinamide, hyaluronic acid and green tea extract, and helps to hydrate and brighten the skin while providing medium coverage.
The texture is more fluid and lightweight than the other offerings in the CC cream family, which makes it a great option for daily use or no-makeup makeup days. It blurs the complexion beautifully, creating a skin-like appearance with a healthy-looking glow. Because of its radiant finish, it's a fitting choice for people with dry or combination skin. But since the glow isn't overpowering, it's suitable for oily skin types, as well.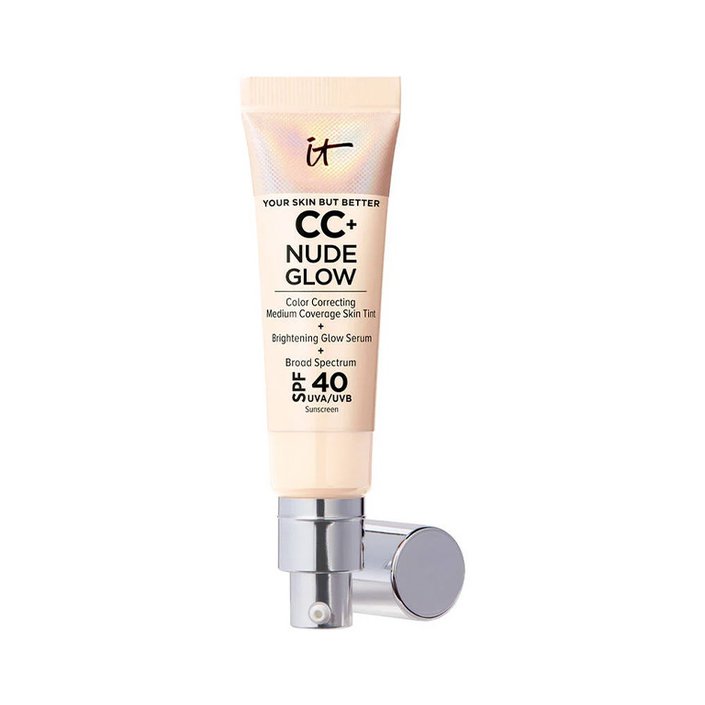 Read more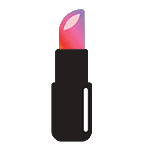 Back to top