4 Easy Halloween Costumes You Can Create With Maybelline Lipsticks
October 09, 2020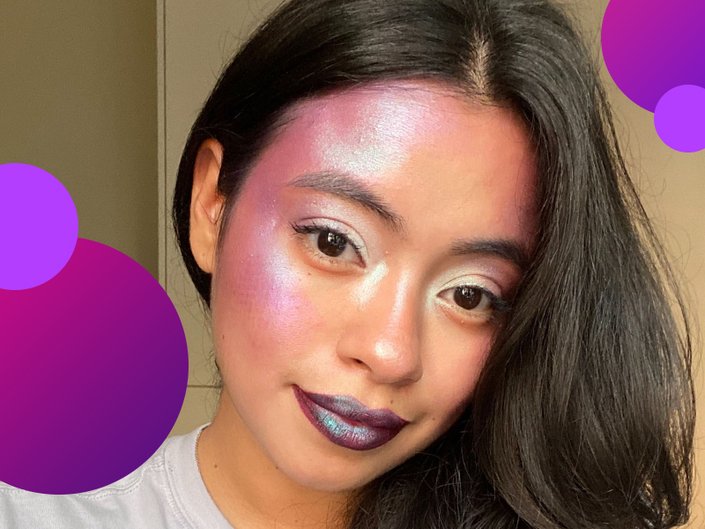 In theory we'd rock a full-blown costume every Halloween, but it's a lot more likely we'll be pulling together a last-minute makeup look this year to help put us in the spooky spirit. Lucky for us, Maybelline New York just dropped two new shades that are perfect for getting in disguise with little effort. The Super Stay Matte Ink in Thrill Seeker, a rich black, and the Super Stay Ink Crayon in Forget the Rules, a deep plum, are both intense, long-lasting and perfect for DIY-ing your Halloween makeup look (fake blood optional). Here, four Makeup.com editors explain how they created easy costumes with the wicked shades.
Samantha, Assistant Editor
Shade: Thrill Seeker
Costume: Cheetah
It may be basic, but cheetah makeup has gotten me through many Halloween's past. All I need is a black eyeliner (I like the Maybelline New York Eye Studio Hyper Easy Liquid Eyeliner), some shimmery gold eyeshadow and a long-wear black lipstick. For this look, I drew small, squiggly ring outlines on the corner of my forehead and down the middle of my cheek. Then, I filled in the spots with eyeshadow. The Thrill Seeker shade on my lips finished off the makeup look and lasted all night. Bonus: I applied some of the lipstick with a small, detail brush to create whiskers. This is the perfect costume, and it took all of ten minutes to complete.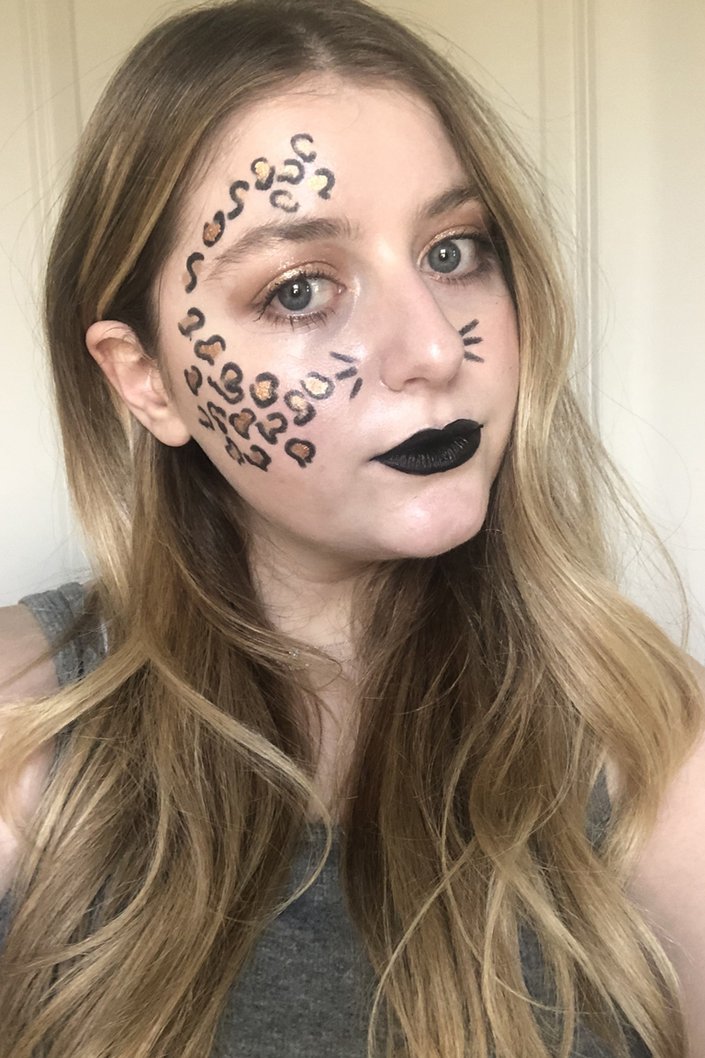 Sarah, Senior Editor
Shade: Forget the Rules
Costume: Witch
After swiping on this deep, cool-toned purple shade, I immediately got witchy vibes and decided to run with it. To complement the lip, I created a smoky eye with the shades Purple Dust, Digital, Euphoric and Optimized from the Urban Decay Ultraviolet Eyeshadow Palette and then drew a cobweb design on my left cheekbone using the Maybelline New York Eye Studio Hyper Easy Liquid Eyeliner. I then applied my makeup as usual — bronzer, blush, highlighter and brow gel (I've been loving the IT Cosmetics Brow Power Filler Eyebrow Gel lately) — put on a black shirt and a black hat and voilà, I looked like an extra in my all-time favorite Halloween movie, Hocus Pocus.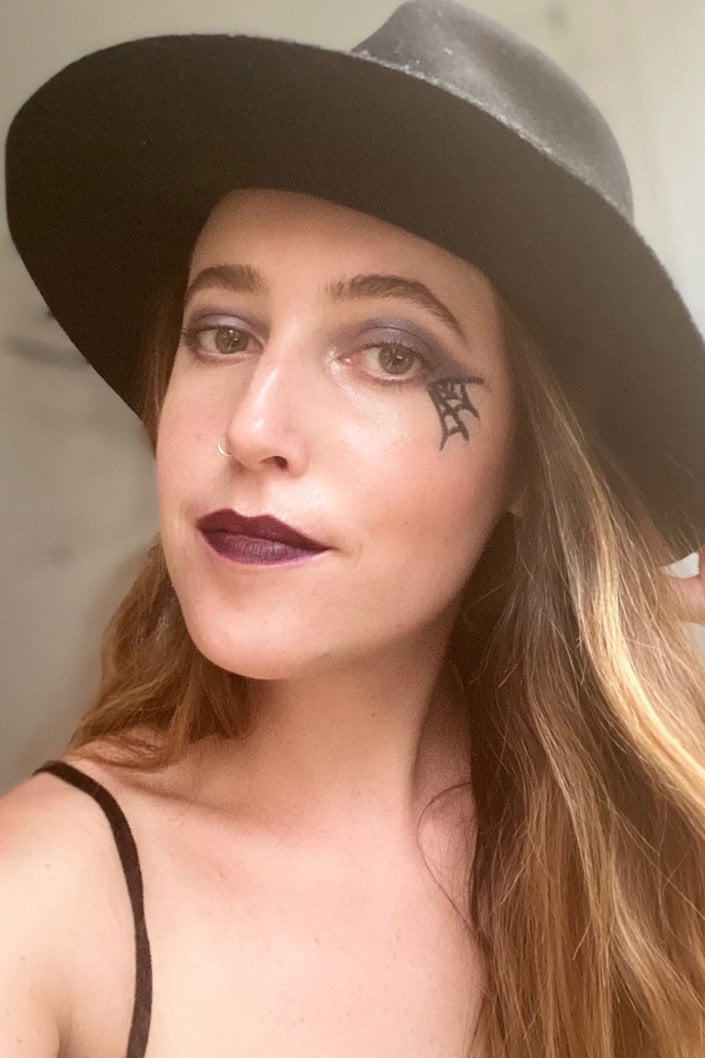 Alanna, Associate Editor
Shade: Thrill Seeker
Costume: Vampire
Whenever I have the opportunity to dress up for Halloween, you better believe I'm going with a night-of-the-living-dead vampiress! Growing up, vampires were always my favorite monster to recreate because all it takes is some scary lip art and a Nosferatu-inspired blouse. Here, I coated the thick black pigment of Thrill Seeker all over my lips and applied the Lime Crime Plushie Soft Matte Lipstick in Blackberry on the edges of my mouth for "blood." I did this by picking up a lot of product and holding the wand vertically on each side of my mouth. The result? Two streaks of bloody-looking goodness. To complete the look, I added a thick cat eye and some burgundy eyeshadow. With my makeup done, I was ready to scare the living daylights out of my neighbors.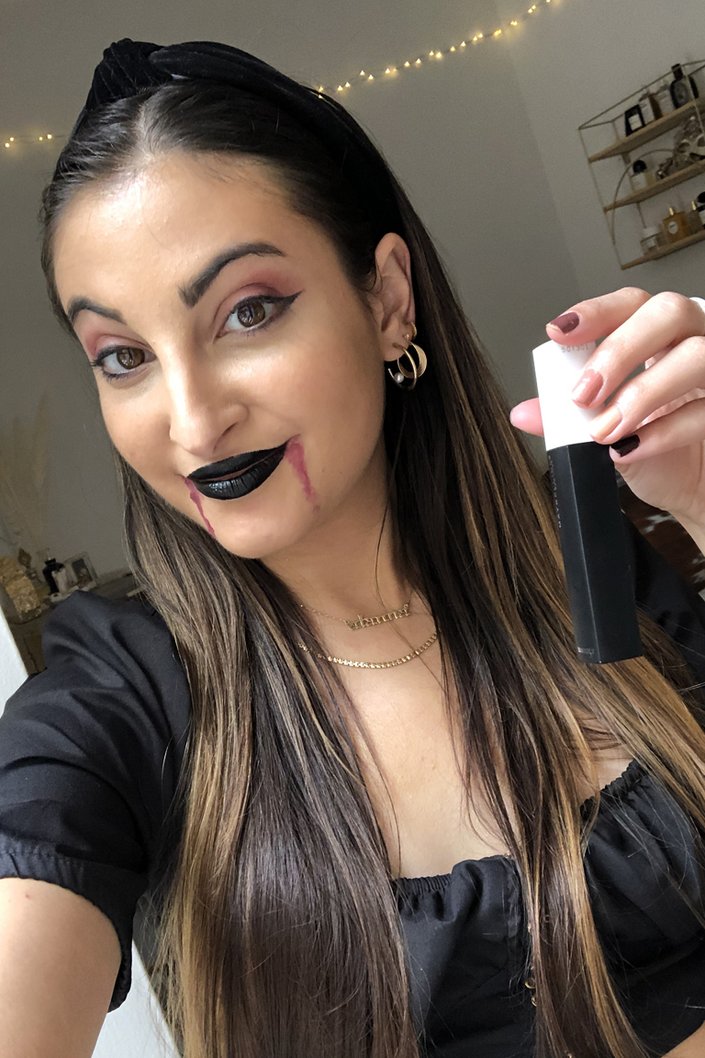 Genesis, Assistant Editor
Shade: Forget the Rules
Costume: Mermaid
If I'm being honest, I hate Halloween because I hate planning and picking a costume. But after getting inspired by this deep purple lipstick and creating this mermaid look, I'm low-key excited for the holiday this month. I created this look by using the Urban Decay Naked Ultraviolet Eyeshadow Palette. First, I applied the shade Lucid, an iridescent teal, in the inner part of my eyelid and then used a mix of the purple shades, Cyber Punk, Euphoric and Purple Dust on the outer part. Then, using a fluffy face brush, I mixed the shades Warning, Cyber Punk and Euphoric on the back of my hand and applied it to the areas of my face that I would usually contour — along my forehead and the hallows of my cheeks. Next, I applied Lucid on the tops of my cheeks and forehead and tip of my nose to add a beautiful, sea green highlight.
To tie the look together, I slicked the SuperStay Ink Crayon in Forget the Rules to my lips and topped it off with a bit of Lucid for extra shimmer and dimension. Not to toot my own horn, but it came out even better than I expected. If you're looking for an easy, DIY costume, I definitely recommend this iridescent, purple mermaid look.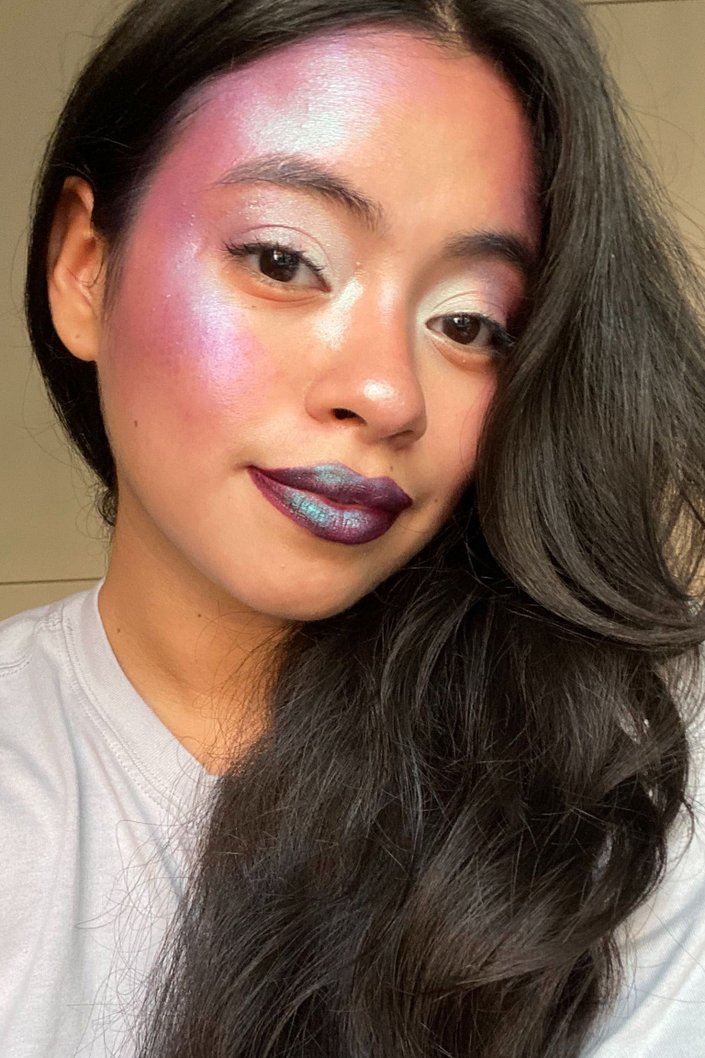 Photos (from top): Genesis Rivas, Samantha Holender,  Sarah Ferguson, Alanna Martine Kilkeary, Design: Hannah Packer
Read more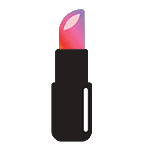 Back to top