Liquid Lipstick is Back and the L'Oréal Paris Infallible Matte Resistance Liquid Lipstick is Proof
August 25, 2023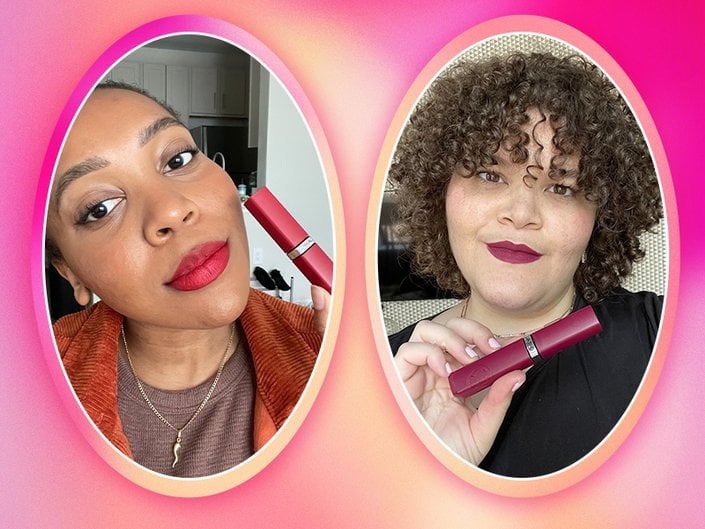 ICYMI — liquid lipstick is having a total comeback with new and improved crack-free formulas, more precise applicators and comfortable finishes. The latest liquid lip to hit the market is the new L'Oréal Paris Infallible Matte Resistance Liquid Lipstick — a saturated, smooth and pigmented liquid lip that glides on in one to two swipes. Here, our editors tested it out and shared whether the lippie lives up to their very high liquid-lipstick standards.
Alanna, Managing Editor
I wear liquid lipstick just about every day, so I was stoked to try the Infallible Matte Resistance, and believe me, the brand isn't lying when they say it's a saturated, flake-free formula. Lazy Sunday is a stunning moody-brown that instantly warms up my whole makeup look and lasts for hours, without the need for touch ups or re-adjusting. Instead, it has a comfortable matte wear and is totally transfer-proof, making it a formula I can definitely see myself incorporating into my routine on the daily. It's bold, foolproof and crack-free — exactly what you want out of a liquid lippie.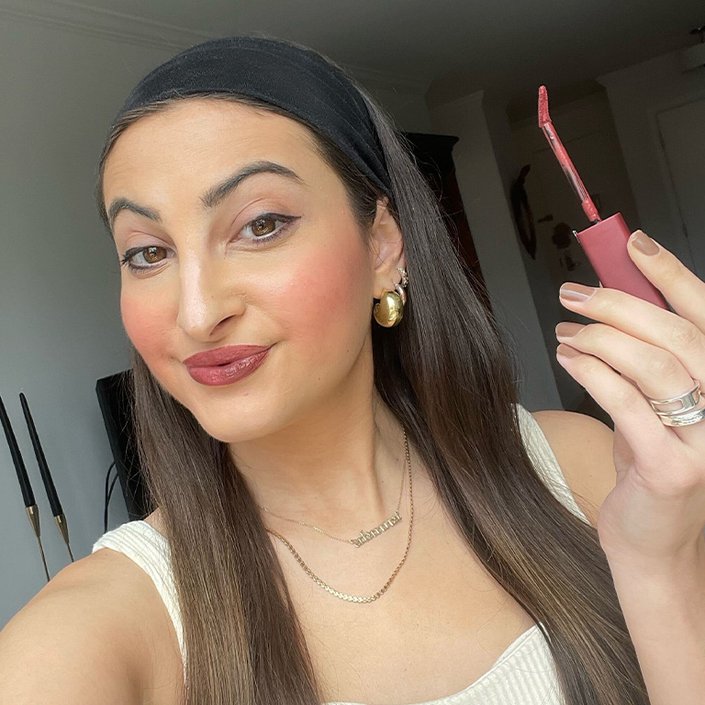 Ariel, Editor
Normally, I'm about the furthest from a liquid lipstick person you could get — in fact, almost all of my (overflowing) lip collection consists of glosses and tinted balms. I was game to try this one, however, mostly because of the daring pinkish-red hue and the addition of hyaluronic acid to make the formula more hydrating. I was pleasantly surprised when I swiped this on — instead of feeling cakey and drying, it glided on easily and felt soft and velvety on my lips. Plus, it seriously lasts: I wore this all day, through numerous snacks, meals and cups of coffee, with not a smudge in sight.
Jordan, Associate Editor
My typical approach to my lips when doing my makeup involves a quick swipe of clear or pink gloss — maybe layered over lip liner if I'm feeling fancy. But with fall around the corner, it's the perfect time to experiment with matte lip color and this liquid lippie from L'Oréal Paris was at the top of my list. I tried the shade "Road Tripping," an orchid pink, and immediately fell in love with the berry-hued color. Bold pink with cool undertones, it's the ideal transitional shade for the end of summer into early fall. As for the formula itself, I was impressed by the creamy, hydrating feel that lingered even once the lipstick dried, thanks to hyaluronic acid on the ingredient list.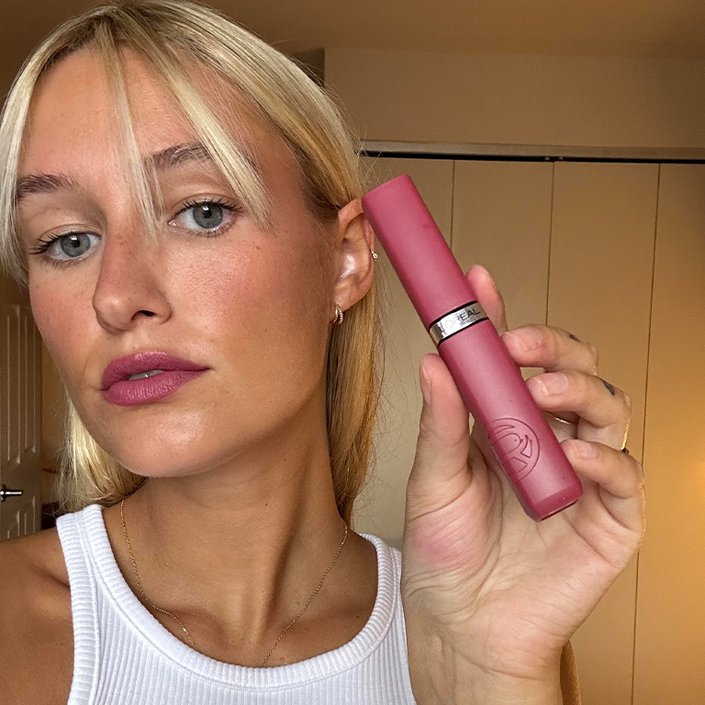 Kat, Social Media Editor
When it comes to liquid lipsticks, I can be a bit high-maintenance. As someone with perpetually dry lips, I can be a little wary when it comes to liquid lipsticks because of how drying they can feel. That's why I was really interested in trying out the new L'Oréal Paris Infallible Matte Resistance Liquid Lipsticks being that they're infused with hyaluronic acid. I got the shade Le Rouge Paris which is a beautiful brick red. Upon first application, I was impressed by the intense color payoff. I have two-toned lips so lipsticks that offer an even color across the entirety of my lips are a big plus for me. After wearing it for a couple hours, I found that my lips didn't feel like they were extremely dry. In fact, the formula still felt extremely comfortable, which I think is due to the moisturizing hyaluronic acid in the mix. It's definitely a formula that is slowly becoming my favorite. It even lasted through an oily Caesar salad and sips of my water throughout the work day. I think this is definitely a lipstick I'm going to be reaching for quite a bit in the future!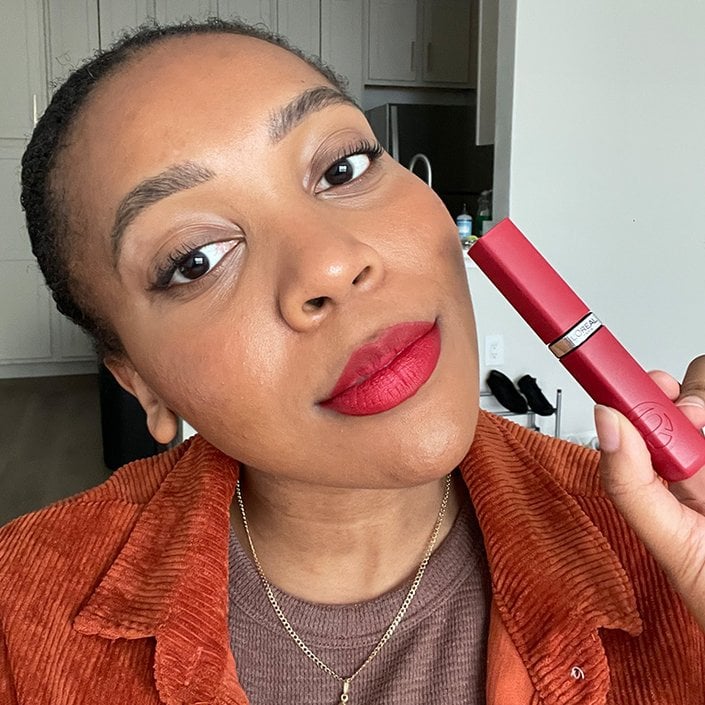 Alexis, Associate Editor
In my current makeup collection, I have an entire drawer dedicated to liquid lipsticks. I have a deep love for a good lipstick formulation that won't smudge anytime I drink water or bleed all over the edge of my lips. That's why I always keep a liquid lipstick in my bag for last-minute makeup applications. I knew I had to try this new innovation from L'Oréal Paris and I was not disappointed by the budge-free finish that lasts all day — yes, even after a sweaty commute to work and messy eating of a burger for lunch. The formula applies like a creamy mousse and quickly transforms into a highly pigmented color that dries matte in seconds. My favorite part is the curved doe foot that makes it easy to line my lips first before filling in with the color. I won't need to swap out my liquid lipsticks for tinted lip balms in the winter (like I usually do) since this formulation has hyaluronic acid infused into the mix for a more hydrated pout. There are twelve colors to choose from and my current favorite is this deep berry hue that instantly makes a statement.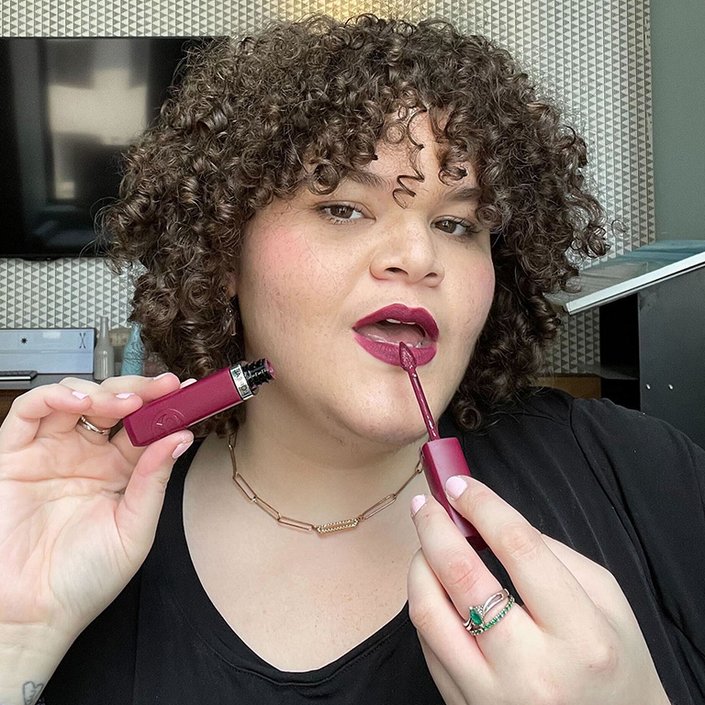 Reece, Associate Editor
I was a big liquid lipstick girlie in 2015 (worn with my choker, of course), and when I look back at photos, I cringe because my lips were so dry and crackly looking. Since then, I've steered clear of liquid lipsticks, but this hyaluronic acid-infused formula really caught my attention. I'm happy I tried it because it's nothing like 2015 liquid lipsticks. It is not drying on the lips, and when the formula sets, I forget I even have any lipstick on. The slightly blurring matte texture is really flattering and helps to avoid that dreaded crackly look. Tropical Vacay is a corally-pink shade: a slight deviation from the nude pinks I typically reach for, but I'm obsessed with the bright pop of color for summer. I wore it on a night out, and it lasted on my lips through rounds of drinks without marking my wine glass. Needless to say, I'm obsessed with this liquid lipstick, and I love that I don't have to sacrifice comfort for a long-wearing finish.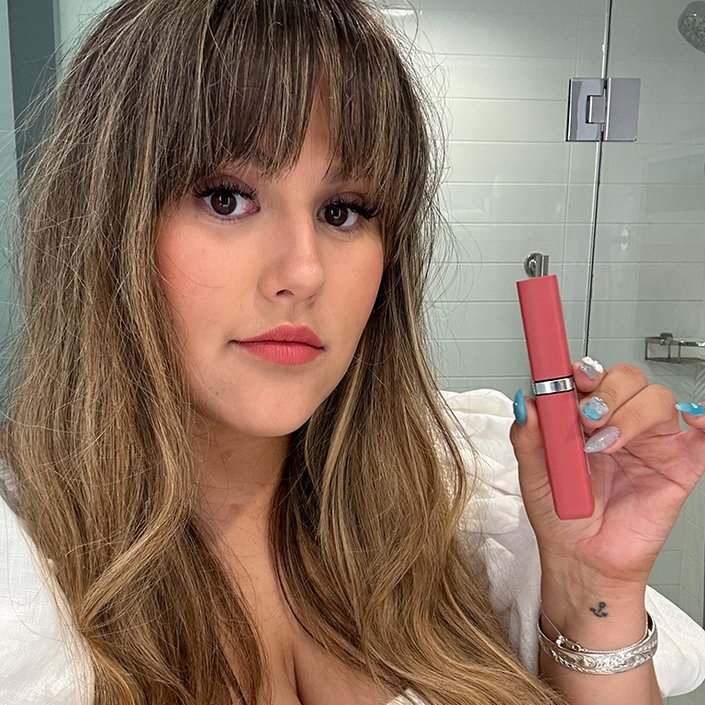 Sarah, Visual Designer
I'm totally crushing on the new L'Oreal Paris Infallible Matte Resistance Liquid Lipsticks! They are my new go-to for a laid-back yet stunning look. These liquid lip colors are packed with pigment, and a single swipe delivers intense color that lasts all day. I apply it to the center of my lips, avoiding the edges, then press my lips together to spread, which gives a naturally subtle look. The best part? My lips stay smooth and comfy all day long, no flakes or dryness. As a self-confessed lip gloss girly, I was skeptical at first, but these matte lipsticks have won me over big time. I am definitely going to be reaching for this matte lippie whenever I'm looking to achieve a casual yet vibrant pout.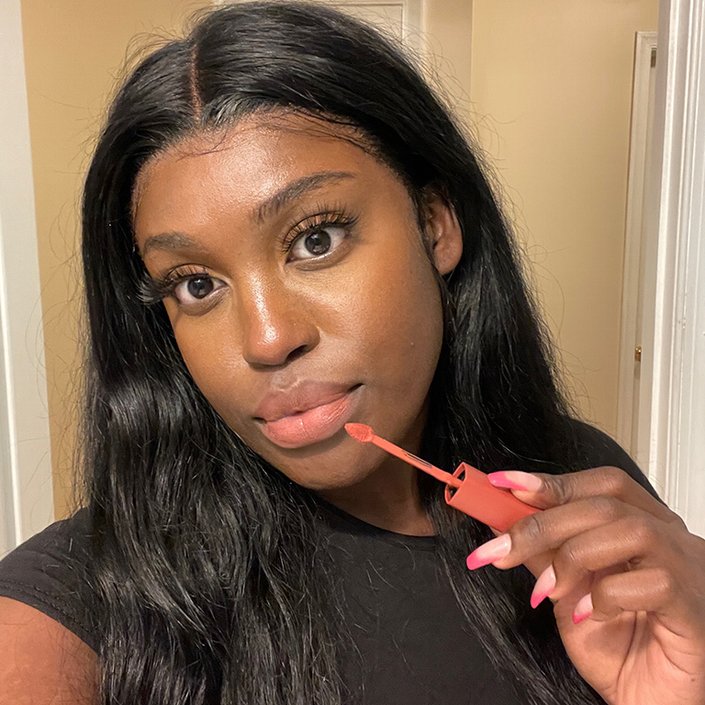 Read more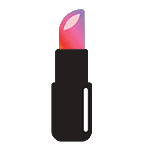 Back to top