The Nude Liquid Lipsticks Our Editors Want to Wear Every Day
January 05, 2023
Our editors already have a long-standing love affair with the Maybelline New York Super Stay Vinyl Ink Liquid Lipcolors — between the impactful high-shine finish, bold color payoff and long-lasting wear, we honestly can't get enough of them. So when we found out about the Nude Shock collection, a line of nude liquid lipsticks that range from pale pinky-browns to rich plummy shades, we couldn't wait to try them. Below, see how the Nude Shock lip colors look on each of our editors.
Alanna, Assistant Managing Editor
Pinky-brown lipsticks are an everyday staple for me, which is why I gravitated towards the shade Punchy the most in this collection. I'm happy to report that the formula certainly delivers: it's super saturated and doesn't take more than a swipe to fully pigment the lips. Not to mention, it has a super comfortable wear and isn't sticky. It gives off a vinyl finish without compromising color, and stays put for hours. I think I've found my new everyday lip shade and I'm stoked!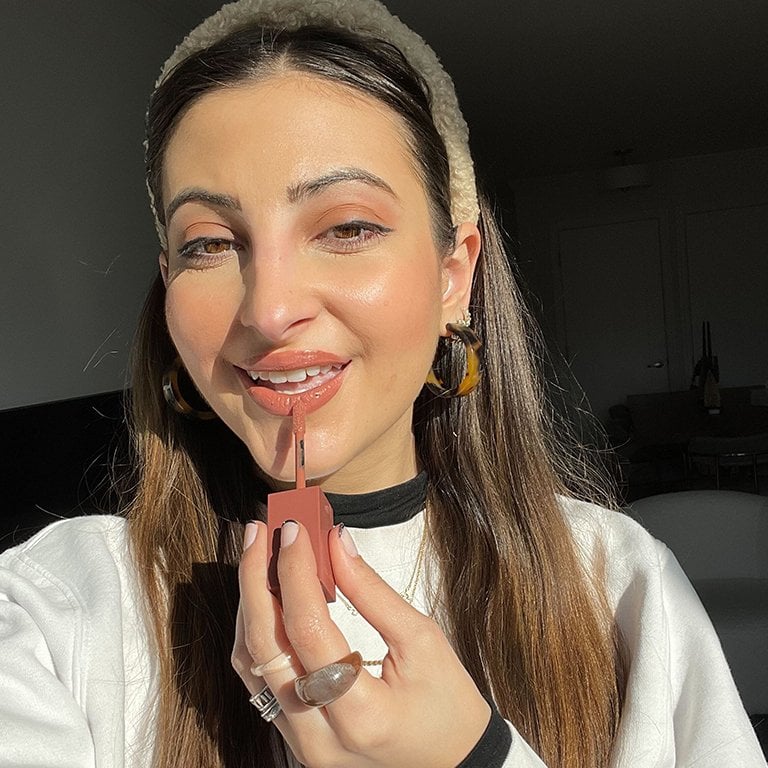 Ariel, Editor
When I can't decide what lip color to wear, I almost always reach for a soft, warm nude. This one fits the bill perfectly — it's not too dark or too light for my skin tone and the caramel undertones give it some depth. I love the shiny finish too — here, you can see how reflective it is even without a lip gloss on top.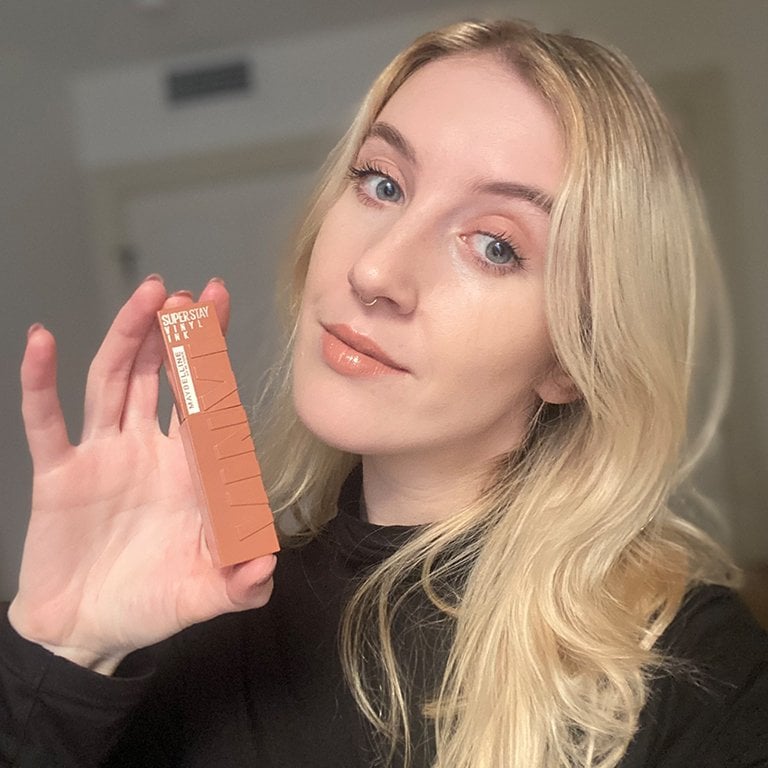 Jordan, Associate Editor
It was love at first swipe for me and the Super Stay Vinyl Ink Nude Shock liquid lipstick. As soon as the doe-foot applicator hit my lips, I was sold. The silky formula smoothly glides across your lips and feels unbelievably light considering how pigmented it is. I opted for Charmed, a peachy, orange-pink nude that perfectly complements one of my favorite blushes. This lippie gets bonus points for how yummy it smells, too.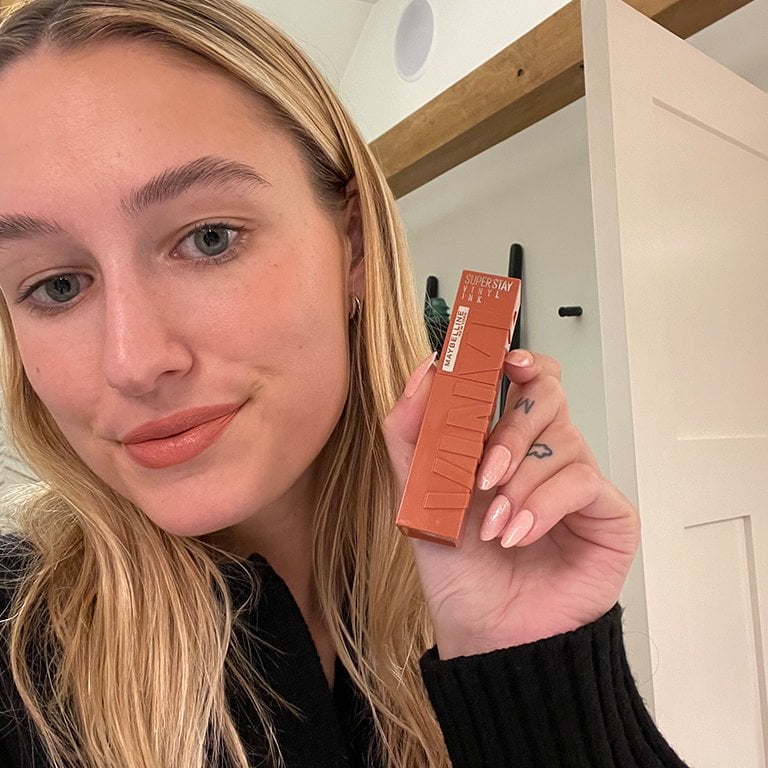 Kat, Social Media Editor
When it comes to nude lipsticks, I tend to get a little nervous because things can look extremely ashy if I don't have the right undertone. Peppy is a pink mauve shade that is the perfect "your lips but better" shade on me that doesn't lean too warm or cool. Not only does the color complement my skin tone, it's so comfortable that I forget that I'm even wearing it. Even though I just got Peppy, it definitely has a permanent spot in my purse.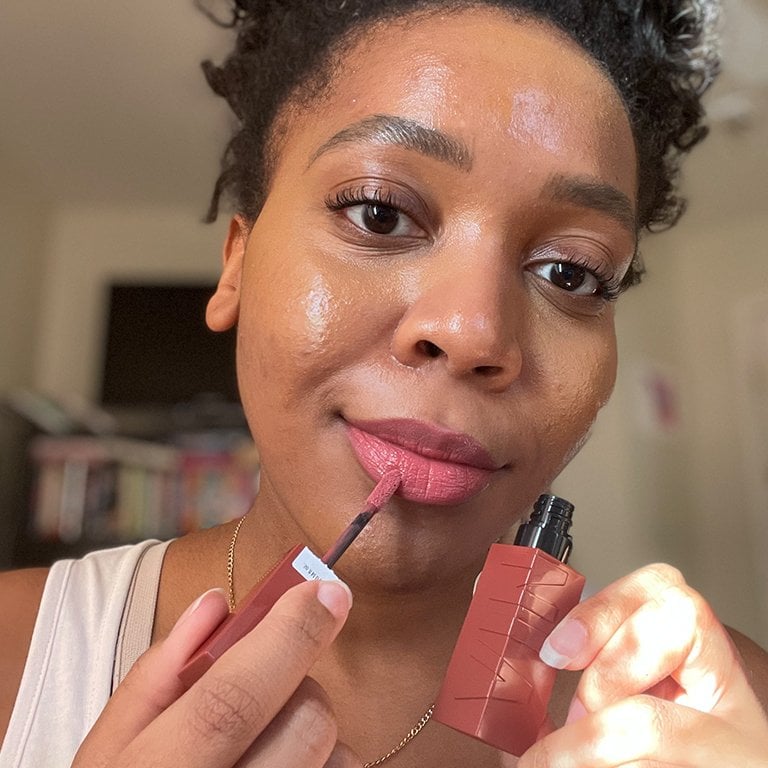 Photographer: Chaunte Vaughn, Art Director: Hannah Packer, Creative Producer: Becca Solovay, Visual Designer: Juliana Campisi, Prop Stylist: Catherine Pearson, Prop Assistant: Lindsay Jones
Read more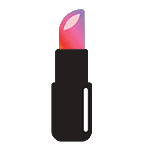 Back to top