4 Editors Tried the Urban Decay Moondust Lip Eclipse Lipsticks — And All We See Is Shimmer
July 22, 2020
All you need is shimmer to perk up any summer makeup look, and when the new Urban Decay Moondust Lip Eclipse shimmer lipsticks dropped in our mailboxes this past month, courtesy of the brand, we knew we had to give them a try. A good shimmer lipstick has a solid amount of sparkling pigment, isn't messy to apply and looks stunning on it's own or paired overtop a lip color. Ahead, four Makeup.com editors share what they thought of the Moondust Lip Eclipse and reveal whether they're going to make it their go-to shimmer lipstick for summer.
Alanna, Associate Editor
Shade: Nova
I'm not normally a shimmery-lipstick lover, but I have to say that I was pretty enamored with the finish of the Nova Lip Eclipse. It didn't appear too chunky, glittery or unwearable for me — instead, it was silky smooth, pigmented and shimmery with a lot of shine. I loved the gold finish because it really popped off of my olive complexion, and I can see myself actually wearing it on its own or over a matte nude lip for some sparkle. It's creamy and pearlescent, making it the perfect "highlighter" for my lips if I'm feeling extra (and you know that's pretty much always!).
Sarah, Senior Editor
Shade: Solar Flare
This orange, shimmer-flecked lipstick looks super cool in the tube, but on my lips? I had my reservations.The shade is much subtler than expected, though. It glided on, leaving behind a fiery yet subdued orange tint and a coat of fine glitter particles that sparkle in the sun but are not overly apparent from far away. I like that the formula feels moisturizing and comfortable, too. My favorite way to wear Solar Flare is over a matte red-orange lipstick for some extra, well, flair.
Genesis, Assistant Editor
Shade: Rising
Admittedly, I'm not a glitter gal. I prefer a matte or a glossy finish when it comes to my lip products, but what I appreciated about these Moondust lippies is that they are buildable. I got the shade Rising, which is a subtle pink with shimmer that appears nude with reflective glitter against my light to medium skin tone. One swipe of this shade gave me a really pretty, shimmery finish that was wearable on its own. If you're someone who lives for glitter, though, you can apply multiple layers for a super iridescent finish.
Samantha, Assistant Editor
Shade: Retrograde
I normally only reach for nude or pink lippies. If I'm feeling really wild, I'll even gravitate toward a bright orange. But being that shade Retrograde is a holographic purple, I wasn't quite sure this lipstick was in (or anywhere remotely close to) my comfort zone. But after swiping it across my lips, I was pleasantly surprised. While it looks super pigmented in the tube, the product actually applies pretty sheer. It has a holographic, shimmery finish that I'm obsessed with, too. If I'm wearing this shade solo, I'll do just one swipe, but if I'm layering it on top of another lipstick, I'll do a few swipes to really get the glitter payoff.
Image by Alanna Martine Kilkeary
Read more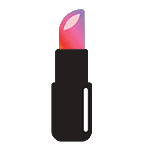 Back to top