The Best Lipstick Shades for Every Zodiac Sign
December 14, 2022
Whether you're an astrology skeptic or you've memorized your birth chart and eagerly pore over your horoscope every month, zodiac signs can be a fun way to make sense of our different personality traits and interests. They can also play a role in aesthetic preferences in fashion and beauty. Though it may seem silly to some, familiarity with your astrological sign can actually come in handy when it comes to choosing the right beauty products and shades for you.
Choosing a lipstick in particular is often a daunting task. Do you go for classic nude or bombshell red? Matte or satin finish? That's when your zodiac sign can help you make your decision. Ahead, we've rounded up the best lipsticks for each sign, taking into consideration everything from shade to formula.
Aquarius (January 20 – February 18)
An air sign, Aquarius is all about being free-spirited and marching to the beat of your own drum. Taking a beauty risk, like trying out a vivid lavender lipstick, will help you tap into the dreamy, innovative side of your sign. Plus, along with blue, purple is often considered a lucky color for Aquarians. This liquid lippie from Urban Decay is intensely saturated and delivers high shine.
If purple lipstick is slightly too eccentric for you, look for cool-toned pinks. The Rose Inc. Satin Lip Color in Demure is a pretty example. It's a super wearable blush pink with chilly mauve undertones. We like this shade because it's flattering on a wide range of skin tones.
Pisces (February 19 – March 20)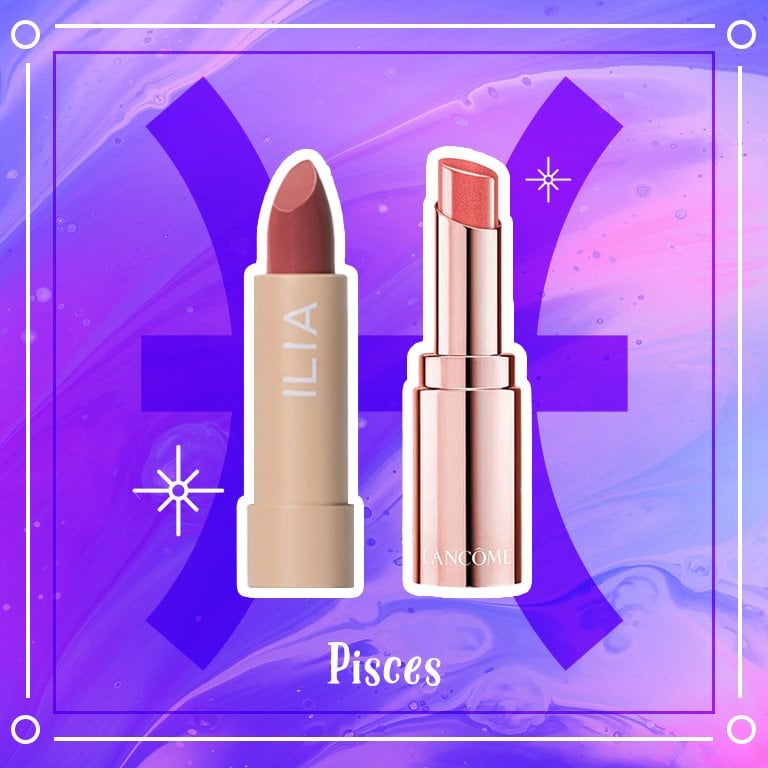 Emotional intuition and empathy are two defining Pisces traits. Pisces can be romantic and indulgent, which is why we love this nourishing, shimmery pink lipstick for the sign. It's a water sign, so it's only fitting that this balm-like lipstick from Lancôme is particularly hydrating.
Play up the romantic vibes with the Ilia Beauty Color Block Lipstick in Wild Rose. The name of the shade alone is like something out of a fairytale, and the neutral mauve color would pair beautifully with lots of blush.
Aries (March 21 – April 19)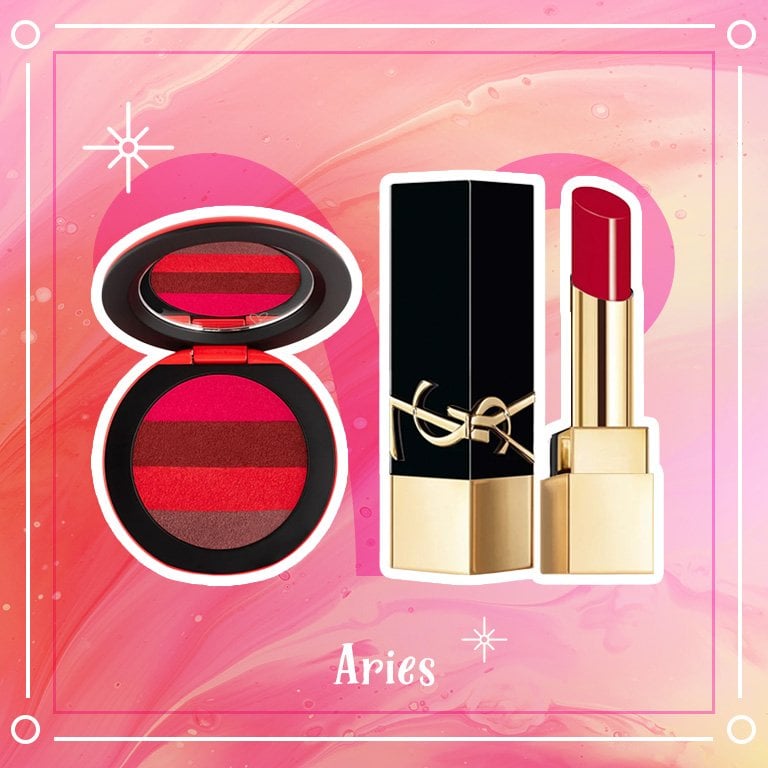 Choosing a lipstick shade for one of the boldest signs in the Zodiac is a no-brainer. It has to be bright, classic red. Fittingly called Wilful Red, this shade from YSL Beauty is a richly gorgeous red that offers buildable color and a satin finish.
We're sticking to fearless reds for our Aries recs, because, frankly, nothing else makes as much sense. This sign is all about warmth and passion, after all. This palette of matte lip colors from Westman Atelier allows you to choose between four different shades in the red family, ranging from a deep cranberry to an almost pink fuchsia.
Taurus (April 20 – May 20)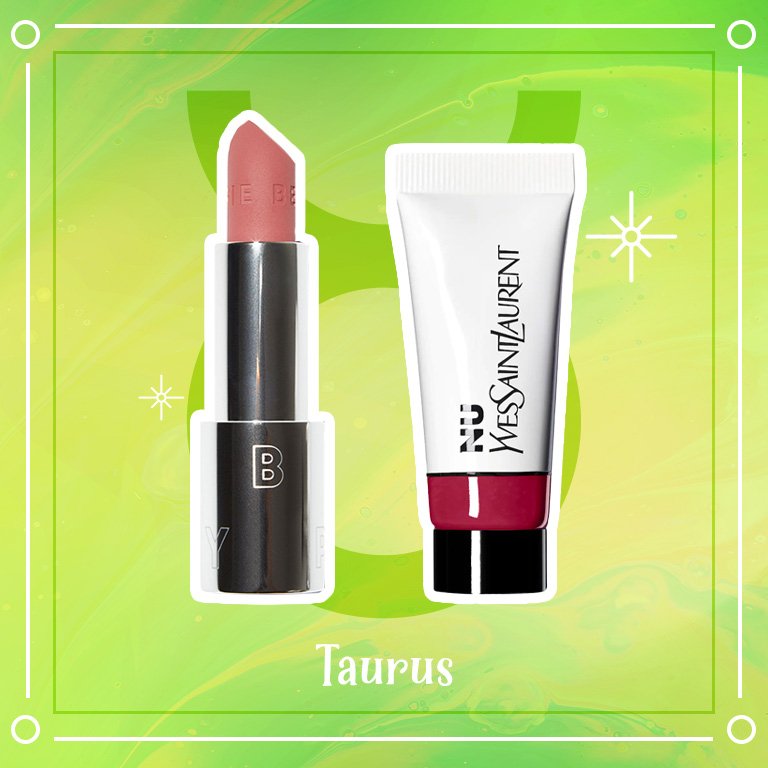 Since Taurus is widely considered to be the most sensual sign due to the influence of Venus, we've selected a sultry berry tint that can be used to give both your lips and cheeks a flushed look. It's blendable and lightweight for a natural effect.
Lovers of pleasure and comfort, Taureans will adore the creamy, moisturizing feel of the Unlipstick from Beauty Pie. The formula easily glides on and melts into the skin of your lips for that perfectly blotted lipstick look.
Gemini (May 21 – June 20)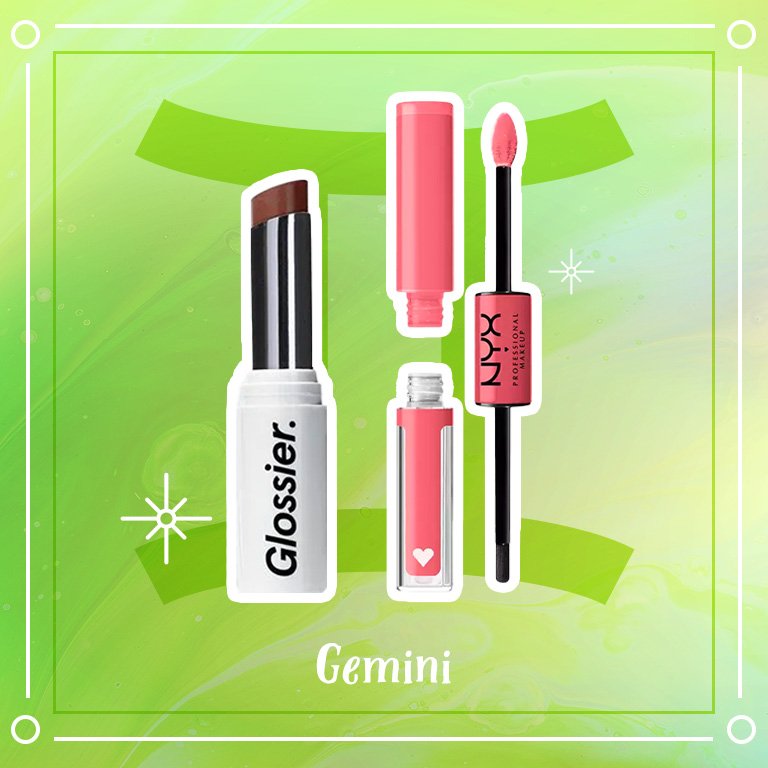 Gemini's are the life of the party and this ultra-pigmented, bubblegum pink lippie will pair well with any going out outfit. Not to mention it's double-sided, with lip color on one end and a clear gloss on the other — totally appropriate for the twins of the Zodiac.
Yellow is a lucky color for Geminis, and while yellow lipstick doesn't sound especially appealing, this peachy shade from Glossier is close enough. It's subtle and stunning with buildable color that allows you to customize your lip look.
Cancer (June 21 – July 22)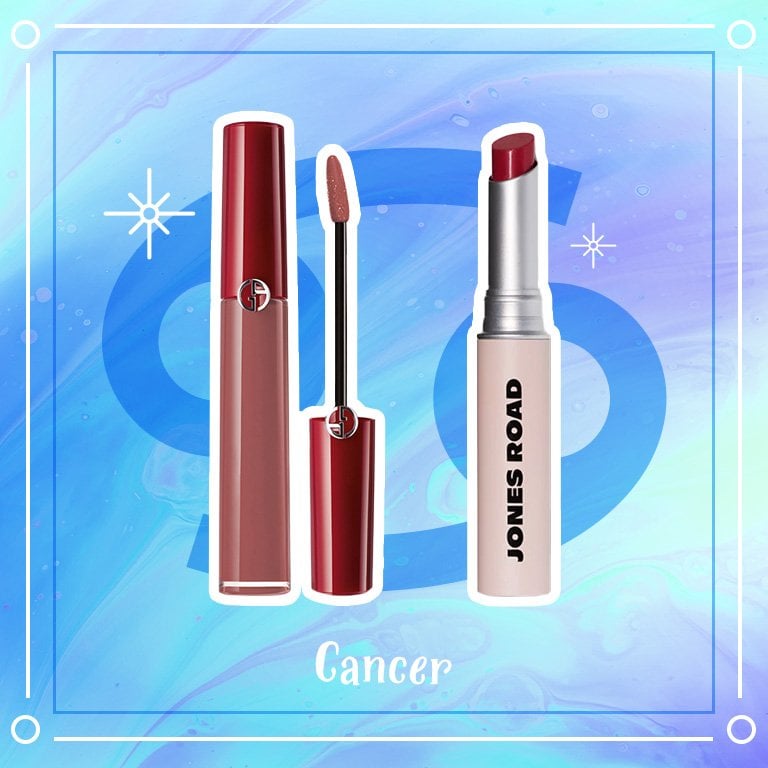 For this nurturing, sensitive sign, we chose a pretty yet understated blush shade by Giorgio Armani Beauty. Cancers tend to be homebodies who favor comfort, and this lowkey shade is ideal for chilling on the couch with your besties watching Netflix or hosting an intimate dinner party for a few friends.
When you feel like dressing up a bit, try the Jones Road Beauty Lip Tint in Pretty. This brighter pink will allow you to tap into your moody, passionate side, but the sheer, buildable formula still feels comfy on your lips.
Leo (July 23 – August 22)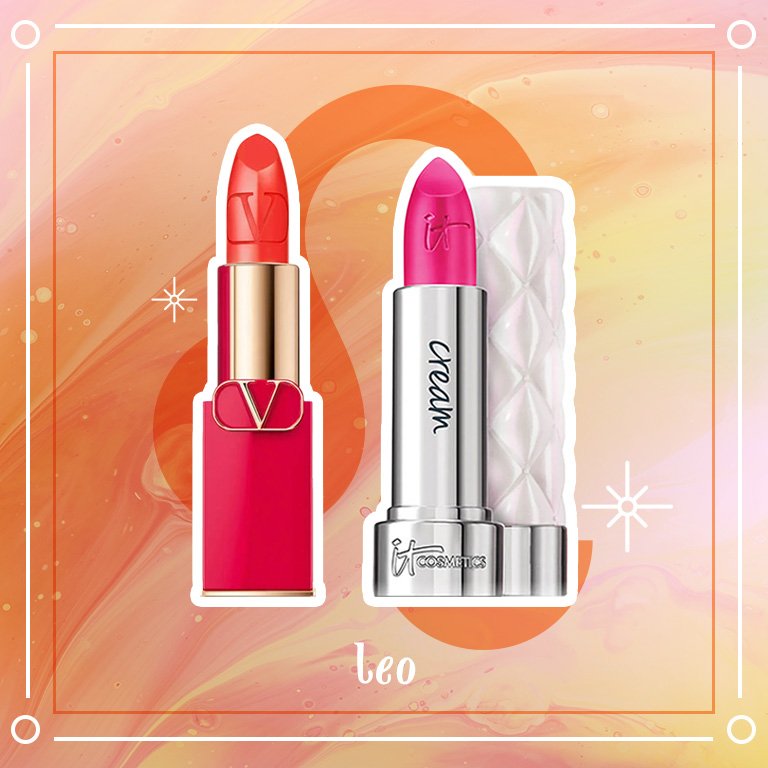 Leos are not afraid to bring the drama and be the center of attention. In fact, they're usually the first to admit that they crave it. The Valentino Beauty Rosso Valentino Lipstick in Loud Orange is just as fiery as the sign itself.
Orange lipstick isn't for everything, so the IT Cosmetics Pillow Lips Lipstick in Bright Fuchsia is another daring lippie to match Leo's signature outgoing energy. It's impossible not to have fun or soak up the spotlight wearing this hot pink shade.
Virgo (August 23 – September 22)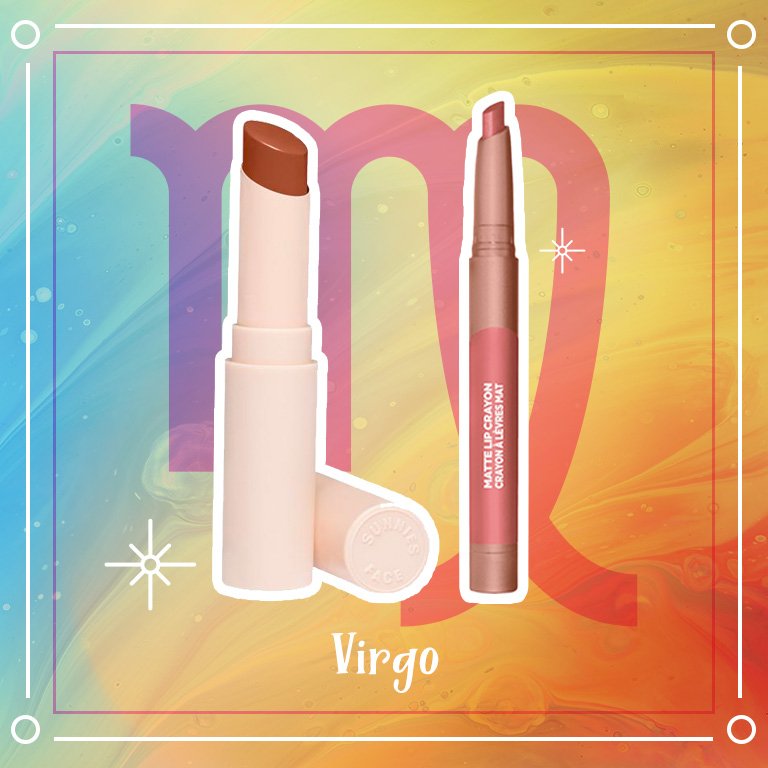 Virgos are notorious perfectionists, which is why this easy-to-apply lip crayon with a precision tip is a good choice for them. We're into the Caramel Blonde shade for this sign, a no-nonsense matte nude.
For a slightly more exciting shade, try the Sunnies Face Lip Treat in Chai. The warm chestnut brown is adventurous while still aligning with Virgo's humble, practical nature. This shea-butter-infused lip balm will elevate your everyday beauty look while delivering skincare benefits.
Libra (September 23 – October 22)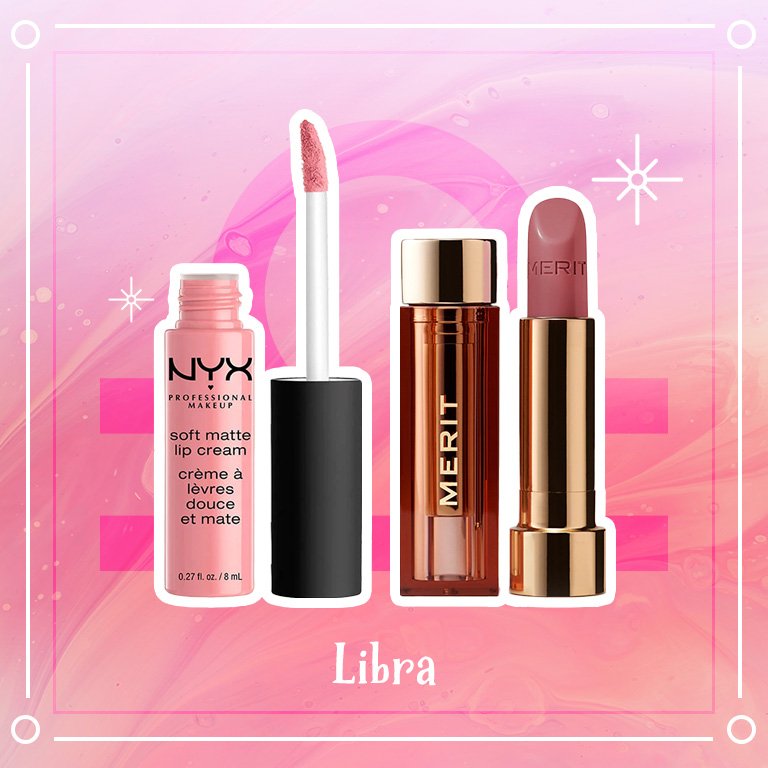 Soft baby pink, like this shade of the NYX Professional Makeup Soft Matte Lip Cream, is our color suggestion for charming, flirtatious Libras. We're obsessed with the plush texture and sweet scent of this non-drying lipstick.
For Libras, it just has to be pink. Reach for the Merit Beauty Lightweight Lipstick in Millennial when you want a more natural-looking take on the rosy hue. While the NYX Professional Makeup rec was matte, this lippie has a subtly shiny satin finish.
Scorpio (October 23 – November 21)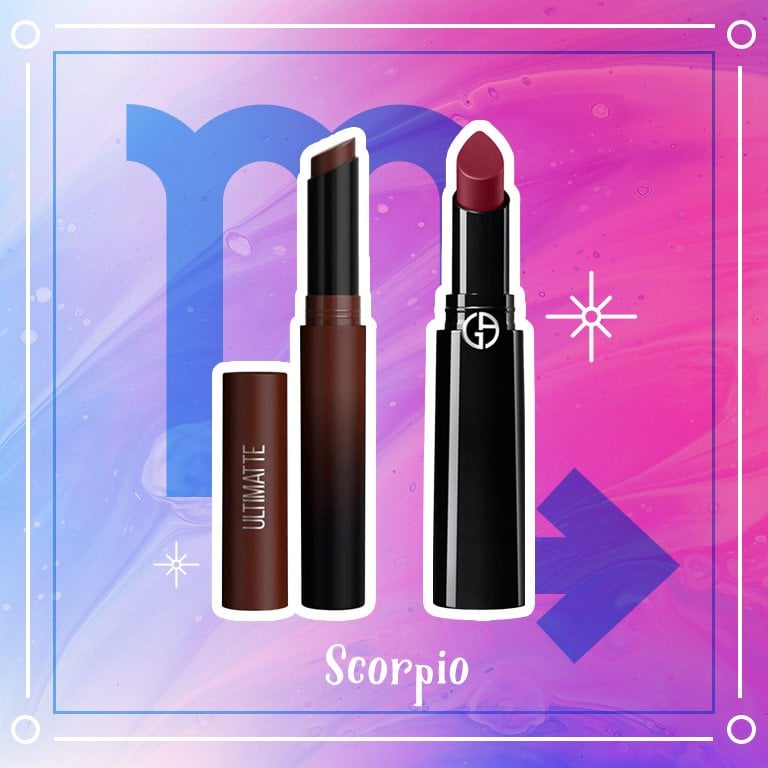 Known for being dark and intense (in the best way, of course), Scorpios are the goths of the Zodiac. A vampy blood red, like the Giorgio Armani Beauty Lip Power Long Lasting Satin Lipstick in Tempting, highlights the sign's sexy side.
Brown is a chic gateway into the world of darker lipsticks without having to fully commit to a jet black pout. We like this matte coffee shade for our mysterious Scorpio pals. It provides a striking matte effect without drying out your lips.
Sagittarius (November 22 – December 21)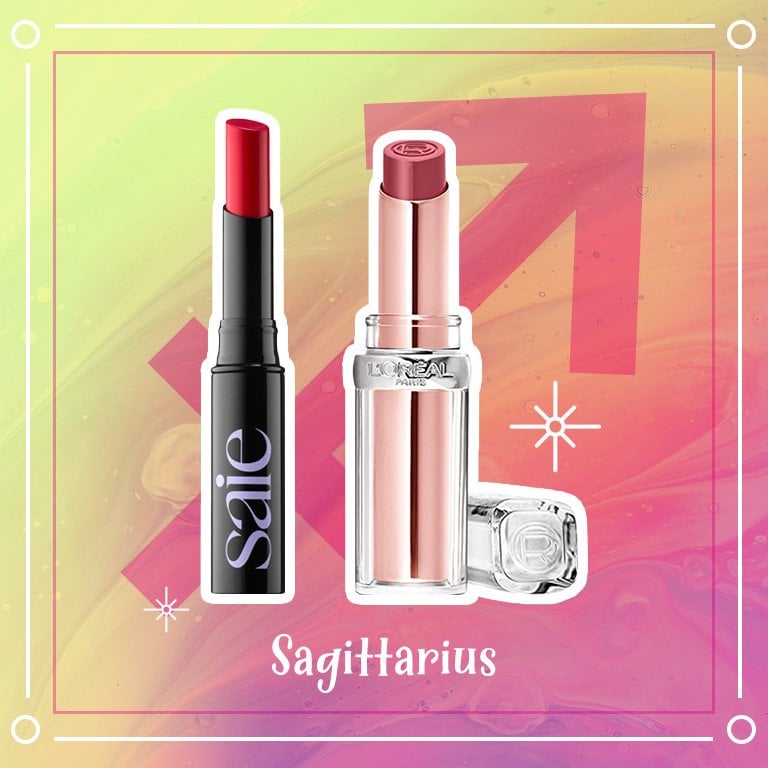 Sagittarius is one of the more flexible, adaptable signs, and that's what we love about this two-in-one lippie from L'Oréal Paris. It packs the pigment of a lipstick with the soft, pillowy feel and hydrating properties of a balm. Basically, it can be used for any and every occasion.
Sagittarians are often creatives and entertainers, so having fun with makeup is very much within the wheelhouse of this sign. For special occasions, don't be afraid to go bold with this vibrant blue-red lipstick from Saie Beauty.
Capricorn (December 22 – January 19)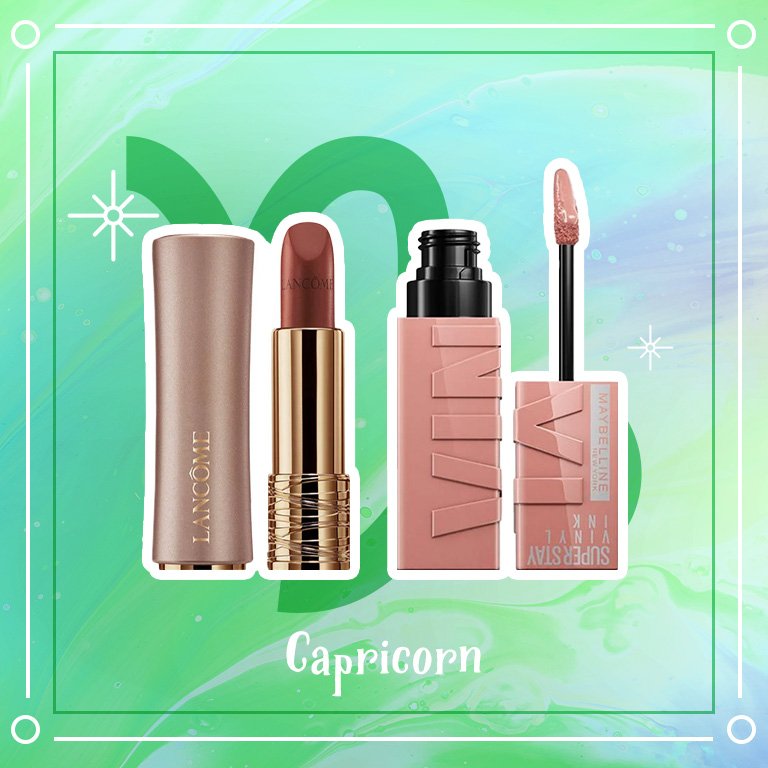 Capricorns can get a bad rap as workaholics, but really they're just ambitious and practical, which are two great qualities to possess. A no-frills pinky-nude lipstick that will stay put through a busy day of taking over the world is essential for this sign. Try the Maybelline New York SuperStay Vinyl Ink Longwear Liquid Lip Color in Captivated.
Even on special occasions, Capricorns are likely to stick to a beauty look as down-to-earth as they are. This toasted caramel red lipstick from Lancôme is an elegant winter shade to rock all Capricorn season.
Design: Juliana Campisi
Read more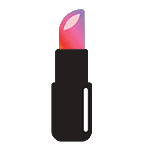 Back to top