How to Curl Your Eyelashes, According to Pro Makeup Artists
June 26, 2023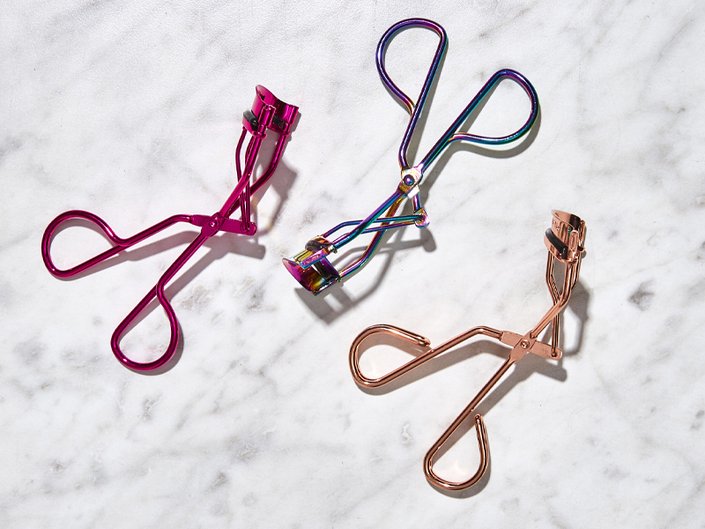 If you were born with short lashes, then you're probably familiar with the struggle of trying to get that doe-eyed look of voluminous, curly lashes. Short and straight lashes can be stubborn and resistant to the usual tips and tricks you hear about for getting your lashes to hold a curl. So, if you've tried the standard lash-curler technique and just about every volumizing mascara you can find and are still having difficulty, we recommend switching up your technique and making sure you're using the right curler for your lash type. Below, we asked makeup artists how to curl eyelashes the right way, even if yours are short and stubborn.
How to Curl Your Eyelashes With an Eyelash Curler
Choose the Right Curler for Your Lashes
"Mini lash curlers work amazingly well for short and straight lashes," says May Cintron, makeup artist and founder of TUHLZ. Heated eyelash curlers can also work, especially if you're looking to retain the curl on straight lashes, she adds. Sara Edward Wayne, makeup artist, lash artist and owner of Outlaw Cosmetics, recommends looking for a standard metal lash curler (of any size) with soft silicone pads — these will keep the curler from pulling at your natural lashes.
Clamp Your Lashes at the Base
"Clamp the eyelash curler gently at the base of the lash line and hold for five seconds," says Wayne. Similar to holding your hair in a curl while using a curling iron, holding your lashes in the curler will help make a stronger bend and encourage it to last longer.
Clamp Closer to the Tips of the Lashes
Next, Wayne suggests moving the curler upwards, toward the tips of your lashes. Gently clamp the curler again and hold the curler towards the tips of your lashes. Curling at the base and tips of your lashes will help the curl last longer and make it appear more dramatic.
The Best Eyelash Curlers
You can count on this drugstore eyelash curler to target even the tiny eyelashes near the inner and outer corners of your eyes. Best part? It won't tug at them and rings up to less than $10. Pair it with the brand's On the Rise Volume Liftscara for next-level lashes.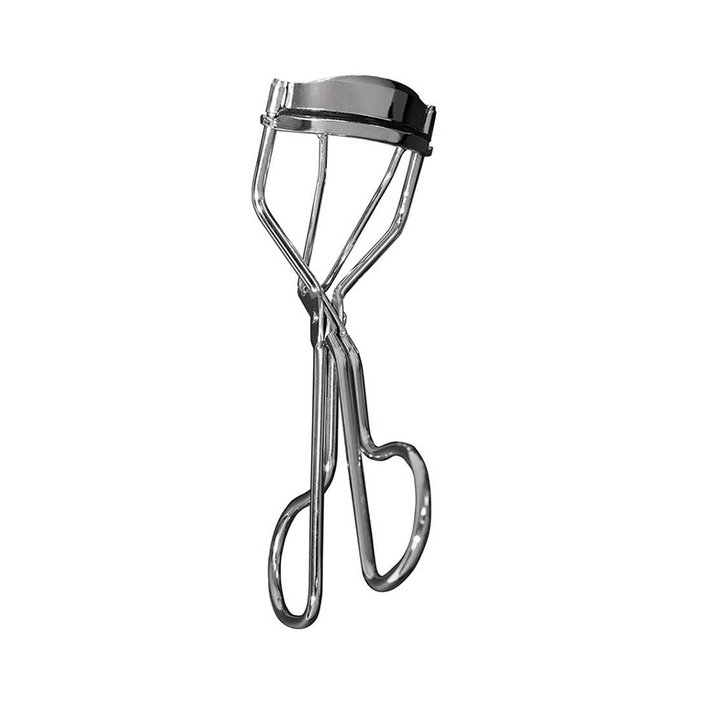 This miniature eyelash curler helps add gentle volume and lift to all lashes, regardless of their thickness and/or length. The ergonomic shape is comfortable to hold and to use on an area as delicate as your eyes, and the soft padding helps cushion your lashes as you curl them. Plus, thanks to its small size, you can use it to curl even the short, stubborn lashes at the inner and outer corners of your eyes.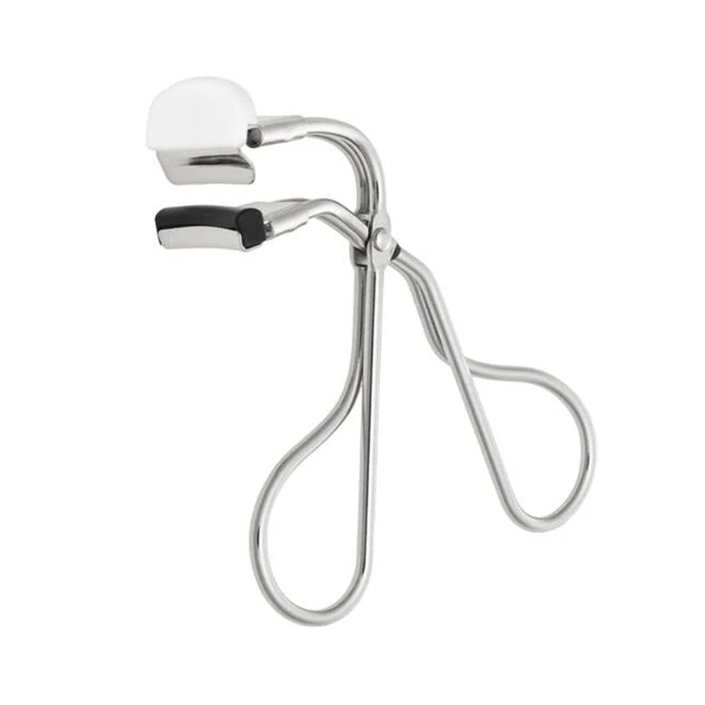 One of Cintron's professional recommendations, this mini eyelash curler is tiny enough to curl your lower lashes and the lashes at the inner and outer corners of your eyes. The tweezer-like handle makes it easy to hold and clamp on your lashes, so you get plenty of control and precision as you curl. This curler also comes with refillable silicone pads that you can switch out after continued use.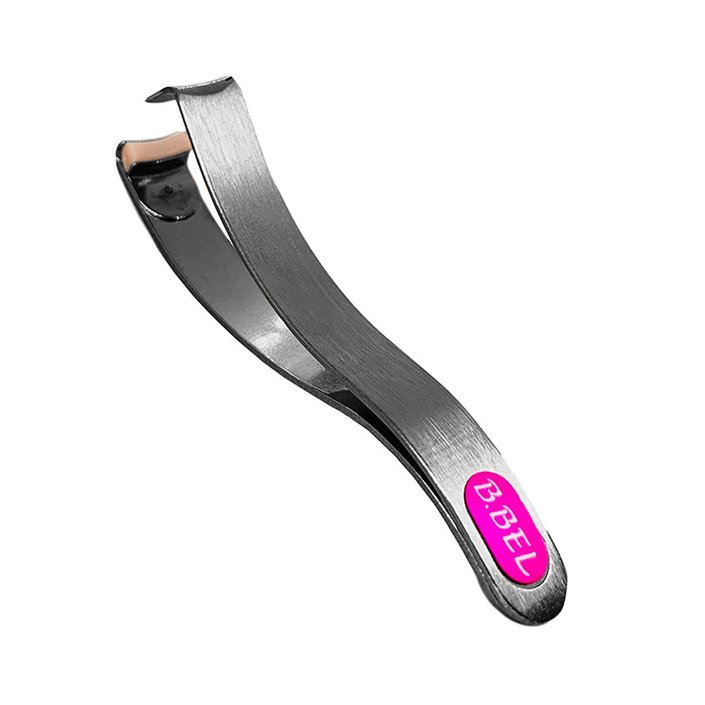 This curler's ergonomic shape bends and lifts lashes without any irritating pinching or pulling. It comes with one replacement silicone pad, although you can repurchase a set of more refill pads separately. The brand recommends cleaning the curler's silicone pad with a soft, dry cloth after use, and replacing the pad every three to four months.
Designed especially to curl lashes on almond-shaped and deep-set eyes, this curler features a 38-degree angle that allows you to uplift every stubborn lash without tugging or pinching at your lids. One reviewer calls it "hands down [the] best lash curler" that keeps their lashes "lifted all day." It features a rounded, silicone pad for comfort and cleanliness, an extra wide shape to capture every lash, plus a double-body handle for added leverage.
Feeling ready to go the heated curler route? Try this rechargeable option, which features customized heat settings to dispel the right amount of gentle heat as you curl and lift your lashes. The brand recommends applying mascara first, lifting and holding this curler to the base of your lashes for several seconds, then finishing it off with another coat of mascara.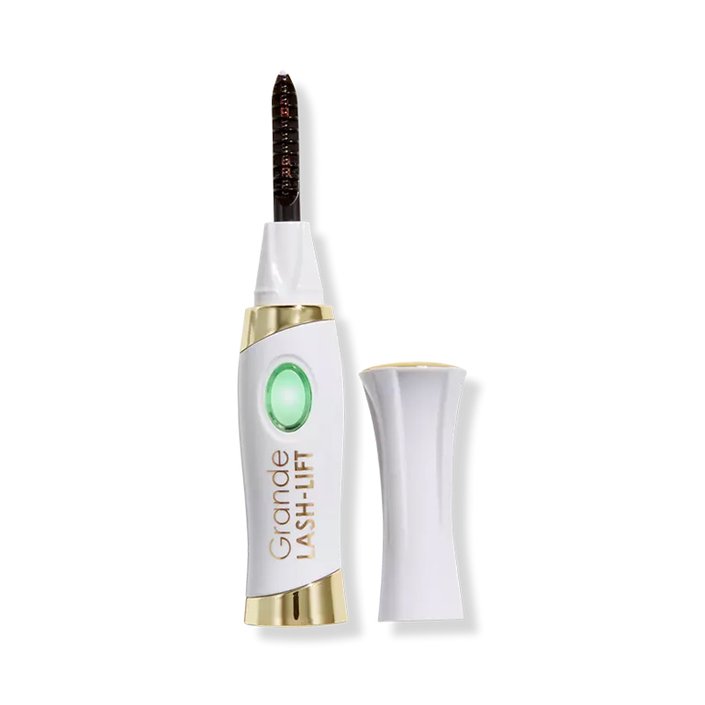 How to Curl Your Eyelashes Without an Eyelash Curler
Try a Curling Mascara
Look for a mascara with a curling formula and a curved wand to give your lashes some extra lift. One of our favorites is the Maybelline New York The Colossal Curl Bounce Washable Mascara, which amps up lashes' volume and curl while keeping them flake-free and fluffy for up to 24 hours. Wayne recommends the Outlaw Cosmetics Lashscara, a water-resistant formula that's made specifically to fan out thinning lashes. It features a curved wand that she says "helps to naturally curl up eyelashes."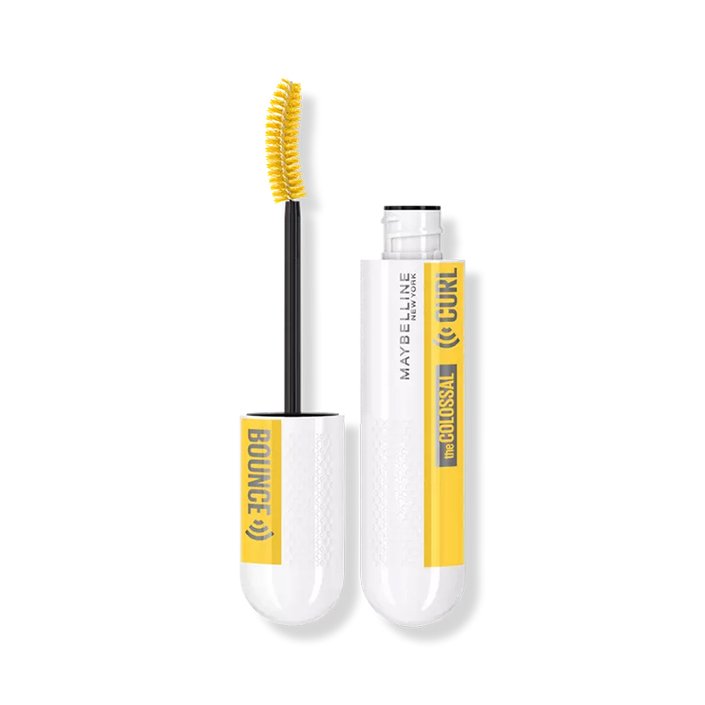 Apply an Eyelash Primer Under Mascara
Applying an
eyelash primer
can help increase your lashes' volume and length no matter which mascara you layer on top. We recommend applying the
Lancôme Cils Booster XL Enhancing Lash & Mascara Primer
to bare lashes, then applying mascara on top while the primer is still wet. This particular primer is infused with micro-fibers vitamin B5 and vitamin E, which work together to help moisturize your natural lashes. In fact, you can apply the primer by itself at night to act as a conditioning mask for your lashes. Looking for a drugstore option? Try the
Maybelline New York Lash Sensational Sky High Tinted Primer
.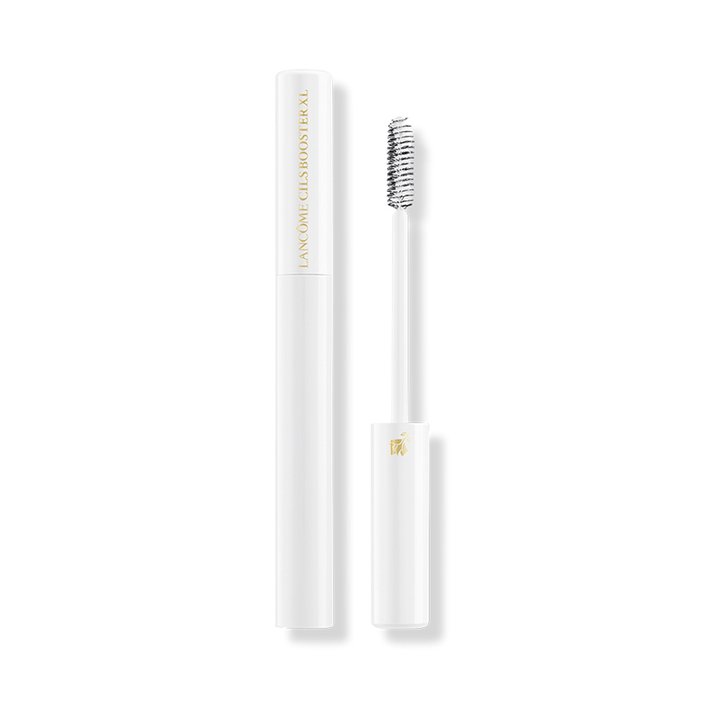 Opt for a Lash Lift
A lash lift is a more dramatic and longer-lasting alternative to using an eyelash curler. Lash lifts often provide a more dramatic lift and curl. Unlike using an eyelash curler, a lash lift is performed by a professional and is meant to last for several weeks. This guide demonstrates what a lash lift looks like on different eye shapes and lash types.
Add False Eyelashes
Sometimes adding flared, upturned false lashes at the outer corners of your eyes can help provide some of the lift and curl you're craving. You can choose individual lashes, half lashes or full strip lashes — just make sure that the lashes are longest and curled upwards at the outer corners of your eyes. We love the NYX Professional Makeup Jumbo Lash! Vegan False Eyelashes in Ego Flare, which are shorter at the outer corners and fan out in a dramatic flare at the ends.
Does Curling Your Eyelashes Damage Them?
Curling your eyelashes should not damage them, as you work gently and carefully. "Using the silicone pads on the lash curler will prevent damage from occurring," says Cintron. "In addition, making sure to not use too much tension to achieve a tighter curl in your lashes after applying mascara helps avoid damaging the natural lash. Mascara on the lashes can cause your lashes to get stuck to the curler and added tension can create tugging." If you like to curl your lashes after mascara, be sure to do so gently and unclamp the curler if you experience any snags or tugging. Take caution to clamp your lashes too hard, whether you're wearing mascara or not.
Should You Curl Your Lashes Before or After Mascara?
Both makeup artists agree that it's OK to curl your lashes before or after you apply mascara — it's just a matter of personal preference. However, you have to take care to be extra gentle if you curl your lashes with mascara on — as Cintron mentioned above, the stickiness of mascara can sometimes cause the curler to catch and tug at your lashes.
Can You Curl Eyelash Extensions?
The answer to this is a responding no. "Curling lashes with lash extensions can damage your natural lashes and will completely ruin your lash extensions," says Wayne. That's because eyelash extensions are applied at the root of your lashes, adds Cintron, so curling them can lead to breakage. Plus, she adds, most eyelash extensions come with a preexisting curl, so there's really no need to risk using an eyelash curler on them.
Read more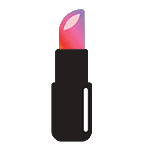 Back to top