25 Beach Makeup Looks to Try — and How to Make Your Look Last 
April 17, 2023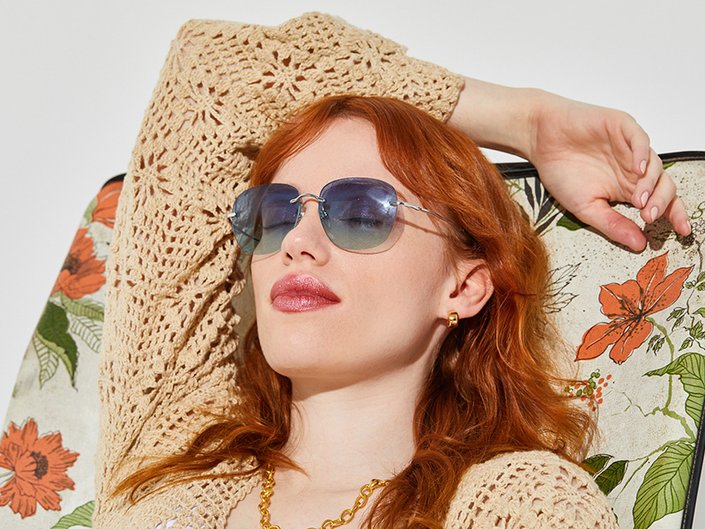 We're all for hitting the beach bare-faced (always with SPF, of course!), but we recognize that a face of makeup can be quite the confidence booster. There's absolutely no reason you can't sport a makeup look while lounging in the sand, whether you prefer a vibe or a full glam aesthetic. However, a beach makeup look will require some different products and techniques than your daily makeup routine. So, ahead, we're answering your most popular questions about wearing makeup to the beach, sharing some of our favorite beach-appropriate makeup products and sharing inspo for looks to rock on vacay or all summer long.
What Makeup Should I Wear to the Beach?
Considering that the beach can be accompanied by pretty intense weather conditions — wind, extreme heat, humidity and tons of sun — you'll want to be thoughtful about your product choices. Opting for as many formulas that contain broad-spectrum SPF and hydrating ingredients as possible is key.
It's also important to remember that regardless of what makeup look you go for, it's inevitable that it will smudge and fade a bit throughout the day. Because of this, it's best to choose waterproof formulas for your eyes because they often run at the beach, whether you're splashing around in the waves or just sweating it out in the sun. For your cheeks and complexion, choosing more malleable products, like light cream-based products, that you can easily blend and touch up over heavy-duty formulas is a good idea too, as these are the areas that will fade the fastest.
How Do I Make My Makeup Last at the Beach?
Keeping your makeup looking great all day at the beach can be challenging, but like we mentioned, wearing waterproof formulas, especially on your eyes, can help. Hot, humid conditions will likely make your complexion makeup fade regardless. While it probably sounds counterintuitive from a weartime perspective, opting for cream formulas that can easily be touched up is a good idea. For example, it will be easier to fix smeared blush if it's a cream formula over powder because creams are more blendable. Finally, set the most oily areas with powder to increase longevity.
The Best Beach-Proof Makeup Products
Keep scrolling for our favorite waterproof, water-resistant, longwear and low maintenance makeup products to pack in a beach bag.
Waterproof mascara is arguably the most essential beach makeup staple — we keep one in our beach bag at all times. The IT Cosmetics Superhero Volumizing Waterproof Mascara is a current fave because it majorly amps up the volume and length of your lashes while resisting smudging, sweat, humidity and flaking.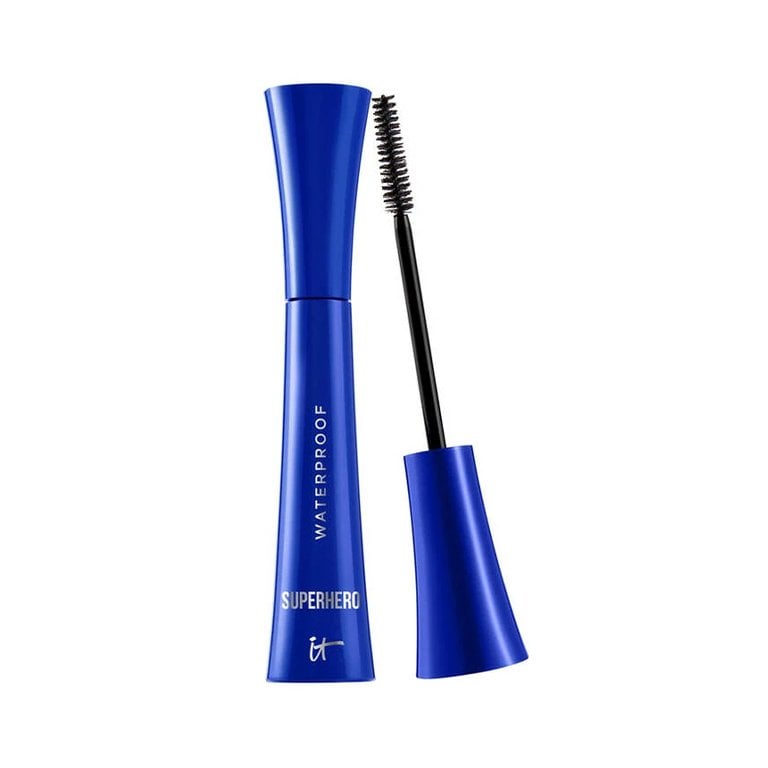 The L'Oréal Paris Infallible Full Wear Concealer is one of our go-to waterproof concealer options. It delivers full coverage and an airbrushed matte finish for up to 24 hours — perfect for controlling shine when you inevitably start to get a little sweaty.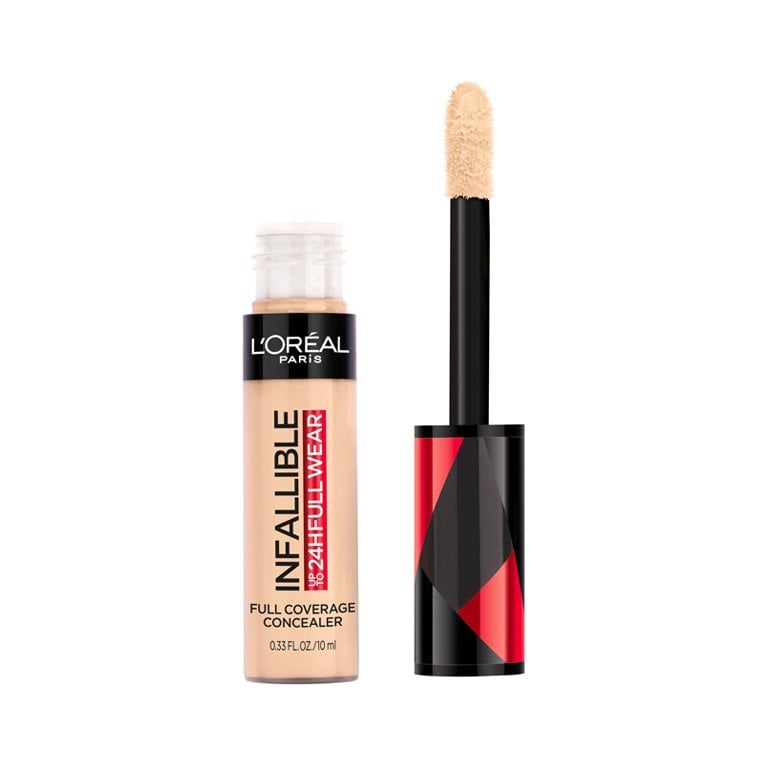 If you're the kind of person who feels naked without full-coverage foundation, even at the beach, you need to try the Urban Decay Stay Naked Weightless Liquid Foundation. Not only does this waterproof foundation stay looking great all day long, but it also lives up to its name and never feels heavy or uncomfortable.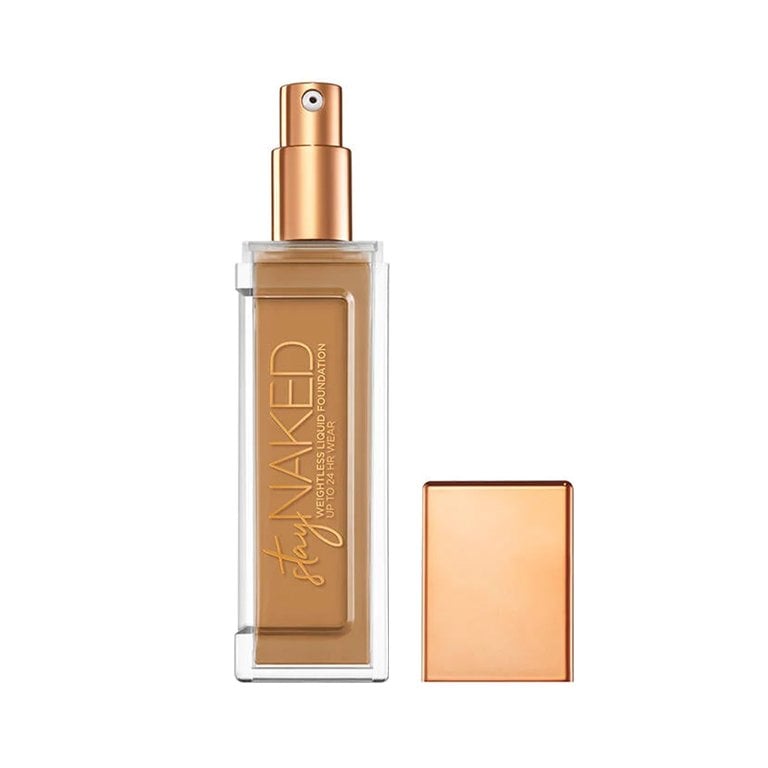 As noted above, cream-based formulas are preferable when it comes to wearing blush at the beach because they're more natural-looking and easier to touch up throughout the day. When your blush starts to fade or after a dip in the ocean, you can just whip out your compact and tap more of this balm onto the apples of your cheeks.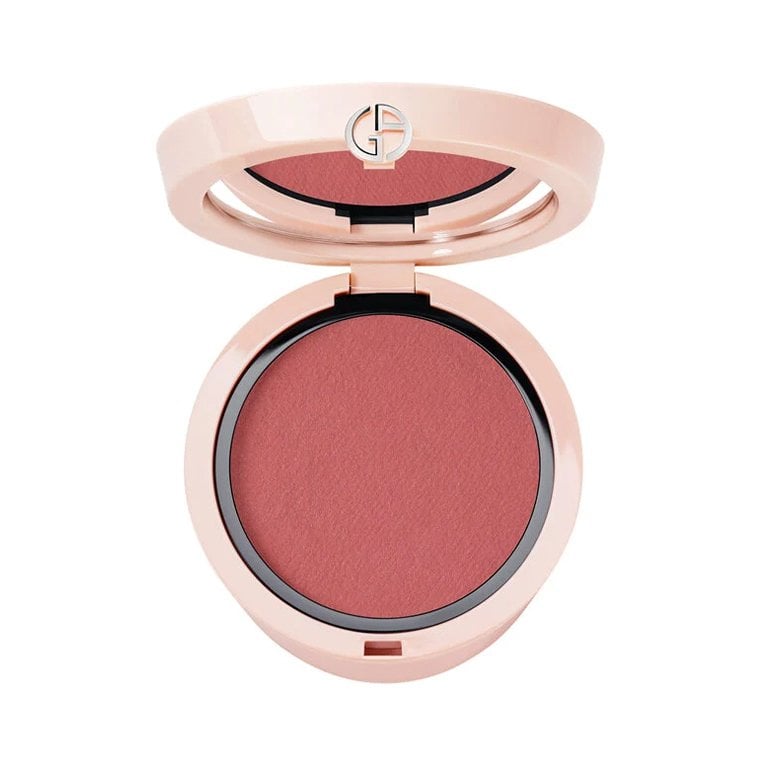 Fake a tan without exposing your skin to dangerous UV rays by using a cream bronzer, like this one From Rose Inc. (Just don't forget to follow up with SPF!) This creamy product melts into your skin and blurs your pores for a warmer, more radiant complexion.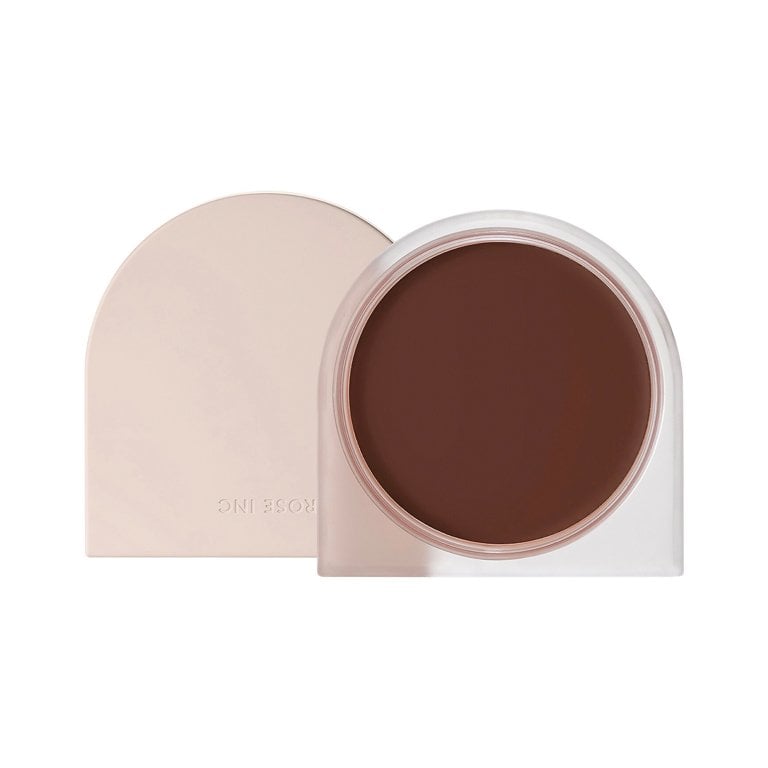 How to Create a Minimalist Beach Makeup Look
Step 1: Apply SPF
Start by applying a broad spectrum facial sunscreen. We love the SkinCeuticals Daily Brightening UV Defense Sunscreen SPF 30 because it brightens the skin while offering broad-spectrum sun protection.
Step 2: Conceal
If you prefer to keep your face makeup light when heading to the beach, skip foundation and simply spot-conceal any areas that you want coverage. The NYX Professional Makeup Bare With Me Concealer Serum is great for this because it has buildable coverage that's incredibly hydrating and lightweight.
Step 3: Apply Lip Balm With SPF
Protect and moisturize your lips with the Cay Skin Isle Lip Balm SPF 30. Not only will this lip balm give your lips a luminous finish, but it'll keep your lips protected from the sun with its added SPF.
Step 4: Add Mascara
Finish off your look with a coat of waterproof mascara, like the Maybelline Lash Sensational Sky High Waterproof Mascara.
How to Create a Maximalist Beach Makeup Look
Step 1: Even Out Your Complexion
After applying SPF, even your skin tone with a hydrating skin tint, like the IT Cosmetics CC+ Nude Glow Lightweight Foundation + Glow Serum with SPF 40. In addition to providing more SPF protection, it leaves the skin looking blurred and radiant. If you need additional coverage, apply your favorite concealer where necessary.
Step 2: Apply Blush
Give your cheeks a flush with a cream bronzer, like the Giorgio Armani Beauty Neo Nude Melting Color Balm. This is a great beach pick because the cream formula isn't overly emollient so it won't slide right off of your skin when you encounter extreme heat.
Step 3: Bronze Your Skin
You want to feel tan at the beach, but it's not worth risking the sun damage. Luckily, you can easily fake a sun-kissed complexion with cream bronzer. We love the Rose Inc Solar Infusion Soft-Focus Cream Bronzer because it has a creamy, blendable formula that dries down to a powder-like finish, meaning it won't slip and slide around.
Step 4: Set Your Skin
Using a lightweight, translucent powder, set the most oil-prone areas of your skin, like your forehead, the sides of your nose and your chin. Then set your entire complexion with a refreshing setting spray, like the Urban Decay All Nighter Vitamin C Setting Spray.
Step 5: Give Your Lips Some Glow
After applying a lip balm with SPF protection, give your lips some shine and plumpness with a nourishing gloss, like the L'Oréal Paris Glow Paradise Lip Balm-in-Gloss. This is a great formula because it's lightweight and can be reapplied throughout the day without getting goopy.
Step 6: Apply Mascara
Define your eyes by applying one to two coats of waterproof mascara to your top and bottom lashes. If you like extreme volume, try the Lancôme Monsieur Big Waterproof Mascara.
The Best Beach Makeup Looks
Peachy Blush
Blush on the Tip of the Nose
Additional Reporting: Jordan Julian, Photo: Chaunte Vaughn
Read more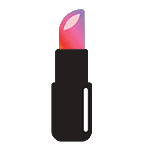 Back to top