welove.makeup—The New Way to Experience Makeup Tutorials
April 07, 2017
Digital isn't only changing the way we purchase makeup, it's altering the way we experience it, too. From virtual reality makeup apps to makeup-centric emojis, the future of beauty content has arrived. This next wave of new media promises to deliver personalized content and a social way to experience makeup tutorials--so not only will you get to experience content tailored to your interests, but you'll do it with other like-minded beauties.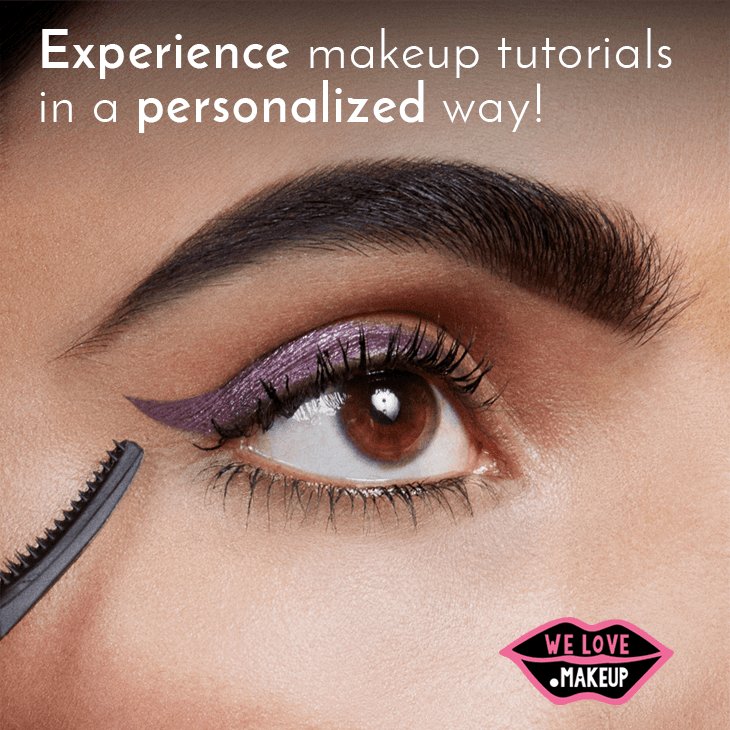 Always at the forefront of innovation—and intent on delivering upon this promise—our friends at L'Oréal have launched a new community to unite beauty lovers. Aptly named WeLove.Makeup, the platform lies at the intersection of YouTube and Instagram, melding the best features of each--but also adding so many more unique features! It's the 1st beauty-only video platform to allow influencers and makeup lovers to share, explore and interact with curated, personalized makeup content. The only problem? Once you join, there's no turning back--and we mean that in the best way possible! This site is pure addiction of the best kind--the beauty kind. You'll never again waste time sifting through endless amount of un-personalized beauty tutorials!Here, we present the five stages of WeLove.Makeup addiction--we give you permission to experience them all!!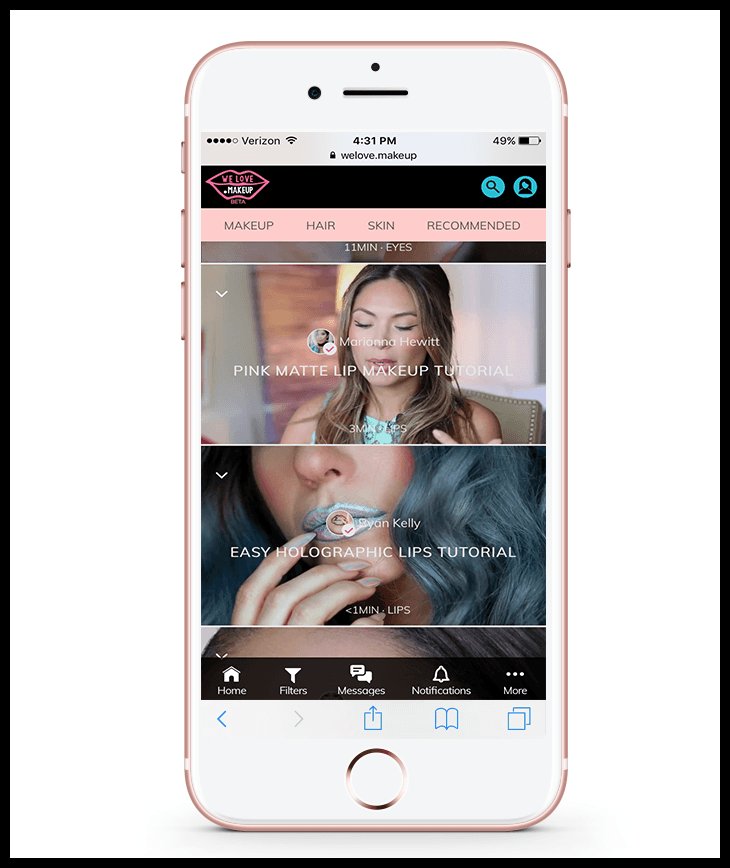 Stage 1: The Personal Attention
When has another beauty site ever asked you, about you? Think about it. That's the very first point-of-difference that we fell in love with about WeLove.Makeup. During your first visit to the site, in the sign up phase, you'll be asked a series of questions about your beauty personality (i.e. 'What is your level of beauty knowledge?'), your favorite brands and your beauty biology (i.e. 'What is your skin type?' and 'What is your current hair length?')--all meant to create a profile about you so the experience you have is entirely customized for your style, beauty needs and personal preferences. The personalization technology makes it all about you!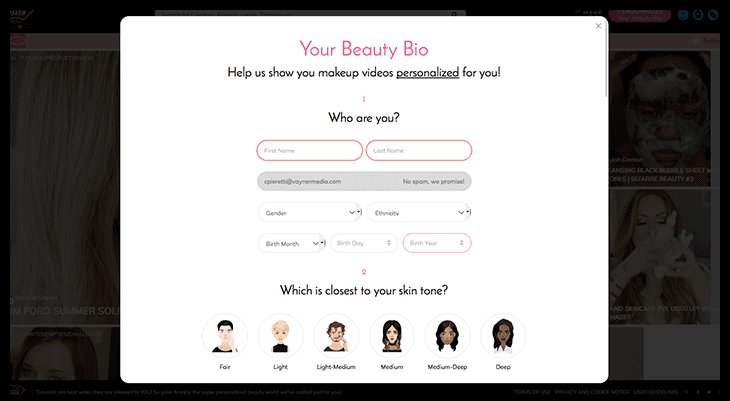 Stage 2: The Attention to Detail
Once you get past the sign up, the curation continues. The team at WeLove.Makeup doesn't just want to drop you into a minefield of beauty videos, they want to make sure your search is as simple as possible. So there are options. Lots of filter options. Want to find videos about a certain FEATURE, like your eyes? No problem. How about by OCCASION, like a wedding look? That's an option too. You can also search by INFLUENCER, VIDEO TYPE (tutorial, product review, unboxings, etc.), your desired HAIR END LOOK or MAKEUP END LOOK, TECHNIQUE (contouring, highlighting, smoky eye, etc.), SKIN TONE, SKIN PROFILE, TOPIC (cleansing, tanning, masks, etc.) plus HAIR COLOR, EYE COLOR, HAIR LENGTH and HAIR TEXTURE. That's a whole lotta goodness. And we're just getting started!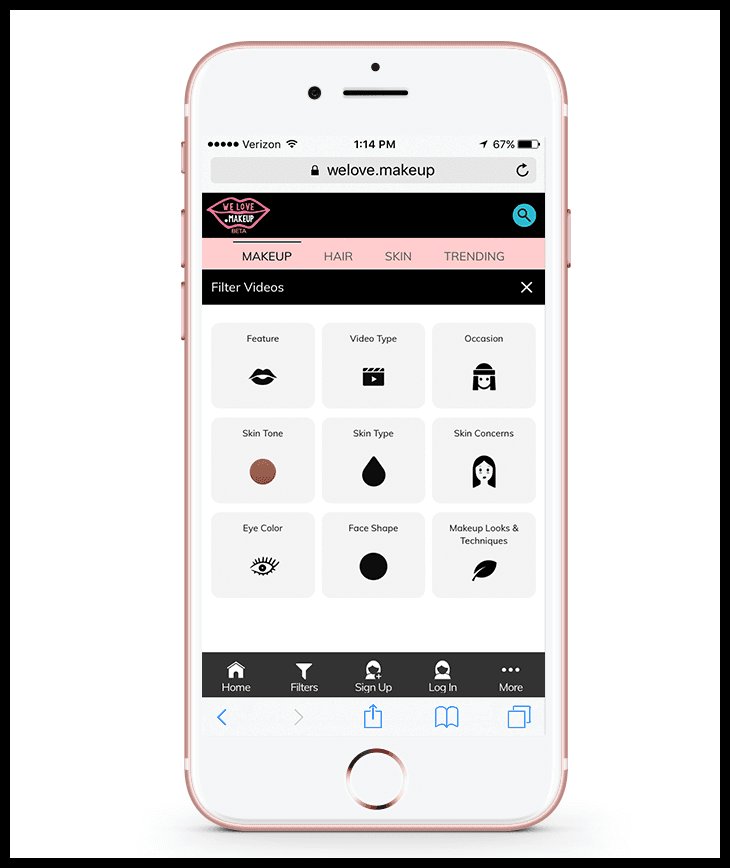 Stage 3: Understanding What You're Searching For
Can't makeup your mind? We get it. So many influencers, so many incredible videos. With over 100+ contributing top tier vloggers and influencers (plus your favorite brand videos featuring the best-of-the-best beauty experts), there are endless ways to interact directly with your favorite beauty gurus, with their content and share their tips and tutorials. And since you can search by your faves, you're also certain to never miss one of their mind-blowing beauty tips. You'll be discovering the hottest tips, tricks, & looks before anyone else!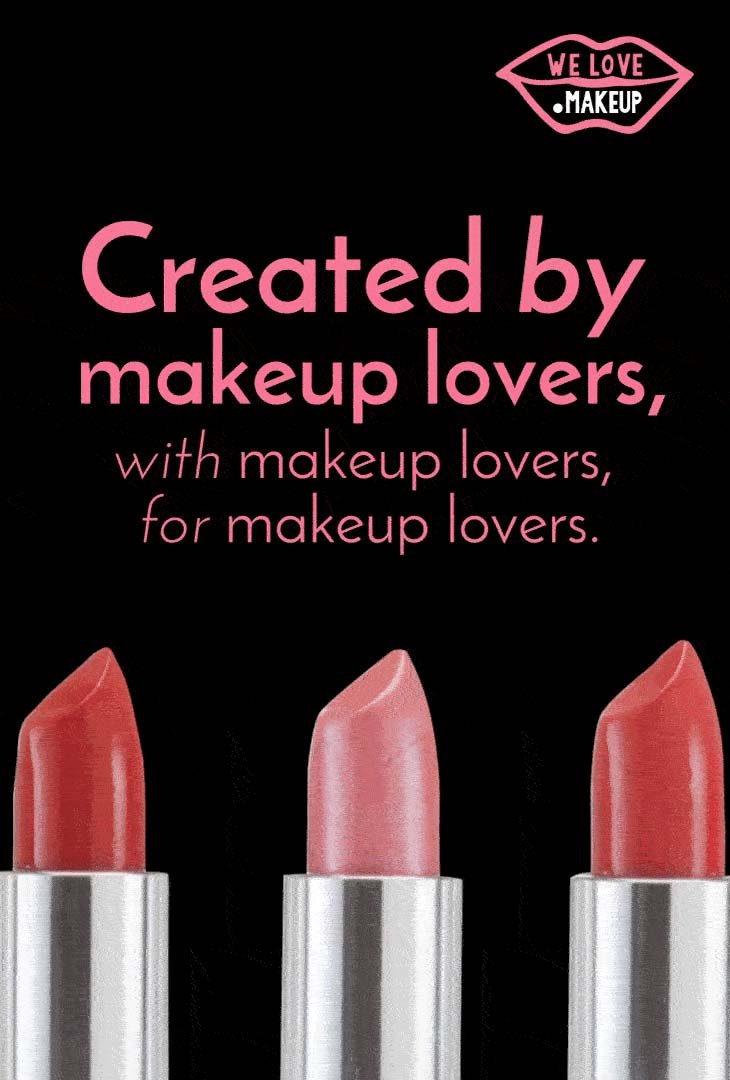 Stage 4: Remembering What Makes You Happy
In all seriousness, we're not kidding. The site is designed to pay attention and learn your preferences, so that each time you log on it's delivering on its promise to customize your experience and only show you the videos that it feels you'll like best and be most interested in. The more time you spend, the smarter the site becomes at curating your content.(If only your boyfriend could do that!) But think of it more as your beauty BFF, listening to you and pampering you at the same time.
One of the ways it does this is by cataloging your reviews of the videos you watch. Click on an expert video, watch it and then rate it via one of the provided buttons: NOT MY THING, LAAAAAAV, SO HELPFUL or MORE LIKE THIS. Then leave your thoughts in the 'Comments' section, opening the dialogue between you, the influencer and the community.
Stage 5: Finding Your Tribe.
Whether you're an active participant (leaving comments on every video you watch), or a video lurker, you'll instantly start to feel part of a community. It's the only beauty video platform that's created by makeup lovers, for makeup lovers. You can follow your fave influencers, brands and friends and direct message them. Plus, since the videos you view are curated according to your likes, you're meeting others who share the same beauty philosophy and beauty biology. The site encourages social interaction and dialogue--that's the entire point! After all, there's no "I" in "We"--and We(most definitely)Love.Makeup.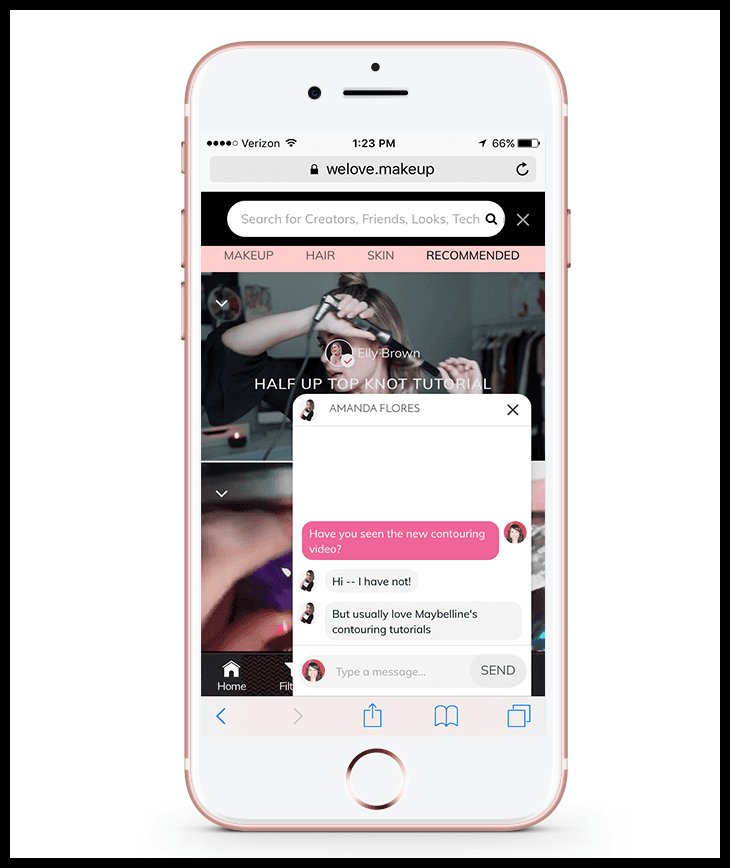 ** Join now, and see what the hype is all about! To start your personalized journey, click here!
Read more