We're Mesmerized by This Ripple-Effect Eyeshadow
April 07, 2022
STEP 1:

Create Your Base "Ripple"

Start the look by applying a white pigment all over your lid. We recommend using the white shade in the NYX Professional Makeup SFX Face and Body Paint Palette in Primary. Next, begin to build your ripple look by creating a round half-moon from your inner corner to your outer corner with a bright red pigment and thinner eyeshadow brush. The red from the NYX Primary palette works perfectly for this, and the line should be about a ¼ of an inch thick.

STEP 2:

Add Your Second and Third "Ripple"

Next, apply another layer of white above the red line you created with the white pigment. Make sure this line has the same amount of thickness as the red line. Using a dark purple pigment — we love the NYX Professional Makeup Jumbo Eye Pencil in Eggplant — create another line above the second white layer at the same thickness. Then, add another layer of white right below your eyebrow.
STEP 3:

Add Stars

Using an angled brush and a little bit of white pigment, add a few stars of your choice on the inner and outer parts of the lid. Do this by creating little crosses, making the vertical lines a little longer than the horizontal lines. Feel free to use the red or purple shade when creating your stars for a little more dimension.
Photography and Makeup: Serena Adelaide
Read more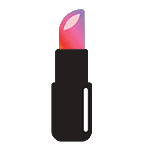 Back to top